Assembly Video
I thought that I should cross post this assembly video as it does show how easy it is to assemble the spanking machine. It also shows it in action at the end of the video.
Spanking Machine v.2 Instructional Video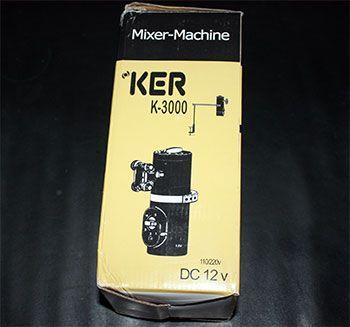 As usual, this machine arrived very quickly and under plain packaging. I am always impressed with deliveries from sexmachines.co.uk they are always well packaged, discreet and arrive very quickly.
The first thing that brought a smile on my face was the spanking machine's box. You see, this machine is labelled as a Ker K-3000 Mixer-Machine and the instructions state that it is a mini-kneading machine. All funny stuff considering what I was about to get up to with it.
Unboxed, it looks like a real nightmare to set up, but in fact, it is simplicity itself. You get a set of instructions, the machine itself, a power supply with a EU plug (don't worry you also get a US and a UK plug adaptor), a vice-like foot clamp, a vertical bar with lots of holes and finally the arm to which the machine attaches.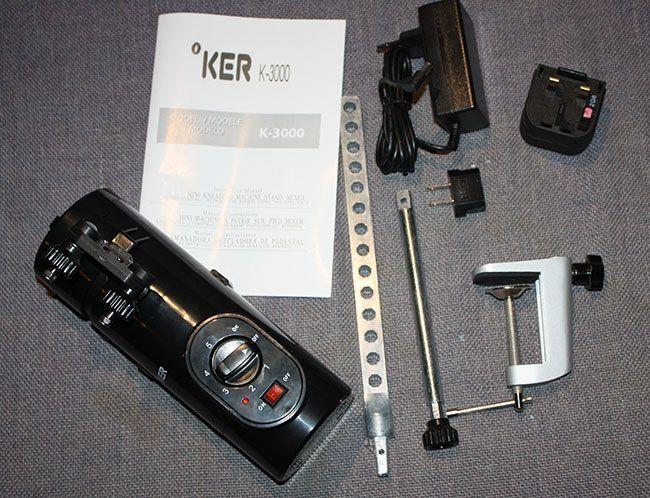 It looks much more complicated to set up than it actually is
Setting it up
The first thing that you should do is check all of the screws to make sure that they are tight after the machines transit to you (a tip I picked up on the assembly video). Then you will need a solid point to attach the foot clamp.
I took the machine to a local swingers club that has a dungeon and used one of their racks to mount the machine the first time that we used it, but a coffee table or something similar would also suffice. The heavy vertical bar is slotted into its recess on top of the foot-clamp before the locking screw on the foot clamp is tightened to hold it securely in place.
Next, attach the round rod to the spanking machine itself, you need to remove the nut and bolt already fitted through its clamp and then insert the rod and refit the nut and bolt tightening them, securely.
The machine and rod are then fitted to the vertical bar at the desired height. The round rod has a hexagonal end and this lines up with hexagonal holes in the vertical rod, and you can use these to firmly set the machine at different stroke angles. It can even be set to stroke vertically if your submissive is laid flat.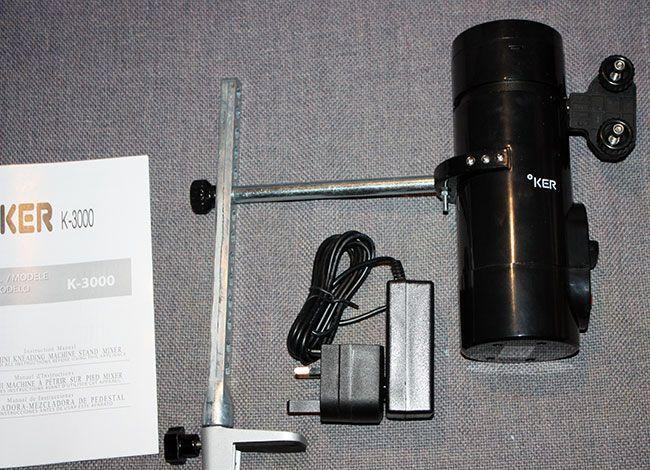 Putting it all together is easy and requires no tools at all
You are then ready to attach your spanking implement. Finally fitting the power lead means that you're ready to play.
The spanking machine has a clamp arrangement that has two thumb nuts, and these allow you to clamp anything from a paddle to a crop or cane securely to the machine. You shouldn't use anything over about 100g in weight though as otherwise the kinetic energy of it swinging could damage the machine.
Setting it up seems like a complicated process but it only takes about five minutes, and no tools are needed. Once you set it up the first time, it is much easier on future play sessions and quicker too.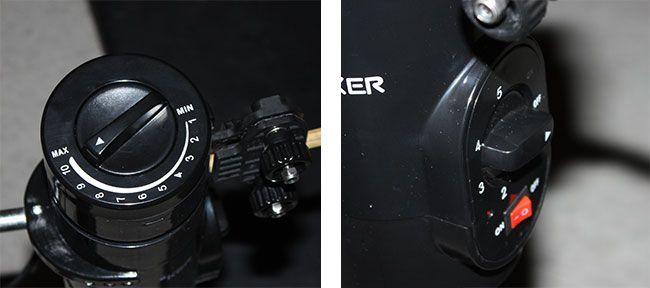 The spanking machine has two sets of easy to understand controls
The spanking machine has two sets of controls, the first is on the top, and this sets the power of the spanking swings. It does this by swinging the sprung arm carrying the impact toy back further for heavy strokes and only a short way for lighter strokes.
The other set of controls are on the front of the spanking machine and features an on/off button as well as a timer knob. This sets the length of time the device will run, it is similar to an egg timer. You can set up to five minutes of spanking before having to set it again. You can also turn the knob to set it to run continuously, ignoring the timer.
To get it working, first, position it and your target bottom before setting the strength of spanks using the top controls. Then set the length of time on the front controls before finally switching it on and stepping back to admire it in action.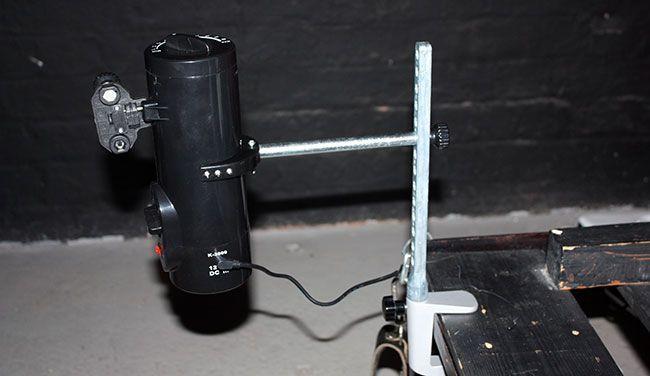 Once assembled you can affix any impact play toy to it (Max 100g)
Performance
No doubt you are more interested in the performance of this spanking machine rather than how to assemble and use it. Spoiler alert, it is one hell of a lot of fun, especially in a BDSM scene.
I have been on the receiving end of it a couple of times now, but it is submissive 'r' who has really tested this out under the steadying hand of my Stunt Cock.
My preference is a cane fitted to this spanking machine, but you can also install a crop or a paddle. The beauty of the cane though is that it can hit both bum cheeks at the same time.
This machine isn't designed to beat you black and blue, what it does do, and it does it very well indeed is to provide accurate and constant strokes to the same target area.
In this way, it can crank up the sensations as each stroke lands within a 1"/2.5cm band, and these repetitive impacts feel great.


The rhythmic impacts using this machine feels amazing
It also means that you can use this machine on a light stroke and after a couple of minutes you really get into it and almost cry out for the strokes to be harder and harder.
Having the cane falling in the same area sent both myself and submissive 'r' into subspace as the pain of the strikes was quickly replaced with an almost euphoric sensation of pleasure and pain. This is a heady combination, and it is caused by your brain releasing endorphins and dopamine into your system. This can elicit an almost out of body experience and is one of the leading draws towards BDSM play for a lot of people.
The spanking machine just doesn't tire, and it won't stop delivering the same stroke again and again. This leaves the Dominant in a position to be able to deliver other sensations to other parts of the body, and this opens up lots of new play opportunities.
Both submissive 'r' and I have achieved orgasm after being spanked for around ten minutes, and that was mind-blowing. Having an orgasm while just being tied up and spanked is quite an experience and one that I do recommend.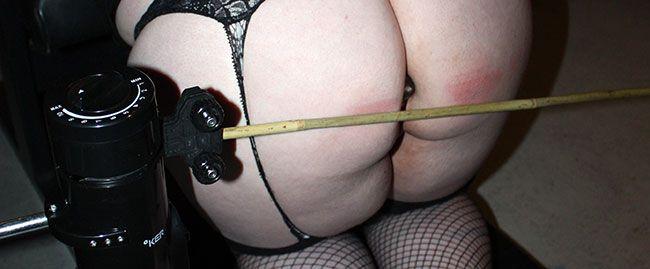 The spanking machine works incredibly well with a cane as the red marks show
Afterwards, my backside was glowing, and Stunt Cock commented that it looked like the backside of an angry baboon, he is a silver-tongued cavalier. Just running my fingers over the warm flesh had me getting very horny once again.
This is a machine that is relentless, and that is one of the things I like about sex machines, they never get tired, they never slow down, and it is always the rider that ends up tapping out in the end as they always outlast your orgasm.
I am really happy that I now know that spanking machines are a thing, and it is a thing that I love.
Yes, spanking machines are a thing. Check out Joanne's thoughts on these kinky sex machines.
Click to Tweet
Key Features
Key features:
Easy to set up and use
10 strike intensity positions, soft-medium-hard
Timer (0-5 minutes)
1 Year UK & Worldwide warranty
Different angles of impact
110V - 240V (all countries) - adaptor supplied
Final Thoughts
Doing this review made me realise that there is more to the world of machine sex than just fucking machines and milking machines. This spanking machine is just so much fun. The level of control is brilliant as it means that for someone new to impact play it can be set on a light stroke but for someone wanting more there is of course much more to give.
Having the timer means you can work that into your BDSM play but the best bit is that the Dominant is freed up from the spanking to work on his or her submissive in other ways and that gives you massive play opportunities.
For anyone worried about the 'rise of the machines', bring it on, it is looking like it is going to be spankingly good fun.
This is a great machine and one definitely worth checking out especially if you have a play space or dungeon. It gets a bit thumbs up and a bright red bum from me.
I was sent this Spanking Machine by sexmachines.co.uk and I would like to thank them for giving me the opportunity to review it for them.
Joanne's rating
Where Can I Get One From?

Grab one of these fantastic spanking machines from sexmachines.co.uk for £229, check out their site as they are the UK's largest sex machine suppliers and they have an incredible range of machines for every budget.
Check them out and don't forget to tell them that Joanne says "Hi".
Disclosure
Disclaimer - I was sent this spanking machine to review free of charge and this has in no way affected the outcome of this review. This post contains affiliate links and if you purchase something when you follow one of these links I may receive a small commission at no cost to you. For more information check out my disclosure page.