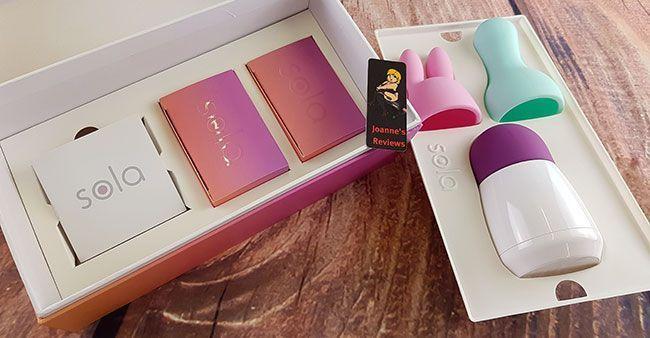 The packaging of the Sola Egg Massager is very well done and everything is held securely inside
It arrived in a plain discreet postal box, you can always rely on Latex, Leather and Lace getting products to you quickly and discreetly. Once removed from the postal box the actual packaging of the Sola Egg Massager Passion Set is really stylishly designed and holds everything nicely in place.
You get the Sola Egg Massager together with its three silicone heads, a magnetic charging cradle, a lint-free storage bag, charging cable and a USB charger and instructions. Mine arrived with a European two pin USB plug, but you can always use your own USB plug.
The Sola arrives sat in its cradle (charger), with the Swedish sleeve attachment already fitted to it. There are also two other silicone attachments, and these are the Bunni Sleeve which has been designed for clitoral stimulation with its long ears. You also get the Omni Sleeve which is a little phallic in shape. This one is also great for clitoral stimulation and even some penetrative fun.
Everything is held very securely in the product packaging, and a lot of thought has gone into it.

This is an unusual sex toy and the three sleeve give lots of play options
Once you get everything unpacked, I suggest giving the Sola a full charge. Slip it into its charging cradle, and it is held in place magnetically. This charging cradle keeps it upright and stops it accidentally activating if something drops onto it.
When plugged in for charging the light on the holder/charger glows, so you can easily see if you have left it plugged in or not. A full charge takes around three hours, and that gives an hour and a half or play time.
When charged and ready for use just pick it up out of its holder and marvel at its magic "mushroominess" (yep, it's a new word I have just made up). I love the funky design and the fact that it sits in the palm of your hand so comfortably.
When you apply pressure by pushing it against your body the underside of the head will light up, and the delicious vibrations begin. This toy looks especially good in a dark room when you can really appreciate the glow.

There is a small lock button on the underside of the toy and this sets the power level and acts as a travel lock
Next to the small charging socket at the base of the body is the little lock button. This is a toy that vibrates with a power that is directly proportional to the amount of pressure you apply to it. When it is vibrating away, you can press the lock button on the base to set that vibration power as the default. It will keep vibrating like that even if you reduce the pressure and this is a great way to prevent hand fatigue.
If you apply more pressure, then the vibrations still increase, and this is a great way to tailor this vibrator to your own masturbatory style. The lock button acts as a travel lock as well so that you can lock the vibrator in its off state when travelling.
The way that you can lock the power level to one which you prefer is great for clitoral stimulation as let's face it you don't want to be cramming this against your sensitive clit. So set the power level you want and then lock it at that level before enjoying the wand strength vibrations.
With three choices of heads, you can have a lot of fun with the Sola, choosing the right sleeve for whatever it is you fancy teasing. When fitted, they are held very securely in place yet they are still easy to remove to fit another one. To remove them easily just tease one side away from the Sola and wriggle it off. The sleeves are excellent quality and are made out of a nice blend of body safe silicone that isn't as much of a dust and lint magnet as some blends I have tried.

I love the three sleeves and my favourite is the Omni Sleeve which feels oh so good inside my pussy
As these sleeves are body-safe silicone, it makes them phthalate and latex free, and that is fantastic. It also makes this a sex toy that is non-porous and very easy to clean. Just wash the sleeve in warm soapy water, and you can even put them (sleeves only) in a dishwasher on a sterilise cycle.
It does sound a bit cheesy but this is also an excellent deep tissue massager, and I like using on my things and shoulders when they are sore for a deep rumbly massage. So it isn't just for your sticky bits, or does that make me some kind of perve for not just using it between my legs?
Performance
The Sola fits nicely in hand, doesn't weigh much so is very easy to use, and has a nice amount of power when wanted. It isn't as quiet as some of my other toys though, so you will need to bear that in mind before using it.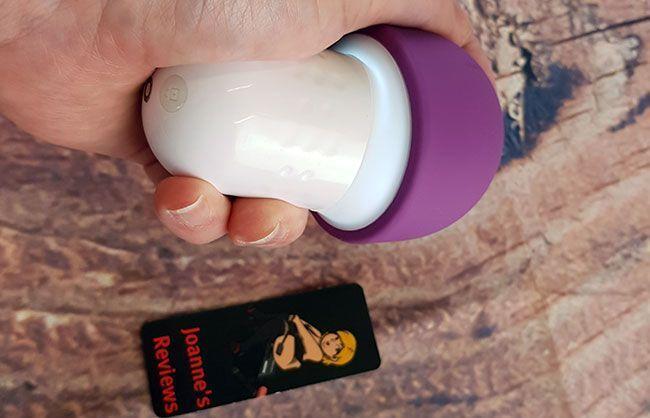 The Sola Egg Massager is very comfortable to hold in your hand and is so easy to use
Pressing it into my vulva, I really enjoy how responsive it is, once I find the power level I appreciate I can just lock it at that level and I can still raise the tempo when I am ready to orgasm.
The sola is ideal for a wand lover as its power is fantastic. If you don't want to take a full sized wand with you when you go away on holiday, then this is a must.
It packs a lot more vibrations than you would expect for a toy of this size, although the vibrations do run the whole length of the toy, so my hand needed a break after a while lol.
With deep wand levels of vibrations, it rumbled its way into my favourite toy box. I love both its sheer functionality coupled with its small form. This is a toy that reliably gets me off every time that I use it. I especially enjoy inserting the Omni sleeve into my eager vagina and then sliding it out and up onto my clitoris as I orgasm.
I think I have a bit of a love affair going on for my little "magic love mushroom".
Meet the Sola Egg or as Joanne likes to call it, her "Magic Love Mushroom" from @LatexLeather.
Click to Tweet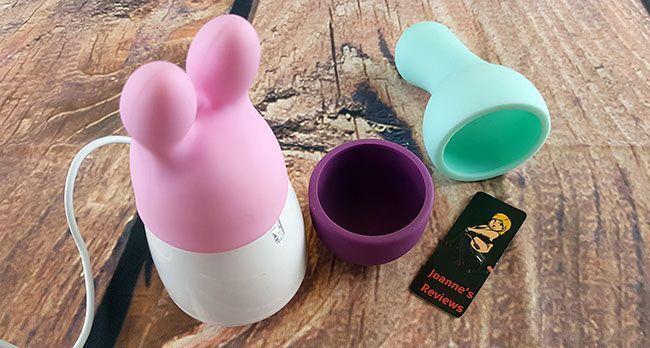 The Sola Egg Massager with its three silicone sleeves has something for everyone
Key Features
Key features:
Three interchangeable silicone sleeves
Pressure activation
Power level and travel lock
Magnetic chaging in its own stand
Nice lint free storage bag
Powerful rumbly vibrations
Final Thoughts
I rate the Sola Egg Massager Passion Set very highly, it is a unique take on pressure sensitive vibrators, and it gets this tech spot on. I love the way that you can lock the power level to what you desire and then just glide it over your sensitive bits.
It delivers wand levels of power but without the hassle of a long handle and power cord. However, the hand vibrations may not suit anyone with grip issues or hand arthritis.
I found it easy to orgasm with the Sola and let's face it that is the fruit in the pudding when talking about vibrators. I love my "magic love mushroom", and it is sat on the bedside cabinet ready for tonight's encounter.
I was sent the Sola Egg Massager Passion Set by Patrick at Latex, Leather & Lace and I would like to thank them for giving me the opportunity to review it for them.

Grab a Sola Egg Massager to see what I mean about this little powerhouse, I love it
Joanne's rating
Where Can I Get One From?
Grab one of these Sola Egg Massager Passion Sets from Latex, Leather & Lace for £114.95. You are best actually going to their physical boutique so that you can try it and other toys yourself before buying.
Check them out and don't forget to tell them that Joanne says "Hi".
Disclaimer - I was sent the Sola Egg Massager Passion Set to review free of charge and this has in no way affected the outcome of this review. This post contains affiliate links and if you purchase something when you follow one of these links I may receive a small commission at no cost to you. For more information check out my disclosure page.