Delivery
I always like to comment on the delivery and packaging materials used when reviewing sex toys as it is something that often concerns a lot of people. The package that I received from So Divine was well packaged and the box carried no indication of its contents. So you can be assured of complete discretion when ordering from So Divine. I was also provided with tracking details of the package so that I could follow its progress on its way to me but if you order something that will depend on the shipping option that you select as to whether you will get tracking information or not.
Product Packaging
The Sweetest Taboo Wand is very nicely packaged in its box which is very feminine in its colours being white and carrying lots of shades of pink. That can often put me off a toy but the design on the box works very well and will look nice on retail shelving. The back of the box carries instructions for the use of the toy and company information together with a standard warning about using the toy correctly. The side of the box highlights some of the great features of this toy, I will talk about them in more depth in a moment but suffice to say it has some very useful and interesting features that make it a delight to use.
The wand is held securely inside this packaging and I was delighted to see that as well as coming with a USB charging cable it also has a USB charger. This is absolutely fantastic as lots of manufacturers don't include one to save costs and that is something I always complain about so it really is nice to see that So Divine include one with this sex toy. It also comes with a nice branded storage bag as well.
Features
The Sweetest Taboo Wand is coated in a very nice grade of soft touch silicone and it is really lovely to touch making it feel and look great, it also means that it is body safe and phthalate free. I found it very easy to clean with just warm soapy water followed by a sex toy cleaner. It's not a dust magnet unlike some of the other silicone coated sex toys that I have in my (rather large) collection.
This is a very stylish wand and it is packed full of features. It has ten vibration modes, these being three speed options and seven vibration patterns. The best feature by far though is the fact that it has vibrating elements at both ends and these are both controlled separately (you can't operate both together though).
Having vibrating elements at both ends of the toy means that as well as having a very capable wand you also get a great G-spot vibrator that can also be used anally. It isn't the most powerful wand in terms of deep rumbling vibrations but it was more than enough to get me off over and over again. It is when you insert it that this toy really comes into its own and as a G-spot massager it is mind-blowing.
It is rechargeable through its magnetic charging cable that simply snaps into place when you charge it and a full charge will give you around two hours of use depending on how high you have the settings. The back of the wand has two metal contacts where the magnetic charging cable attaches. The power light flashes to show when it is charging, which then changes to a steady power light to show when it is fully charged. This is a really simple system to use and means that the toy is totally sealed and so it is 100% waterproof so you can use it in the bath or shower for some kinky bath-time fun.
The controls are very simple push buttons and these allow you to turn the wand on and off, select which end to use and then to cycle through the available patterns and speeds.
The wand is very rigid which makes it easy to position and use.
You can find more information on the official website:- so-divine.com/product/sweetest-taboo/
Dimensions
Length: 9.5inches/24cm
Diameter: 1.65inches/4cm
Use By Hand
As this is a silicone coated sex toy, never use a silicone based lubricant with it, always opt for a water based one. Although most women won't need to use a lube with a wand just bear that in mind if you do.
I really, really enjoyed the fact that both ends of this toy can vibrate and this gives you two toys in one. You can use it as a normal wand vibrator to great effect but you can also insert the tapered end for some great internal play either vaginally or anally as well so it gives you lots of play options. So Divine have hit on a great design with this configuration and I found it to be highly effective when used in both modes, it really is a great toy.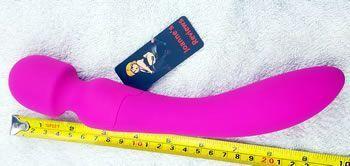 I love the fact that you can use either end of this wand, so you can use the thinner end for more concentrated vibrations perfect for anal stimulation, and the other wider end for wider stimulation, which I loved to use on my clit. The arrows not only select the speed and patterns but also which end of the wand you want to vibrate. The wand is really light, and the shape makes it very easy to hold whilst playing, although I found that I sometimes accidentally press the control buttons whilst in play, as they sit where my fingers naturally sit.
Both motors do not work at the same time. Personally I felt that you get much more powerful vibrations at the round head than at the tapered end.
The way that the handle tapers and has a curve on it means that I can very easily pleasure my G-spot and I like to warm up with the wand head before using the handle to bring myself off over and over again. This really is quite a unique wand as clitoral play and G-spot play are two of my all time favourites and I can do both with this toy.
I am very happy to say that this is a very quiet toy on the lower speed settings, but it isn't what I would class as a whisper quiet once you get to the more powerful vibrations, having said that it is a lot quieter than other wands I have used and if it is power that you are looking for then that always comes at a price.
This wand has three speed settings and seven vibrating patterns and my personal thoughts on the various setting are:-
Rounded End Settings
Whisper quiet – with a wonderful deep constant rumble, very powerful and you can feel the vibration for the whole length of the handle, getting weaker the further down you go.
Whisper quiet – with a wonderful deep constant rumble but at a faster speed than setting 1, and not as powerful as you move down the length of the handle.
Quiet – with fast vibrations which are more concentrated at the top but hardly felt at you move down the length of the toy.
Whisper quiet - Constant pulse vibration which is at a slow speed. The vibrations are concentrated at the top but hardly felt at bottom of the handle.
Quiet – Faster vibrations with one longer rumble before repeating again not felt at the other end of wand at all.
Quiet – Longer pulse rate with a faster more powerful vibration, which is not felt at the other end of the wand.
Quiet - Pulsing pattern going from low to more powerful vibrations, then cycling back again. You can feel the vibrations very slightly at bottom of the handle.
Fast pulsing pattern.
Strong pulsing bursts, before dropping lower than a single longer pulse, before cycling back again.
Fast vibration gradually slowing down and basically it feels the same as 6.
Base Tapered End Of The Toy
Whisper Quiet - Constant light vibration which is fully concentrated at tip.
Quiet - Stronger constant vibration which is fully concentrated at the tip.
Faster constant vibrations can be felt slightly down the length of the wand. This setting is about as noisy as an electric tooth brush.
Quiet - Fast pulsing vibrations which can be felt at other end but only lightly.
Quiet - Fast pulsing vibrations with a single slightly longer pulse, before cycling back around again.
Quiet - Constant pulse, starting fast then slowing down before cycling back round again quiet. Felt slightly down the length of the wand.
Quiet - Pulse pattern with stronger vibrations and a quicker pattern I could feel the vibrations at the other end of the wand slightly.
Pulse pattern from fast to stop, then session of quick pulse vibrations before a long vibration, then cycling back onto same pulse pattern.
Long vibration pulse, then quick vibrations with pulses more powerful than the last setting.
Long strong fast vibrations, then dropping to low a slowly rumble before cycling to fast again.
About So Divine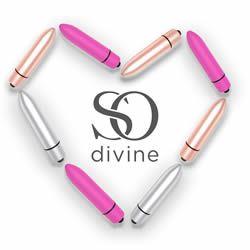 So Divine embrace the new openness around sex toys for men, women, couples, singles, bisexuals, gays and everyone in-between.
They produce an excellent range of affordable and very effective sex toys aimed at all audiences. Both their products and the companies ethos screams openness and sexual well being.
Buying from them carries lots of great benefits such as free shipping in the UK, free returns and very discreet packaging.
Performance
This wand really is excellent value for money, it is packed with some great features and is one of my favourites now. So Divine really have managed to squeeze every ounce of extra value into the package by not only supplying a charging cable but also a USB charger and a storage bag. Some of the more well known brand names should sit up and take note, there is now a great alternative that offers superb features but also amazing value for money. At only £54.99 it is great value for money as you basically get two vibrators rolled into one.
Key Features
Key features:
100% body safe silicone
Two powerful motors
Waterproof
Rechargeable
Magnetic charging cable and charger supplied
10 different vibration functions
Final Thoughts
This isn't the worlds most powerful wand vibrator and so it might not suit the power queens out there but it holds its own against lots of its competitors and the fact that you can also use the handle for deep G-spot plays makes this a must have wand if you are looking for a new one. In terms of value it is amazing and with its ten different vibration patterns there is something for everyone, but by far its best feature is its ability to be two vibrators rolled into one. This is one sex toy that is staying in my bedside drawer and it will take for something pretty spectacular to come along to evict it from there.
So I suppose the main question is would I recommend this wand? The answer to that question is a definite yes.
Joanne's rating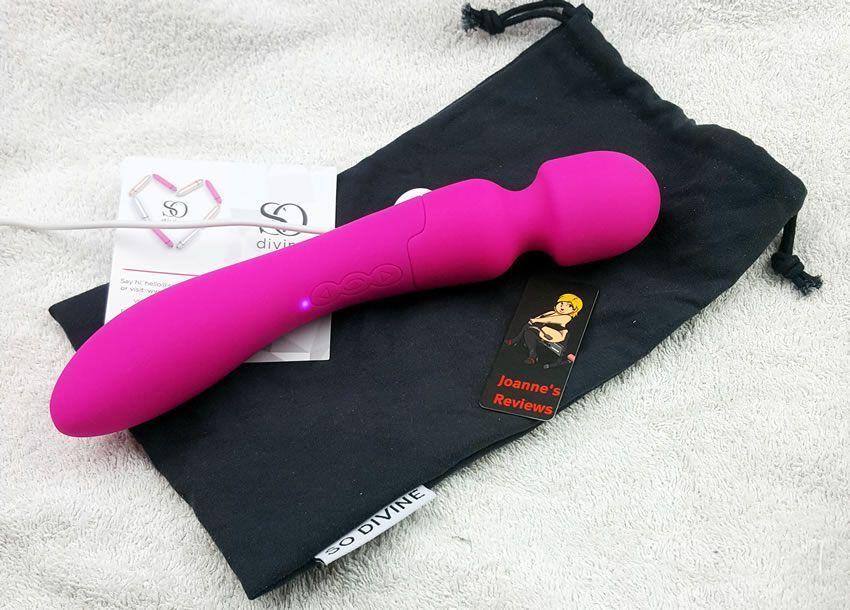 Where Can You Get It From
You can grab one of these great wands for yourself from So Divine and if you are in the UK you will get free postage as well making it an even better deal. Check out their full range of vibrators for some really nice options. I have another two vibrators to review from them and they are both going to be very good indeed as I definitely like what I see with their performance coupled with their great prices.
The Sweetest Taboo Wand is available from so-divine.com for just £54.99
If you are looking to buy sex toys online check them out and don't forget to tell them that Joanne says "Hi".