Delivery and packaging
The So Divine Kegel Ball Training Set arrived very discreetly as with everything that So Divine has ever sent to me.
The packaging with easy to read the info looks lovely. I love the way they use icons to get over key product attributes.

The packaging of the So Divine Kegel Training Set is lovely and very informative
Inside the lovely packaging, you get three kegel training balls and a toy bag. The toy bag is an excellent addition, but you will need to wiggle the balls to get all three inside.
You get three individually weighted kegel balls: 36g, 62g, 96g. This gives you lots of choice in how you use your training set, and it also makes it suitable for everyone.
These kegel balls are made from super soft silicone, which is excellent for anyone with sensitive lady bits. Silicone is my go-to sex toy material as it is non-porous as well as being latex and phthalate-free.

Inside the packaging of the So Divine Kegel Training Set you will find these three lovely training balls
This blend of silicone is excellent, soft, yet draggy, which makes the kegel balls feel fantastic in use.
As the surface is non-porous is means it can't harbour any bacteria which is great for anyone prone to thrush, UTI due to their delicate ph balances.
Performance
Once inserted, they provide pleasant g-spot stimulation, and I found it easy to get highly aroused wearing them. I can also orgasm readily when masturbating with them in.
Orgasms feel great with them in as it is something to clamp down upon as you clench mid-orgasm. Pop them inside in the morning and wear them for as long as I want.

You get three kegel balls and a storage bag in the So Divine Kegel Training Set
Tighter kegel muscles mean your urethra won't open as easily helping to prevent incontinence. This makes them great for anyone suffering from incontinence as it can help tighten your kegel pelvic floor muscles. Oh and that is of great benefit for your sex life too.
Start slowly with just 20 minutes of play/training at a time and increase the time as you go along. Moving from the starter small kegel ball to the larger ones will allow you to tailor the training. Don't rush it.
As they are 100% waterproof, you can even do your exercises while using the bath or shower. I enjoy using them in the bath clenching and squeezing them. This always gets me very horny, and it is nice to finish a training session with a hard orgasm — much more fun than going to the gym LOL.
Using them in the bath tends to make my hypersensitive and aroused, which means I can come pretty quickly. So, playing in the tub may be an excellent option to try for someone who finds it hard to achieve orgasm. The relaxing nature of a bath together with the internal stimulation against your g-spot is a cracking combination.

Each kegel ball has a different weight and dimension
As they are so discrete, with no noise or any indication that you have them inserted, they can make normal activities much more fun. I have used them out shopping, at the cinema and I am tempted to wear them the next time I fly anywhere too.
This ability to be used for clandestine kinky fun as well means that kegel training and kegel balls are ideal for couples to use to spice things up a bit.
Insertion and removal are easy due to the smooth texture on each ball. Each kegel ball has a long loop attached which hangs out of your vagina making retrieval easy. I enjoy almost pulling them out and then sucking them back in using my muscles. That is a good workout for them and also highly arousing.
The loops make it easy to grip and remove the kegel balls even with lubed up fingers or if you have grip issues. You can slip a finger through the loop and hook it to pull the balls out. This is much better than some designs of kegel trainer that have a single retrieval tag rather than a loop.
As there is no noise, they are ideal for anyone living at home or in a shared household. When you use them, you can relax and concentrate on what you are doing rather than worrying about anyone hearing anything. That is, of course, if you can play and use them quietly, of course.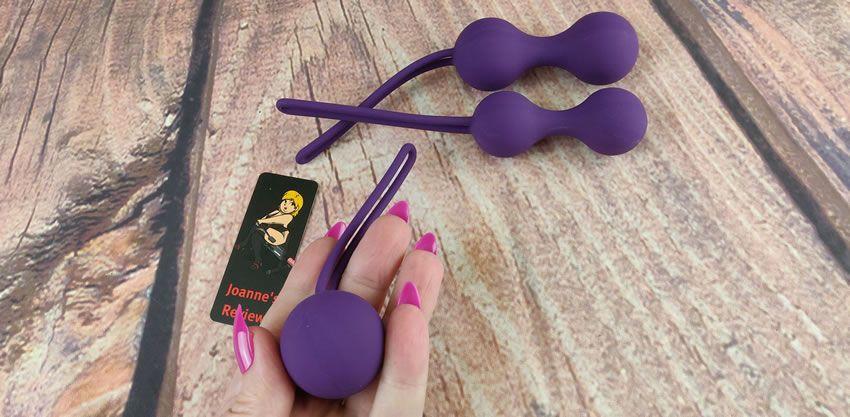 Starting with the lightest one is a good option
I found that while training with them, I got aroused during the process, and this meant lots of blood rushing to my sexual bits. This felt nice, and as a lot of the time when I masturbate it is fast and furious, looking for that quickie orgasm, it was nice to take my time.
As well as providing a good workout for your kegel muscles, I found that it helped reduce stress in my pelvic region. I tried using them during my period, and they helped reduce cramps and as using them turns me on, I enjoyed using them at that time of the month when I am usually hornier than usual anyway.
As using them is so much fun and arousing they would make a good way of warming yourself up before having some fun with your partner.
My partner has also commented on how he has noticed how much more control I have over my pelvic floor muscles while we have sex. So both of us benefit from some kegel training.

The loops make it easy to retrieve the kegel balls after your training session
One of the beautiful things about this kegel set is the three sizes. I can wear the small one for hours, enjoying the feeling of having it in me and also moving it with my muscles.
Moving up to the middle-sized one gives a different sensation due to the added weight and the different shape. A good workout with them would be about twenty minutes at a time.
Work up to the larger balls unless you are used to kegel training. The large is excellent, but the added weight means holding them in place is more difficult and not being able to do so may put off someone new to kegel training.
The thing with kegel muscles like any other muscles is training needs to start gently and build up. Don't try doing too much too soon. A sensible slow approach to it will deliver excellent results.
Use a good quality water-based lube when kegel training, stay away from cheap lubes that can affect your pH levels inside your vagina. This can lead to water infections or thrush. I like using Sliquid H2O or Secret Play Natural Lube as that works very well with my vaginas pH levels.

The three different kegel balls make training fun and you can move from one to the other as your training progresses
Tone up your kegels with the @SoDivine_UK Sensual Kegel Ball Training Set, it's much more fun that going to the gym.
Click to Tweet
Key Features
Key features:
3 Individually weighted kegel balls: 36g, 62g, 96g
Body-safe silicone construction
Exercises & tones pelvic floor muscles
Latex & phthalate free – The soft silicone is made of non-porous and 100% safe material
Easy to remove using the attached loops
I would recommend it to:
Anyone wanting to tone up their kegel muscles
Anyone wanting more bladder control
Anyone wanting a discreet way of training their pelvic floor muscles
Increases blood flow to pelvic region
I wouldn't recommend it to:
Anyone wanting a vibrating kegel training set
Final Thoughts
The So Divine Kegel Ball Training Set is a great way to exercise your pelvic floor muscles while tackling some of the problems women can often have with their bladder.
Training is as fun as you want it to be, and the results are tangible. This set is ideal for anyone who wants to tone up a bit, and new mothers could really find them useful.
I have no trouble in giving them a strong recommendation from my now stronger kegel muscles.
I was sent this So Divine Sensual Kegel Ball Training Set by So Divine and I would like to thank them for giving me the opportunity to review it for them.
Joanne's rating
Where Can I Get One From?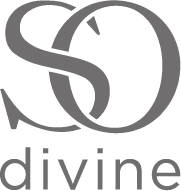 Grab one of these fantastic So Divine Kegel Ball Training Sets from them for just £29.99 and tone up your lady bits.
Check them out and don't forget to tell them that Joanne says "Hi".
Disclosure
This review does not contain affiliate links, for more information about affiliate links check out my disclosure page.