Delivery & Packaging
I was not aware of which items they were sending until sub 'r', and Stunt Cock were nice enough to do an unboxing video for me as I was not well enough to join in.
Both sub 'r' and I were thrilled with the items sent and excited to get to work (by that I mean play of course). Firstly, we needed to decide who would review which toy. I chose the #Selflove Rabbit, and sub 'r' would review the #Selflove Clit Suction Stimulator I couldn't be too greedy after all so watch out for her review coming soon.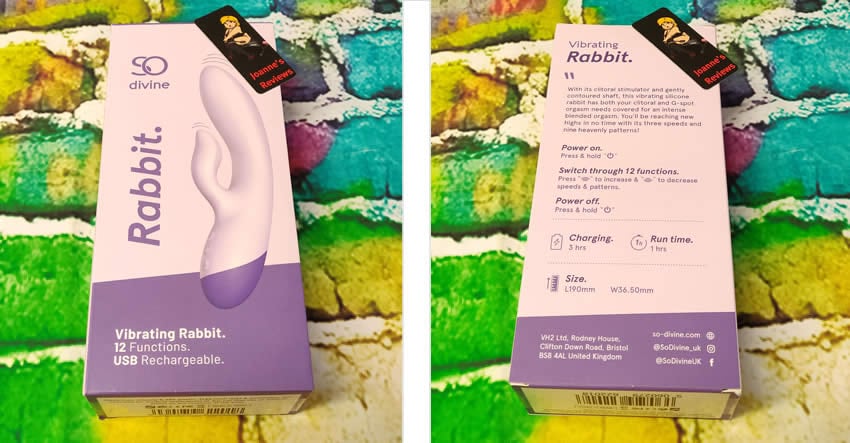 I like the branding and the box of the So Divine #Selflove Rabbit Vibe.
The toys were in a well-sealed discreet box and wrapped in packaging to keep them from moving around in transit.
The #Selflove Rabbit is housed in a retail display box that has a flap that you can open to see the toy inside through a clear plastic window.
I love boxes where you can actually see the toy inside.
The box is sealed with clear security seals at both ends so you can rest assured it hasn't been opened.
Inside the box, you get a booklet with some basic instructions, a good length charging cable and of course the vibrator itself.
Materials and design
The #Selflove Rabbit Vibrator is coated in premium soft silicone, which is not only body-safe, it is non-porous and phthalate-free. It contains a rechargeable battery and a powerful motor.
The design of this rabbit looks sleek and stylish. With a narrow neck which then expands into a slightly girthier head. The clit stim actually looks a similar shape to a thumb, leading up to a pleasantly shaped tip. It looks delightful in its pale pink with a purple base colour scheme.

This is a sleek looking rabbit vibe that looks and feels fantastic.
The neck is slightly flexible, making it comfortable to use, and the clit stim neck is very flexible. The majority of the toy is covered in silky smooth silicone, with the purple base being ABS.
The curved shape makes it very comfortable to hold in play. There is a small amount of give in the rabbit's insertable section, but it's a reasonably firm vibrator. Three buttons are situated just under the clit stim, each one is slightly raised to make them easier to find. The middle is the power button, press and hold it to switch it on or off again. The top and bottom buttons allow you to cycle through the pattern and strength options.
Offering 11 functions with a mix of power and patterns it gives you a decent amount of options.
The USB rechargeable cable is a reasonable length allowing for easy charging. Make sure you give it a full charge before first using it. While it does arrive with a partial charge, giving it a full charge before use will extend the battery life.

The charging cable is a good length and easy to use.
I do like the fact that a small red light comes on near the buttons when charging, this flashes slowly until fully charged. As soon as you see the light is off, you know it is ready to play. The battery lasts very well. I found on a full charge it lasted for over 90 minutes, but this time will most likely vary depending on the settings you use.
The Rechargeable Rabbit is water-resistant, not waterproof, so you cannot use it in the bath. It's charged by pushing a small pin charger in the tiny hole at the toy's back just above the CE mark.
It's designed to not only stimulate your clit but your G-spot too, and it succeeds at both.
Performance
Onto the fun part of a review, how does it perform?
The silky-smooth texture makes it slide in smoothly, and the shape makes it almost effortless to hold and move. The curved shape also makes it easy to use the buttons with your thumb during play. You just need to feel for the telltale bumps.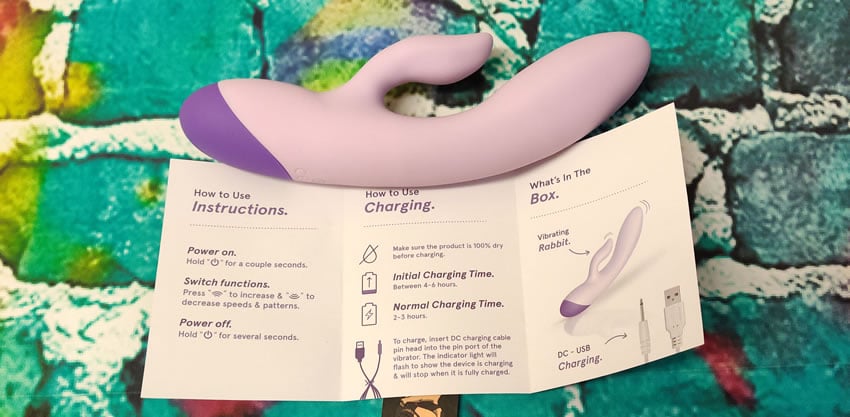 The instructions are clear and easy to follow.
I really like the clit stim shape, with the pointed tip, you can direct the vibrations where you want them the most. I like the intense vibrations, and with the Rechargeable Rabbit Vibrator, I found that I just needed to point the tip to hit my clit and I was away.
The powerful motor sends deep spine-tingling vibrations to the head of the toy and the clit stim. Which are felt wonderfully within. The curved shape is also designed to hit your G-spot, which I found was no effort at all to achieve.
The speed settings only give you three options, but unless you need a really high take-off type of speed, these should be enough for everyone. I was pleasantly surprised by the fact that there is actually a choice of 9 patterns. I will happily admit that it took a lot of extra play to find the pattern that I preferred the most (the things I have to do in the name of reviewing science). It makes it so more fun to work out which is your favourite.

The clitoral stimulator is flexible and that made it comfortable and easy to align with my anatomy.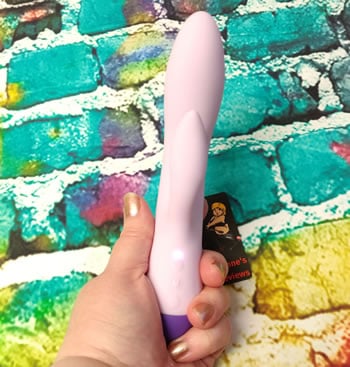 To select the different setting simply press and hold the centre power button, then use the up button to go through the various stages. The down (bottom) button will cycle back through the settings you have already been through. To switch it off again just press and hold the power button.
When I read that any vibrator is 'whisper quiet', I usually take this with a pinch of salt (as the saying goes). Often I have found this statement only to be true on the lowest settings. I'm happy to state that to my ears this one really is whisper quiet even on the higher settings - bonus.
Of course, if you place it onto a hard surface while switched on, it is not so quiet, but that is the vibrations of the toy, not the sound of the motor. I made this mistake one night when I needed to let the dog in.
Looking for a new Rabbit Vibe that is easy to use, silicone and really does the job, check out this one from @SoDivine_UK.
Click to Tweet
Key Features
Key features:
11 Functions – 3 speeds & 9 pulsating passion patterns.
Clitoral & G-spot Stimulation.
Powerful Vibrations
USB Rechargeable
Premium Soft Silicone
I would recommend it to:
Anyone who likes Rabbit vibrators.
Anyone who enjoys G-spot play.
Anyone who prefers rechargeable vibrators.
Anyone who prefers silicone toys.
I wouldn't recommend it to:
Anyone who does not like rabbit vibrators.
Anyone who does not like pink.
Final Thoughts
The So Divine #Selflove Rechargeable Rabbit Vibrator is a fun addition to any play box. The pale pink colour is cute, and the shape is fantastic. I much prefer rechargeable vibrators as the batteries last well, plus I want my toy box to be a little eco friendly too lol.
It is easy to clean, although you do need to remember not to submerge this vibrator in water as it is not waterproof. The sleek, smooth design does not leave many gaps for vag goo to collect. Although having said that, if you get incredibly wet or are a squirter, you may need to ensure to clean around the join between the silicone and abs section.
The battery lasts long enough for me to thoroughly enjoy myself, and it really does hit the G-spot. I am a rumbly vibration lover, and this Rechargeable Rabbit from So Divine is a treasure.
I had a wonderful time playing with this #Selflove Rechargeable Rabbit Vibrator from So Divine for this review. I will admit that I will be enjoying this rabbit even now the review is complete.
I was sent this Rabbit Vibe by So Divine, and I would like to thank them for giving me the opportunity to review it for them.
Joanne's rating
Where Can I Get One From?
Grab one of these fantastic rabbit vibes from So Divine for just £50 which is good value for money.
Check them out and don't forget to tell them that Joanne says "Hi".
Disclosure
This review does not contain affiliate links, for more information about affiliate links check out my disclosure page.