This is my sixth So Divine sex toy that I have reviewed and I think all of them are exceptional value for money. I love the fact that they care about the materials used in their sex toys.
This is another rabbit vibe and there are hundreds of different designs on the market past and present. This one has a nice little unique selling point in its favour though. It is a heated rabbit, yes, you read that right this one warms up to give you a more natural feel. This piqued my fancy as I like temperature play and love the thought of slipping something warm inside rather than the usual cold sensation you get with most sex toys.
More on that feature later in the review first I want to cover the usual basics so here we go.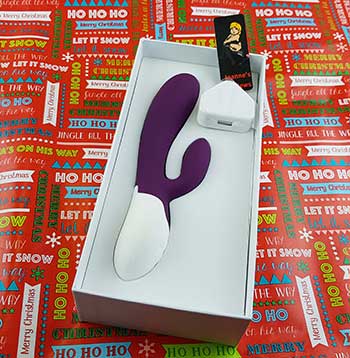 The packaging used on the Lets Go Crazy Rabbit Vibe is pretty much the same as the rest of the toy range. The vibe comes securely held inside an attractive retail box containing the vibe, its magnetic charging lead, a UK plug with USB socket, instructions and a nice drawstring bag. I love it when a sex toy comes with a nice storage bag, whilst I love a nice box they are often just too big for me to store easily. I therefore much prefer to keep my vibes in storage bags in my bedside drawer.
As with the rest of the So Divine range of products this one is coated with Silicone which is a body safe material. This makes it non-porous, hypoallergenic and safe to use. The blend used is a very soft and flexible one that has a silky but draggy texture. Like lots of silicone sex toys, this one is a dust magnet.
If you want to use a lube with it then opt for a nice water based one such as Sliquid H2O. Never use a silicone based lube on a silicone sex toy as it can damage the surface of the vibe.
This rabbit uses a magnetic charging cable and you actually get a mains USB plug with this rabbit which is great and quite unusual these days it seems. You basically get everything you need so no running around looking for your phone's charger or having to have your computer on to charge your toy.
Simply plug in the adaptor, attach the magnetic charging cable and then let its other end snap to the charging terminals on the underside of the rabbit. The two-pin charging lead is a nice length and this makes charging a simple process. I suggest that you charge the rabbit before its first use as it will arrive with only a partial charge in it when you buy it.
The Lets Go Crazy Rabbit Vibe measures in at a rather nice 8"/20cm in length. You get just over half of it as the insertable portion which is 4.5"/11.4cm and this curves upwards slightly giving some nice pressure in the G-spot area. This insertable bulbous section is 4.5"/11.4cm in circumference and this is nice and filling. The clitoral stimulator arm in 2"/5cm long and it is nice and flexible which means it will fit lots of body shapes.
The great flexibility of the clitoral arm is a real bonus as often rabbits will either give good clitoral contact and stimulation but not hit the right internal spot or vice versa. This one due to its flexibility is a great design and will put a smile on lots of peoples faces no matter what the genital geometry is, did I just use the term "genital geometry"?
The two motors used in this vibe are pretty good, especially the internal one which does pack a punch. The clitoral one isn't as strong and this is unusual as it is usually the other way round. That said though the clitoral stimulator is still strong enough to bring me off with no problems at all. The internal one though, well let's just say I want its phone number and to date it as I can see a long relationship developing between the two of us. It rocks and gives some pretty good deep sensations which hover around my G-spot. This is the first rabbit I have used that gets me off through mainly G-spot action and stimulation.

You get seven different patterns of vibrations and these use a combination of the two motors with some causing the sensation to move around inside you. Once you find one that you want to enjoy you can use the three different speeds to tailor it to get you 'there' quickly and with much aplomb.
The handle of the rabbit has five buttons with the centre one being the on/off button. Left and right of that are the speed controls. The button above the power switch is the pattern button and the bottom one controls the heating function.
That brings me nicely along to the heat function, I thought it was just a gimmick when I first heard of it but having used it I can definitely say I like it. The warmth you feel from it gives masturbation a whole new feeling to standard sex toys. Pressing the heat button turns the power light red and starts the heating process. It quickly heats up to a nice 37-38 degrees, which is body temperature. Holding it in your hand you can't really feel it but inside it feels amazing.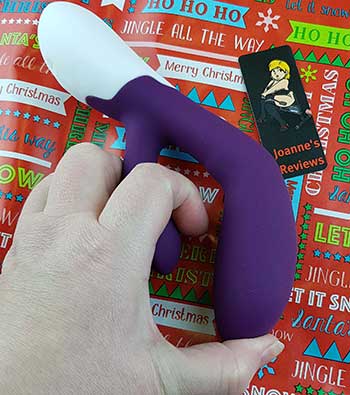 The combination of the bulbous shape with its upwards facing curve feels incredible and it is a good size to give you a nice feeling of being full without it being a stretch. The clitoral stimulator due to its flexibility stays in contact with my clit even if I push down on the handle to give myself firmer g-spot contact. The heat is the final piece of the puzzle and all of these together give me rock solid orgasms everytime I use it.
Quimsticking with a sex toy that is at body temperature is an amazing feeling and this rabbit stands out from the crowd because of this and the amazing thudding g-spot stimulations that it delivers.
This rabbit like the other sex toys in the so Divine range is waterproof and it is a lot of fun to use in the bath or the shower.
I was very pleasantly surprised by the lack of noise from this vibe, it really is very quiet. When inserted, it's impossible to hear from the next room even on the higher settings. I really can't fault the Lets Go Crazy Rabbit Vibe and it was a real eye-opener for me because of its heating function and it powerful yet quiet motors.
The rabbit vibe just got better. You have got to try the lets go crazy warming rabbit vibe.
Click to Tweet
Key Features
Key features:
Body safe silicone construction
Powerfull yet quiet g-spot stimulation
Seven patterns and three speeds
Waterproof
Magnetic charging cable and USB charger
Final Thoughts
This is a brilliant rabbit vibe, everything from the packaging to its contents is first class. You get a very nice storage bag and hallelujah you even get a USB plug to charge it with. All in all, you get a lot for its £64.99 price tag. So Divine is even running a special where you can get a free bullet vibe if you place your order before 31st December 2017, so even more bang for your buck.
If I could change one thing about it I would give it a stronger clitoral vibe but that would affect its noise output and the one fitted gets me off. I am just a bit of a power queen who always wants more though.
If you are looking for your next rabbit vibe then definitely give this one some strong consideration as you would be hard pushed to find a better one.
I was sent the Lets Go Crazy Rabbit Vibe by So Divibe and I would like to thank them for giving me the opportunity to review it for them.
Joanne's rating
Where Can I Get One From?
Grab one of these cracking rabbit vibes directly from So Divine for just £64.99 and if you order before Decmber 31st 2017 then they will send you a free bullet vibe.
Check them out and don't forget to tell them that Joanne says "Hi".
Disclosure
This review does not contain affiliate links, for more information about affiliate links check out my disclosure page.