The Get Lucky vibrator arrives discreetly packaged from So Divine, and once I had opened the box I was greeted with a lovely retail display case, or I should say display tube.

I love the So Divine retail packaging it really stands out from the crowd
The packaging of this sex toy is really nice, the pink branding on the box carries lots of useful information about what lies within. Upon opening it, you are greeted by the Get Lucky vibe standing to attention, almost demanding that you give it an immediate go.
You also get a set of elementary instructions, no need for anything complicated as this vibe is so easy to use you don't even need the instructions.
As well as the Get Lucky vibe you will also find a very nice black, branded drawstring silky storage bag for the Get Lucky, and this is a very nice touch for a number of reasons. Firstly it is great for keeping dust and lint off your sex toy and secondly if you are travelling with it and your bags get searched it makes things a little bit more discreet.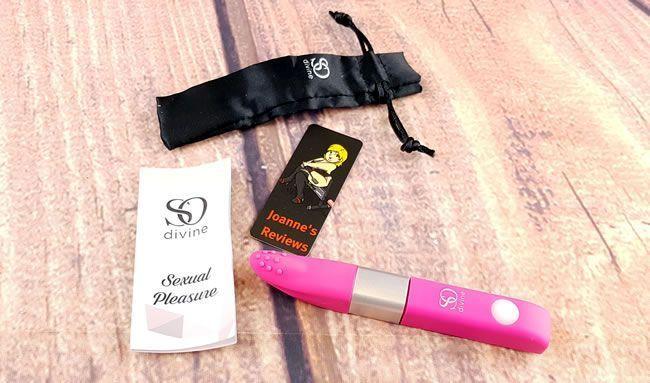 I love the fact that you get a storage bag with this vibe
Design
You will note that you don't get a USB charging cable with this vibe and that's because you don't need one. This is the first sex toy I have come across with this ingenious design, and I think it is marvellous.
The sex toy pulls apart and splits right down the middle, and you are left with the vibrating portion with a female USB socket and the battery section with a male USB plug.


You split the Get Lucky Vibe in half to reveal the charging plug
You plug the battery end into a power source (I used my laptop) and it is incredibly discreet. It looks like just a thumb USB drive. That is a big problem with regular USB rechargeable sex toys; you need to leave your sex toy laying around as it charges and that isn't discreet.
So Divine have overcome this problem with an ingenious solution, recharge the battery section, leave the vibe section in its bag. This, of course, leads to the possibility of them bringing out different heads with different textures and target erogenous zones while sharing a standard battery and controller. From a design point of view that is ingenious, form a sex toy users point of view it is also brilliant and discreet. So Divine gets a huge thumbs up from me for this one.
When it is charging, the battery section glows and the light pulses almost like a heartbeat, once the battery is fully charged the light remains steady.

I think that this design is both discreet and effective
Materials
The Get Lucky vibrator is made from ABS plastic together with soft and luxurious pink silicone. Both of these materials are non-porous, body safe and hypoallergenic which means that it is also latex and phthalate free. I always recommend going for body safe sex toys because, well why wouldn't you?
The assembled vibrator measures in at 4.75"/12cm long and it is very slim having a square cross-section over most of its body.
It is waterproof, but you need to make sure that it is pressed tightly together, I must admit to not having tried it in the bath, but I will do.
The vibrating tip has a slight upward curve and features nine soft nodules that help to pinpoint sensations. It almost looks like a fingertip, and it is nice and soft. One side is smooth, and this is great as you can vary the sensations just by flipping it over.

The upturned tip looks and feels like a finger and its very effective
The pointed tip allows for pinpoint precision if you want direct clitoral stimulation and in use it does this perfectly, allowing you to control where its delicious vibrations are delivered with ease.
The large white control button is easy to use, and you press and hold to switch it on or off again. You briefly press it to cycle through the three speed and four patterns included with the vibe. All I can say about the fourth pattern is OMG that one really works for me.
When you switch it on, it remembers the last setting that you were playing with, and that is perfect for me, bring on 'number four' again, I'm ready!
Performance
This is the section of the review that matters the most, of course, you are interested in how it works and what materials it's made of, but the million dollar question is "will it get me off"?
I found that this is an excellent vibe for clitoral pleasure and while you can insert it, I prefer using it externally to tease my clitoris and also my urethra. The tip makes it easy to locate my urethra to deliver incredible sensations there.
The small nodules on the tip of the vibrator feel incredible when I slowly rub them over the top of my clitoris. It feels very intense, and I usually use it over my clitoral hood as that helps to spread the sensations out over my clit.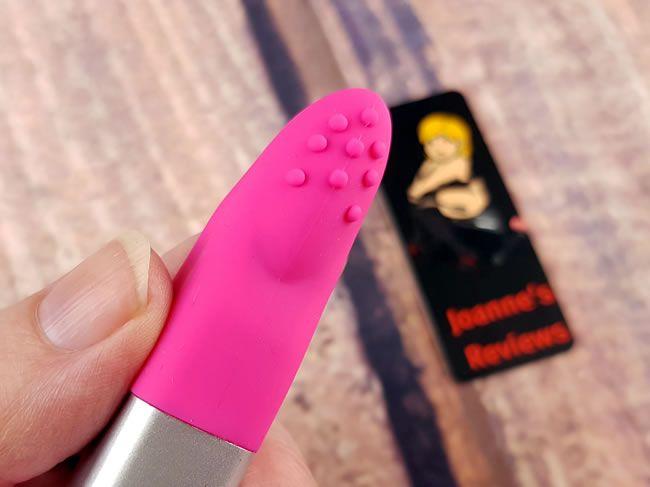 The small nodules feel great when rubbed across your clitoris
I use a small amount of water-based lube, usually Sliquid H20 or Secret Play Naturals and this helps the tip glide over and around my clitoris. Using an excellent waterbased lube really helps you enjoy the stimulation.
It delivers buzzy vibrations, but as they are pinpointed, they feel great. That fourth vibration pattern blows my socks off everytime that I use it, I love the way it climbs and then almost gives my clit a double tap. That setting has me writhing around biting my lip, and a fantastic orgasm follows soon afterwards.
The Get Lucky is also good for nipple stimulation and drawing it over my areola and nipples feels fantastic, and this is an excellent warm-up before the main event.
Another fantastic feature of this vibe is the noise it produces. It is very, very quiet. This makes it the perfect vibe for anyone in a busy household or for someone who enjoys a quickie when out and about. Under the sheets, you can't hear it at all.
All in all, I love the Get Lucky, I think that its unique design gives it lots of upgrade possibilities in the future. I love the way that it splits in half for charging and this makes it so easy and discreet to charge.
Its performance is excellent, each time I have used it I have had very lovely orgasms no problem at all. It's so small that it can even be used for clitoral stimulation when enjoying penetrative sex.
The Get Lucky USB rechargeable vibe from @SoDivine_UK is a handy little vibe that packs a punch.
Click to Tweet

The Get Lucky Vibe is small, light and easy to hold and use
Key Features
Key features:
Unique break apart design revealing a charging plug
Three speeds and four patterns
Body safe silicone and ABS materials
Storage bag
Final Thoughts
I like the Get lucky, its unique charging method is simple, discreet and it solves the problem which of the myriad of sex toy charging leads is which.
I had no problem with reaching orgasm with the Get Lucky and it is fun to use with a dildo or on its own. Using it when receiving penetrative sex is also a lot of fun.
I think So Divine is onto another winner with this handy little silicone vibrator, check out their range of products. Everything that I have ever tried from them has been great and this one keeps their record with me.
I have no problems giving the Get Lucky a strong recommendation.
I was sent the Get Lucky USB Rechargeable Vibrator by So-Divine and I would like to thank them for giving me the opportunity to review it for them.
Joanne's rating
Where Can I Get One From?
You can grab one of these rechargeable vibes for yourself from So Divine and if you are in the UK you will get free postage as well making it an even better deal. Check out their full range of vibrators for some really nice options. I have several vibrators, butt plugs and a wand from them and they are all very good indeed as I definitely like what I see with their performance coupled with their great prices.
The Get Lucky USB Rechargeable Vibrator is available from so-divine.com for just £29.99
If you are looking to buy sex toys online check them out and don't forget to tell them that Joanne says "Hi".
Disclosure
This review does not contain affiliate links, for more information about affiliate links check out my disclosure page.