Delivery and packaging
As always with So Divine, I couldn't be happier with how securely and discreetly my package came to me. Before I knew it, this sex toy was delivered very discreetly in a plain white packaging box.
I am happy to say that it had no indication of what was inside, which is always a massive plus for me, as I don't want the postman knowing what naughty things I have been up to, LOL.
Inside the box, there was the Suction Stimulator itself, as well as a charging cable. You also get a fantastic information booklet which tells you how to get the most out of your new toy.
One of the things I love about the So Divine packaging is that you can see the toy inside without taking the toy out of its box.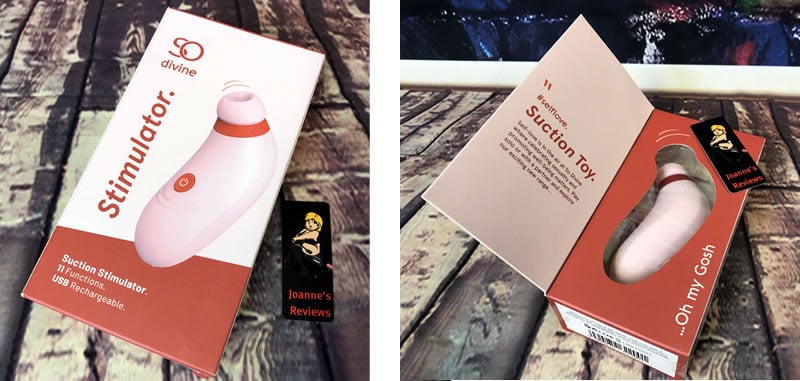 I like the branding and packaging of the #SelfLove range of sex toys from So Divine.
I think this is something that all sex toy companies should be doing. If you like to get your sex toys from a physical shop, you have to rely on the box pictures.
They always leave you with no idea of the scale of the toy. So I just have to guess that it will be something that I will like and if it will be a waste of money.
I love the use of pictures and graphics on both sides of the box. They cover all of the main points.
I hate reading small print, so when companies use pictures with their information, it is always a big plus for me.
The thing I love the most about the So Divine packaging is that they have made it look fun and fresh. The bright pastel colours help it appeal to all age groups.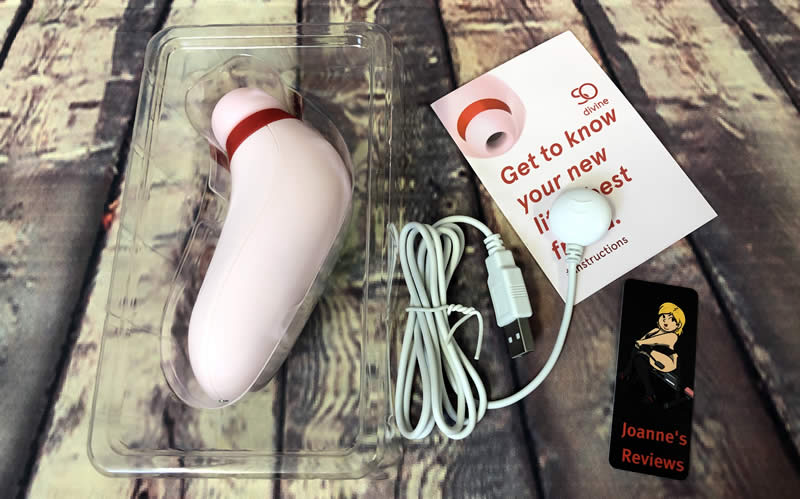 I think that the So Divine Stimulator looks great and it comes with a charging lead that is actually a generous length.
Materials and design
The Clitoral Suction Vibe is made out of silicone and ABS, two excellent sex toy materials. This is because they are both non-porous, phthalate-free, and latex-free too - bonus.
Another thing I love about the Self Love Clitoral Suction is that it is completely waterproof. I love nothing more than taking my toys with me in the bath/shower for some fun.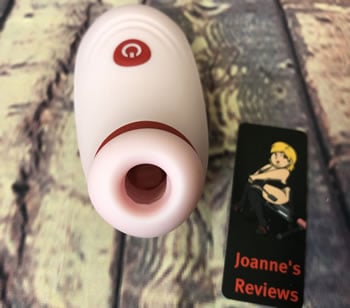 When I placed the nozzle underwater, I found that the sensations delivered were even more potent than when it is out of the water.
The silicone nozzle is small (about 2cm in diameter), but the silicone is very soft. This makes it very comfortable and also helps form an excellent seal around the clitoris.
I had no problems getting my clit to fit in the nozzle, but I did have to be very careful not to get my clit hood piercing caught in the nozzle.
If you have a very large clit you may have problems getting a good seal around your clit. I have found it is essential that you get a perfect seal with this type of sex toy. It makes a massive difference to the stimulation levels that the toy will produce and its noise levels.
As with my other So Divine toys, the charging cable is of good quality and a very long length. This means you will have more flexibility regarding where you charge it than you do with most other charging cables.
The magnetic charging cable attaches to the end of the toy. You don't have to worry about getting it the right way around as the magnets automatically align themselves.

The USB magnetic charging cable snaps into place easily and makes charging a really simple process.
While the simulator is charging, the power button flashes on and off, letting you know that it is charging. When it is fully charged, the light will stay lit, letting me know when it's ready for playtime.
The lithium-ion battery allows for a 60 minute run time after an initial two and a half to three-hour charge. Please bear this in mind, but trust me, 60 minutes is more than enough time to bang some fantastic orgasms out.
I love how easy the Self Love stimulator is to use. To switch it on, you simply have to press and hold the power button for two seconds, and it will spring into life on the lowest power settings.
The So Divine Stimulator has 11 different pulsating settings and patterns. To get to your favourite, you have to press the power button again to go through all 11 of them as you can't go backwards if you skip past your favourite.
When you want to switch the stimulator off after a good session, just press and hold the switch to turn the toy off. At first, I found it a little confusing as the power button controls everything from power to controls, but I soon got used to it.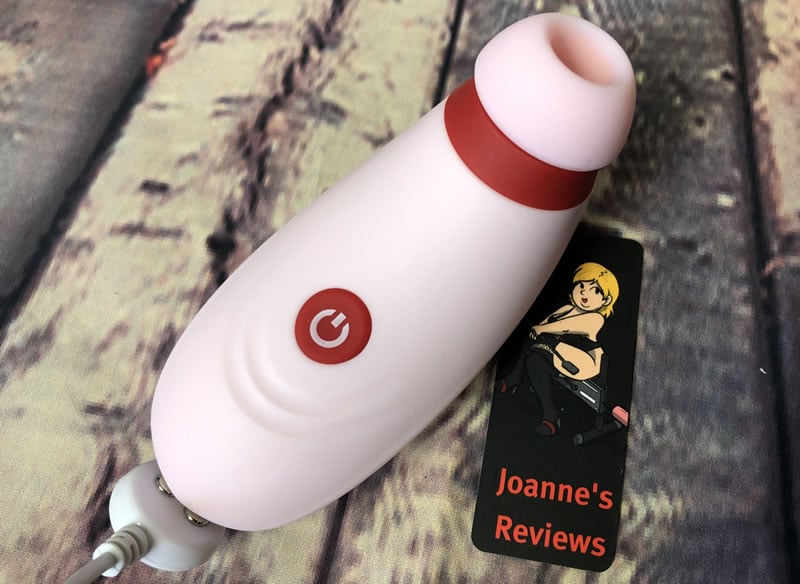 The control button is well placed and easy to use and the overall shape of the Stimulator makes it comfortable to hold in use.
I would recommend making sure that your clit sits entirely inside the nozzle to get the best stimulation. The intense sensations lead to lots of pretty quick orgasms for me.
I always recommend using a high-quality water-based lube such as Sliquid H20 or Secret Play Natural. This will help you get a more comfortable seal.
The clitoral suction stimulator is nice and compact. Measuring in at just 47mm (width) and 115mm (tall) makes it very light and easy to hold for long periods.
As it fits into the palm of my hand very well, it is very easy to handle and use.
As the clitoral stimulator is made out of silicone and ABS, cleaning and taking care of the toy is very straightforward.
I recommend using a good quality sex toy cleaner, or you can simply use anti-bacterial wipes. Please make sure the toy is dry before you put it away, though. The soft silicone nozzle can be removed to aid cleaning.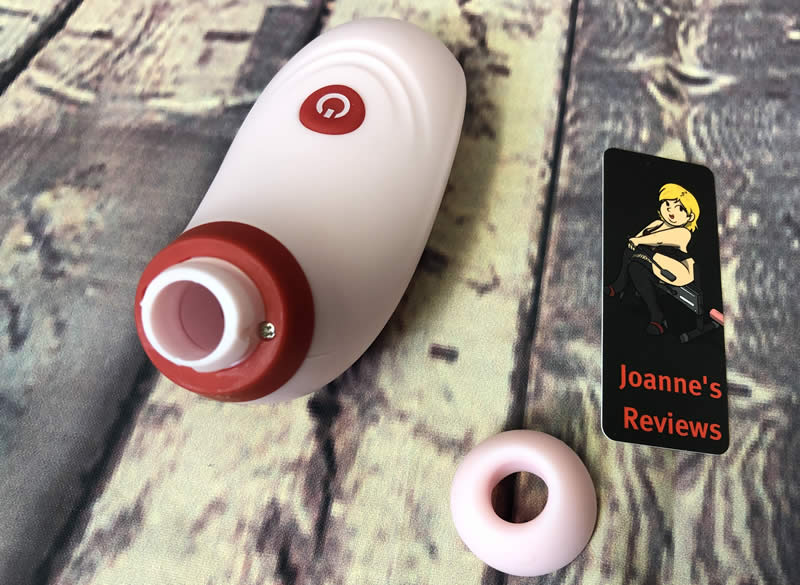 The silicone nozzle comes off to make cleaning a very simple process.
Performance
The only problem I had with the self-love stimulator was trying no to get my clit hood piercing trapped inside of the nozzle, pulling my piercing out. So initially, it took a while until I finally got my clit were it was meant to be. That of course is a personal issue because of having a vertical clit hood piercing and I did get the hang of fitting it but at first I was very cautious of catching the piercing.
I started off on the lower settings to warm myself up and get myself in the mood for more play. After some edging play, I switched up the power settings to high, which almost made me cum there and then.
I tried to make myself last for as long as possible though, but when my orgasm came, it washed over me again and again, leaving me breathless and with a huge grin on my face. If you have problems cumming through your clit alone, then this may be a great toy to try. It is very intense and the sensations produced are not like those from a regular vibrator.
I was surprised by the noise the Self Love Stimulator makes when I first turned it on, but it is much quieter when used and pressed against your clitoris. It is about the same as my other suction vibes, though. I guess the air pulsing is what can be heard, and that is why it is much quieter when pressed against your body.
When the vibe is on the lower settings, it's very quiet, but when I placed it on the higher settings, I found it very loud, which I found a little off-putting. I was always worried about other people earing me playing. So I only used my clitoral stimulator when I was home alone, so if you live with other people and kids, then bear this in mind.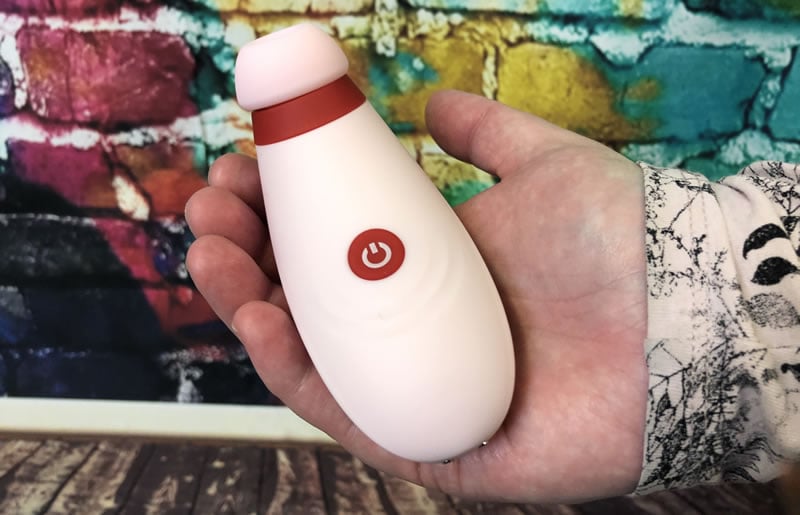 The Stimulator is small and comfortable to hold it fits in your hand snuggly.
You get 11 different power settings and patterns, but they are very close together in terms of power. So, when I switch the power settings up a level, it felt like nothing had changed at all. But, when I go up two or three levels at a time, let's just say it made my toes curl and left me clawing at the bedsheets.
It isn't just useful for solo play. I love it when my partner uses the stimulator on my clit after tying me up (yes, I like it kinky). A little pre-sex fun helps me relax and gets me ready for more fun. I really can say how much fun it is when using it as a couples toy.
The sensations in play when using this sex toy can only be described as mind-blowing. The tap, tap, tap sensation it delivers to your clitoris get the blood flowing and really feels fantastic.
It is breathtaking in the highest settings. Just imagine some good old fashioned oral sex and then multiply that sensation tenfold, and you will be close. The only complaint that I have with this style of sex toy is that they make it very hard to edge yourself for long drawn out play sessions. They are great for quickies and for when you just need to get off.
I'm obviously not going to say that everyone will love this style fo sex toys, but I am yet to meet anyone who doesn't like them. I can be a bit of a squirter when I play, and the So Divine Stimulator certainly allows me to enjoy that sort of thing as it rips an orgasm out of me.
I love it, and if it weren't for my clitoral piercing, it would be almost perfect for me for when I "get the horn" and need to quickly do something about that.

The Stimulator is so easy to use that you only need a simple set of instructions to get you going like this one.
Check out this review of the @SoDivine Clitoral Stimulator sex toy from their #SelfLove range.
Click to Tweet
Key Features
Key features:
Powerful suction waves.
11 functions and power settings.
Pinpoint clitoral stimulation.
USB rechargeable.
Water-resistant.
Made from high-quality silicone.
100 per cent body-safe.
I would recommend it to:
Anyone who enjoys both strong and fast orgasms.
Anyone who likes suction-based sex toys.
Anyone who likes sucking sensations on their clitoris.
Anyone who is looking for a rechargeable sex toy under £50.
Anyone who wants to take their sex toys into the bath and shower with them.
I wouldn't recommend it to:
Anyone who needs a discreet sex toy.
Anyone who does not like sucking sensations on their clitoris.
Anyone who as a large clitoral hood piercing.
Final Thoughts
My final thoughts on the #SelfLove Clitoral Suction Vibrator is a bit of a mixed one. On the one hand, I have no problems reaching orgasm and squirting in no time with the vibe, and the sensations that the self-love vibe makes are truly mind-blowing.
But on the other hand, it took me a very long time to get my clit into the nozzle comfortably without trapping my clit hood piercing. This caused me a bit of discomfort. Obviously, that wouldn't be a problem for someone without such a piercing though. So that is purely a personal drawback that doesn't detract from the amazing performance of the stimulator. The noise which the vibe makes is a little loud and off-putting unless it is in contact with your body before you switch it on.
I was very impressed at how light and compact it is, which makes it ideal for when I'm travelling and want to take a sex toy with me, so it will be my first choice for that. Overall I like it but for me it was a little fiddly just due to my piercing. I am more than happy to give it a strong recommendation if you are looking for a sex toy to make your toes curl and to give your clitoris a real run for your money.
The self love clitoral suction vibrator was sent to me by So Divine, and I would like to thank them for allowing me to do this review for them.
Where Can I Get One From?
Grab one of these fantastic clitoral suction stimulators from So Divine for just £45 which is incredible value for money.
Check them out and don't forget to tell them that Joanne says "Hi".
Disclosure
This review does not contain affiliate links, for more information about affiliate links check out my disclosure page.