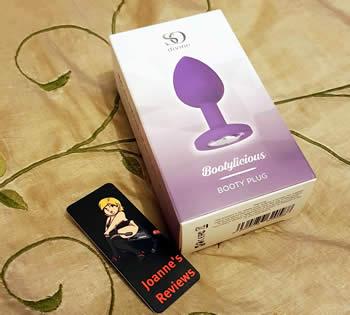 I was really pleased with the Sweet Sensations butt plug and this is basically a scaled up version. Which makes sense as the design of their first creation is a winner in my books as I loved it.
The bootylicious plug features a nice and wide base which is incredibly important in a butt plug. Your anal sphincter, unlike a vagina, draws things into you instead of pushing outwards when you orgasm. Hence so many reports of unlucky people reporting to A&E with totally unsuitable objects up their butts. Always choose a butt plug with a nicely flared base - or come up with a convincing story to tell the doctor.
The Bootylicious plug is coated in 100% platinum cure silicone and this is the perfect sex toy material. It's non-porous which means that it won't absorb smells and liquids. It's hypoallergenic, latex and phthalate free whilst being very easy to clean which is important with an anal sex toy.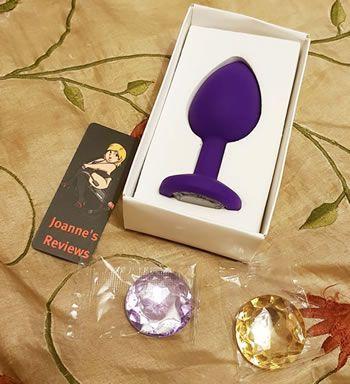 The blend used is a little draggy but as you will be using lots of lube this isn't a problem at all. I love the shade of purple (my favourite colour) and like its predecessor, it carries a gem in the flared base. You can see a very faint flash line around the toy where the mould has left a mark but you can't feel it at all.
This gem is removable and you get three to choose from, simply stretch the silicone over the edge of the gem to remove it. Fitting a different gem is the opposite and it is an easy task. I like having the opportunity to tweak its looks. You get a clear, purple and a yellow gem.
To clean this butt plug just use plenty of warm soapy water, you can place it in a dishwasher on a sterilise cycle but remove the gemstone first. Remove the gemstone even if washing by hand as it can be a gunk magnet and removing it means you can get into every corner. Make sure it is dry before putting back together and storing away until next time.
---
---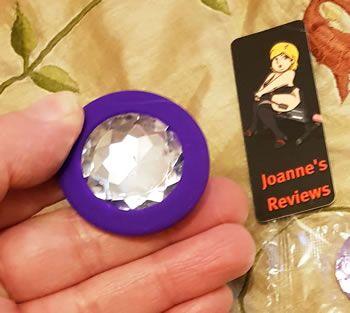 With Silicone sex toys I recommend using a good quality water-based lube such as Sliquid H2O. Avoid silicone lubes though, as whilst they are longer lasting, some have been known to react to silicone sex toys. If you do want to try a silicone lube try a drop of it inside the base where the gem sits. That way if there is a reaction to the surface of the silicone it's where no-one can see it.
This butt plug has a very gently tapered tip with a rounded nose, this greatly aids insertion but you will still need lots of lube. Apply it to yourself and the toy before inserting and I recommend working some inside you. You can either use a finger or a lube shooter, better yet get your partner to do it if you have one handy.
This is a nice sized butt plug that has a girth of 4.5"/11.4cm and you get 2.1"/4.3cm of insertable length. I would recommend starting with the Sweet Sensations Booty Plug if you are new to anal play. I would class this as an intermediate butt plug.
So what does it feel like in use?
There is something just so deliciously naughty about pushing an object up your bum, but it feels so nice doing so. I love the feeling of being full especially when having vaginal sex. I have it on good authority that it also feels very good for my partner's cock when I am plugged.
Some butt plugs are a bit "Meh". But this one feels very nice as it dilates you when pushing it inside. It feels delicious as it enters you with my favourite part of the process being as it 'pops' inside. That sensation feels amazing.
Once inserted, it stays put well and is comfortable for extended periods of wear. The longest that I wore it was overnight and it felt very horny waking up to being plugged. Needless to say, it lead to some naughty fun prior to getting out of bed.
Due to its wide base, it's also easy to grab hold of and also pretty easy to remove. Again you get that 'pop' feeling as you dilate and then it slides out quickly. I never get tired of that amazing sensation.
I have to work up to getting it in first though as its size is at about my limit for anal toys. I tend to use its smaller brother first before going for gold with this one (I know, it's a good excuse to use two butt plugs).
If you are looking for a medium sized silicone butt plug check out the Bootylicious. Click to Tweet
Key Features
Key features:
100% platinum cure silicone
Wide flared base for safety
Three interchangeable gems
Nicely tapered tip for easy insertion
Final Thoughts
Once again So-Divine has come up with a great addition to their product line. They have chosen to work with a great product and just scaling it up whilst including extra gemstones. This is my second butt plug review for So-Divine and it's nice to see such well thought out products. It's also nice to have two butt plugs that are very similar but with one being larger for the other. Without the smaller one, I probably would struggle to fit this one so it's good to warm up with one before moving on up. They also do a large plug called the Wild Thing that would be great for lovers of larger plugs.
I give the Bootylicious Booty Plug a big thumbs up and it will be a plug that I will use in the future, which coming from a sex toy reviewer who has lots to choose from is credit indeed.
I was sent the Bootylicious Booty Plug by So-divine.com in exchange for a fair and honest review and I would like to thank them for giving me the opportunity to review it for them.
Joanne's rating
Where Can I Get One From?
You can get yourself a Bootylicious Silicone Butt Plug from So-Divine.com for just £16.66 which is great value for money for a silicone plug with multiple choices of jewel.
Check them out and don't forget to tell them that Joanne says "Hi".
Disclosure
This review does not contain affiliate links, for more information about affiliate links check out my disclosure page.