Delivery and Packaging
As always, this sex toy arrived quickly and very discreetly from So Divine. I can always rest assured that anything I get from them will be very discreetly shipped in plain packaging.
Upon opening the box, it arrived in I was delighted to see that their packaging design team have done another excellent job of the box for the Black Juju.
I love packaging with windows that allow you to see the sex toy inside. This important as with just a picture you have no idea of scale and it is nice to know what you are buying when browsing in a brick and mortar store.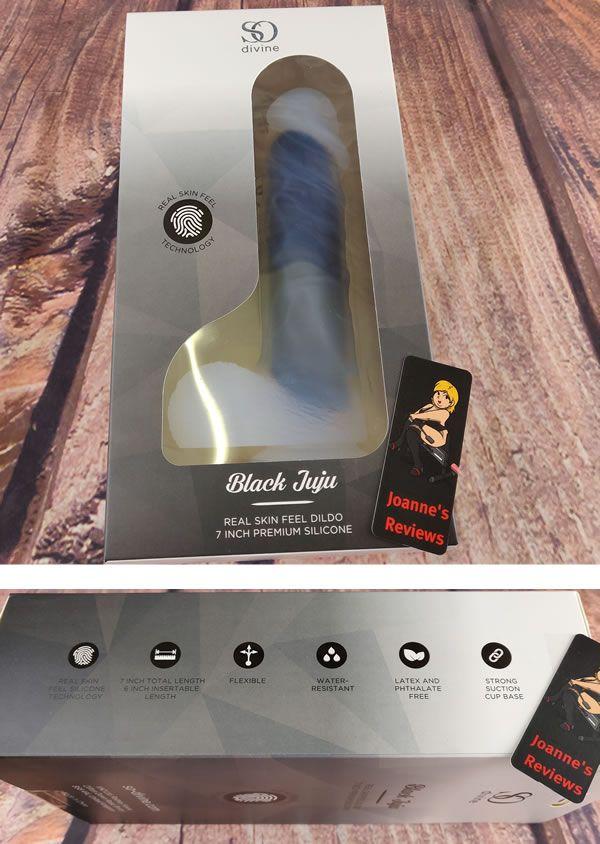 I like the So Divine packaging, it is always clear and I love the informative icons
I also love the use of infographics on the side of the box, and they cover the main points anyone needs to know about this dildo very well indeed. I hate reading small print, so infographics are something I love so well done So Divine on the packaging. So what do you get inside?
Design and Materials
The Black Juju is made from a delicious blend of body-safe silicone. It feels delightful, and two different densities of silicone are used to create a dildo that is perfect for thrusting.

The black Juju looks lovely with its opaque outer and black inner silicone
Silicone is my go-to material for sex toys due to it being non-porous and both phthalate and latex-free. It is also effortless to clean either by hand or in a dishwasher.
The inner core is made from a stiffer blend of silicone, this gives the shaft some rigidity while retaining its soft feel. This inner core is black and looks great through the opaque outer layer of silicone.
The outer layer of silicone is real feel, it feels lovely just squishing it in your hands, and in use, it means you can clamp down on it nicely.
The detailing on the glans and shaft are very pleasant with a well defined coronal ridge that gives lots of stimulation as it is thrust in and out.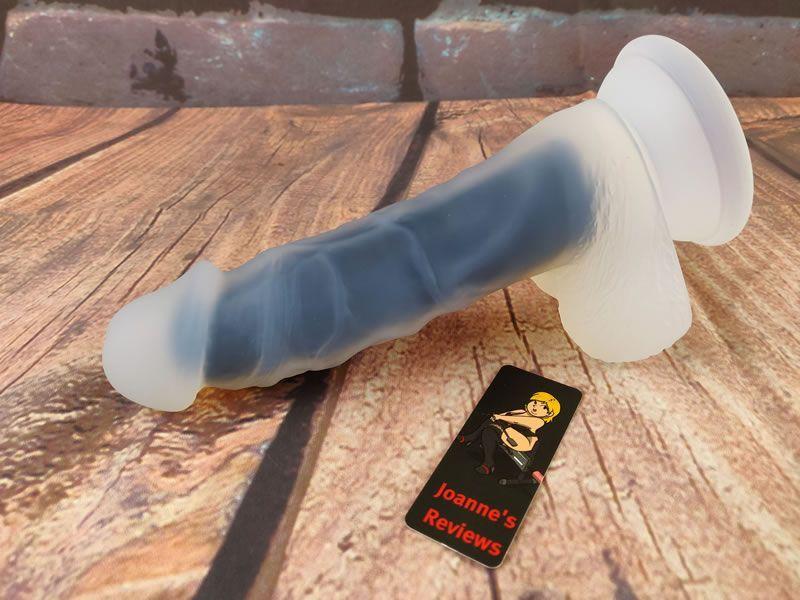 The black Juju has a well defined glans and lots of nice textures on the shaft
The shaft also carries some nice vein detailing that again feels great as you use it.
The Black Juju measures in at 7"/17.8cm in length, of which you can insert 6"/12.2cm, and it has a base diameter of 2.5"/6.4cm.
This dildo has a nicely proportioned pair of balls that are fun to play with. They also felt very nice when ground against my clitoris.
One of its best features though is the suction cup base. It is surprisingly strong, and that allows you to stick it to any smooth surface for some hands-free fun.
Use it in the bath or shower to spice up your me time and to take your fun to the next level.
While the outer layer is delightfully soft, this is still a very flexible dildo. You can almost fold it in half, and this makes alignment if you use it on a fucking machine an easy task.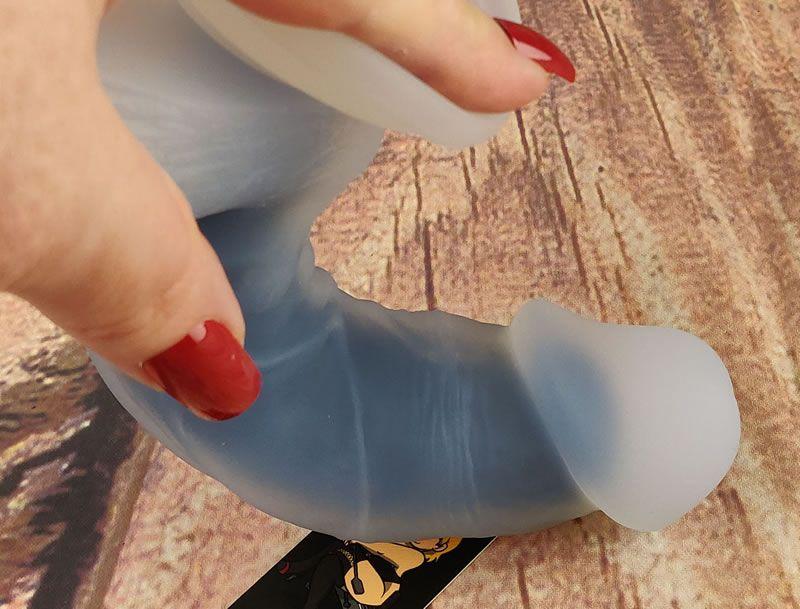 The black Juju is still a flexible detail even with its stiffer core
It also means that you can really go to town when you thrust it in and out of yourself.
Performance
This is where it counts, and the Black Juju doesn't disappoint during play.
I have used it in the bath, in bed and even on the end of one of my fucking machines.
I love the textures on it and in particular the glans. The feeling of pressure as you start to insert it just before my vagina dilates to accept it is lovely.

The Black Juju has a very strong suction cup base
I particularly enjoy it when the glans pops in, the well defined coronal ridge on it feels delightfull on my vaginal walls.
Thrusting with it is a lot of fun, use a good quality water-based lube such as Sliquid H2O or Secret Play Natural and avoid silicone-based lubes.
It is essential to use good quality lubes, especially if using this dildo on the end of a fucking machine. Four thrusts a second sounds fantastic, and it is as long as you are lubed up.
The veins on the shaft also feel great, and the glans felt really lovely when rubbed against my g-spot.
The flexibility of the shaft makes thrusting easy and comfortable, and the suction cup actually makes a handy place to grip it in use.
The suction cup is very strong, and it allows you to ride this dildo hands-free. This is something that I can highly recommend, and it leaves your hands free to play with other areas of your body. The suction also means that this dildo is great for strap-on action too and its size will make pegging easy.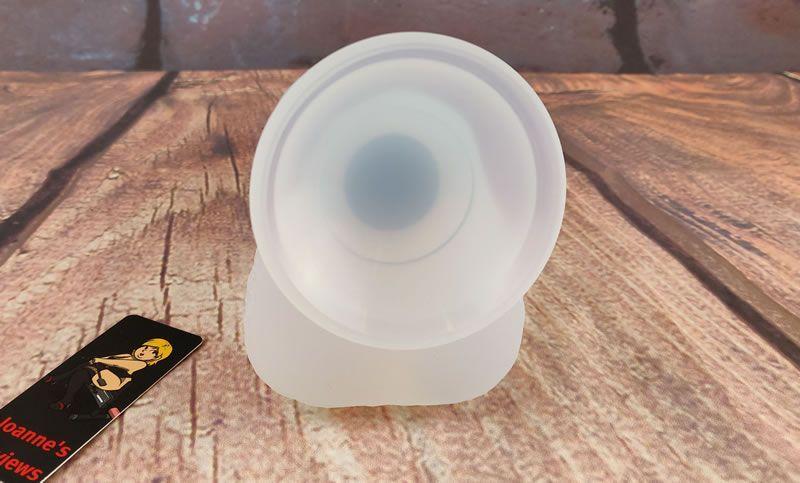 The suction cup base allows you to fix it to any smooth surface
I love the look for the Black Juju, and it feels as good as it looks when it is deep inside you. I can't take it anally, but I imagine that the pronounced glans and veins would feel fantastic if you can do so.
The blend of silicone is soft to touch, but you can still feel the textures when thrusting with it, and that feels sublime.
This dildo is available in two other colours, pink and blue and that gives you some nice choices when deciding on the look you want for your dildo.
I hate the term beginners dildo, but it could be applied to the Black Juju, and it would fit. This is a dildo that isn't going to tax a size queen, but its modest proportions provide lots of stimulation where it's needed.
When masturbating, I like to be filled even if just rubbing my clitoris. I love having something inside me to clamp down upon as I orgasm and the Black Juju is perfect for this role. I can just insert it and use a vibe on my clit or even just my fingers, relishing squeezing it as I cum.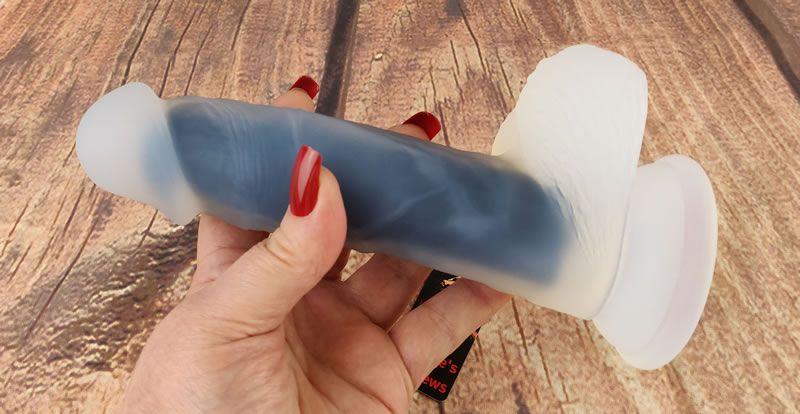 The Black Juju is a nicely proportioned dildo
Thrusting with it is also a lot of fun, and that texture really does hit the pot of me.
The Black Juju gives me lots of opportunities for some self-pleasure and makes it a good choice if you are looking for a silicone suction cup dildo with lovely textures.
It isn't going to split you in half, but it will fill you and provide some delightful sensations as it does so.
Check out Joanne's review of the @SoDivine_UK Black Juju silicone dildo. It's a nice dual-density dildo with some lovely textures on it.
Click to Tweet
Key Features
Key features:
Real skin feel silicone
7 inches total length, 6 inches insertable length
Strong suction cup base for hands-free pleasure
Latex and phthalate free
Waterproof
Latex and phthalate free
I would recommend it to:
Anyone looking for a modestly sized silicone dildo
Anyone looking for a dildo with a strong suction cup
Anyone who wants a soft dildo with a firner core
Anyone looking for a body-safe dildo
I wouldn't recommend it to:
Anyone looking for lots of girth
Anyone who likes firm dildos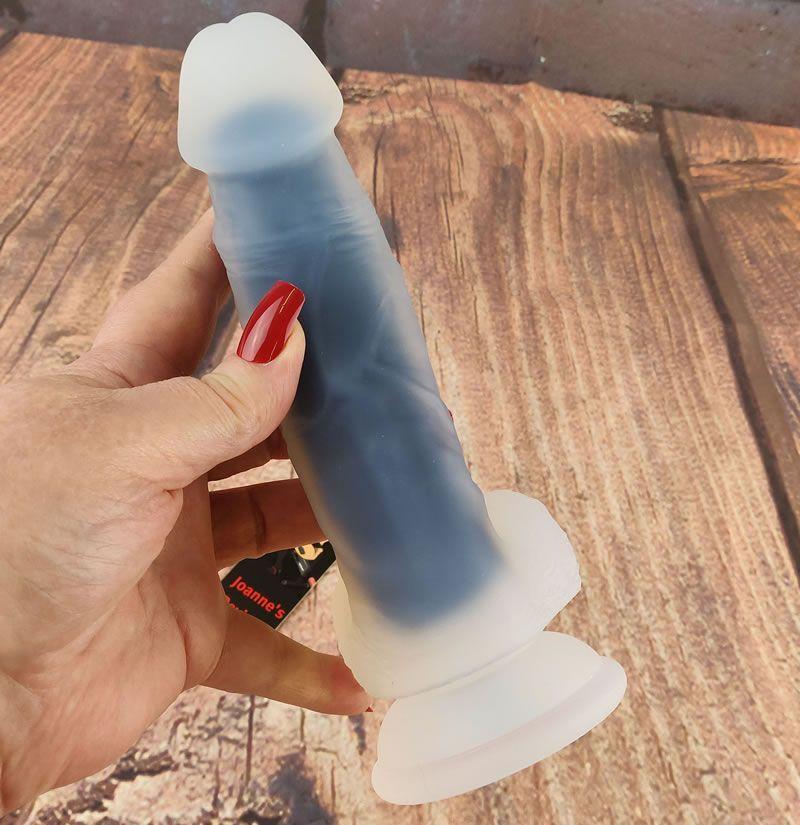 The Black Juju looks fantastic and is a lot of fun to use
Final Thoughts
I have really enjoyed reviewing the So Divine Black Juju Dildo. It is a little cracker, the well-defined glans feels delightful as you thrust with it.
The textured shaft also teases your vaginal walls as you do so, and with it having a strong suction cup, it opens up lots of other play opportunities.
Fit it to a strap-on harness or a fucking machine for some serious fun. I love this blend of silicone and the soft outer coupled with the stiffer black inner silicone feels fantastic.
The Black Juju is an excellent choice for anyone looking for a body-safe suction cup dildo that will fill you without stretching you too much. I love it.
I was sent the Black Juju Silicone Dildo by So Divine and I would like to thank them for giving me the opportunity to review it for them.
Joanne's rating
Where Can I Get One From?
Grab one of these fantastic little dual density real feel silicone dildos direct from So Divine for just £34.99 and choose from black, blue or pink.
Check them out and don't forget to tell them that Joanne says "Hi".
Disclosure
This review does not contain affiliate links, for more information about affiliate links check out my disclosure page.