Delivery
I couldn't have been more pleased with the delivery of this love egg, it came securely packaged and in first class condition.
So Divine always dispatch sex toys efficiently and very discreetly which is often a big concern that people have when ordering off the internet. You can rest assured that they take discretion very seriously.
Packaging
I always like the design of the So Divine packaging, it is both informative and beautiful. The sides of the box carry lots of product features in pictographic form, and I find these very easy to understand and comprehend.
When you slide off the outer cardboard sleeve, you are left with a nice white box with subtle branding and inside this you will find the Addicted Love Egg and its remote control held securely in place within a high-density foam insert.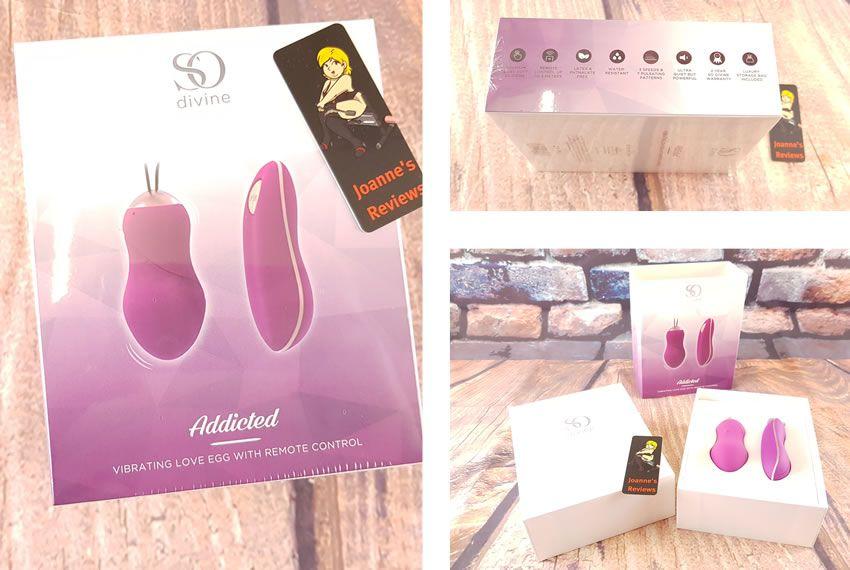 I like the packaging of the So Divine Addicted Love Egg
Under this insert, you will find the instructions, a cute velvet drawstring storage bag together with the USB charging cable. I always love it when manufacturers include a storage bag as using the box for storage isn't practical for lots of people, so well done So Divine.
First impressions when you open the box are excellent indeed.
Charging
The first thing that you should always do with a rechargeable sex toy is give it a full charge before use, and that is a simple process with the So Divine Addicted Love Egg.
Insert the charging cables plug into the charging socket on the back of the love egg, it's very easy to find, looking like a bullseye just under the CE marking.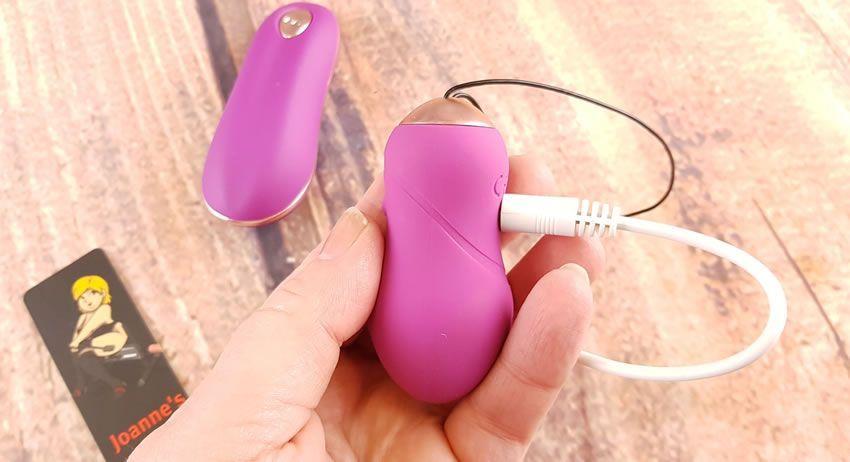 It is easy to find the charging point and make sure you insert the plug fully home
Insert the plug fully and then plug in the other end of the charging cable into a USB power source.
When charging, a light on the love egg flashes and then goes steady when fully charged. A full charge takes just 2.5 hours, and that gives you up to 60 minutes of play time on the highest setting. It will obviously last longer on the lower settings.
Function and Form
The Addicted Love Egg is coated in a very smooth blend of pink silicone. This makes it non-porous, as well as being phthalate and latex free. Silicone is my go to sex toy material as it is so easy to keep clean and it is also hypoallergenic.
On the subject of cleaning, just rinse it in warm sopay water and then use an anti-bacterial sex toy cleaner on it. Pay particular attention to where the black loop goes into the love egg as it is a vag-goo magnet.
The blend of silicone used feels divine, it is just so smooth to the touch and it isn't a dust and lint magnet like some other silicone toys I have.
The love egg has just one button on the front of it, and it also has a long black loop that is used as the antennae for the remote control and also acts as a way to easily remove the egg after play. This loop hangs out of your body giving you confidence that you aren't going to lose it.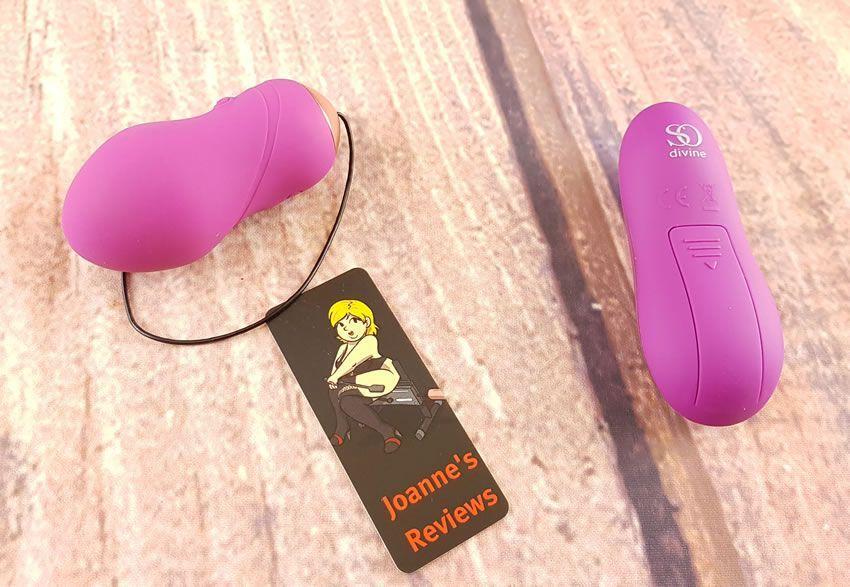 I love the silky smooth body-safe silicone used on this vibe
The remote is also very nicely designed with a shape and size that fits in your hand very well indeed. It features one button as well, and once the love egg is switched on, you can control it with this button even when it is deep inside you.
The remote unit comes with a battery, and it is made out of ABS and the same silicone as used on the Love Egg. It feels lovely in your hand, and the button is very tactile giving a nice audible click when pressed.
With a range of about 5m it means you can give it to a partner for some teasing fun or you can use it yourself when out and about.

The remote is very comfortable to hold and coated in the same luxurious silcione as the love egg
It comes with a two-year warranty which is fantastic and So Divine sex toys are very reliable anyway, so that gives you peace of mind when buying one.
The Addicted Love Egg features three speeds and seven vibrating patterns that are easy to cycle through using the button on the egg or the remote.
You hold the power button in and hold it there for a couple of seconds to turn it on or off, and the same goes for the remote. Pressing it briefly changes the vibration settings.
Performance
The rounded tip on the Love Egg makes insertion easy, just use some water-based lube to assist in inserting it.
Once switched on push it inside your vagina. The wider end of the egg actually helps to hold it in place when inserted leaving the loop exposed outside your body.
You can then use the remote to cycle through the controls until you find what suits you. The motor is quite powerful and on the buzzy side rather than being rumbly. This feels nice against my g-spot when wearing it.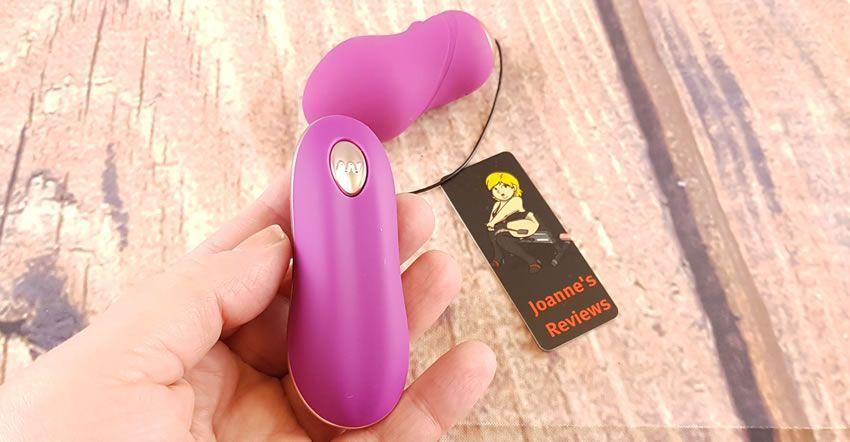 The button on the remote is very nice and tactile giving you a nice click when pressed
With it inside you, it is extremely quiet, and you can't hear it on the lower settings. In a totally quiet room, you may be able just to hear it on the higher settings.
I was confident in the noise levels to enjoy it while out and about, and I relished being teased with it inside me while out doing the weekly shop. A love egg buzzing away deep inside you makes this chore suddenly so much more enjoyable.
I was squirming by the time it came to go through the checkout, and my face was flushed as I was well on the way to an orgasm. My stunt cock who had the controls was just teasing me and giggling behind me like a schoolboy.
I managed to hold out until I got in the car and then I enjoyed a delightful orgasm in the carpark as stunt cock filled the boot with the groceries. It was quite surreal but very gratifying.
We have played with it like this on numerous occasions and sub'r' has also been teased with it out and about. Her best orgasm came while strapped to a spanking bench receiving a flogging with it buzzing away inside her. She actually squirted and was made to clean the floor on all fours afterwards.

The battery in the remote is easy to replace
As well as using it internally it also makes a cracking little clitoral vibrator, and you can do away with the remote when playing with it this way. Just use the button as you glide it over your clitoris for some delightful sensations. Top Tip, you can also use it on a penis, just let the tip glide over his frenulum (banjo string) for some toe-curling sensations. Throw in some restraints, and it is excellent for cock teasing play.
My favourite setting is one of the pulsating settings and this one quickly has me very aroused and tensing up ready for a massive orgasm to wash over me.
Check out the @SoDivine_UK Addicted Love Egg and enjoy some kinky remote play on your own or with a partner. It has lots of play possibilities.
Click to Tweet
Key Features
Key features:
Soft luxurious silicone coating
Three speeds and seven vibrating patterns
USB rechargeable vibrator with a battery powered remote control
Remote range of 5m
Great design stays in well yet is easy to remove
Final Thoughts
If you are looking for a love egg, then the So Divine Addicted Love Egg is undoubtedly one to seriously consider. It is quiet, powerful and also has some excellent routines.
Obviously, having a remote for it means so many more kinky play opportunities and it is great for couples as well as singles.
Don't forget that it feels great on the underside of a penis or gliding over your erect clitoris. Deep inside you though is where it really feels fantastic and both sub'r' and I have really enjoyed reviewing it. Teasing each other with it has been so much fun.
As its name suggests, you could get seriously addicted to playing with this discreet vibe.
I have no problem in giving this vibe a strong recommendation and just like the rest of the So Divine range that I have reviewed you get a lot of bang for your money with their sex toys.
I was sent this So Divine Addicted Love Egg by So Divine and I would like to thank them for giving me the opportunity to review it for them.
Joanne's rating
Where Can I Get One From?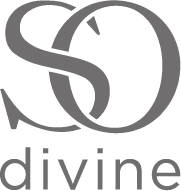 Grab one of these fantastic love eggs from So Divne directly for just £54.99 and enjoy the kinky potential that remote controlled sex toys can deliver.
Check them out and don't forget to tell them that Joanne says "Hi".
Disclosure
This review does not contain affiliate links, for more information about affiliate links check out my disclosure page.