About Uberkinky
I absolutely love Uberkinky and everything that they stand for. Their site is packed full of very useful advise together with amazing sex toys to fulfill anyone needs and desires.
Stephanie Taylor founded Uberkiny in 1988 when she set forth on an unmatched crusade to bring sex toys to the masses through newspaper and magazine adverts. In 1998 the Uberkinky website was first unveiled and they haven't look back since then. They have been trading for over 27 years now and their reputation for quality products and great customer support just goes from strength to strength.
They make it their number one priority to offer the finest quality and most unique adult products available together with impeccable service every time. This is why they get a very strong recommendation from me.
Their attitude is second to none and you should check out their amazing guides on their site, they are incredibly informative and we can all learn something new from them.
Check out their amazing How To Use Nipple Clamps guide for some very good information on all of the different types available including Nipple Suckers.
Delivery
As with everything else that has ever been delivered to me from Uberkinky this package arrived quickly and was plain and non descript, giving absolutely no indication as to the sensitive nature of its contents.
I have very nosey neighbours and can always trust orders from Uberkinky to not give the game away to them.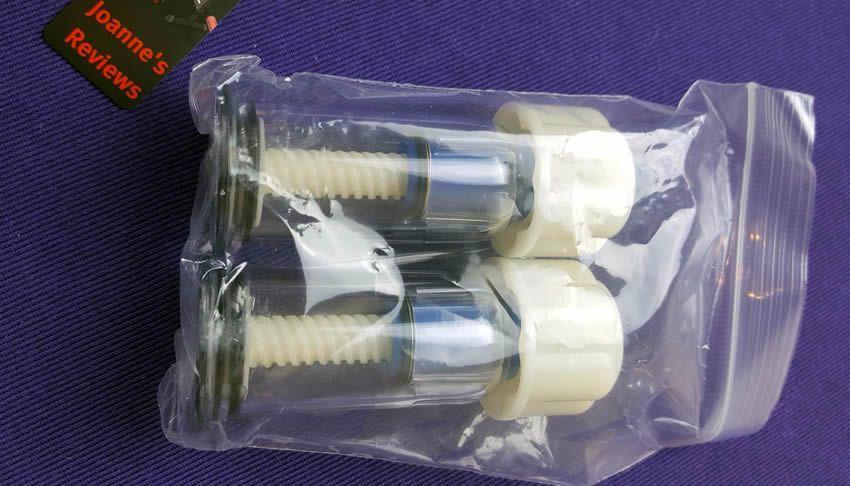 Features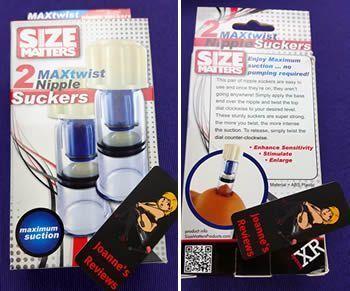 The Size Matters Max Twist Nipple Suckers come in a nice retail box which contains two Nipple Suckers.
The Nipple Suckers are very well put together and they are made out of clear ABS and you can easily see their inner workings. The piston in them has two rubber o-rings to form a good seal. They are very sturdy and will last a long time if cared for properly.
At one end is the opening and the other has a large white knob that you twist to raise the piston causing the suction effect to increase. This adjuster has a double start thread which means that it is very responsive and moves the piston quickly and smoothly allowing for easy adjustments to be made whilst you are playing.
The Nipple Suckers have an inner diameter of 1.17" (3cm) and a circumference of 4.15" (10.52cm). They are 4" (10.52cm) long and they are free from Phthalates and Latex making them safe to use for anyone with allergies for either.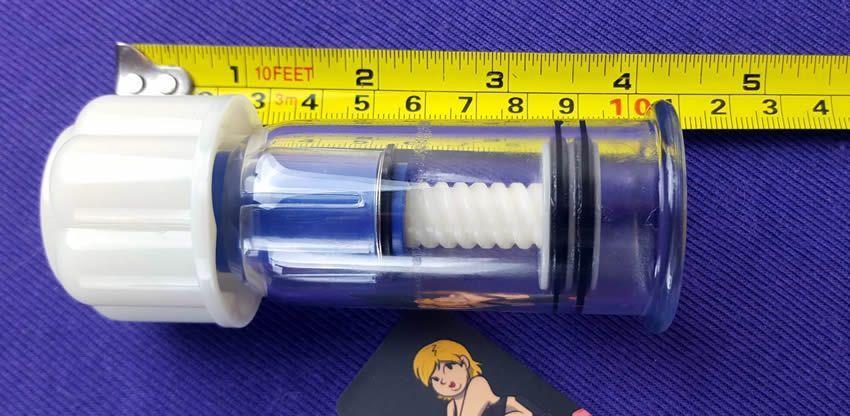 Now, whilst I would love to show you my own nipples whilst using these Nipple Suckers my sites host would not approve of that and so I have obtained a set of fake breasts just to illustrate this review - so sorry to my pervier readers.
Use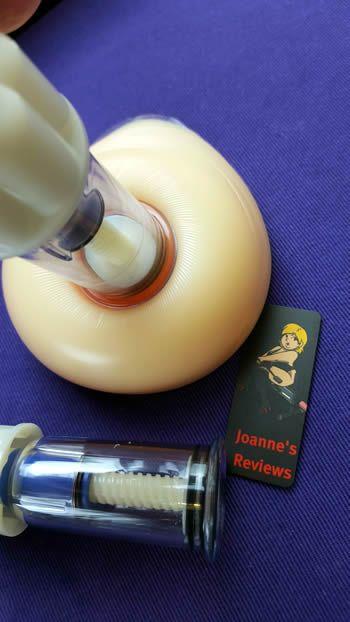 These Nipple Suckers are very, very strong. You can use them to tease or if you are in that sort of mood even inflict a bit of pain. Use a bit of lube around the nipples to ensure a good seal and then press the open end of the sucker over your nipple.
You will need to hold the clear body with one hand and then twist the white knob with the other had to draw the piston up in the suckers body as it is quite stiff. This will draw the nipple into the body of the sucker and apply just the amount of suction that you want. It's a very horny feeling as the blood rushes to your nipples and they swell and stretch. This makes them even more sensitive.
It's very easy to control the amount of suction, but you'll need to use two hands every time you adjust them. I found that unless you used a lot of suction they have a tendency to fall off when you let go of them due to their size and weight. That maybe due to me having saggy "Mum" boobs but if you increase the suction then they do fair much better.
My other half actually used a piece of string tied to each sucker and then looped around the back of my neck to support them as we played and they stayed in place no problem a tall like that.
If you have small nipples then I suggest looking at the Twist Action Nipple Suction Cups as these can be ordered in a range of four sizes so you can find one that will suit you.
They are good for both males and females but please bear in mind that they need a good seal, so guys you may need to shave off any excess hair around your nipples prior to using them.
You can also use these Nipple Suckers for cupping fun and games and their large size means that they can draw a lot of blood to the surface of your skin but they are a bit too wide for clitoral use.
Performance
They really do create a lot of suction and you can make your nipples very, very sensitive when using them, you should use a bit of lube as it helps the skin to be drawn into the suckers painlessly and also facilitates a good seal.
I found that at low suction levels they kept falling off but when used to create a lot of suction they stuck fast like limpets. They really did make my nipples extremely sensitive and if you touch the suckers with a vibrator when they are on prepare to have your world rocked.
Key Features
Key features:
ABS construction
Double O-ring seals
Capable of high levels of suction
Clear body allows you to see your nipples grow and swell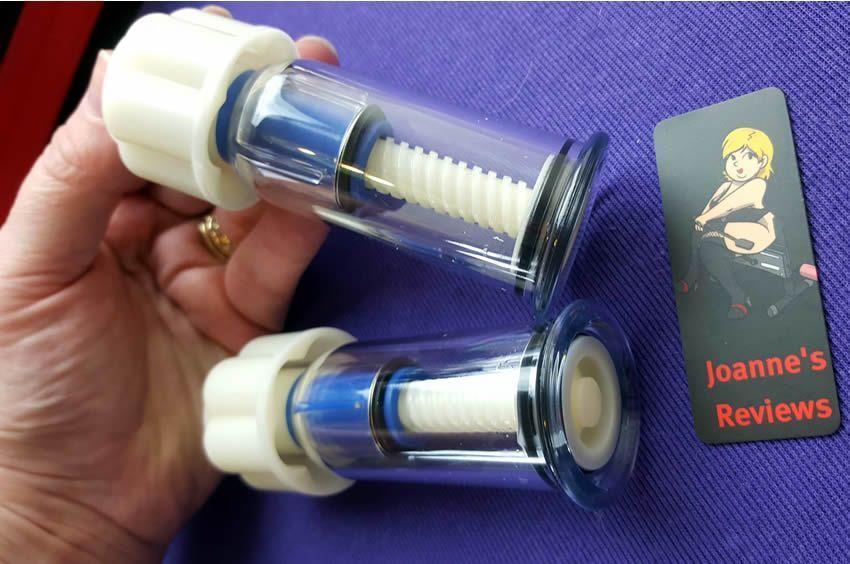 Final Thoughts
I liked these a lot, but with my own body type I have trouble keeping them on at low suction levels, this was easily sorted with the inspirational use of some string. Once I had applied more suction they did stay on. Definitely use lube with them for both comfort and also effectiveness and don't forget to try them out on your partner as well.
Recommendations
I would recommend this sex toy to:
Anyone looking for nipple play.
Anyone looking for cupping play.
Anyone looking for pain or pleasure from a nipple product.
I wouldn't recommend it to anyone who:
Joanne's rating
Where Can I Get One From?
You can get a pair of Size Matters Max Twist Nipple Suckers from Uberkiny.co.uk for just £21.99 plus P&P. They have a huge range of other Nipple Suckers to choose from. Check them out and don't forget to tell them that Joanne sent you xxx.
I was sent this toy in order to review it and this review doesn't contain any affiliate links.
I would love to hear what you thought of this review. What can I do better, what did you like? Let me know in the comments form below. Thank you for taking the time to read it. Joanne xx
---
If you enjoyed reading this review then check out my other reviews of Uberkinky products:
Website links:
---