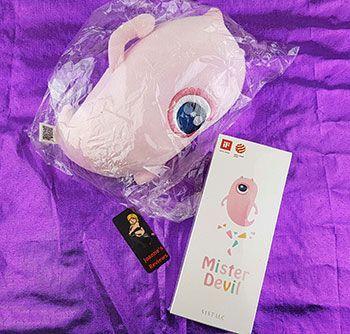 The Mister Devil was dispatched from China, and it didn't take long to arrive. Mine came with a delightful plushy toy in the form of Mr.Devil, and it is just too cute. I am not sure if this plushie will be supplied with retail units, but it was a nice touch.
Mr Devil arrives in a beautiful retail display box with the trainer held securely in shredded paper within. The box carries pictures of the whole Monster Pub range of toys in their lovely pastel colours. Mr Devil is a delicate pink, Mr Godzilla is green, and Doctor Whale is a beautiful shade of blue.
I like this packaging combination, and it certainly protected the toy on its way from China. It adds a fun element to the unveiling as you rummage through the paper to find Mr Devil. You get the Mr Devil kegel trainer, a handy storage pouch, a USB charging cable and a set of simple instructions.
The trainer itself is a cute looking thing and can be used without its app as a vibrator. It's coated with very soft silicone, and this makes it body safe, phthalate free and hypo-allergenic. It has numerous features such as remote operation, training record and you can even track your periods with the app.
The Mr Devil shares its shape with the rest of the Monster Pub range; each has a rounded body ending in a curved tail that is designed to sit over your clitoris when in use. Each is different though, and the Mr Devil features two horns on its head.
These little bumps on his head give you a way to pinpoint the vibrations slightly better when using it as a vibrator, but they are very small so not uncomfortable internally. They are not quite large enough for me to pinpoint vibrations on my clit though.
The whole feel of the toy is nice though, it's smooth and soft to the touch, and the tail holds its shape well, but is flexible enough to allow for easy adjustment when using. The nubs on the tail are also a great touch (feeling great in use).
The hole for the charging cable is tiny, and I found it very hard to find when I first tried charging but as it was at night that's hardly surprising. Once I had charged it once though, the hole is much easier to find. The connector doesn't fit entirely flush to the toy as shown in the pictures so don't push too hard on it. The USB charging cable that's included is a good length to make for easier charging. A light flashes in the toy while charging.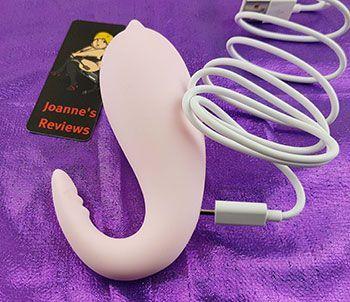 To switch it on press the button inside the tail (in the right light you can just make out the on sign printed into the tail), and hold for a few seconds.
I suggest installing the Android or Ios app before trying the toy out for the first time. When switched on, it will try to connect to the app and a small light inside the trainer will flash.
Click the button twice for the 1st pre-programmed vibration pattern. There are eight settings to explore and enjoy, and you should be able to find one that you like. To switch it off after playing you press and hold the button for a few seconds.
The vibrations are nice and powerful, and the monster is wonderfully shaped so that you can easily enjoy the vibrations on your clit at the same time through its tail.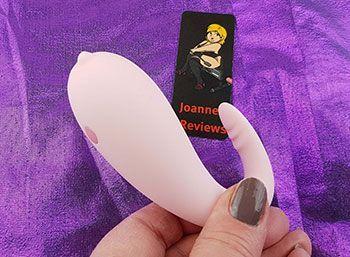 I do like this toy; it is small, comfortable and surprisingly powerful in use. However, it isn't all rosy as the app needs a little work to compliment the excellent performance of this toy.
The app really needs a thorough overhaul though. The first pages are in Chinese (I think its Chinese) so I have no idea what message they carry, it would be nice to be able to select your language when you register for the app to have everything in your native tongue.
On first trying to install the app I was continually getting the message that "the network has timed out, please try again later".
On checking reviews of the app, I found this was a common problem. After trying about 10 times, I gave up and closed the page down. The next day I tried again, but found that the app had been installed and that I had received the error message in error lol.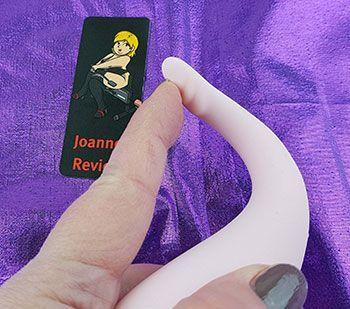 I have been informed by the manufacturer that this problem has been rectified with the latest version of the app.
The app is functional but a little confusing, it lets you create and save vibration patterns which is a great feature, but I cannot work out where they go to find these patterns again. I do love the screen effects when creating your own pattern; it is quite hypnotic and fun to immediately feel the changes as you play with the settings.
I do have some concerns over personal information and security with the app though, and you will see why when you use it. When creating your account do not use your real name, as it will show this in your profile. That usually wouldn't be a problem, but anyone else using the app can not only see your profile name but also your location (that you set) and your favourite patterns.
Others can also see the profile image that you use so be careful with what information you provide.
I get the ability to control a session remotely, but the level of information shared is a bit much for me, so I strongly suggest using a pseudonym and don't use your real location or picture.
The apps T&C actually state that information will be shared with universities and research organisations.
Once you have logged in you have a page with "Vibe and Health" at the top, the vibe section shows you all the patterns already saved by others as well as the number of people currently playing.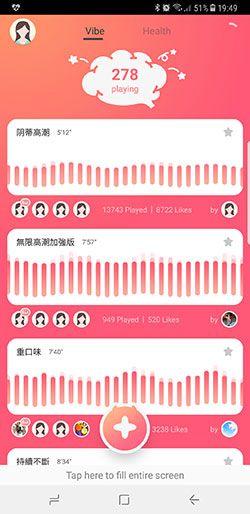 If you select Health it takes you to the kegel training section. Again you can see the number of weekly Kegel users, how often you have used the trainer and your results. It shows you a list of users who have used the trainer, which links you to their profile and their results. To give you a challenge, I suppose.
Above the list of users are your results, which you can click on so you can see which one is power etc. The artwork when you click on these results is nicely done, cute and funny, but also clearly allowing you to see more information about your results.
From this page you can click on the link at the top of the page which says Progress, this shows you a graph of your progress with a link to change which you want to see, you have the choice of Power, Time, TTP and total (TTP is temperature).
To start the trainer, you need to press the S button at the bottom of the screen, once the Mr Devil has been placed correctly click the start button.
You can either have the volume on your mobile switched on so you can hear the trainer, or switch off and just watch the screen to see when to squeeze and when to relax.
The trainer is in English but I did find that it didn't seem to work until I pushed a little on the tail to move it further inside me to find the sweet spot. Once there it worked well, but I did need to hold it in place, only requiring a little pressure from a single finger on the tail to keep it in place. This will be due to my body shape and others may find it sits in place perfectly well.
While it tells you to tighten it does show you on the mobile screen how well you are doing, I do like that when it tells you to relax the little monster gives a nice vibration until you need to tighten again.
You can pause the exercise whenever you want, then continue again when ready.
You can also create a list of favourite patterns from patterns other users have saved, and it does show you the number of times that pattern has been played, how many likes it has, who created it and the last four people who played using it. If you click on the user image, it takes you to that user's profile and favourite vibrations. If you are not sure what you like then try out some of the patterns, and if you find a really good one for you it can be added to your favourite's to make it easy to find again.
If you click on the + button at the bottom of the screen it gives you two more buttons, one is gesture the other is remote. Gesture allows you to create your own sensations. By adding additional fingers onto the screen and creating patterns at the same time it increases the intensity of the vibrations, and this is a lot of fun to experiment with.
At the top of the screen, there is a button saying eight Modes; this gives you a choice of 8 different pre-programmed patterns.
At the bottom of the screen are two buttons with X inside. Press them both at the same time to exit this segment. If you select remote, it allows another to control your monster pub. You can connect through WhatsApp, webchat or line.
My biggest concern with the app is privacy and security of personal information. Any information that you enter and your picture will be visible to everyone together with how and when you last masturbated or used the trainer.
The proof of the pudding is in the eating I guess and due to the app recording yor progress I can say hat it has helped me tighten up my pelvic floor muscles. Training with kegel trainers is both fun and it has great benefits for your sex life.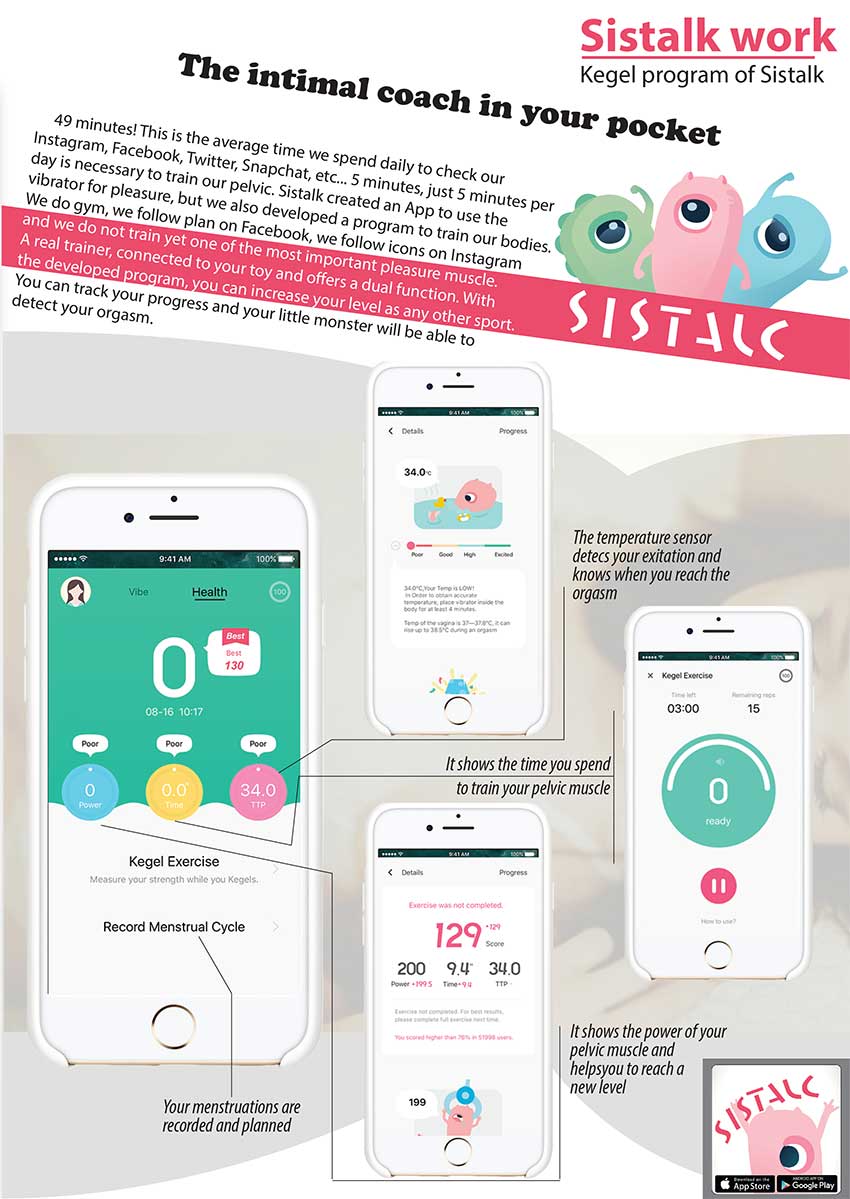 The Mr Devil is an interesting take on the kegel training rage of sex toys and it''s a lot of fun to use.
Click to Tweet
Key Features
Key features:
100% Silicone body safe coating
USB rechargeable
Use as a stand alone vibrator or via an app
App controlled kegel training
Three designs to choose from from the Monster Pub range
Final Thoughts
As far as kegel trainers fo this is a pretty impressive one. It is responsive through the app and ther app is fun to use. I really enjoyed creating my own vibration patterns and it was interesteing to see what others enjoy using. I think you need to watch what information you pass to the app but other than that it is a very good kegel trainer. I have seen an improvement over the four weeks I have used it for. The animations and the way the information about training is presented in the app is good. The manufacturer needs to produce a true multi language app though as the mix of chinese and english is confusing and it looks a little unprofessional. That said though if you are looking for a good kegel trainer then the Monsater Pub range is definietly one to consider.
I was sent the Mister Devil kegel trainer by sistalk.com and I would like to thank them for giving me the opportunity to review it for them.
Joanne's rating
Where Can I Get One From?
Grab one of these kegel trainers or one of the other two designs directly from sistalk.com for only $79.99 (which is around £59.55 at the time of this reviews publication). That is a good price for a kegel trainer with these features.
Check them out and don't forget to tell them that Joanne says "Hi".
Disclosure
This review does not contain affiliate links, for more information about affiliate links check out my disclosure page.