Delivery and packaging
Like everything else I have ever ordered from Uberkinky, this the Sinnovator Typhon arrived in a plain box with no outward indication as to just how much dick it contains.
This dildo comes in a very nicely designed sealed bag, which is excellent for the environment as it saves on packaging. As this packaging is also resealable once opened, it can be used to store the dildo once it is cleaned and thoroughly dried. Brilliant.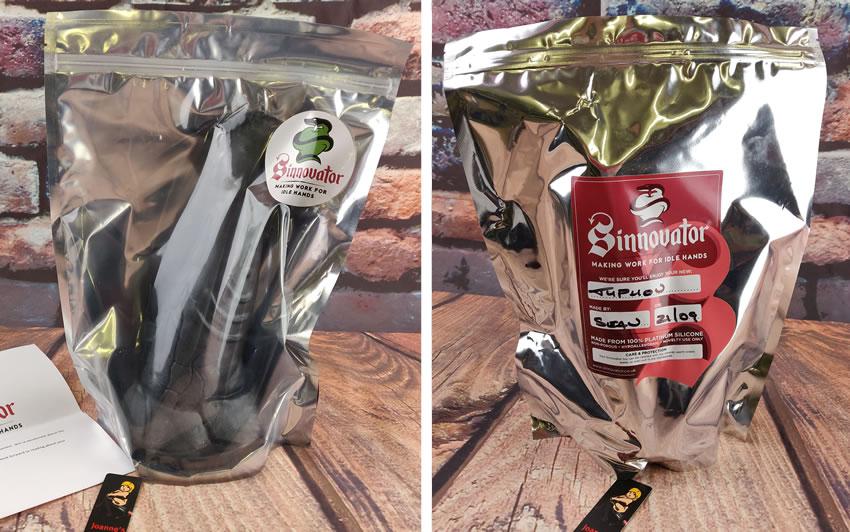 I love the resealbale bag and also the information on the rear
The back of the bag not only has care instructions and basic information about the dildo but it also carries the name of the DickSmith who made it and the date it was made, which I think is a nice touch. So thank you, Sean, this one is most definitely a keeper.
I have to admit; I do love the Sinnovator slogan "Making work for idle hands".
I certainly did just that with this dildo.
Design and Materials
The Typhon is made here in the UK by hand from 100% platinum cure silicone. This is excellent as it makes it non-porous, hypoallergenic as well as being latex and phthalate-free. Silicone is, in my opinion, the perfect material for insertable sex toys.
This blend is lovely, and it has a little bit of drag to the surface of the silicone, and this provides some extra stimulation in use.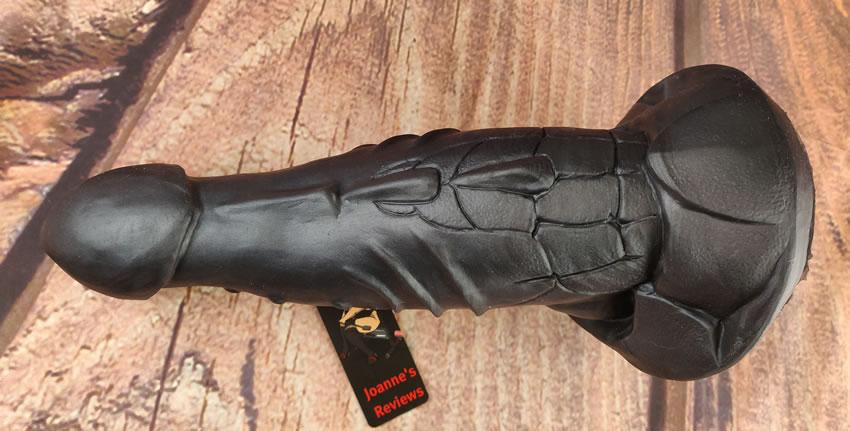 I just love the textures and girth on the shaft
As with all silicone sex toys, it can be a bit of a lint and dust magnet, though, and that is why the sealable storage bag is fantastic. Cleaning it is simple, wash it in warm soapy water or use an anti-bacterial sex toy cleaner. You can even put it in the dishwasher. Just be sure to remove it once clean if you have children or visitors.
Pay particular attention to all the nooks and crannies on this dildo as they tend to collect body fluids in use.
Ensure it is thoroughly dry before storing it away until you once again want some fun with a huge dragon dick.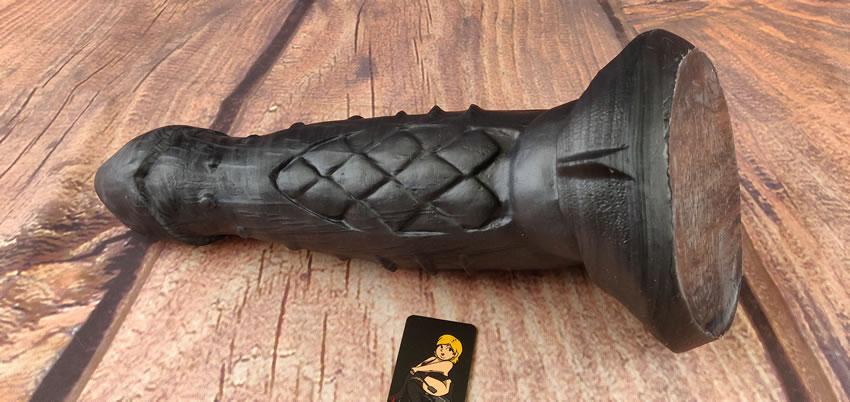 The variety of textures on this dildo is fantastic
On the subject of cleaning, like all sex toys, give it a good wash before first using it. It is liable to still have some release agent on it from the manufacturing process. I found some under the scales.
The Typhon is a work of art, and it has so many excellent features that work well with my anatomy. Starting at the tip, it has a well-defined glans with a great coronal ridge that feels amazing rubbing against my g-spot.
The rounded tip makes insertion easy, but as you insert more of this toy, the girth increases incrementally. This is one of those dildos that challenges you to take more and more, seeing how far you can stretch open to accept it.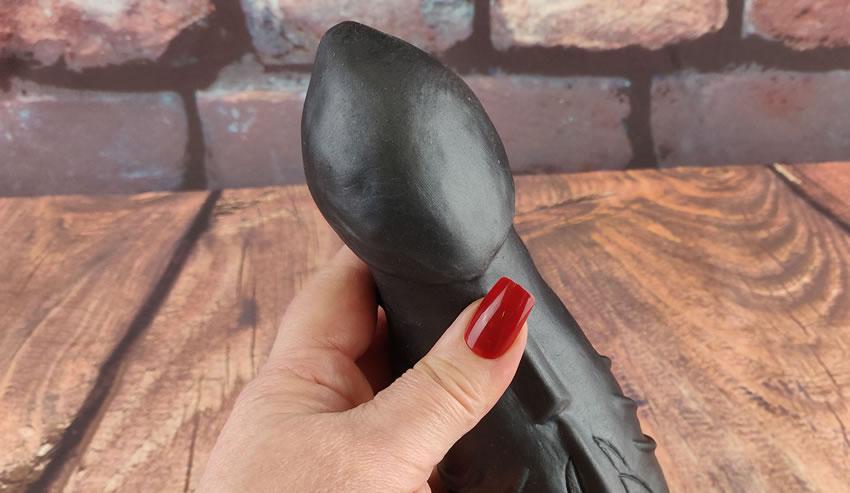 The shape of the glans makes insertion easy and most enjoyable
Circumference Widest Point: 22.86cm/9"
Insertable Length: 20.32cm/8"
Length: 24.13cm/9.5"
Overall Diameter: Widest Point: 7.26cm/2.86" : Base: 12.19cm/4.8"
Product Weight: 0.88kg
Circumference: 8" to 9"I can't get my hand around the base of the shaft as it is so broad. The shaft has some delightful textures on it; my favourites are the bumps and ridges. The top surface of the shaft has three fantastic ridges that I just love to glide over my clitoris as I fuck myself with the Typhon.
The textures get more pronounced towards the base, and the dragon scales are a nice touch but a bit of a vag-goo magnet.
Use a good water-based lube with the Typhon, and I can highly recommend Sliquid H2O and Secret Play Natural.
The broad base makes it easy to stand up so you can ride it comfortably. You can opt for a vac-u-lock hole in the base too if you fancy attaching the Typhon to a fucking machine or strap-on harness. A Vac-u-lock hole costs £10 extra, but it is worth considering if you have a use for it.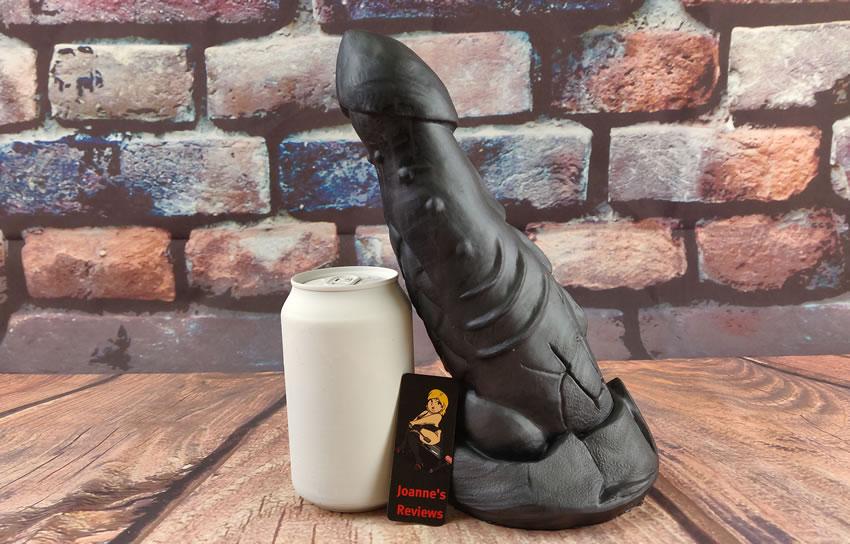 The size and angle of this dildo makes riding it easy and lots of fun
It is available in twelve different colours, and this one is Sinnovator's Signature Black. Other colours are available for a separate fee. I think the black looks fantastic with its marbled appearance but some of the different colour options could brighten up anyone's toy box.
The shaft is very flexible, which means when riding it or thrusting with it, the dildo will conform to your bodies inner shape. This makes it a very comfortable dildo to use on a fucking machine where alignment can often be a problem. I can almost fold the top half of the dildo back on itself.
The shaft is also slightly 'squishy' which feels great in use, and I love feeling a little give as I clamp down on dildo as an orgasm rips through me. This silicone blend is perfect for that.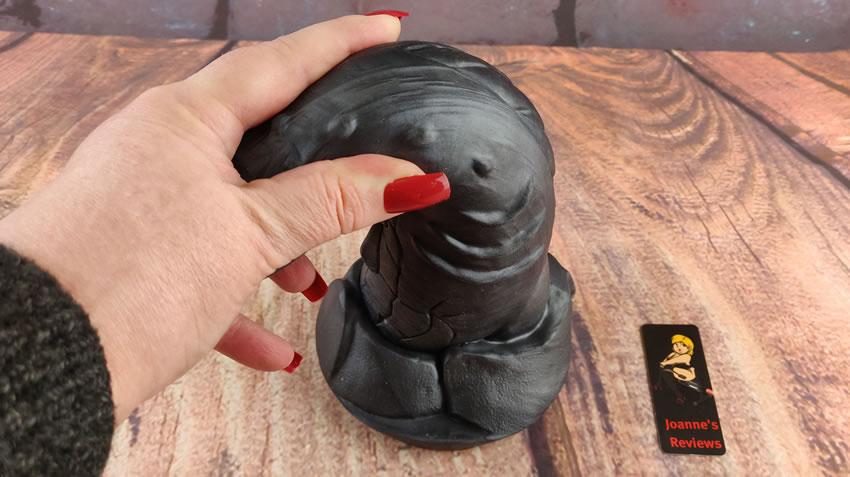 The blend of silicone used is fantastic and it keeps the dildo very supple
Performance
This is what really matters, and I am happy to confirm that I have enjoyed some pretty amazing orgasms while thrusting with this dildo.
It is heavy, so your wrists can get a little tired if you try edging yourself for any length of time. Placing it on a flat surface and riding it takes care of that problem and it is nice to have a dildo with such a broad sturdy base.
Right from the moment you feel the tip of the glans parting your pussy lips, you know you are going to enjoy yourself.
The textures on the shaft and the gradual increase in girth means you are soon biting your lip wondering just how much you can take. The angle of it is perfect for riding it and for holding it as you thrust with it. The textures on the base make gripping it easy, even with lube on your fingers.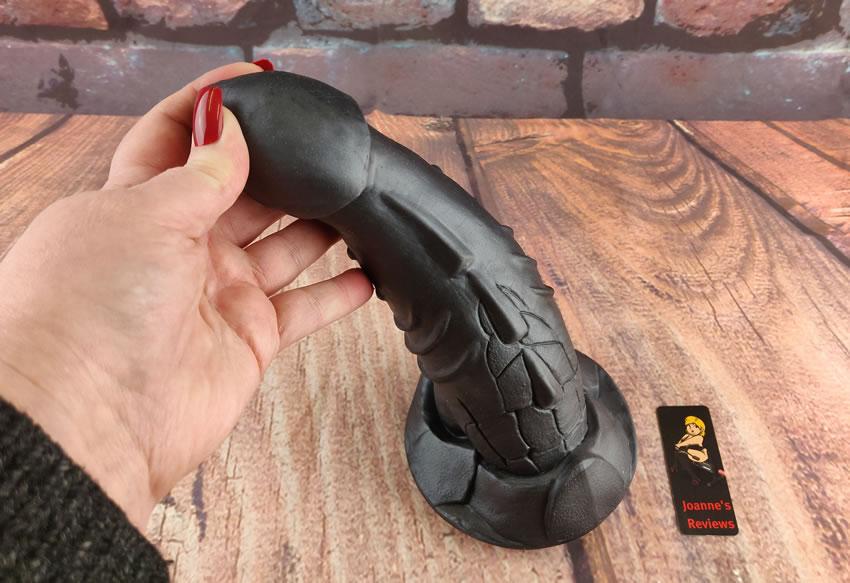 This dildo is so much fun to ride with that lovely texture
The Sinnovator Typhon is a fantastic training dildo for anyone looking to enjoy huge dildos, and it is also an excellent warm-up dildo before moving onto something more substantial if you are a Size-queen.
I really enjoyed the shaft textures, in particular, the ridges on the top surface as feeling them glide over my clitoris and then rubbing on my g-spot feels fantastic.
I love dildos with lots of textures, and the Sinnovator Typhon definitely ticks that box. It is very well crafted, and the detailing is perfect for this dragon cock.
I would love to experience the Typhon on the end of one of my fucking machines where that girth and those textures combined with some high-speed fucking would feel incredible.
There is no way that I can take the Typhon anally as it is way too big for that style of play for me. But, I have no doubt that if you could take it anally, then it would feel incredible as you work it further and further inside. Enjoying the delightful shaft textures and girth as you do so.
The Typhon from Sinnovator is a dildo that will challenge you to take more and more. Indeed you will always want to take just a little bit more as it stretches you wide open. It awakens carnal instincts in me, and I love riding this beast of a dildo.
The Sinnovator Typhon Dragon Dildo from @Uberkinky is a dildo that will challenge any hole with its expanding girth and delicious textures.
Click to Tweet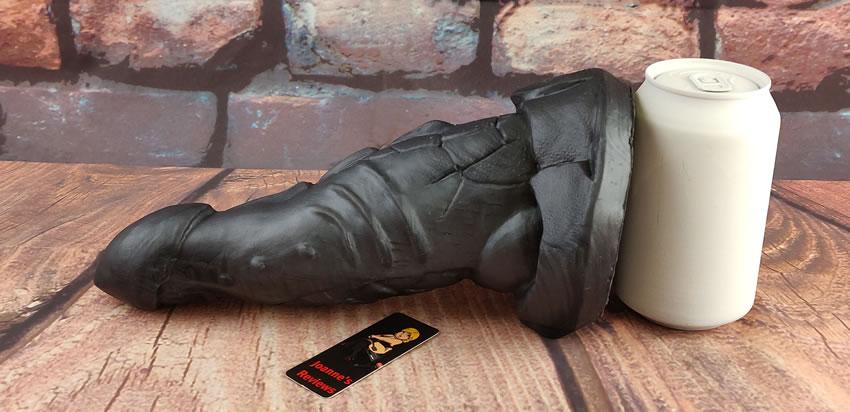 The textures and changes in girth are what make this dildo stand out from the crowd
Key Features
Key features:
100% Platinum Cure Silicone
Fantastic textures and detailing
Broad stable base
Vac-u-lock hole option and lots of colours to choose from
Tapered shaft to stretch you wider and wider
I would recommend it to:
Anyone who loves fantasy dildos
Anyone looking for a body-safe dildo
Anyone who enjoys being stretched wide open as they play
Anyone looking to work up to broader dildos
I wouldn't recommend it to:
Anyone who doesn't like tapered shaft dildos
Anyone who doesn't like textured dildos
Final Thoughts
The Typhon has been a very pleasurable introduction to the Sinnovator range of dildos that are only available from Uberkinky. The range fits in with the whole Uberkinky concept, and they have some delicious dildos on offer.
The range of colours available is fantastic, and I love the fact that you can get a vac-u-lock hole in these dildos as that means you can enjoy them in so many ways.
Fancy mounting one of a fucking machine or strap on harness? Well, you can if you opt for the vac-u-lock hole.
The Typhon is a dildo that delights with its ever-expanding girth; it is a dildo that will leave you wanting more and more as you try to squeeze it all inside. Once you are full, you can appreciate the textures and the blend of silicone which feels amazing as you cum hard with it deep inside you. I love it, and I hope you do too. Check out the rest of the Sinnovator range over at Uberkinky.
I was sent the Sinnovator Typhon Dragon Dildo by Uberkinky and I would like to thank them for giving me the opportunity to review it for them.
Joanne's rating
Where Can I Get One From?
Grab one of these fantastic fantasy dragon dildos from Uberkinky, with prices starting at £69.99 with free UK delivery.
Check them out and don't forget to tell them that Joanne says "Hi".
---
If you enjoyed reading this review then check out my other reviews of Uberkinky products:
Website links:
---
Disclosure
Disclaimer - I was sent the Sinnovator Typhon dildo to review free of charge and this has in no way affected the outcome of this review. This post contains affiliate links and if you purchase something when you follow one of these links I may receive a small commission at no cost to you. For more information check out my disclosure page.