Delivery and packaging
Even in this pandemic the package was dispatched and delivered in the usual couple of days. The box was placed on my doorstep by the postman, who after knocking walked back to ensure that I could recover it safely.
The box was plain, giving no indication of the contents. After very carefully opening the box, I was delighted to see the Sinnovater Sean inside.
Uberkinky sends out the Sinnovator dildos in a sealed, resealable plastic wallet, which saves on packaging and space. The front of which is clear so you can see the contents clearly, the reverse has some information for you, including the name of the toy, the name of the "dick-smith" who created it for you and the date. It also includes the material used to make the dildo and care and protection instructions - brilliant.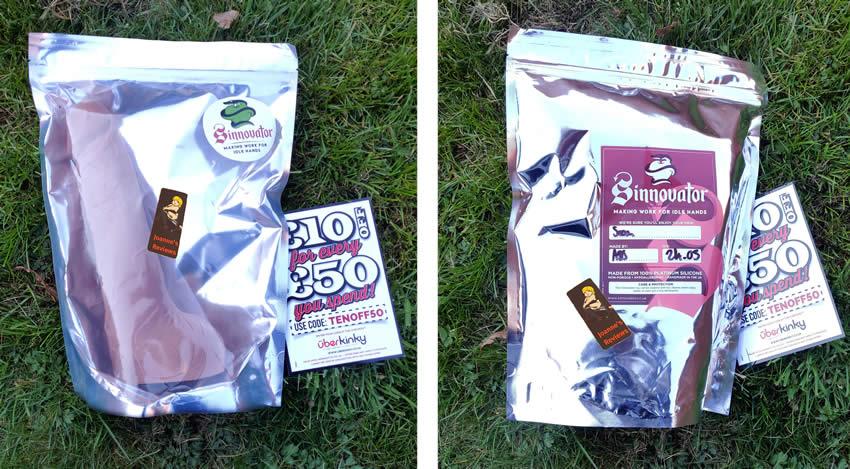 The Sinnovator Sean arrives sealed in a resealable pouch with is nactually very useful
Uberkinky also included a money off voucher giving £10 off for every £50 spent. The voucher expires on 31st May 2020, so now would be a good time to do some online shopping.
Materials and design
The Sinnovator Sean I received is caramel in colour, there are a total of 21 colours available. It is available in a standard marble black, with all of the other colours having a small extra charge. I received the cut (circumcised) version, but if you prefer an uncut one, then there is one of those available too.

The Sinnovator Sean is availlable in 21 different colours
Uberkinky sent me this one with a vac-u-lock compatible hole in the base, the standard dildo will arrive with a solid base though. But, for an extra charge, you can choose from a vac u lock compatible base or even a suction cup base.
The Sean dildo is also available in two hardness ratings, either medium or medium-soft. I received the medium-soft one, and it is super-squishy.
Sean is a beautifully sculpted realistic dildo, made from platinum grade silicone (Platinum refers to the additive used to cure the silicone). Which, if you read my other reviews, you will know this is my preferred material for insertable toys. The reason for this is because it is body-safe, non-toxic, non-porous, hypoallergenic and phthalate-free.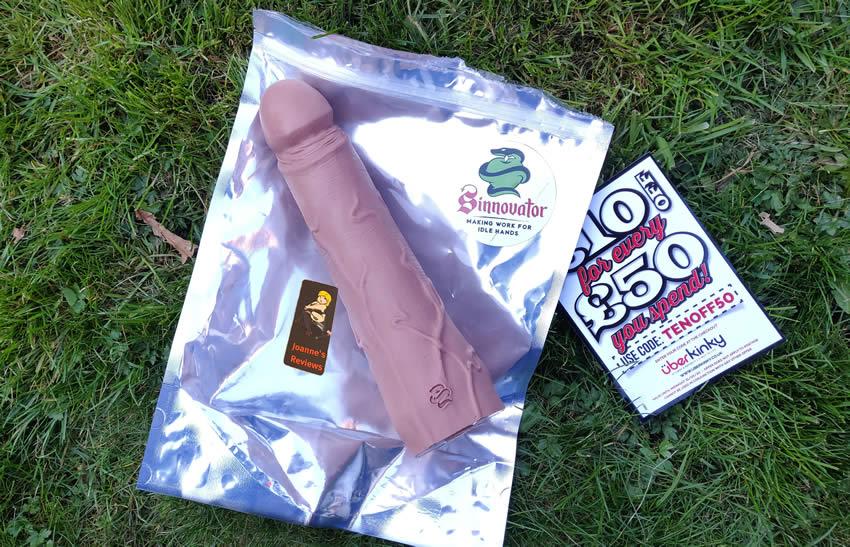 The Sinnovator Sean is an exquisitely designed realistic dildo with lots of textures
With an insertable length of 8"/20.3cm and 7"/17.8cm in circumference, it is a good-sized toy. The intricate veins down the shaft give some delightful sensations in play, and the sizeable pronounced glans are a definite plus in my book.
"Get a feel for real with this realistic beast of a dildo by Sinnovator. Sean is the answer to all your huge cock fantasies and, like every tempting toy in the Sinnovator family, he's made from platinum grade silicone. With his raised veins, bulbous head and huge circumference, the Sinnovator Sean Realistic Dildo is a stallion who lives to please! Handcrafted by Sinnovator's artisan dildo designers, Sean boasts intricate details and perfect pliability for gratification that is 'spot on', every time. Each Sinnovator toy is handcrafted and made to order right here in the UK with Sean being the first in the Sinnovator life-like range to be named after one of our clever cock creators! Realistic in shape but unquestionably not in size, Sinnovator Sean is guaranteed to gratify any hungry hole you slide him into with his huge length and girth. In Sinnovator's signature black/silver silicone, Sean looks every inch as good as he feels, loves to be slathered in water-based lube and is customisable in a range of colours."

Quote from Uberkinky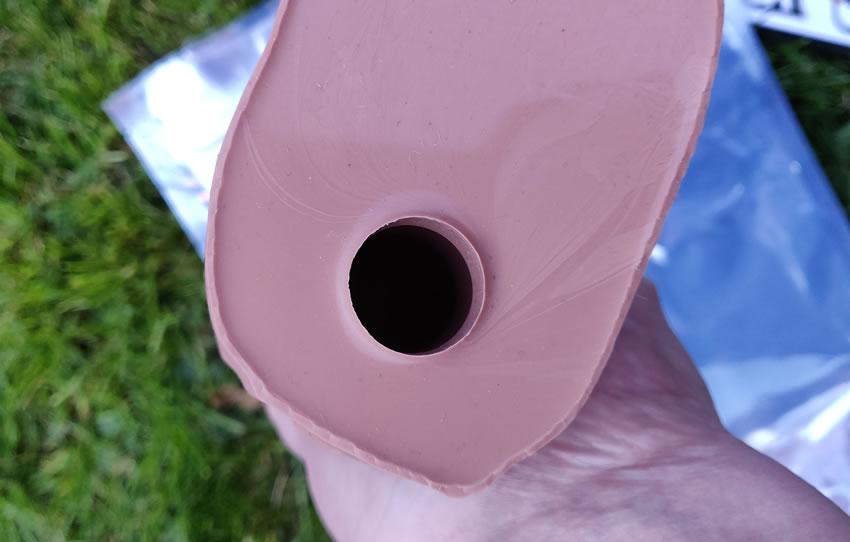 The Sinnovator Sean is available with a flat base, vac-u-lock or vac-u-lock with suction cup base options
Performance
As with all silicone toys, you should use a good water-based lube, I always recommend using Sliquid H20 or Secret Play Natural.
The glans, with its well defined coronal ridge, feels fantastic. I relish the sensations from it as I push it in and also on its way back out again, it really does provide lots of stimulation. The sensation of it rubbing against my vaginal walls in play really gets me wet, it just feels so good.
The veins also add stimulation that really does help to build up the pleasure before sending you over the edge.
If you are lucky, you can get this dildo in deep enough to allow the balls to slap against you. This again feels wonderful, especially if it is being thrust into you on a fucking machine or strap-on harness.
The texture of the silicone is not the silky smooth type that allows you to run your hand down without any friction. The Sinnovator Sean offers mild friction that does not cling to your skin but does provide some slight resistance caused by the drag of the silicone. This gives additional stimulation for you to enjoy.
I love the give and flexibility of Sean, it is very flexible, with some give when squeezed. It holds up well in a fucking machine, with only a minimal droop.
This makes using him on a fucking machine very easy, and comfortable. I just lubed him up well, lined myself up with him, ensured the controller was at hand, laid back and thoroughly enjoyed the feel of him thrusting in and out of my pussy.
I loved the feeling of the large glans as it rubbed my vaginal walls and the coronal ridge rubs on my gspot in just the right position to bring me off very quickly.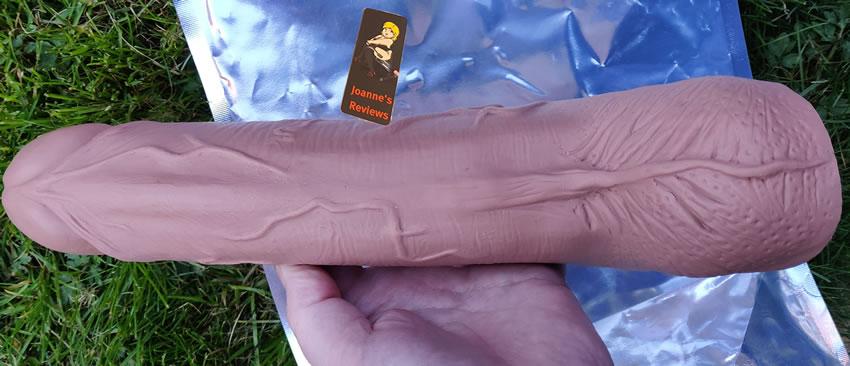 The Sinnovator Sean is covered in delicious textures that feel fantastic
The well-rounded balls make a great handle to use manually, it is great to hold onto in play.
The overall sizes mean it should fill most people nicely, being very filling. However, its size is such that if you are a size queen or you need smaller toys, then this may be either too large or too small for you. I loved it, though.
It is effortless to clean, although if you have a small sink, you might not fit it all in at the same time. Being made of silicone, you can wash it in warm soapy water, in boiling water or just throw it into the dishwasher. Just make sure to get right under the glans.
Leave it to thoroughly dry before resealing it in its little packet to reduce any dust or fluff from making it dirty before your next playtime together.
The @SinnovatorHQ Sean 8" Uncut Silicone Dildo from @Uberkinky is another fine example of dick-smithing that feels as good as it looks.
Click to Tweet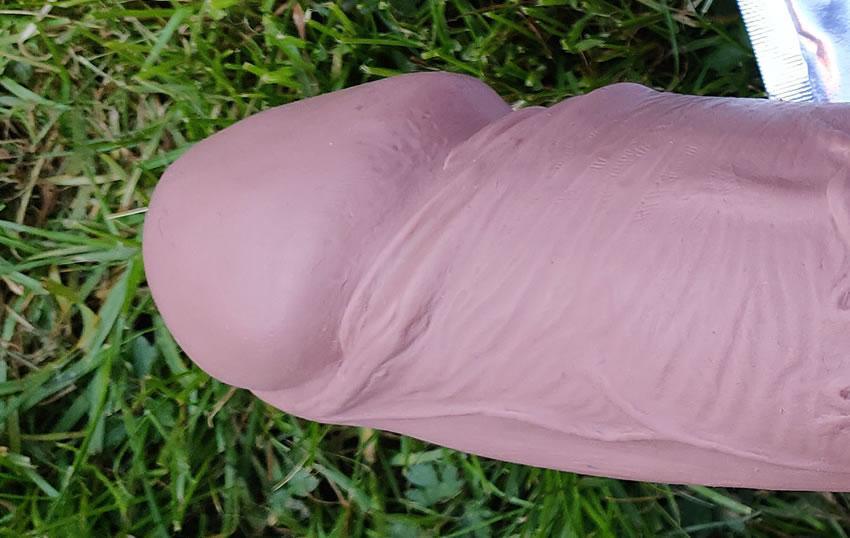 The glans on the Sinnovator Sean features a well defined coronal ridge that feels sublime in use
Key Features
Key features:
Handcrafted realistic dildo made from silicone, body-safe, non-toxic
Detailed raised veins, drawn back foreskin and large head
8 Inches insertable, 7 inches in circumference
Pliable for a more ease and comfortable use
Well defined scrotum and testicles
Vac-u-lock compatible hole in the base
I would recommend it to:
Anyone who likes realistic dildos, that are larger than average
Anyone who is looking for a body-safe silicone dildo
Anyone who likes to personalise their dildos in a coloour scheme of their choice and different options
Anyone who wants a dildo handmade in the UK
I wouldn't recommend it to:
Anyone who doesn't like larger sex toys
Anyone who doesn't like realistic dildos


I really enjoyed the girth and textures on the Sinnovator Sean
Final Thoughts
I thoroughly enjoy reviewing toys of any shape and size (as long as they fit lol), and Sinnovater Sean did not disappoint.
I love the choices Uberkinky give with their Sinnovator Dildos, as well as the fact they are made in the UK.
Sean's detail does not leave anything to the imagination, and every aspect is designed to please. In my opinion, he does not fall short. So if you are looking for a dildo that will fill you and tease you as you thrust with it, then the Sinnovator Sean deserves some serious consideration.
I have absolutely no hesitation in giving it a strong recommendation for anyone looking for a new quim-stick. Of course, it isn't just for pussy play you can enjoy it in any orifice.
I was sent this Sinnovator Sean 8" Dildo by Uberkinky and I would like to thank them for giving me the opportunity to review it for them.
Joanne's rating
Where Can I Get One From?
Grab one of these fantastic body-safe silicone dildos from one of my favourite UK sex toy shops Uberkinky for just £69.99.
Check them out and don't forget to tell them that Joanne says "Hi".
---
If you enjoyed reading this review then check out my other reviews of Uberkinky products:
Website links:
---
Disclosure
Disclaimer - I was sent the Sinnovator Sean Dildo to review free of charge and this has in no way affected the outcome of this review. This post contains affiliate links and if you purchase something when you follow one of these links I may receive a small commission at no cost to you. For more information check out my disclosure page.