Camera Bags
Camera bags are an excellent option for storing e-stim equipment, they contain padded compartments usually reserved for cameras and lenses, but they are perfect for e-stim control boxes and electrodes. They also often have numerous small pockets, and these can be used for conductive gels and of course cables.
Another great thing about this style of storage solution is that you have everything to hand, you can grab your e-stim bag and become a mobile stimmer. It is excellent for visiting friends and clubs. Simple and effective it's a great option, this style of bag looks natural as well so you won't attract any attention travelling with it.
Small camera bags are also ideal for just storing control boxes within a larger box or tool chest. They are pretty cheap to buy and can save you from ruining your control box accidentally. Here are some affordable examples.

Small padded camera bags are ideal for e-stim control boxes
Tool Boxes and Cases
Another good choice is tool boxes and tool cases. Relatively cheap and cheerful they are good for travelling stimmers, and they don't look out of place in most environments.
The only drawback is you will need to line areas with foam to store your control boxes and delicate items. Foam is relatively cheap though, and you can even shadow board your tool case (which is what I have done with mine). Alternatively, get some of those small camera cases mentioned earlier for delicate items.
Shadow boarding means that you can see at a glance if any equipment is missing and everything is held securely in its place. This is important if you visit clubs and events with your e-stim kit as you can see at a glance if you are missing something.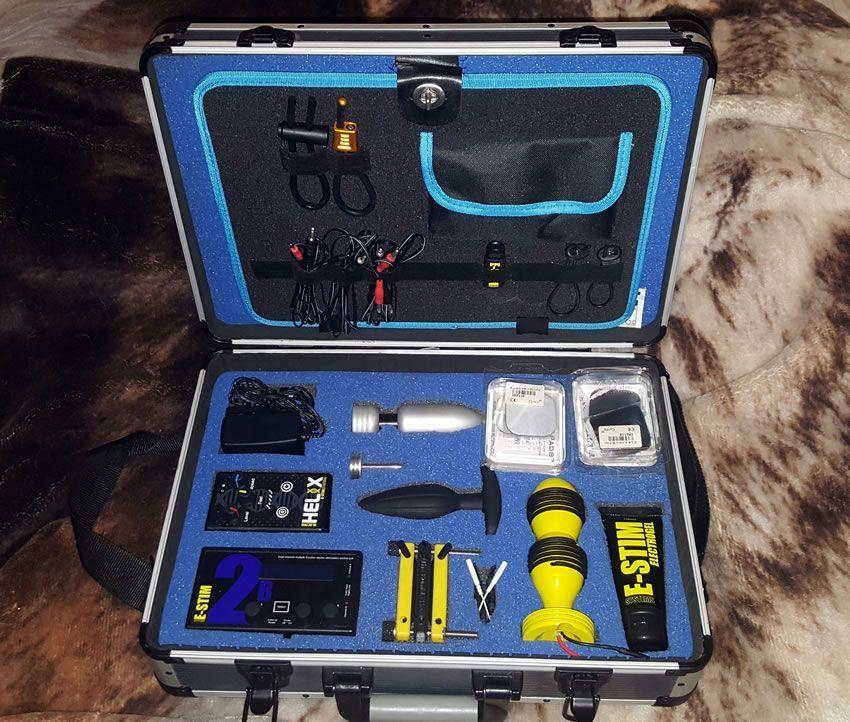 This is my traveling play toolbox that I use when visiting events and clubs
This type of box is extremely flexible as you can decide to line it with foam and what you want to carry. This is why I opted for a toolbox for my regularly used play equipment. Here is a picture of my travelling play box.
I used some blue shadow board foam from e-bay. This was cut to size to fit into my toolbox, and then I marked out each piece of e-stim equipment that I wanted to carry and then. Once marked out I used a sharp scalpel to cut out parts of the foam where things were going to rest, and the result speaks for itself.
I use this toolbox when visiting clubs and it has a bit of everything in it. I get asked a lot of questions in clubs, and it also makes it easy for me to talk through the equipment needed in an e-stim circuit.

This is main area of my traveling play toolbox, it holds my control boxes and electrdodes
I have storage for two control boxes, numerous commercial electrodes and also some of my own DIY creations like my Pussy Clamp Elctrode, Clitrode and Curly Wurly Electrode. It always gets a lot of interest when open, and I am stimming myself or sub'r' with the contents.
A toolbox like this one keeps everything safe when travelling and also lets me see at a glance if I have left anything out when packing things away at the end of a session. It has stopped me leaving something expensive kit behind on many occasions, and that alone has more than paid for it.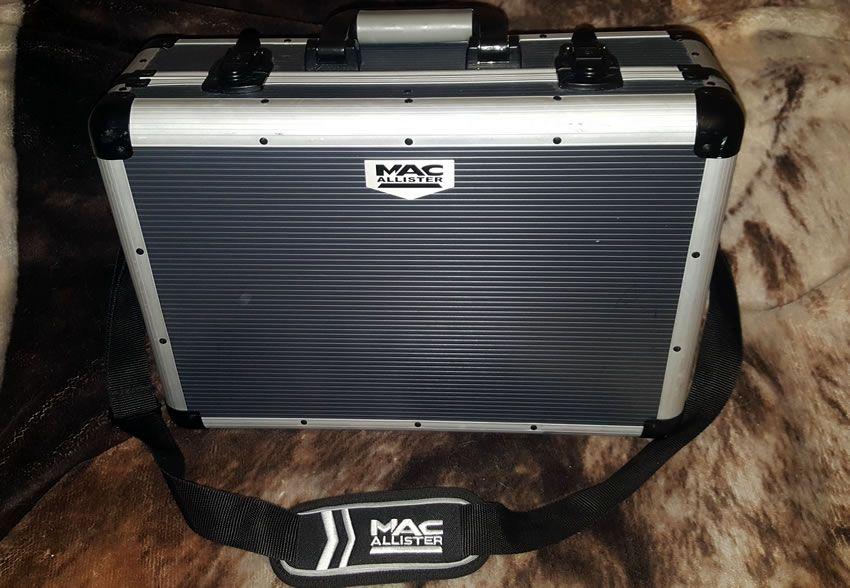 When travelling, all of my kit is held securely and safely in place
E-Stim kit can be expensive so it is important to look after it and store it safely. Check out these tips to see how Joanne does it.
Click to Tweet
Conclusion
It's essential to keep your e-stim equipment safe and secure if travelling with it or just at home. Having an organised toolbox or case lets you quickly find things during a play session. Organising your equipment makes so much sense, and it can save you from some costly accidents. Don't let your bulky electrodes damage your control boxes and cables.
A little effort can save you from expensive mistakes and also portrays a professional attitude to your stimming when others see it or you playing.
I would love to hear from you about how you store your e-stim toys. Get in touch and send me a picture of your storage solutions and I will add it in this article for you to give others some inspiration.
I hope you found this article interesting and it has inspired you to grab the bull by the horns and to organise your equipment. If you found this article interesting, you could, of course, buy me a coffee.
---
Disclosure
This article does not contain affiliate links, for more information about affiliate links check out my disclosure page.