Delivery
This is the second time that I have had a Sybian from the cracking rental scheme run by FmachineFun and the Sybian arrived by courier in a sturdy aluminium transit case secured with two combination code padlocks. I knew exactly what it was when I opened the door to the courier and my heart skipped a beat as I knew that I had a lot of work ahead of me, work that was going to be delightfully orgasmic I hasten to add. Reviewing three toys in a week is something I don't normally do as I like to use sex toys a lot before reviewing them. However as I have already reviewed the Sybian I just had to concentrate on the attachments and the differences and improvements to them over the standard range of Sybian attachments.
To my delight, the Sybian I received was a purple one which looks great in the pics I did for this review. I even went to a dungeon to get the ambience right for the pictures (and also to have some kinky fun with my stunt cock of course).
Sybian Attachments
The Sybian is an amazingly powerful vibrator that you straddle and ride. The top of the Sybian has a plastic platform onto which you fit different attachments to suit your mood and that means that you can have lots of different options to choose from. The original range of attachments are made out of C-Flex®, a silicone like material and they come in two colours, beige and chocolate. C-Flex® is a family of patented thermoplastic elastomers which range in hardness from 5 shore A to 95 shore A. C-Flex® TPE's are biocompatible polymer blends which meet or exceed the current United States Pharmacopoeia Class VI test requirements. C-Flex® does not contain latex rubber, polyvinyl chloride, silicone rubber, or polyurethane. There are concerns over the porosity of thermoplastic elastomers which is why it's so good that Sybian now have a range of Silicone attachments to choose from and they do look amazing in my favourite colour.
The G-Egg Silicone Sybian Atttchment
I absolutely love the design of the G-Egg, the latest addition to the Sybian Silicone Attachment product line. Its front is coated in what I can only describe as scales and it reminds me of the dragons eggs on game of thrones. The most striking features is the raised egg shaped globe that is designed to really, really fill you up measuring in at a very pleasing 7 inches (17.8cm) in circumference and 2.2 inches (5.6cm) in diameter. It was actually designed by the lovely Karen at the Sybian factory as she wanted to produce an attachment for women who want to be shall we just say - filled up, and it succeeds in that respect admirably.
The silicone blend used in these attachments looks amazing and has a pearlescent look to it which really shines and looks incredible from different angles, it was a great colour choice. The front part of the attachment features five columns of what looks like dashes and zeros, a bit like morse code and these nodules are designed to come into contact with your clitoris in use and they help to transmit the vibrations there.
This attachmen comes with a very attractive storage bag to protect the attachment together with a set of rods and a spring. These are inserted into a hole on the underside of the attachment and then lined up with a corresponding hole in the plastic platform on top of the Sybian.
They transmit the rotational movement into the tip of the attachment causing it to move in circles inside you providing some amazing G-spot stimulation. You use the spring if you want gentle stimulation and the plastic rod if you want firmer sensations. You can of course use the attachment without either but you lose the G-spot stimulation feature of the Sybian having to just rely on the vibrations in that case.
Always use a good quality water based lube with any silicone sex toy and these attachments are no exception. I like to use Sliquid Naturals H2O (review HERE) as its lasts a long time and is body safe and hypoallergenic.
So how did it feel?
Well if I had to sum it up in one word that would be 'incredible'. It combines the intensity of the Sybian with an incredible feeling of being totally filled and this is a heady combination. I got incredibly aroused with just the rotation function going and have lost count of how many orgasms I have enjoyed with this attachment. Use plenty of lube and warm up first before attempting to slide it inside you.
The feeling as it pops inside is very, very arousing and I just can't give it enough praise. I loved the feeling of being filled completely whilst the Sybian ripped orgasm after orgasm out of me. I did find that it got a bit much after a couple of orgasms and I had to get off it for a break. When I lifted myself off the Sybian the attachment came with me as it was so tight inside me. I had to remove it after collapsing by the side of the Sybian in a very satisfied un-ladylike heap.
Karen, you have definitely come up with a winner with this design. I love it.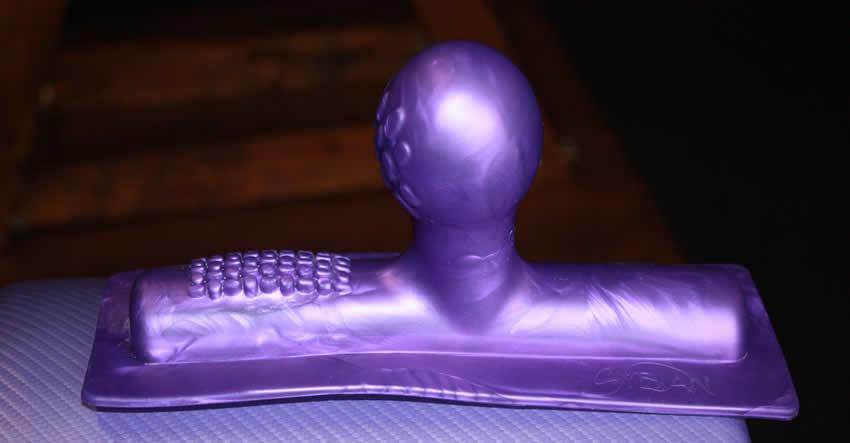 The Triple Delight Silicone Sybian Attachment
The second silicone Sybian attachment that I want to talk to you about is the Triple Delight and from the pictures here you can probably guess how it got its name. This one stimulates your G-spot whilst applying pressure and transmitting vibration to both your clitoris and your butt. It come with a storage bag and a set or springs and rods and as with the G-Egg these are used to control the feeling of the internal rotation against your G-spot. I personally prefer the springs but others may enjoy the stronger sensations from using the rod.
The raised 'finger' on this attachment as a forward facing curved tip to it that feels very nice in use, just like a slightly curled finger tracing your G-spot. The rotating function of the Sybian causes it to rub your G-spot at speeds of upto 150rpm which is pretty intense. I find that slower worked better for me and I enjoyed grinding myself into the attachment causing extra stimulation on my clitoris and also my butt which was a nice treat. Before reviewing these three attachment I had only ever used the standard medium attachment and that gives no anal stimulation at all and so this one was an eye opener.
Whilst I enjoyed it after a while it became a bit uncomfortable for me and I think that is down to my own body shape and not the attachment. I found that it provided a little too much anal stimulation for me but as I said that is down to me being me. Others will delight in the added sensations. As with all insertable attachments make sure that you use plenty of water based lube and don't forget to lube up the anal and clitoral ridges on the attachment.
If the anal stimulation gets too much you can simply rock forward a little to reduce the pressure back there or to lift yourself off the anal ridge completely.
The Orb Silicone Sybian Attachment AKA The TowBall
I really, really enjoyed the G-Egg and the Triple Delight but the Orb has to be my favourite attachment of the three I tested. It just looks so odd that I didn't know what to make of it at first and it took some experimentation (I enjoyed that) until I found the way that I prefer to use it and that it with the ball pressed hard against my clitoris, I can then vary the pressure by leaning forward or back and also grind myself against this attachment.
It was like an epiphany when I found the sweet spot and I just kept orgasming over and over again with it and for those of you curious, yes it made me squirt. I do think that the shape of the ball on the end of this attachment does look like a tow ball hitch on a car though and so my new name for this attachment is the TowBall. So everyone get posting with the hashtag #SybianTowBall. This is a quirky but very effective design and I have no idea what gave Karen the inspiration for it although it may have been dodgy TowBall videos online. Joking aside though, this really is a well thought out attachment and it is so comfortable to use. You can press your vulva against the ramp and use the TowBall on your clitoris or you can tease the entrance to your vagina with the TowBall, lowering and raising yourself on it.
This isn't technically a penetrable attachment and as such it has no hole in its base for a rod or spring but I did enjoy riding the TowBall if I face the opposite direction.
When you look through the new range of Sybian attachments you can work out easily what each one is designed to focus on and then you come across this one and start scratching your head (well I did at least) but I am a true convert to it now and it is definitely my favourite out of all three attachments. I like the fact that it is so versatile and in use it hits the spot for me every-time.
Sorry Karen but it does look (just a tinsy little bit) like a TowBall you have to admit. That isn't a bad thing though, I now often smile whilst walking through carparks for no outwardly obvious reason. I love this attachment and have no doubt it will be a very popular one.
Cleaning
As these attachments are made out of platinum cure silicone it is possible to sterilise them by boiling or by using a 10% bleach solution on them. You can even put them on the top shelf of a dishwasher on a sterilise cycle. For normal use though simply wash them in warm soapy water to clean them before using an antibacterial sextoy cleaner on them. Make sure to dry them properly before placing them into their storage bags for safe keeping until the mood next strikes you.
These attachments arrive coated in a thin layer of corn starch which needs to be washed off prior to use and it is a good idea to coat them again in corn starch if you are going to be storing them for long periods of time.
Key Features
Key features:
Made from high quality platinum cure silicone
Great range to choose from
Non-porous and totally body safe
The G-Egg is definitely for lovers of that "fuller" feeling
Final Thoughts
All three attachments were a heck of a lot of fun to (cough) 'research' and review and I really enjoyed all three but from my own perspective if I had to place them in order of preference for me then that would be Orb, G-Egg and then the Triple Delight. Each design has had a huge amount of time spent on it to get it just right and that shows, the material is first class and they are all great additions to the current range of attachments for this incredible machine. So, would I recommend them to you - Hell Yes.
I was sent the G-Egg, Orb and Triple Delight by Karen at Sybian.com with a little help from Ian at FmachineFun and I would like to thank them both for giving me the opportunity to review them.
Joanne's rating
Where Can I Get One From?
If you are looking to buy these attachments and you are in the US then check out Sybian.com or if you are in the UK then definitely go a check out Ians great rental service and the attachments at FmachineFun.