As usual the packaging of the Electrastim Noir Ovid is sublime, their black and white themed boxes look very classy. The box as you would expect carries lots of product information. Mine arrived in the post very discreetly packaged as has everything that has ever been dispatched to me by Electrastim.
When you open the box and remove its contents, you will find your Ovid dildo vacuum sealed inside a block of rigid foam which protects it on its journey to you. The dildo is held securely inside this foam and looks very inviting.
You also get a very nice Electrastim branded drawstring storage bag for your dildo, and that is a nice touch. It also comes with a set of multi-language instructions.
Now before I rattle off lots of dimensions and specifications, it's worth noting that to get the most out of this dildo you will need an e-stim control box. A control box supplies the electrical impulses to you through the dildo and provides the e-stim stimulation. You will also need a cable with two 2mm plugs on the end for attaching the control box to the dildo.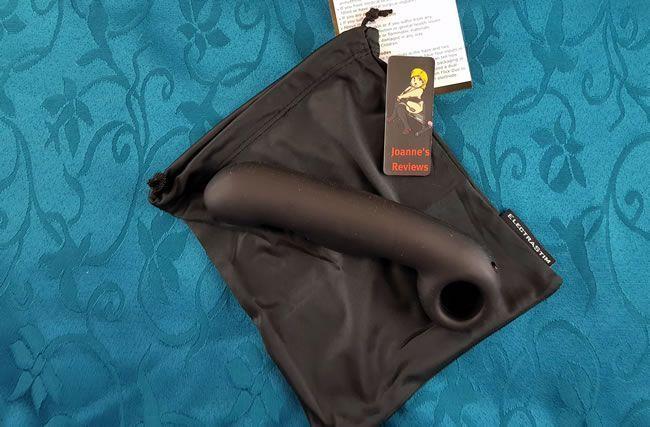 If you don't own an e-stim control box, then check out my reviews of some of the best available. Without one of these boxes this is merely a silicone dildo, but with one it is so much more.
Like all of the Noir range the Ovid is coated with a layer of 100% silicone, and that makes it body-safe, hypo-allergenic, as well as being phthalate and latex free. Silicone is my go-to choice for sex toys as it is also non-porous. However, I suspect that the conductive silicone portions may have some pores.
The Silicone is a total dust magnet as you can see in the pictures, those were taken after washing and drying it several times. I suggest giving it a rinse before use to get rid of any dust or lint that it has collected. The silicone is quite draggy, but with electrogel, it glides over your skin.
As with all electrodes, you should use a good quality conductive gel or a water-based lube at a push. Electrastim has their own brand of conductive gel that is worth checking out. I first used it while reviewing their Jack Socket and it works very well indeed.
This is a nicely proportioned e-stim electrode, measuring in at 5"/12.5cm of insertable length and it has a circumference of 4.7"/12cm. This makes it an easy electrode to insert and use wherever you decide to insert it.
You see the Ovid is a gender-free sex toy; it can be used by all sexes. Its unique shape means that it contacts the G-Spot if used vaginally as well as the P-spot if guys use it anally.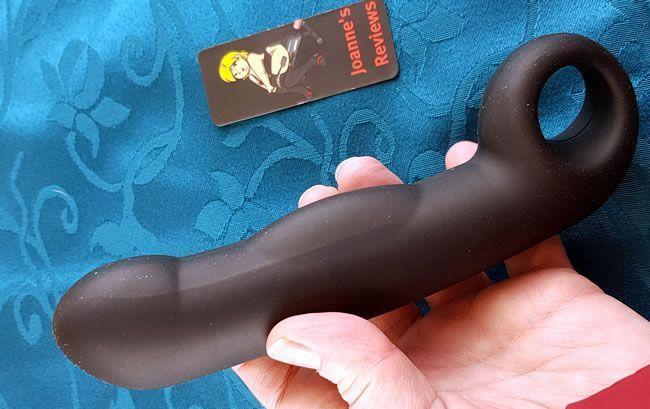 In profile, you can see that it gently curves upwards and ends in a nice bulb which feels fantastic against my g-spot. There is also a ridge halfway down the top of it that gives added stimulation.
It features a comfortable to hold grip loop on the base that is easy to slip your finger or thumb through if you want to thrust with it. This loop also acts as a safety feature if you use this dildo anally.
Thrusting with it is a lot of fun, and I can orgasm from the g-spot action that it provides easily. The upward facing bulbous head feels great as it glides over my G-spot producing some memorable sensations. The loop style handle is also comfortable to hold onto in any position, and it makes a pleasant change from a dildo with a broad round base.
Just below this loop on the end of the dildo are two recesses for attaching the 2mm plugs from your cable. These are a snug fit, and the plugs stay in place well while you are playing. It is the perfect position for them as they don't get in the way.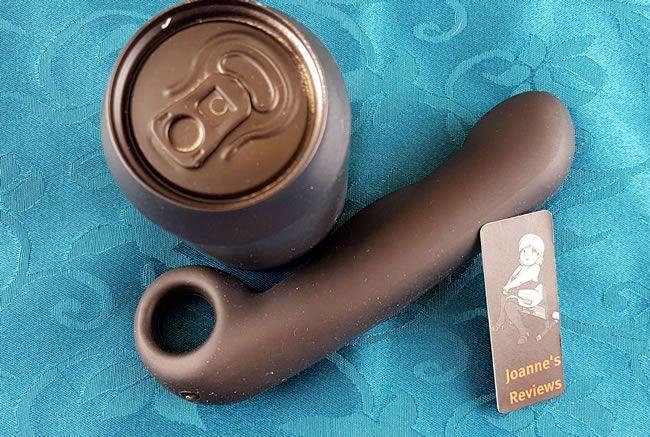 As I have already stated, this is an excellent dildo for thrusting fun and games but as it's also a bipolar estim electrode how does it perform in this regard?
The Ovid features two extended contact areas and these run down either side of the dildo. You can see them in the slight colour variation in the pictures.
My usual preference is end to end electrodes as I find that these give me excellent thrusting sensations when being used. I love the term "Ghost Fucking" as you do feel like you are being fucked when using that style of electrode.
Side by side electrodes still give me the thrusting sensation, but it is more subtle in this configuration. What I enjoyed the most was a combination of thrusting with this dildo while using it as an e-stim electrode as well. That is where the magic happens.
As you draw it out the contact area shrinks and this heightens the e-stim sensations, and when you thrust it back in again, it smooths them out again.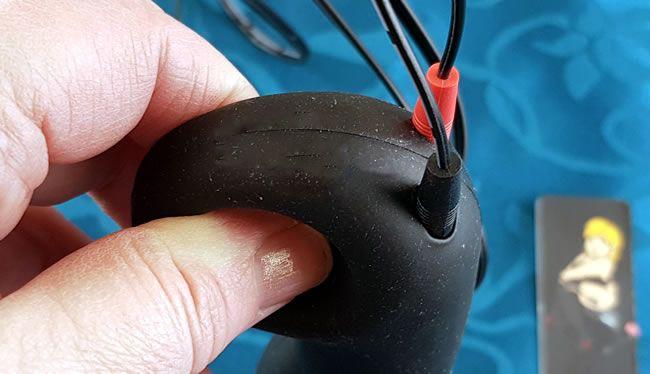 This combination of thrusting and electrical stimulations is intoxicating, and I have had a lot of fun using it this way.
A word of caution though, when you are using it as an e-stim electrode make sure that you don't pull it out too far as that will pull the electrode contact areas out of you. As the contact areas shrink, you may get an unpleasant zap as you remove it. So always insert it and remove it with the control box switched off.
This is in no way a negative point about this dildo as it happens with all internal electrodes if you remove them without switching your control box off. But safety first so it has to be mentioned.
Using conductive gel makes this a very smooth toy to thrust with, and you get excellent contact from the electrodes, so it really is win, win.
This is the first electrode that I have owned that I can thrust with and I love it. The combination of a bit of quimsticking coupled with some e-stim fun is fantastic, and each compliments the other.
I love the gender-free nature of this dildo too, its features work perfectly, whether you are looking for g-spot or p-spot stimulation. Electrastim has come up with a classic design, and the Ovid is an excellent addition to the Silicone Noir range of bipolar electrodes.
Check out the Silicone Noir Ovid Bipolar E-stim Dildo from @ElectraStim for shockingly good G-spot or P-spot fun.
Click to Tweet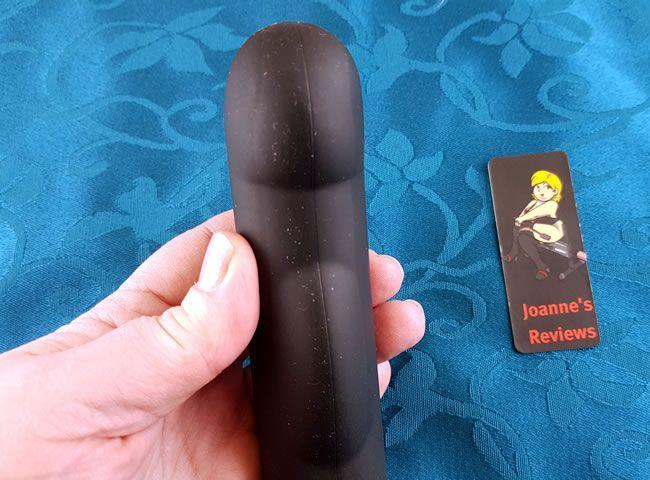 Key Features
Key features:
Bipolar estim electrode
Silicone coated
2mm Sockets
Suitable for G-Spot and P-Spot stimulation
Easy grip handle
Final Thoughts
I love the Ovid, it is a nice sized dildo just for regular thrusting fun, but as an e-stim bipolar electrode, it comes into its own. The extended side contact areas give excellent conductivity and completely alter the estim sensations, and the dildo is thrust in and out.
It is a fantastic gender-neutral sex toy with enormous potential for anyone who enjoys dildo fun but also wants to spice things up a little with some electrosex fun.
I have no problem in giving it a strong recommendation, check out the entire Silicone Noir range, the G-Spot Electro Probe looks fantastic.
I was sent the Silicone Noir Ovid Electro G-Spot Estim Dildo by Electrastim and I would like to thank them for giving me the opportunity to review it for them.
Joanne's rating
Where Can I Get One From?
Grab a Silicone Noir Ovid Electro G-Spot Estim Dildo from Electrastim.com for £59(€75.00).
Electrastim and Cyrex Ltd was founded in 2001 with the intention of offering a unique sexual experience to both couples and individuals, regardless of their gender or sexual preferences. In 2014 they won the Best Specialist Products Distributor award at the ETO awards beating some stiff opposition. They are based in Hertfordshire (UK) and have a global following, their products are available through their own website and they are also stocked by numerous online and offline retailers.
Check them out and don't forget to tell them that Joanne says "Hi".
Disclosure
This review does not contain affiliate links, for more information about affiliate links check out my disclosure page.