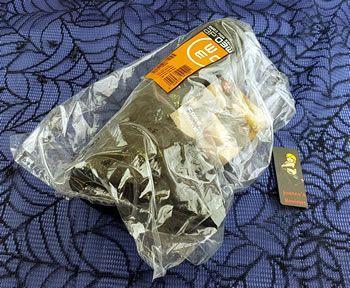 Meo.de really packaged the delivery well and it arrived by courier. The packaging used for the Skull dildo though is much more basic and simple.
An obvious thought in order to help keep the costs down as this is a seriously large sex toy. The dildo is supplied sealed in plastic with an information card enclosed.
When I first saw this dildo it embodied all sort of emotions in me and I couldn't help thinking of Hammerhouse of Horror movies. I could imagine a high priestess using it in some form of dark satanic ritual surrounded by robed monks.
It looks so dark and foreboding but in a good way, if that makes sense. Having never used a dildo with a skull at its base I was keen to live out my fantasies with it.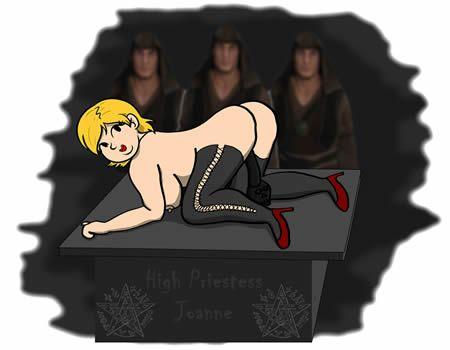 Before I go on to describe how it feels here is some information about its composition. This bad boy is made out of black 100% Silicone which as you know is a great sex toy material. It's latex and phthalate free making it hypoallergenic. As Silicone is non-porous it is easy to clean and even sterilise so it can be used by many partners.
The skull at the base of the dildo provides a good solid base to stand it on. I have found that using it like this whilst on all fours is a lot of fun. The base features a hole for a suction cup which is sold seperately.
The skull is very detailed and I like the way that it almost grins at you as if it knows what you are about to do when you pick it up. The texture on its surface actually looks like bone, or should that be 'boner'. The detailing on the surface fascinated me, it does look nice and must have taken ages to perfect. The shaft has some nice vein details on it and these aren't overdone.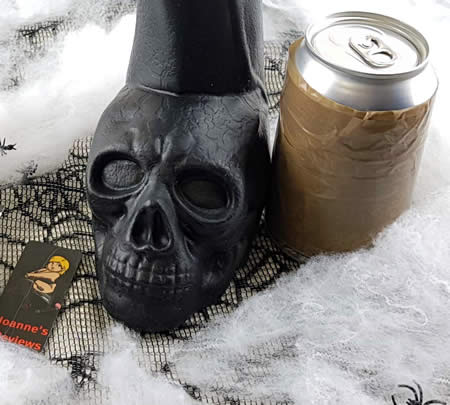 The attention to detail in the design of the skull is commendable. Whilst it doesn't have a job it is decorative you could grind against it is you choose to do so. It changes this from a large dildo into a feature piece for your darkest masturbatory desires.
The dildo that emerges from the top of the skull is huge. It's 11"/27.9cm tall of which you can insert only 7.5"/17.8cm which is a nice workable length. It's the girth that will make your work for it though measuring in at 7.25"/18.4cm at the head and 8.5"/21.6cm at the base. The diameter of the head is 2.25"/5.7cm so as you can see it's a real stretcher no matter which orifice it goes into.
The tip of the head is rounded for easier insertion but it will still be much more difficult to insert anally than vaginally. There's no way on earth that I could ever get anything this big up my bum. So you will have to settle for the vaginal version of events. Don't get me wrong this would be an ideal anal dildo for anyone with enough experience to give it a go. The base makes squatting over it a lot of fun and slowly lowering yourself onto it.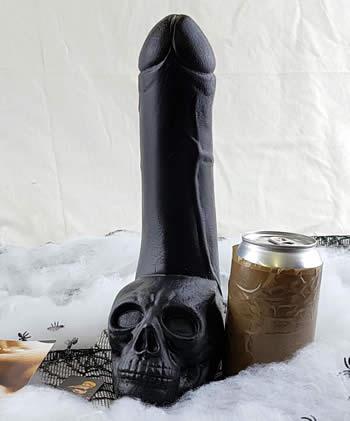 The skull and shaft have no flash or mould marks on it at all. This is a very nice product that is striking in both its functionality and its attention to detail.
As with any huge dildo you are going to need to warm up first and use lots of lube. Don't opt for a silicone based lube though as some can react with the surface of silicone sex toys. If you do want to try one then use a bit on the base and see if it reacts. That way, if it does then you won't have ruined this masterpiece. I recommend a good quality water-based lube like Sliquid H2Oor for anal Sliquid Sassy.
The skull dildo is nice and firm but with enough give that you can almost fold it in half. This firmness is very beneficial when it comes to inserting it as it requires some effort or force. It is flexible enough in use to make alignment not an issue as it gives to accommodate you.
The surface texture is mesmerising and looks like real old bone or leather in its appearance. It is beautiful and one advantage of it is that it holds lube well in use. That is a characteristic that you will be very thankful for.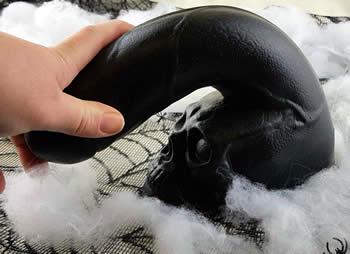 I found that this leather effect is actually noticeable in use. It gives a nice sensation against your inner walls. The lube retention aspect makes this enjoyable and not draggy. I have a few large dildos but I can say that none of them has this property. This makes the cock skull dildo stand out from the crowd. The lube retention coupled with the texture makes it a formidable yet enjoyable anal or vaginal sextoy.
A few pointers on tackling large dildos like this one. Firstly and most importantly is don't rush yourself. Start with smaller dildos and gradually increase the girth until you are ready to tackle this one. Use lots of lube adding extra when necessary. If you feel pain then stop as you are not ready for it. Relax, lube up and give it another go. Once it is inside, relax and adjust to the amazing sensation of being so full. When you do start to thrust with it start very slowly and again keep yourself lubed up. It takes me about half an hour of warming up and masturbating until I am ready for a toy of this size. Once I am ready though this one blows me away.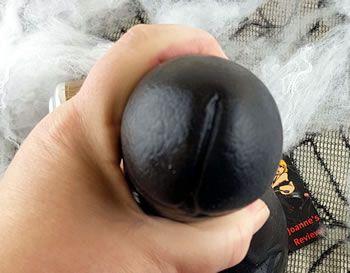 Inserting it is tricky due to the domed glans on the end of the dildo. But once inside the shaft only enlarges slightly as you take more of it inside you. Once the head is in the rest will follow and just due to its girth it provides lots of stimulation.
Even without the suction cup on the base it's ideal for either squatting over or for lowering yourself onto it doggy style. The cup would hold it in place leaving your hands free to support yourself though. Try it on your own before doing it with or in front of a partner to help you relax.
When you get this dildo inside you it will give you two amazing sensations. The first is the feeling of being stretched and filled. The second in the amazing surface texture as you thrust with it. I love the way that it glides yet you can feel the texture, it's a great combination.
Check out this amazing skull dildo if you like to be completely filled. Click to Tweet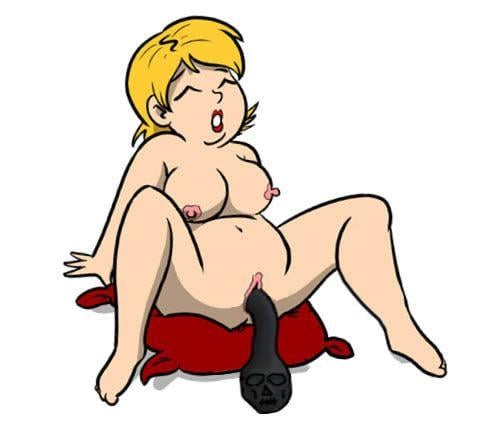 I have used this dildo on my Shockspot by using a universal adaptor with medical cohesive bandages to hold it in place. As it's so heavy it does slow the machine due to physics but that is a good thing in this instance. You wouldn't want 200 strokes a minute with something this big. Slow and steady feels incredible and it just goes on and on until you are completely satisfied. The dildo does droop a lot under its own weight though so aligning it is more tricky than with a smaller dildo.
I enjoyed getting to know this silicone dildo but as with all toys of this size, there are some drawbacks. As it's so heavy (almost 1.5kg) it's difficult to hold and use if you are on your back without a partner. The second drawback to it is because of that amazing texture I have been raving about. It makes it a little bit more difficult to clean as you do need to work to get the vag-goo out of the texture. It is also a dust magnet and so you'll probably need to rinse it off before using it again even having cleaned it before. That though is a common thing with large silicone sex toys and so I won't hold it against this one. They are simply things to bear in mind.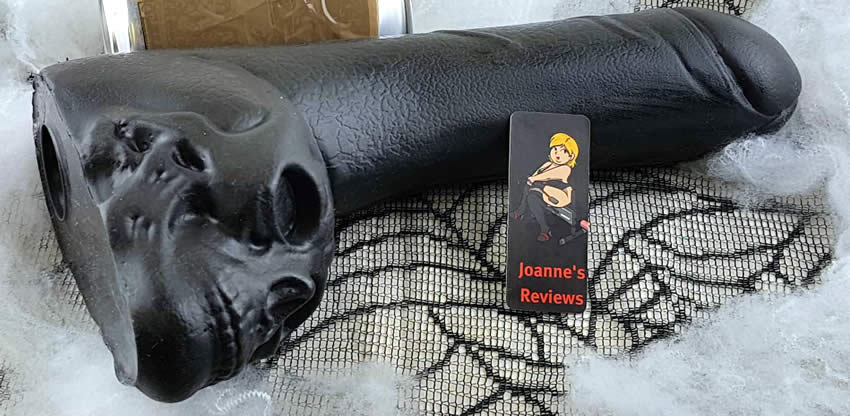 Key Features
Key features:
100% body safe silicone
Fantasy dildo
Skull base
Thick and long shaft
Subtle veinwork on the shaft
Final Thoughts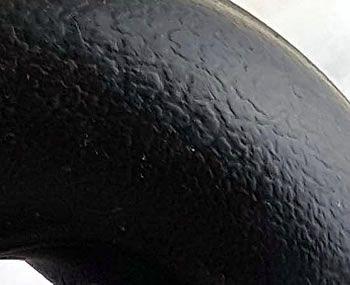 I'm very enamoured with this dildo, not only does it look incredible with its Gothic skull design but its functionality as well. This is a dildo for sizequeens out there who like their toys to be very, very filling. I wouldn't class it as a beginners dildo in any shape or form, you need to be able to take large objects before opting for this one. It's texture will delight anyone using it vaginally or even anally though. The way that it holds onto lube and uses it to facilitate amazing thrusting sessions is unique and this has to be experienced to be fully apprecated. I have no hesitation in recommending it to anyone looking for their next challenge.
I was sent the Skull Dildo by Meo.de and I would like to thank them for giving me the opportunity to review it for them.
Joanne's rating
Where Can I Get One From?

Grab one of these incredible dildos from Meo.de for just 129,00 € (£114). Whilst this isn't the cheapest silicone dildo on the market it's definitely one for size queens especially ones involved in the BDSM or goth scene.
Meo are an online shop catering for kinksters everywhere. Stocking a huge range of incredible products and catering primarilly for gay males but most of their equipment is gender free. They have been trading since 1997 and have honed their operation to give fast and reliable delivery globally.
" MEO makes you come" is their slogan and this product certainly delivers on that promise.
Check them out and don't forget to tell them that Joanne says "Hi".
---
---
Disclaimer - I was sent the Skull Dildo to review free of charge and this has in no way affected the outcome of this review. This post contains affiliate links and if you purchase something when you follow one of these links I may receive a small commission at no cost to you. For more information check out my disclosure page.