I hear you thinking "Massage candles, what the heck are those?"
Well, I have to admit to not knowing that you can get massage candles. I, of course, know about wax play candles having recently reviewed some for Latex, Leather & Lace (they also stock Shunga products too).
A massage candle is burned like a regular candle, but the resulting liquid wax becomes a scented massage oil. I must say they are lovely and ideal for a treat for you or a partner.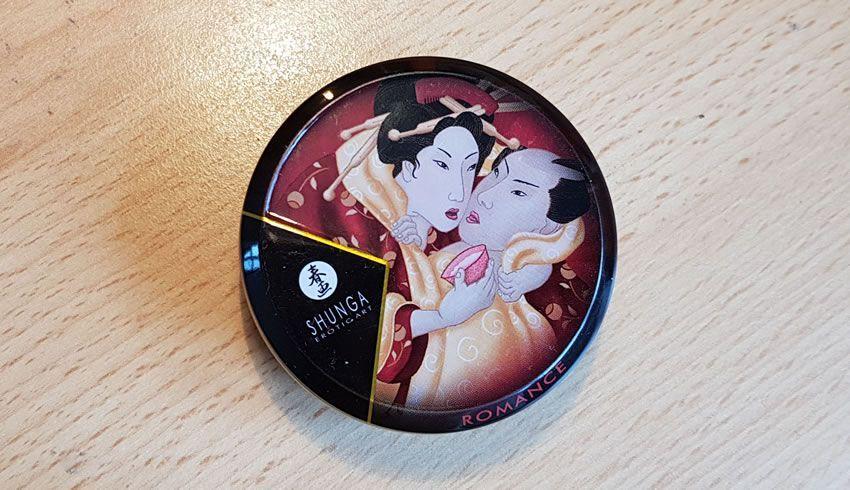 I love the designs of the Shunga packaging, it is just lush
Shunga does a range of six distinctive fragrances in their massage candles, and the beauty of them is that the wax melts at a very low temperature making it ideal for use as a warming massage oil.
So, the six bold fragrances are:
Excitation (Intoxicating Chocolate)
Romance (Sparkling Strawberry Wine)
Aphrodisia (Rose Petals)
Desire (Vanilla Fetish)
Libido (Exotic Fruits)
Zenitude (Exotic Green Tea)
Each of these fragrances is distinct and lovely. I am reviewing the Excitation (Intoxicating Chocolate) and the Romance (Sparkling Strawberry Wine) candles.
Shunga claims that each candle will burn for up to 7 hours. I can't confirm that though as I have used both for giving and receiving some sexy massages.
They do burn very slowly though so this figure is probably about right.

The soy oil when solid has an off-white colouration and melts on your fingertips
Keeping the wick trimmed short .25"/0.6cm, gives you a nice and small flame with no smoke. So burning the candle without using any of the soya based oil for massages should give you about seven hours of burning time.
How do you use them?
They are very simple things to get your head around. Just light the wick, and you will immediately notice the scent as it is released into the room.
Let the candle burn for about twenty minutes, this will have the whole room bathed in the delicious scent of the candle, and the wax will be melted. Next put out the flame and let the candle stand on a level heat resistant surface for a minute or two.
You will need to plan ahead if you want to use these candles for a sensual massage treat.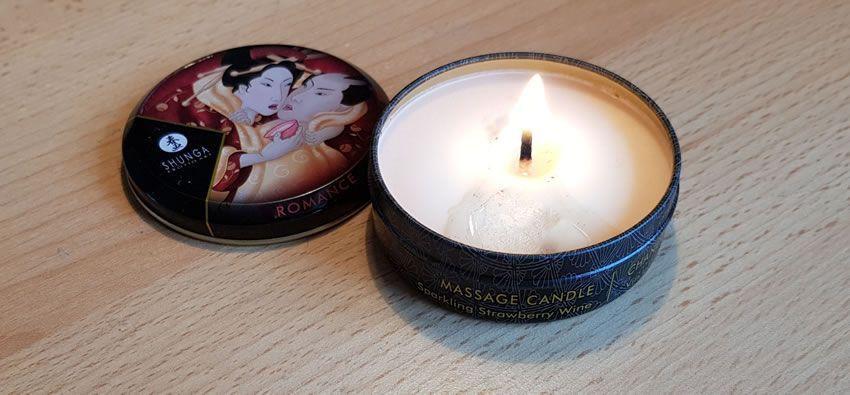 The candles give off a delightful soft fragrance that soon fills the room
You can now pour the warm oil onto your hands and use it to deliver a nice and slow sensuous massage that feels incredible.
Pouring it into your hands will cool the oil before you apply it to the person receiving the massage. Of course, pouring it straight onto their skin will mean the oil will be much warmer, but it won't burn.
The oil spreads out well, and it warms the skin as you do so. As you spread it out, it releases more of the intimate fragrance into the air.
The consistency is thicker than baby oil, but it absorbs really well. I suggest applying it directly to the area that you are going to massage to prevent any wastage.
I was surprised that the oil doesn't leave any tackiness after you finish your massage. The skin is left soft and with the subtle fragrance of the candle.
I did find that my hands did feel like they have a coating on them afterwards, it isn't tacky, and it washes off easily.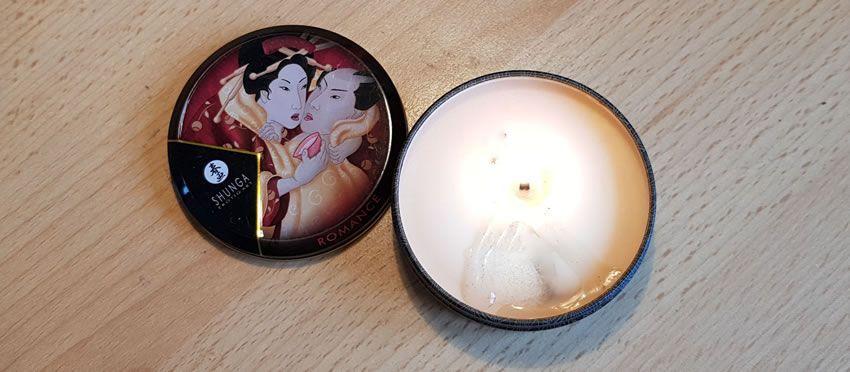 The oil soon melts so you can use it for sensual massages
Remember to re-light your candle after pouring out some of the oil so that it stays warm. This way if you need some more oil it is ready for you so that you don't lose the moment.
The candle will still give off its scent as you deliver your massage. I have reviewed some massage oils, and they have left me sticky, so this is by far the best regarding scent and a lack of any residual stickiness.
OK, some top tips, if you are going to be playing with wax or oils, then I suggest using your old bedding or better yet invest on one of the fantastic throws from Sheets Of San Francisco. You can then relax and make as much mess as you want.
Excitation Scent
I love the intoxicating scent of chocolate although I detected a faint smell of coffee in there as well. Both of these I love, and so that was my favourite of the two scents when using it as a massage oil.
Romance Scent
This scent delivers a delightful, gentle strawberry scent that is really nice when the candle is burning and also when being used as a massage oil.
It was a difficult decision between the two scents as to which I preferred, but after some deliberation, this one was second on my list. It is up against chocolate, after all, so it really didn't have a chance I suppose LOL, I love my chocolate, as I have chocolate bearing hips.
You don't have to use these as massage candles; they hold their own as just scented candles. They are cracking and generate a soft ambience when burning in a room.
The candles come in a metal tin that is 2.5"/6.4cm in diameter, and 1"/2.5cm deep. The base of the tin carries safety instructions (you are playing with fire after all).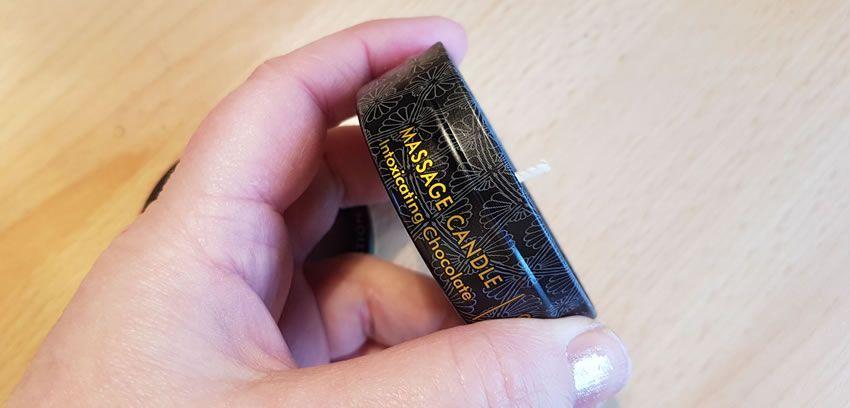 The candles come in a delightful metal tin
When the oil is in its solid state, it is an off white, and it quickly melts when you light the candle.
The candles are sealed with shrink wrap when they arrive, so you have the peace of mind of knowing no-one has tampered with it.
Safety: A word of caution, make sure the tin is cool before you pick it up. I had no problem but it is metal, and it is near a flame so test it first before picking it up. The more of the oil you use, the lower the flame will be to the metal and so it gets a little hotter.
These scented massage candles from @ShungaEroticArt are fantastic, delivering a wonderful scent coupled with a great massage. Get some from @LatexLeather.
Click to Tweet
Key Features
Key features:
100% natural oils
Produces a lukewarm oil at the touch
Leaves skin soft and silky
Burns for up to 7 hours
Won't clog pores
Final Thoughts
These candles are vegan-friendly, and they are sugar, paraben and gluten-free. They should, therefore, be safe to use on your intimate body parts and intercourse after using them is no problem at all.
The 100% natural oil is soy and nut-based though so steer clear if you have any form of allergy to either.
Other than that these points, they are excellent massage candles. Their dual use makes them ideal for setting a scene or for indulging in some erotic and sensual massage, and I love them.
I loved reviewing these massage candles and I would like to thank Shunga for giving me the opportunity to review them.
Joanne's rating
Where Can I Get One From?

Grab one of these fantastic massage candles from one of my favourite UK companies Latex, Leather & Lace for just £9.99, they are a great way to set the scene or give a fantastic massage.
Check them out and don't forget to tell them that Joanne says "Hi".
Disclosure
Disclaimer - I was given the Shunga Massage Candles to review free of charge and this has in no way affected the outcome of this review. This post contains affiliate links and if you purchase something when you follow one of these links I may receive a small commission at no cost to you. For more information check out my disclosure page.