Check out these amazing blog posts
It's been a week since GOTN suggested the Share Our Shit Saturday concept in light of social media channels clamping down on sex related accounts once again. I hope that you enjoyed my first post on this matter. This one is a bit shorter but it has more amazing posts from some of the sex blogs that I read and that I think you will enjoy.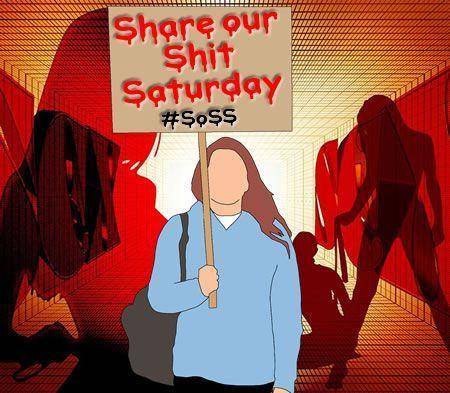 You Can Help Us All - Share Our Shit. That's it in a nutshell (or nutsack if you prefer), this gloriously simple approach was first mentioned by Girl On The Net and Eros Blog. If you like a post then please share it on your social media channels. If you like a tweet then please retweet it. It's the only way that some people can now get exposure to new readers. The bonus is that your followers can get to know the cool blogs that you know and read.
We all like reading sexy stories, informative and educational posts so please, please share what you read, it really does help bloggers like myself to grow and reach new audiences. So on with this weeks suggestions for your pervy perusings.
Share Our Shit Saturday #SoSS
Kinky Kitten Kim – Sheets of Sanfrancisco Funsheet Plus
I love Kims blog and this week she reviewed a set of heets from the amazing Sheets of SanFrancisco and I really do need to get myself a set. Kim very elequently explains why they are simply the best on the market in her usual style. Her blog is well worth reading.
---
Sacndarella - Fleshlight Freaks Frankestein Masturbator
I love this reveiw, I reviewed the Freaks Frankenstein dildo and loved to see the corresponding male masturbator being reviewed for Halloween.
The Fleshlight Freaks Frankenstein is the one that boasts the stitches. The vulva detailing is awesome! Soft inner labia folds, clitoris peeking from beneath a hood…it's all there, and very authentic. Despite the stitch detailing, it isn't a gruesome thing. It's actually kinda cute.
It's a great review and you will enjoy looking around her site.
---
Emmeline Peaches – #NSFW Totally Curvy Coloring Book
As someone who loves to doodle, draw and colour I loved this review by Emmeline of an adult colouring book. Colouring can be very therapeutic and this book is amazing and I have to get myself a copy. Check out her review and also check out her amazing site. I have been an avid reader fo hers since she started it. Oh, you can now call her Dr as well - much respect.
---
Little Switch Bitch - Klittra of Sweden Self Lubricating Vibrator
This product immediately caught my attention as being a great idea. Imagine using a vibrator that is self lubricating, check out her review to see what she though of the concept and the product.
---
Bondage God - Chastity Glans Ring Spiky
I love reading blogs from all corners of the sexual spectrum and this review caught my eye, is it for pain or pleasure? Enjoy this review of a spiky penis attachment. Check Bondage God out and tell him that Joanne says "Hi".
That's it for this week, I hope to turn this into a regular feature so keep coming back for some more recommended posts.
Joanne xxx