A full Serious Kit (SK) system is a significant investment in money, space and time. However, it is (I'm told) an incredibly amazing experience.
Based on an actual milking machine for animals, suction in a serious kit milker can be applied two ways, first into the chamber where your penis is inserted. The second is behind the liner sleeve that acts as a flexible diaphragm.
This second suction style is often referred to as a column milker where all the liquids are contained in the receiver sleeve to protect the pump. When the pump operates the liner sleeve collapses and expands. This pressure difference, providing there is a good seal, creates a small vacuum and milks you. Venus2000 (V2K) and the Tremblr are both column milkers. They are cheaper, take up less room but don't have the ability to suck from inside the receiver.
Of the Serious Kit range of SPT's, only two are highly compatible with Tremblr and Venus 2000 (V2K) milking machines: the standard SPT and the Electro SPT. Other SPT's rely on suction from within the chamber.
They can be used with a fluid trap; however, getting moisture inside a Tremblr or V2K pump mechanism is likely to dramatically reduce its operating life.
Serious Kit is a modular system, you can select what you need and then add later on, but as a minimum, if you want to pimp your tremblr/V2K, you need to get an SPT and the conversion kit. Yes, you could create your own conversion, but a quick calculation of the bill of materials shows the conversion kit is pretty good value.
The Electro SPT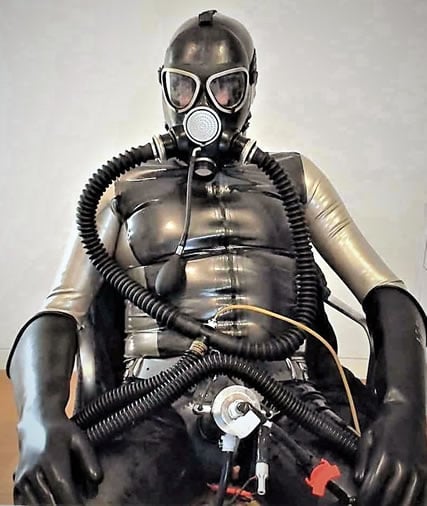 Adding estim to milking provides a totally new dimension of sensation. The Electro SPT is a monopolar electrode that is connected via a 4mm banana socket.
An elasticated loop is provided to suspend the SPT either from an overhead frame or from the Serious Kit harness while seated or standing.
Finally, there is an inlet tube for the continuous lubing system. This is the one big advantage of the SK system over column milkers.
Excess fluids are sucked into the milking machine away from the pump; this allows for longer uninterrupted milking sessions. The tube is closed off with a crimp styled clip. As a V2K or Tremblr user, this feature seems to be of limited benefit without experimentation.
Electro SPT's come in 3 sizes 30, 40 and 50mm with a matching conductive rubber liner.
Replacement liners are available from Serious Kit either singly or in packs of 3. There is no reason why you could not convert the SPT to non-electro with the right sized silicone liner.
Monopole electrodes need a second pole to complete the circuit so you will need to either use a triphase configuration with a bipolar anal plug or a single-pole electrode. A pad could work; however, the sensation in estim is always stronger at the smaller contact surface.
The SPT provides a fairly large surface. I found that using an E-stim Systems MJ with the head as common felt best, but a Moaner/Large Flow worked nearly as well.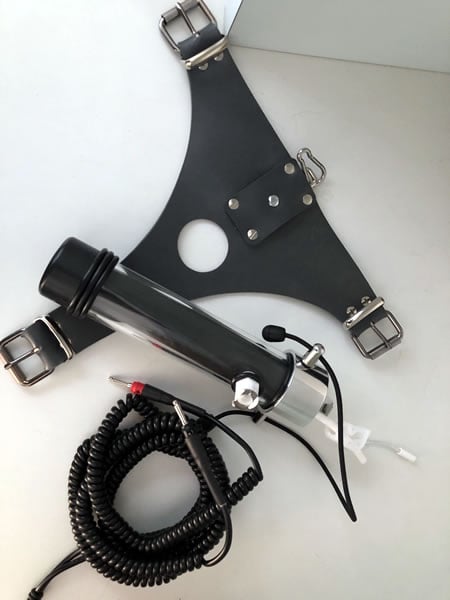 The look and finish of the Electro SPT are fantastic. Bright polished aluminum and a transparent cylinder. When it is operating, you can see the liner sucking you into the receiver vacuum wrapped in black conductive rubber.
Venus 2k conversion kit
The kit is designed to convert an SK style SPT to a column milker and brings some extra features. Unlike a Tremblr or V2K receiver, an SPT has two connection points for the receiver and column vacuum lines.
The conversion kit has two connection lines with a quick disconnect. Each line has a tap to allow you to balance or turn off suction. The receiver line has a relief valve to vent excess fluids, and a small moisture trap to catch any liquids coming out of the receiver. If you open that tap to make it sort of an SK like experience. To be honest, I'm a bit conflicted about this second line.
On the one hand, it is really useful for sucking the receiver on (and it feels good), but I also know when you most need to quickly close the tap as fluid is leaking in you are least likely to notice it.
Note for Tremblr users: The supplied line for the V2K conversion kit is 8mm silicone. No matter how hard I tried, I could not get it attached to the Tremblr port even with warming the tubing. In the end, I got a 9mm to 9mm automotive joiner and zip tied a short section of Tremblr hose on one side and the short V2K converter tail on the other.
So how does it feel?
AMAZING!
The super-smooth liner of the Electro SPT is a soft embrace. Running it slowly with triphase adds a new dimension to estim. No longer is it just sensation; you get the slide as well.
If you like long edging sessions, this is an excellent addition to your toy bag. Unlike the SK system, a column milker is easier to use solo, and cleanup effort is just the receiver.
Getting the right lube can be challenging. I've settled on a combination of water-based Swiss Navy with three big squirts of estim systems electrogel smeared near the mouth of the receiver.
Shipping and buying experience
The new Serious kit website makes shopping easy. You need to size the SPT correctly, so check your measurements and get as close as possible.
Shipping was discreet in a plain brown box. Keep in mind at the time of this article, SK does flat rate shipping for non-UK addresses, and it was a significant cost.
If you are planning to add a harness or cables save up and make a single purchase. Liners are the exception with cheaper shipping.
The Serious Kit SPT Electrode is as its name suggests extremely capable and it provides unique sensations that tease, stimulate and satiate. Get one from @Seriouskit2
Click to Tweet
Key Features
Key features:
Adds slide to estim sensation for an incredible feeling.
3 SPT sizes.
Uses 4mm plugs.
Liners can be replaced.
Conversion kit expands what your Tremblr/V2K can feel like.
Amazing build quality.
Final Thoughts
By combining both the sensation of estim and the slide of a milker, you get an amazing experience. It's almost addictively pleasurable, but it is not a toy for beginners.
You need to have a comprehensive toy box and a good foundation in estim to bring out its best.
For serious players, it is a bit of serious kit for serious pleasure.
This Electro SPT and V2K conversion kit was purchased directly from Serious Kit, and I am not affiliated to them in any way.
Thank you RubberStimmer
I'd like to thank RubberStimmer publically for taking the time to write this review for everyone. It has certainly opened my eyes to the Serious Kit range of products, it sounds like the perfect addition to a serious stimmers tool box.
Where Can I Get One From?
Grab one of these extremely effective pieces of equipment direct from Serious Kit for £165.
Check them out and don't forget to tell them that Joanne says "Hi".
Disclosure
This review does not contain affiliate links, for more information about affiliate links check out my disclosure page.