As with everything from Latex, Leather & Lace, delivery is both swift and extremely discreet. I couldn't wait to give this lube a trial run as the other lubes I have tried from Secret Play have been pretty damn amazing.
This lube like the others comes in a beautiful retail display box with a blue marine colour scheme. The box carries lots of product information, but it's the lube you are interested in right?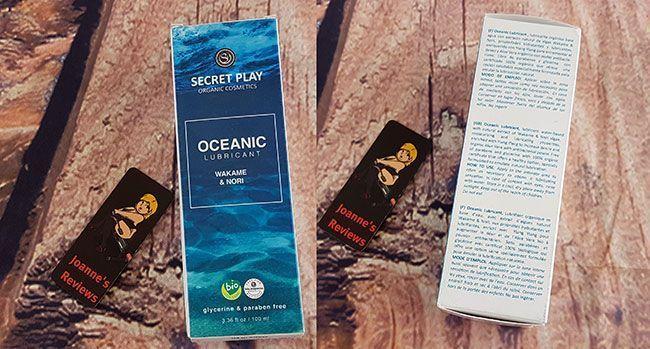 Secret Play Oceanic Lube comes in a very nice box carrying a lot of information
The bottles used with Secret Play Lubricants are all made out of recycled plastics, and that is another good reason to choose this brand of lube. You get 100ml of lube in this bottle, and it arrives sealed with a safety seal so you can rest assured that it hasn't been tampered with.
The bottles also have a great flip up valve that allows you to easily squeeze the bottle to dispense just the right amount of lube. When it is closed, you can rest assured that if the bottle falls over in your bedside drawer, you aren't going to have a sticky accident. Indeed the only sticky accidents you will have with this lube are definitely between your legs.
Latex, Leather & Lace have done a great job of finding this brand of body safe lubes. Secret Play is based in Spain, and until recently, they have focussed all of their efforts on the European marketplace. Recently with the help of Latex, Leather & Lace/a, they have hit the UK market hard, and they are already making waves.

This is a body safe lube that even comes in a recycled plastic bottle
This is a clear water-based lube that has a nice consistency; it contains no Parabens, Gluten or Glycerin. This is fantastic as all of these are ingredients that should never go anywhere near your intimate parts if they are in a lube. Glycerin is sugar, and it can give an increased chance of yeast infections. Parabens have been linked to health scares and so always steer clear of both.
This range of lubes has been individually certified by an external laboratory - Swiss Bio Inspecta. None of their lubes have been tested on animal, and they are vegan-friendly.
This lube does, however, contain Nori & Wakame sea-weed extract and these two ingredients help to improve skin elasticity and help prevent any possible irritations when you play. This lube very closely emulates natural body lubrication, and so it feels incredible in use.
It contains hyaluronic acid which is an ingredient commonly found in skin creams, and it helps to leave your skin silky smooth and soft.
None of these ingredients ring any alarm bells, and this lube is an entirely organic option for anyone looking for a healthier lube to use. I love it.
It is a clear lube that has a slight minty taste to it which isn't unpleasant, but this is a lube not designed for oral use anyway, so it isn't a problem. A little goes a very long way.

I love how thick this lube is, it means that it stays put and doesn't run everywhere
As this is a water-based lube it is safe to use with all sex toys, and it is even condom safe, you can also use latex condoms safely with it. I always prefer to use water based lubes as they are by far the safest type of lube and they are fundamentally compatible with everything.
Performance
This is a water-based lube that is easy to pour, and it has a nice and thick consistency. This is exactly how I like my lubes, I hate it when you go to pour a small amount on your fingers, and by the time you have closed the bottle, there is only a thin residue on your fingers with the rest of it on your bedding.
This thick lube holds its place well even when you hold your fingers vertically, as you rub it in then the consistency changes and it runs and covers where you want it well. Your fingers will glide across the folds of your skin with this lube, it really does feel good.
It does its job exceptionally well, and I find that I only need one application of it at the start of a session before my natural lubricants kick in and take over.

This is a thick lube but it spreads out easily and does its job well
As an experiment, I put a load of it on my fingers and rubbed it into my arm to see what would happen when it starts to dry out as you rub it. Initially, I had the lovely feeling of my skin gliding over itself, but as it dries out it gets thicker and stickier, but this is common with all water-based lubes.
Once I had rubbed it all into my skin thoroughly, I was left with no sticky feeling, and my skin was soft and supple. The Nori & Wakame sea-weed extract obviously do their job well, and I was most impressed. I hate the sticky feeling you get from some water based lubes even when they are rubbed in properly, but you get none of that with this one - bonus.
I find it great for dildo sessions and also when using one of my fucking machines. Full on intercourse feels fantastic with it as my partner's penis just glides in and out of me.
This is a fabulous lube, and it is right up there with Sliquid H20 and Secret Play Natural. It is one of those lubes that you want to shout about and to tell all of your friends (the kinky ones at least).
Looking for a body safe lube free from parabens, glycerin and gluten? Check out the Secret Play Oceanic Lube from @LatexLeather.
Click to Tweet

This is really nice lube and a little goes a long way
Key Features
Key features:
Glycerin, Gluten and Paraben free
Oceanic Wakame & Nori Water Based Lube
Not tested on animals making it vegan friendly
Water based lube
Great bottle design for minimal waste
Final Thoughts
Having tried the Secret Play Oceanic Organic Wakame & Nori Personal Lubricant, I am very impressed by this thick lube. It's a good quality water-based lube that is both vegan-friendly and also gentle on your sensitive bits. It contains none of the nasty chemicals that everyone should avoid and it is kind on your sensitive bits.
I like the addition of the Wakame and Nor, and the next lube order I put in will be a toss up between this lube of the Secret Play Natural lube with Aloe Vera and both are fantastic. I also like the look of the Secret Play Oral Pleasure lubes as they sound like a lot of fun.
I was sent this bottle of Secret Play Oceanic Organic Wakame & Nori Personal Lubricant by Patrick at Latex, Leather and Lace and I would like to thank them for giving me the opportunity to review it for them.

This is a lube that I could really get used to. I can't find any downsides to it at all
Joanne's rating
Where Can I Get One From?
Grab one of these Secret Play Oceanic Organic Wakame & Nori Personal Lubricant for just £16.95 from Latex Leather and Lace.
Check them out and don't forget to tell them that Joanne says "Hi".
Disclaimer - I was sent the Secret Play Oceanic Organic Wakame & Nori Personal Lubricant to review free of charge and this has in no way affected the outcome of this review. This post contains affiliate links and if you purchase something when you follow one of these links I may receive a small commission at no cost to you. For more information check out my disclosure page.