Secret Play is a female run company based in Valencia, and they produce three different lubes. The Natural one that I alluded to earlier is absolutely fantastic. In their collection, they also have an Oceanic Organic lube with Wakame & Nori together with this one, their Hybrid lube containing Olive Oil and Aloe Vera.
I have a very fussy Foof, and in the past, I have had problems with lubes irritating me, especially if they have funny ingredients. Glycerin is a particular irritant for me, and I avoid it if I can. I like to think of myself as having a very fussy Foof, it's a princess Foof and deserves only the best of lubes.
A bad lube can cause irritation and even a burning sensation which is why I usually recommend Sliquid lubes to anyone but recently I have been recommending Secret PLay Natural lube as it is fantastic. Secret Play has made me re-evaluate my lube preferences entirely as they are a breath of fresh air in the lube marketplace.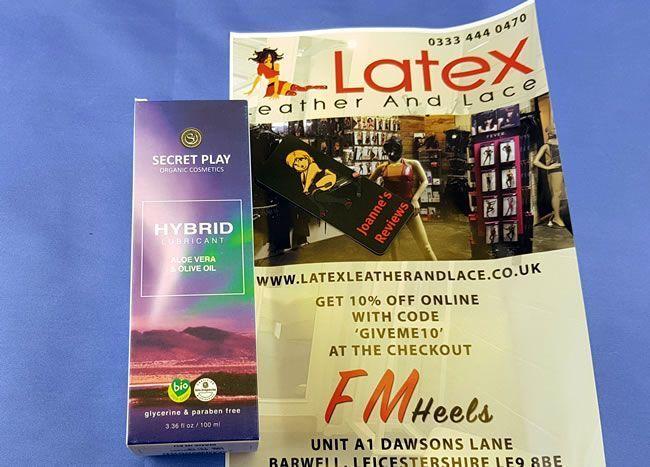 I like the packaging of the Secret Play range and it is all recycled which is great
I highly rate Secret PLay, and I even raise them up alongside Sliquid as being lubes of choice for anyone who respects their genitals and especially for people who are sensitive down there. They are body safe and contain no ingredients that react badly with me giving them a big thumbs up.
It is only recently that I have been made aware of Secret Play and that is because they have been concentrating on their home turf before expanding their brand across Europe. They have been crafting lubes since 2006 and have focussed their efforts on producing body safe long lasting lubes. They are now reaching out and going global.
They are a well respected national brand in Spain and are thriving in France and Portugal. Now they are breaking into the UK marketplace with the help of Latex, Leather & Lace.
This is just another example of how Latex, Leather & Lace are concentrating on promoting and stocking ethical brands and body safe products and I salute them for their efforts. I highly recommend that everyone checks out their wares on their site, you won't find any jelly sex toys or anything with unsafe materials. I have never come across a company more focused on sourcing both ethical and body safe products, and Secret Play Hybrid Lube is an excellent example of their efforts to do just that.
Packaging
Like everything else that I have received from Latex Leather & Lace arrived quickly and under very plain packaging as you would expect. So privacy concerns with the postie or your neighbours.
I can always trust deliveries from Latex, Leather & Lace to be discreet and I love the little flyer that they include with their products.
They have a walk-in store that is amazing, so if you ever get the chance to visit them in their Barwell store in Leicestershire, then I urge you to do so. You will always get a warm welcome, no hard sell and their lovely shop is the perfect place to check out the best products on the market. I love visiting them in person, especially to fuss the shop dog Holly.
The retail packaging for this lube like the Natural Lube is lovely, it is made out of recycled cardboard (good for the environment) and features blue and pink hues in the form of a sunset. I think this is very tastefully done by Secret Play.
The box has lots of useful product information on it, and I love the fact that on the front it states that the lube is Glycerin and Paraben free. Both of these products are to be avoided at all costs in a lube if you value your private bits.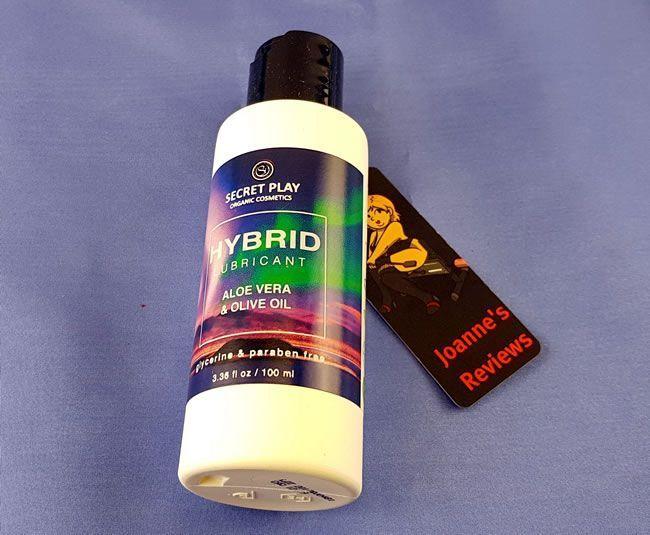 The bottle of the Secret Play Hybrid Lube is also recycled
The lube is held within a white 100ml bottle, and it is also recycled and carries a security seal that you need to remove before using the lube. This shows that it hasn't been tampered with in any way during its journey from the manufacturer to you.
This is the same bottle as used in their Natural lube product and it is just perfect. The black lid contains a flip-up nozzle that allows you to quickly dispense just the right amount of lube without any wastage and this makes your lube last longer.
The bottle doesn't leak if left on its side overnight which is something I have had problems in the past with other lubes so well done Secret Play on your bottle solution.
Composition
There are lots of old wives tails about Silicone lubes being bad for silicone sex toys which just aren't true. If your sex toy is indeed made out of high-quality silicone, then hybrid lubes are okay to use. If you are unsure just put a small amount of the lube on the base of the sex toy and leave it for about ten minutes before wiping off. Any reaction will be shown by a change in surface texture.
This is a Hybrid lube, and that is one that is roughly 50/50 water-based lube and silicone lube, both mixed to give you the advantages of each but without any of their disadvantages. This is why I love Hybrid lubes as a little goes a very long way.
This lube is Glycerin free, and as Glycerin is in fact just sugar, it means that this lube isn't going to increase your risk of getting a yeast infection as some cheaper lubes would. Always avoid Glycerin if you are prone to yeast infections. There are also no Parabens in this product which is good as they were linked in some studies to health scares.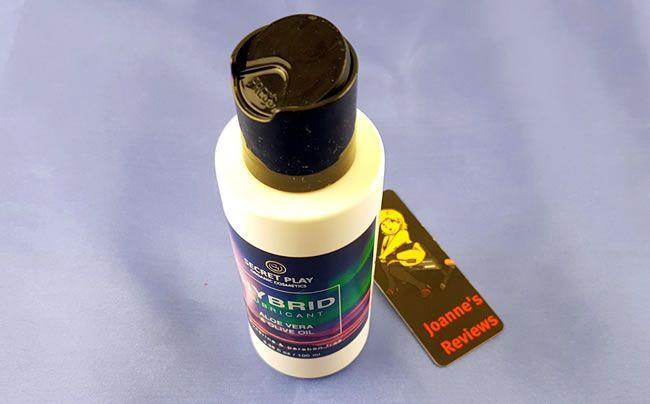 The flip top lid seals well and also allows you to dispense just the right amount of lube
All of the Secret Play lubes are body-safe and hypo-allergenic. Secret Play doesn't test their products on animals meaning that they are a vegan-friendly option. They have also gone the extra mile and had their lubes certified as body safe by an external laboratory (Swiss Bio Inspecta).
This Hybrid lube does contain Aloe Vera which is grown locally to the factory and extracted for this lube. Aloe Vera is a typical product used as a moisturiser and is often found in cosmetics for delicate skin as it soothes and has regenerative properties. It also contains Olive Oil which is a natural lubricant both of these are natural ingredients
Performance
The consistency is fantastic; if you apply a small amount to a finger, it just sits there in a drop. It is quite viscous which means it won't run through your fingers and onto the sheets while you put the bottle away, making it easy to apply just where you want it.
It rubs in very easily though forming a very slippery coating that lasts for a long time before eventually being soaked in.
This is due to the silicone content, and it is why I tend to use hybrid lubes when playing with my Fucking Machines as you need something that will last when enjoying some high-speed fuckery.
As it lasts a long time, it means that you use less, and that makes it a cheap long lasting lube as 100ml will last you for quite a while.
It is also ideal for use with anal sex toys or butt plugs due to its long-lasting nature. I can highly recommend it for backdoor fun and games as well as general use as it is a very useful anal lubricant too.
It is also condom safe, even when using latex condoms. You can use it with any sex toy without worrying about it. It's a fantastic lube with many positive points and no negatives at all.
As I always do I tasted some, and it has a taste that isn't unpleasant, but it isn't the sort of lube I would recommend as an oral friendly lube.
Secret Play does some oral flavour lubes though, and they do look interesting. It has a neutral smell, not sweet but not bad either. This is a lube designed for your genitals, and not your taste buds so keep it down there for best effect.

The Secret Play Hybrid Lube is nice and thick so it doesn't run everywhere
I have used this lube when masturbating with just my fingers and also vibrators and dildos, and it is excellent. I highly rate this lube, and it is one that I will be continuing to use even after writing this review and from a woman with lots of bottles of lube available, that is high praise indeed.
Just like the Secret Play Natural lube, it left my foof soft and fresh with no stickiness which is something that I hate and so it also gets a big thumbs up from me in that regards.
Secret Play Hybrid Lube is fantastic. A lube that is both body-safe and really performs well. Grab some from @LatexLeather.
Click to Tweet
Key Features
Key features:
Silicone and water based hybrid lube
Contains Aloe Vera and Olive Oil to leave your skin soft and moisturised
Gylcerin and Paraben free
Long lasting
Thick consistency makes it easy to apply
Final Thoughts
All in all, I am very impressed by the Secret Play Hybrid lube as well as the Natural Lube. This one though is better for anal and high-speed toy fun as it lasts longer than the Natural Lube.
I will be recommending Secret Play lubes to people as well as Sliquid lubes as they are both of equal quality. Secret Play should take that as a massive compliment as Sliquid lubes rock. The Secret Play Hybrid though really is a great lube especially for sensitive people like myself. I have no hesitation in giving it a firm recommendation from me.
I was sent this bottle of Secret Play Hybrid Lube by Latex, Leather & Lace and I would like to thank them for giving me the opportunity to review it for them.
Joanne's rating
Where Can I Get One From?
Latex, Leather and Lace are a premier online retailer of kink and they carry a huge range of products made from the best manufacturers from around the globe. You can shop online or even in their walk-in shop in Barwell, Leicestershire. Why not drop by if you are local and check them out. They are very friendly indeed and are a wealth of knowledge and advice. Don't forget to say that Joanne says Hi.
Grab one of these fantastic hybrid lubes from Latex, Leather & Lace for just £16.95.
Check them out and don't forget to tell them that Joanne says "Hi".
Disclaimer - I was sent the Secret Play Hybrid Lube to review free of charge and this has in no way affected the outcome of this review. This post contains affiliate links and if you purchase something when you follow one of these links I may receive a small commission at no cost to you. For more information check out my disclosure page.