Delivery and packaging
The Sweet Treat arrived in a plain cardboard box which had no indication of its content on the outside of the box.
The Sweet Treat comes in a very discrete but very colourful and fun box, which will appeal to all age groups.
The thing I love the most about silicone sex toys is that when you open the packaging, you don't get that overwhelming smell of chemicals that you get with PVC products as this toy is made from body-safe materials.

I like the design of the box that the Sweet Treat comes in
The packaging comes with basic information on it so you can get the most out of your toy and can also get on with playing with it.
Inside the box, you get the Sweet Treat itself. A magnetic charging cable and quick start guide with essential information to get you started, and you also get safety information leaflet.
The information booklet says to give your Sweet Treat a charge for 3.5 hours, but I found it took 4.5 hours to give me 30 minutes of playtime.
I have found the same problem with a lot of Satisfyer products that I have reviewed. I think this long charging time and short play time needs addressing.
The Sweet Treat comes in Satisfyer's new packaging which I must say looks fresher and a lot of fun.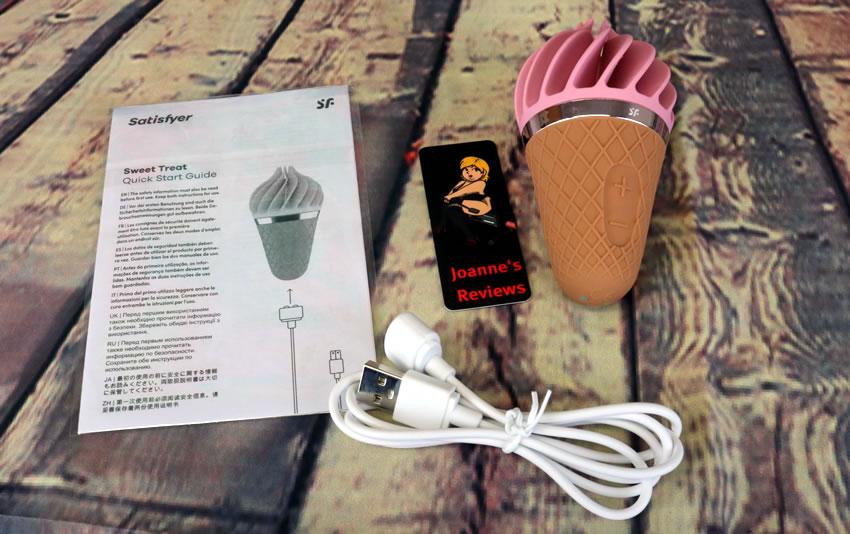 The Satisfyer Sweet Treat comes with an instructioon booklet and a magnetic charging cable
Materials and design
The Sweet Treat is made out of 100% body-safe silicone, and ABS which is fantastic because it is both phthalate and also latex-free as well being non-porous too.
The Sweet Treat has 11 rotating patterns 4 of them are rotation rhythms and three vary the rotation speeds. This variation in patterns and speeds is what we all expect these days in sex toys.
Weight: 84g
Length: 104mm/4"
Breadth: 56mm/2.2"
Battery: Lithium-ion
Material: ABS plastic
Colour: Pink/BrownI love the blend of silicone that the Sweet Treat is made of. It felt nice and soft on both my skin and vulva. But at the same time, being a little draggy which is just how I like my silicone toys to be.
And as always I recommend using some high-quality water-based lube such as Sliquid H20 and Secret Play Natural which I must say feels very good indeed. These two lubes also get along nicely with my sensitive bits.
The Sweet Treat is fully waterproof so you can enjoy your toy in the bath/shower for some slippery alone time.

The Satisfyer Sweet Treat looks fantastic and the controls are easy to find
The head of the Sweet Treat spins in use and the delicta epetals fold an dcarress around your clitoris as they rub over it. I really enjoyed this sensations and this little sex toy provides me with orgasm after orgasm. Oh yes!
I also love that you can control the speed and patterns, which gave me much more freedom to find winch settings I loved the best, it was fun experimenting with it.
The power settings start from a slow continuous low powered rotation. This felt really nice on my vulva and clitoris with plenty of lube.
The Sweet Treat comes with three different colour options, these are:
Snowy white.
Pink/brown which is the classic ice cream cone colours.
Black/gold if you fancy something completely different.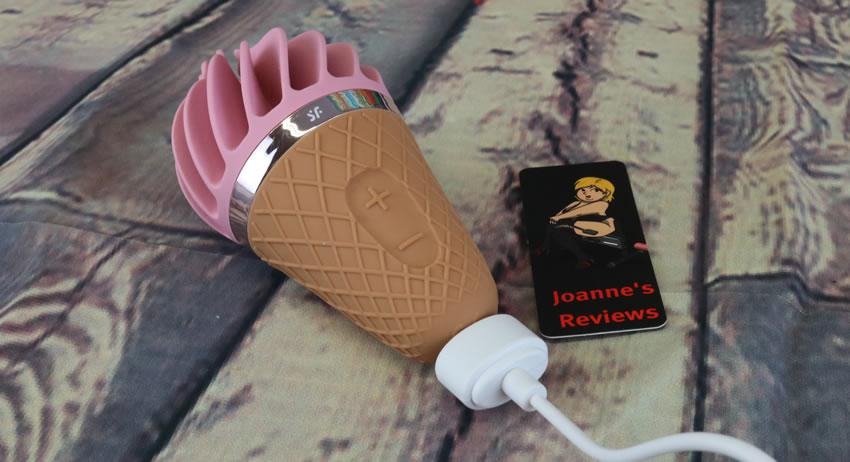 The Satisfyer Sweet Treat uses a magnetic charging cable that snaps to the base
I love it when sex toy company's offer different colour options as I feel that if you can choose the colours that best suit's your personal favourites then this helps make your toy feel even more personnel to you.
I also love how the silicone has been shaped to look like a fresh whip ice cream that you get off the ice cream man (the one that comes round here is quite dishy). I also love how the bottom has been made to look like a real cone.
This makes the toys overall look very realistic. Because of this, I would very highly recommend the Sweet Treat from Satisfyer for anyone like myself who likes their toys to be fun and not the normal every day run of the mill vibe.
I would also recommend Sweet Treat to anybody who is looking to spice up their sex life and wants to try something new.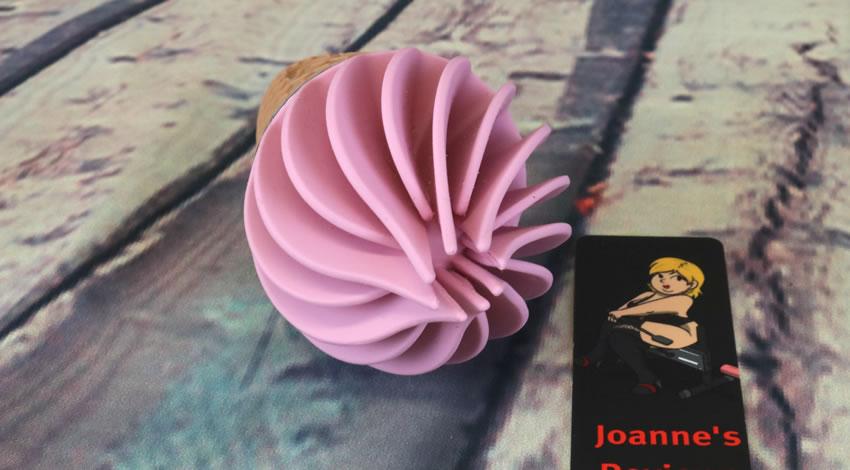 The head of the Satisfyer Sweet Treat spins and massages your clitoris
Performance
I found the Sweet Treat very light to hold winch means that I could have more extended playtime and more importantly lots of orgasms. The fact it is so light makes it ideal for anyone with weak wrists.
I also love to tease my nipples with my Sweet Treat (just use lots of lube). This also helps get me in the mood for more fun and play.
I have reached a climax on more than one occasion when playing with my Sweet Treat vibe on my nipples alone, but I do have very sensitive nipples. So I would very highly recommend the Sweet Treat to anyone who wants a vibe that will not just stim your clit but your nipples as well - best of both worlds.
The Sweet Treat is straightforward to clean and also to keep clean. But make sure you clean it at the end of every use as you don't want vag-goo drying on it.
You clean this sex toy with luke warm soapy water or by using an anti-bacterial sex toy cleaner or even an anti-bacterial wipe it will do the same thing if you can get it into all the crevices.
I have tried other toys that rotate, but they usually stop rotating as soon as they touched my clit which is very off-putting when all you want to do is cum. But I am thrilled to report that this does not happen with the Sweet Treat from Satisfyer.
But the thing I love the most about the Sweet Treat from Satisfyer is that is feels amazing on my clit but most importantly it gets me off within 15 minutes of play.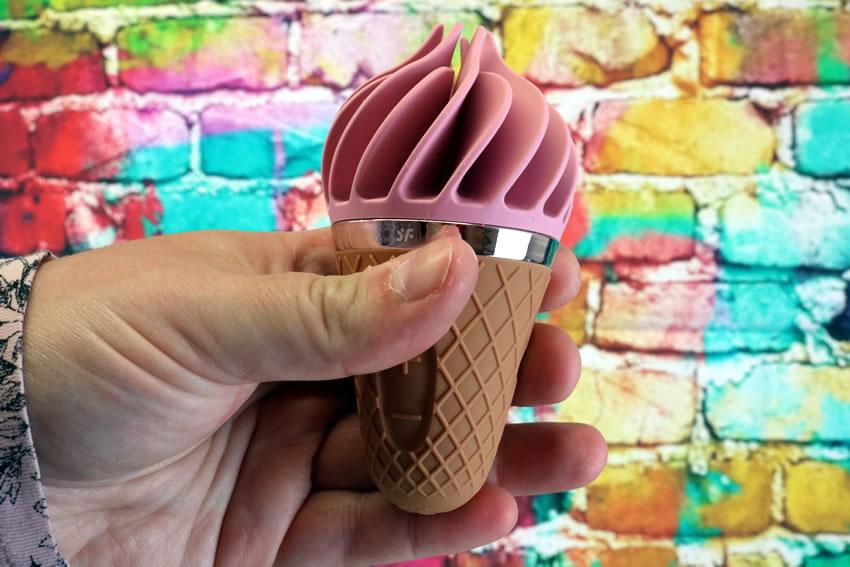 The Satisfyer Sweet Treat looks unlike any other sex toy and it is a lot of fun
Tease your clitoris with the delightful Sweet Treat from @SatisfyerCOM. It looks like an ice-cream but you won't be licking it.
Click to Tweet
Key Features
Key features:
11 intensive rotation settings
Whisper mode
Waterproof
100% body-safe silicone
Magnetic USB charging cable
Clitoral stimulation
Comes in three colours
I would recommend it to:
Anyone looking for a quiet vibrator
Anyone who likes quirky toys
Anyone who enjoys direct clitoral stimulation
I wouldn't recommend it to:
Anyone who doesn't like clitoral stimulation
Anyone who doesn't like quirky sex toys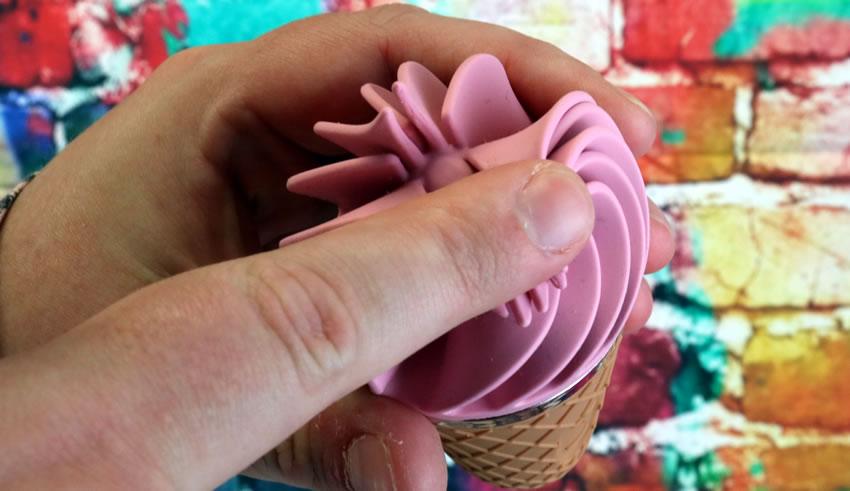 The flexible silicone petals on the Satisfyer Sweet Treat are super soft and feel great
Final Thoughts
I have now reviewed and used quite a few Satisfyer sex toys and they are a brand that have produced lots of new toys lately.
Their packaging is always bright and colourful and ther toys are too. This one I must say looks absolutely amazing. I love quirky sex toys and this one really ticks that box.
Using on my clit is so much fun, especially with lots of lube and I have enjoyed some very nice orgasms.
The only thing that lets it down is the short play time that you get with it once charged. Maybe I have a dud, but in my experience play times are a bit lower than quoted by Satisfyer.
I was sent the Sweet Treat by Satisfyer and I would like to thank them for giving me the opportunity to review it for them.
sub'r's rating
Where Can I Get One From?
Grab one of these quirky sex toys direct from Satisfyer for just £35.95 and get your kink on.
If you want to support our work on this website you can grab one of these sex toys from Nice'n'Naughty and we will get a small commission - no pressure. Visit Nice'n'Naughty.
Check them out and don't forget to tell them that Joanne and sub'r' says "Hi".
Disclosure
Disclaimer - I was sent the Sweet Treat by Satisfyer to review free of charge and this has in no way affected the outcome of this review. This post contains affiliate links and if you purchase something when you follow one of these links I may receive a small commission at no cost to you. For more information check out my disclosure page.