When I received the Satisfyer Vibes Power Flower in the post from Joanne, I was intrigued; I have one other Satisfyer toy, the Satisfyer Pro 2, and I've found it to be fun and ideal for when I'm seeking something a little different from masturbation or sex. I've never seen a toy in the same shape as the Power Flower before, so I was excited to see how this brand could reinvigorate my play sessions.
Inside the girly pink box was the toy, a safety information booklet, a toy information leaflet, and a magnetic USB charger cable. It's the same as the one the Satisfyer Pro 2 uses, which is handy, and I find it to be far more convenient than traditional insertable jacks, which can compromise the supposedly waterproof nature of a toy over time (I'm looking at you, Lovense).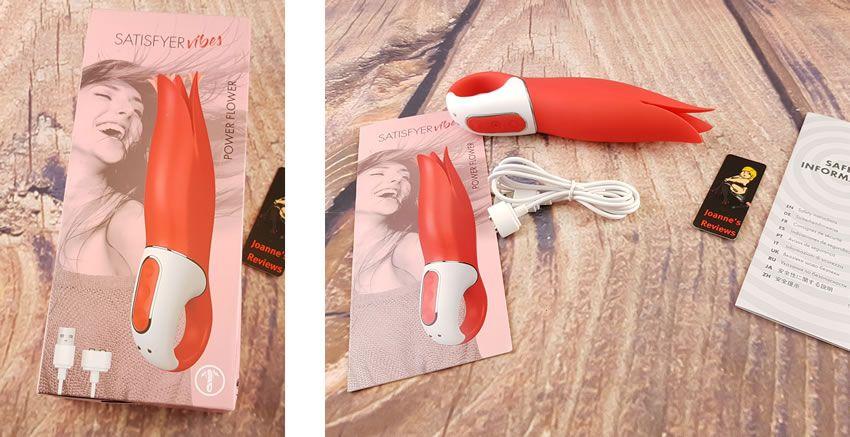 The product packaging is quite nice and the instructions are easy to follow
The enclosed literature advises on the features of the toy as well as general safety instructions, in a mix of multi-language text and simple diagrams. It explains that the toy is waterproof, that it is made of silicone (and as usual, shouldn't be stored alongside other silicone toys), and includes 12 'modes'.
It reportedly takes three and a half hours to charge, but only provides 50 minutes of playtime, which seemed awfully short to me. I haven't yet drained the battery and have charged it one and a half times, and I'm fairly sure I've used it for a good hour in total, but perhaps I'm overestimating.
The multi-lingual pictographic instructions are easy to follow
The Power Flower is billed as 7.4 inches (18.8cm) long in total, and I'd estimate a 4.5 inch (11.4cm) insertable length, if you choose to use in that way. It's also pretty girthy at its widest point; I measure it at just under 6 inches (15cm) in circumference, and 2 inches (5cm) in diameter.
The toy is switched on and off by holding down the power button for two seconds, and either side of it are up and down buttons to cycle through the modes. Of the 12 modes, six are standard drone vibrations, varying in intensity. The most powerful packs a fair punch but isn't as loud as some toys can be, while the least powerful is quite quiet, but lacks to the point that it can only really be used for the softest teasing. The other six modes are a range of wave and pulse patterns, with pulse receiving more of the spotlight, and a couple of modes combining the two styles.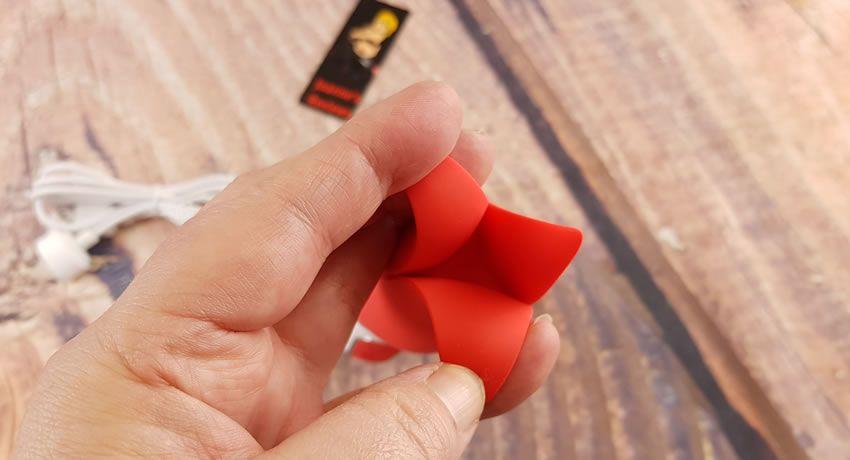 The petals of the Power Flower are flexible and they dance wildly in use
My first impression of the 'petals' on the toy, built primarily for clitoral stimulation, was mixed. I have larger labia majora and only a small area that hits the spot for me (just the rim of the hood), which means that vibrators with bigger surface areas, such as Hitachi, can be difficult for me to get the most out of. The petals seemed a little far apart for my clit and the size of the area that feels good, so I was a little apprehensive as to whether it would work for my body.
I started the vibrations off low, and quickly found that the first and second settings didn't really do much of anything, although it did warm up the area. The third was where I started to settle in, but I quickly found that in the slipperiness, the petals kind of danced around chaotically rather than sticking to a good spot, and when I turned up the vibrations to the strongest settings, it quickly became uncomfortable, bordering on painful.
It was pleasurable and nice in some spots, but it was difficult to keep it there, and it took me a while to orgasm. I had had a lot on my mind that day, so I tried it for clitoral stimulation on another occasion, wondering if it had simply been my mental state causing the issue, but once again it required constant readjustment and concentration to use, and I ended up switching to another toy to get off. The sole wave setting was nice enough for a variation, but the pulse modes tended to be on the overly aggressive side, so much of my usage relied on the drone settings.
The magnetic charging cable is easy to use and works well
Undeterred, I saw inside the leaflet a diagram suggesting use inside the vagina. Admittedly, it wasn't entirely clear whether it meant that or simply using it on the lower parts of the labia, but I tried it anyway, with the help of water-based lube. The petals initially felt a bit strange going in, and also once fully inserted, but the girth and generous vibration power overrided that once I got going. Combined with a different toy on my clitoris, I've had a couple of pleasantly surprising heightened orgasms thanks to the Power Flower, but that's not due to the petal design. In fact, both times I creamed quite a lot, but it was the vibration strength and the girth doing the job.
My partner is the owner of a penis, so I was keen to try the Power Flower on him, as the leaflet indicates it can be used on more than just vulvae. He found its use on the balls to be too sore if set to anything other than the weakest mode, and that soreness actually lingered through our play session. On the penis itself, we had to experiment a bit. According to him, the petals felt somewhat good on the frenulum, but again it was hard to keep them in one place, and they began to hurt after a while. We had the most success using drone setting three or four with the petals splayed around the shaft. That slid up and down and combined with a hand job was ultimately a pleasurable few minutes for him, but nevertheless it was a weird experience and he wasn't able to climax from it.
The controls are well placed and easy to use. The girth of it feels very good when inserted.
It was notably disappointing to have to give this review, because I really wanted the Power Flower to be a versatile addition to my collection. It has its uses for adding a little extra to g-spot stimulation, but its very USP, the petal design at the tip, is not necessary for that usage. I like the idea and I think if they revised the design enough it could be a fun toy, but in its current iteration it just doesn't work for me. Perhaps it will work for others with varying size and shape anatomy, but it's a no from me.
Guest Review
I am delighted to be able to introduce the amazing Harley Fire.

Harley Fire
Harley Fire is a queer amateur porn creator and lifestyle findomme from the UK. She likes bunnies, video games, drag queens, and writing all kinds of things (when she's not procrastinating and shitposting on Twitter). You can find more info and links to her porn at harleyfire.xyz.
Follow her adventures here:
Twitter account: @HarleyPromo
Website: https://harleyfire.xyz/
Check out the amazing review by @HarleyPromo of the @SatisfyerCOM Power Flower Vibe. A vibrator that looks quirky and was received with mixed emotion.
Click to Tweet
The petals of the flower power will be like marmite, you will love them or hate them.
Key Features
Key features:
Silicone and ABS construction
USB Rechargeable with magnetic charging lead (included)
Twelve power and vibration settings
Two strong motors
Waterproof
I would recommend it to:
Anyone looking to try something different
Anyone looking for a silicone rechargeable waterproof vibrator
Anyone who enjoys generalised vibrations over an area rather than precise vibrations
Anyone who likes girthier vibrators
I wouldn't recommend it to:
Anyone who doesn't like girthier sex toys
Anyone looking for precise stimulation
Final Thoughts
My experience was similar to Harley's. I found the random stimulation of my clitoris somewhat pleasing but distracting at the same time. I can come from using it externally, but for me, it's when inserted that the magic happens.
I love girthy sex toys, and this one fills me nicely. The way the tips vibrate works well on my anatomy, and I find it much easier orgasm when using inside myself.
My partner likes it on and around his frenulum on lower settings, but it isn't something he would reach for in the search for an orgasm.
I wanted to love this one due to its quirky features, and yes while it can get me off, it just wasn't as good as I had hoped it would be.
So mixed feelings about the Power Flower. It isn't the best thing I have reviewed from Satisfyer, and I can't help but want to compare it mentally with the Fun Factory Volta to which it has a striking resemblance.
I was sent the Power Flower by Satisfyer.com and I would like to thank them for giving us the opportunity to review it for them.
Joanne's rating
Where Can I Get One From?
Grab a Satisfyer Power Flower direct from Satisfyer.com for just 49,95€.
In the USA grab one from Peepshowtoys.com for just $49.99 and receive it quickly.
Check them out and don't forget to tell them that Joanne says "Hi".
Disclosure
This review does contain affiliate links, for more information about affiliate links check out my disclosure page.