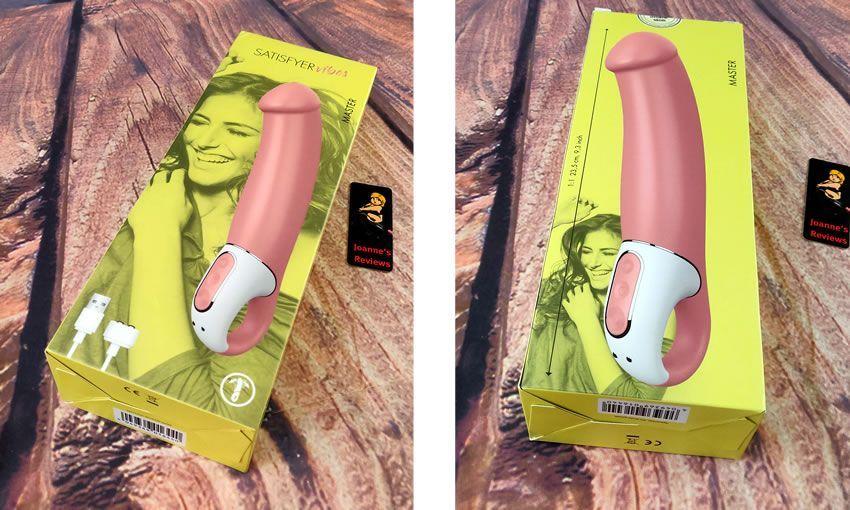 The box has a somewhat different colour scheme, not one I would have chosen but it is what it is
After my previous review of the Satisfyer Power Flower, noting its strong vibrations but awkward gimmicky shape, I was very much on board when Joanne suggested I review the Satisfyer Master. Something of an antithesis to the Power Flower, the Master is a simple but effective, straight to the point phallic vibrating dildo; perfectly smooth thick silicone only interrupted by the soft swoop of a circumcised head (which oddly lacks a frenulum). The decision to make something penis-shaped without the artificial realism of veins and bumps and wrinkles, is one grounded in aesthetic and one that I appreciate, too. Realistic dildos have their place, especially from the perspective of someone who makes porn for a living, but as a queer person I could take or leave dicks, so it's nice to get a shape that works without trying too hard to remind me of an actual penis.
The silicone is soft and pleasant to the touch and glides across the skin, which is useful for a toy as big as the Master. It is billed as an XXL device, and it certainly delivers, which means the average person won't want too much friction in there too. The box claims the total length of the toy is 9.3in (23.5cm), however when I measured it I got closer to 9.5in (24.1cm). Either way, this sucker's big. According to my calculations, the insertable length is about 6.5in (16.5cm), and at its widest point the circumference is 5.5in (14cm), while the diameter is just under 2in (5cm). It's heavy, too; it packs quite a punch in a very literal sense, as I'm pretty sure you could use it as a weapon in a fight and do some decent damage. It's solid and not super flexible (there's a little give) so the impact is significant no matter what you're using it for.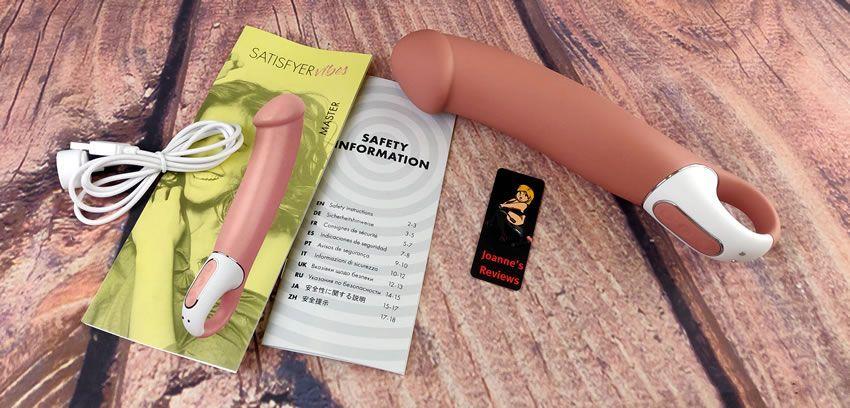 You get the Master Vibe, a charging lead, multilingual instructions and a safety guide inside the box
Hypothetical viral sex toy brawls aside, the Master, whose colour is an interesting shade of dusky pink with a slight hint of brown, lays claim to a "super strong deep vibration" which I can corroborate. Some toys opt for vibrations that are technically very fast, but too weak and too fast to actually feel them. This one has gravitas to it even on the highest setting, and is deceptively effective even on the clitoris, despite being fashioned for the g-spot. It's a growl vibration, rather than a shriek or a yap.
The Master is waterproof, like many of the Satisfyer toys, and boasts 12 vibration modes. The first six are drone vibrations in varying degrees of intensity, whilst the other six feature a few different pulse and wave patterns. Upon holding down the power button for 1-2 seconds, the toy automatically starts on option 3. Either side of the power button are up and down buttons (depicted as larger or smaller pulses) to cycle through the modes, and reaching the lowest setting, option 1, requires pressing down after start-up. This sounds odd but actually it's smart, because in all honesty the first two settings are barely enough for anything, and merely serve to encourage a little blood flow or tease a nipple. Even option 3 is nothing to write home about, but by the time we get to 6 we're really talking. Following that there's a slow wave, a faster wave that feels more pulse-like, a standard pulse, a high-speed pulse, a high speed pulse with brief pauses in between, and a pulse that gradually increases in speed over the course of around six to eight seconds.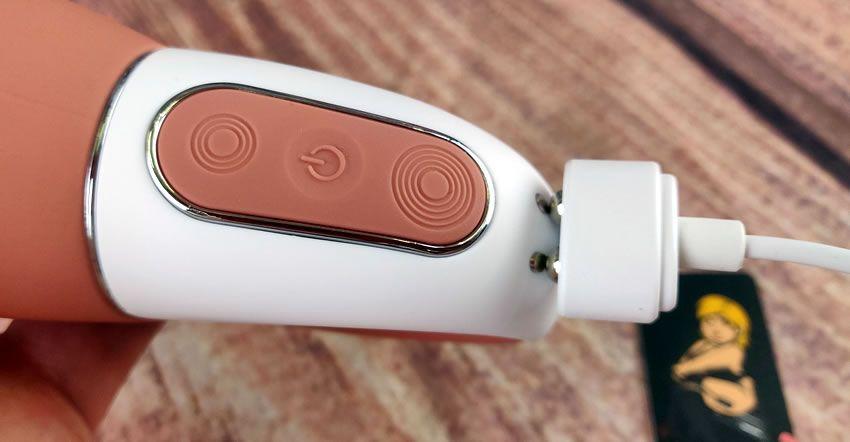 The controls are easy to operate and the chaging cable attaches magnetically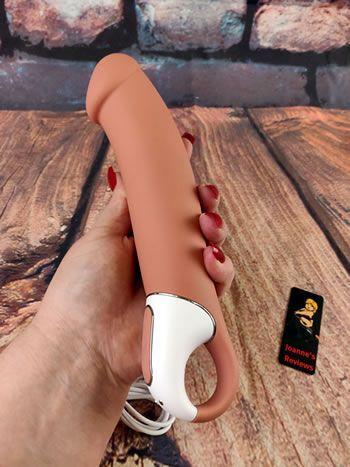 Inside the box is the Master itself, the charger cable which utilises magnetic touch, the plastic packaging that holds them, an instruction booklet and a safety booklet. The safety booklet includes pretty standard guidelines and regulatory disclaimers, while the instruction booklet sticks to mostly wordless diagrams for use, enabling standardised manufacture across Europe and Asia. The booklet advises 3.5 hours to full charge, and 50 minutes of continuous use, which I can also confirm, although that 3.5 hours felt like 56 years. I do wish it had a little more usage time in it, as it died during a slow relaxing session and I had to finish myself off with other means. However, the good thing about the Master is that it functions perfectly well as a standard large-sized dildo, so that when the vibrations stop, there's still value in its usage during playtime.
Some people like to suck on their dildos, but I would say if you can manage that with this toy, you are very impressive indeed. I do not have a small mouth, but I could only manage to get the head in there, such is the girth. It was a different story with my vagina of course, and though I am fairly tight down there, enough warming up made it an easy passage. At first I tried with only my naturally occurring lubrication, and that worked well at first but I found I dried up pretty quickly due to the sheer size. I would highly recommend having lube on hand to reapply over the course of the session, even if you're usually quite slippery down there.

The Satisfyer Master Vibe is a girthy vibrator that really fills you when you insert it
The Master felt very nice on my clitoris, both with vibrations and without, and once inside it was clear to see why they named it as they did. The girth alone is enough for a great feeling of fullness, and its length allows for a versatility in hitting whatever spot you want. I personally couldn't get the entire length in, no matter how hard I tried. Some others with longer vaginas and/or more experience with larger toys and penises may be more successful jamming it all in, but the beauty of it of course is that you can use it however suits you.
I stuck mostly to the strongest drone vibration, with some dalliances with the slower wave and the faster wave patterns. The pulses didn't really do much for me; they were too frenzied and distracting, however they might work for others. The vibrations I stuck to felt amazing and intense especially when hitting my g-spot, and I found even though I ran out of charge before I came the first time, orgasming with the non-vibrating dildo and a separate vibrator on my clitoris was still powerful and really enjoyable.

The Satisfyer Master Vibe lives up to its title of an XXL vibrator, it is so much fun to insert and play with
As long as you remember to charge it most of the time, the Satisfyer Master is a great investment and a lot of bang for your buck… literally. When you just need to get pounded into oblivion it's the perfect go-to, and it's effective just on the clitoris as well if you fancy a change. I'll definitely be using the Master again and again and I would certainly recommend it. Just… have a towel present.
Guest Review
I am delighted to be able to introduce the amazing Harley Fire.

Harley Fire
Harley Fire is a queer amateur porn creator and lifestyle findomme from the UK. She likes bunnies, video games, drag queens, and writing all kinds of things (when she's not procrastinating and shitposting on Twitter). You can find more info and links to her porn at harleyfire.xyz.
Follow her adventures here:
Twitter account: @HarleyPromo
Website: https://harleyfire.xyz/
Check out the amazing review by @HarleyPromo of the @SatisfyerCOM Master Vibe. A vibrator that fills and delights with its power and girth.
Click to Tweet
Key Features
Key features:
Silicone and ABS construction
Thicker and longer than almost any other insertable silicone vibe
USB Rechargeable with magnetic charging lead (included)
Twelve power and vibration settings
Loop handle for a more secure grip
Waterproof
I would recommend it to:
Anyone looking to try a larger vibrator
Anyone looking for a silicone rechargeable waterproof vibrator
Anyone who likes girthier vibrators
I wouldn't recommend it to:
Anyone who doesn't like girthier sex toys
Anyone looking for precise stimulation
Final Thoughts
My experience was similar to Harley's. I love the girth of the Satisfyer Master, it fills me really well, and the pronounced glans makes it a lot of fun to thrust with.
The motor is brilliant and delivers some delightful sensations. I do like the not too realistic design, the generic nature of its features isn't as intimidating as some large realistic sex toys. Marketed as an XXL vibe, it certainly lives up to that label.
Thrusting with it feels sublime (make sure you use some good quality lube). The glans provided me with some delightful g-spot stimulation that coupled with the girth felt amazing.
I too preferred the steady droning vibrations, and by thrusting with them, it felt really nice.
I can give the Satisfyer Vibes Master Vibrator a huge thumbs up and that you Harley for reviewing it for me. Your reviews are always fun to read.
I was sent the Master Vibrator by Satisfyer.com and I would like to thank them for giving us the opportunity to review it for them.
Joanne's rating
Where Can I Get One From?
Grab a Satisfyer Power Flower direct from Satisfyer.com for just 49,95€.
In the USA grab one from Peepshowtoys.com for just $49.99 and receive it quickly.
Check them out and don't forget to tell them that Joanne says "Hi".
Disclosure
This review does contain affiliate links, for more information about affiliate links check out my disclosure page.