The box has a hygienic seal both top and bottom, so you know it has not been opened and is safe to use.
The box does have some basic information shown in various languages. Housed inside there is not only the Satisfyer Pro Traveler and charging cable but also a helpful little manual. But, I am showing my age here, the text in the booklet is a bit small, so I did find it hard to read, but for those younger with better eyesight, it shouldn't be a problem (I will take this as a sign that I need to upgrade my glasses).

I like the retail packaging of the Satisfyer range of sex toys - bring on the next sexual revolution
Even though the manual is small it does cover all the usual subjects: Functions / Operation, use with lubricant, cleaning, storage, materials, specifications, charging, troubleshooting, disposal and other safety information.
For those of you who are new to the concept of airwave or suction masturbators - where have you been? Seriously, you have been missing out on one of the best developments in sex toy tech in a long time. This type of sex toy doesn't vibrate; it uses a moving diaphragm inside it to pulse air in and out just like a speaker does. It oscillates back and forth generating pressure waves in the air held within the toy.
They come with soft silicone openings, and you place your clitoris inside the opening with the airwaves caressing or tapping your clitoris in the most fantastic way. My fastest orgasm with a Satisfyer sex toy was 15 seconds from cold. Yes, they are that effective.
So in summary, this type of sex toy uses air pulses to caress your clitoris without actually touching it. Now on with the review.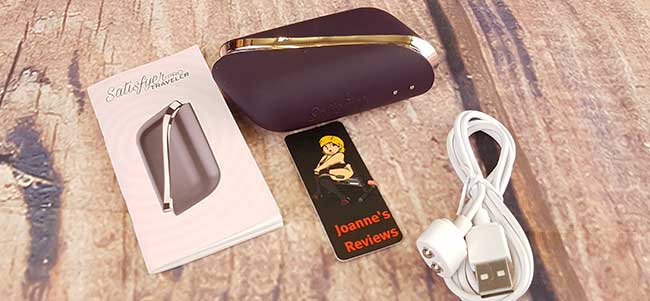 You get the Satisfyer Pro Traveler, a charing cable and of course a set of instructions
A tidy little package
Firstly, I love the look of the complete package, with the lid in place it doesn't look like a sex toy at all, which is an excellent feature if you are considering travelling with it. I can imagine it being much less embarrassing if your bags are searched than having a 12" Mega Dong in your bags. So top marks to Satisfyer for coming up with a sex toy that doesn't actually look like a sex toy.
Another good thing about having a lid to protect the controls rather than just a travel lock is that there is no way that it can accidentally activate in your bag at the wrong time unlike just having a travel lock. You also get the benfit of the cover keeping dust and lint out of the toy between uses.
I love the fact that this satisfyer forms part of the travel case, so when not in use it looks pretty non-descript. The lid which is almost symmetrical with the body of the toy is magnetically held in place nicely. Removing the cover is easy, and you get to then see the controls and the orifice that sits around your clit. When you refit the outer case, it stays in place due to the magnets inside.
The outer case is a dark aubergine colour that in some light sources it looks almost black, and it features a rose gold trim around the edges. The inner surface of the Traveler is white silicone with the controls marked with + and - icons imprinted into the silicone. This does make the controls tricky to find when you first start using the toy as there is no real reference when you are using it but you soon get used to it. The back of the toy has two metal studs that are part of the charging system together with the Satisfyer logo.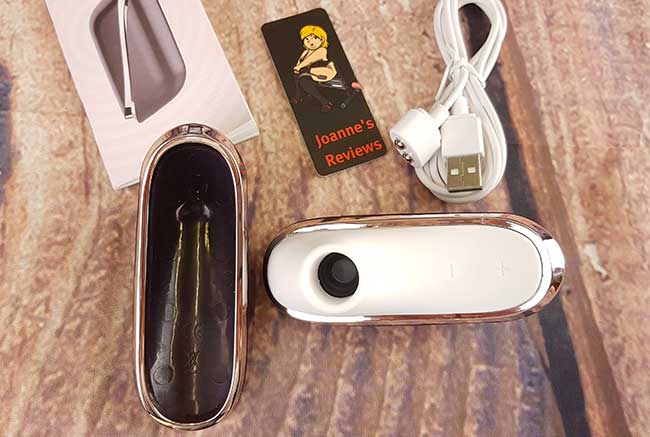 The cover conceals the inner workings of the Satisfyer Pro Traveler and it also protects the silicone clitoral nozzle
The silicone clitoral opening is a pretty small 2cm in diameter, and the silicone is nice and soft in this area making it comfortable to form a good seal around your clitoris. I had no problems getting my clit in it, but if you have a very large one, you may struggle with it. It's important that you get a good seal with this type of sex toy as it makes a difference to the levels of stimulation that it produces and the levels of noise too.
Charging
It can be charged while closed, which is a great feature. I can leave mine charging on my desk, and no one is the wiser, that is as long as no-one tries to take a closer look at it. With the lid on it doesn't look like the super clit sucking ninja that it is as it's so discreet.
As with my other satisfyers, the charging lead is great quality and a good length with a magnetic end which attaches to the toy. You can't attach it the wrong way around as the magnets on the Travelers body will push it away if you try to connect it incorrectly.
While charging the satisfyer does have a little light between the + and - buttons that blinks. This light will stay lit when it is fully charged. The lithium ion battery allows for approximately 90 minutes of running time, which I find is more than enough for me.

The charging cable is magnetic and it cannot be fitted the wrong way round, it also stays in place well
Materials
The Satisfyer Pro Traveler is made from silicone and ABS, two fantastic sex toy materials because both are non-porous, phthalate free, hypo-allergenic and latex free. The case is hard ABS, while inside it is all soft silicone, in this regards it is akin to the Venus de Milo with your clitoris taking pride of place in use as the lovely Venus.
The Satisfyer Pro Traveler has a nice and small form measuring in at just 3.5"/8.9cm in length and 2"/5cm in height, this makes it lightweight and very easy to hold, it fits into the palm of your hand well, and it is easy to handle and use.
One great feature of this sex toy is the fact that it is completely waterproof so you can use it in the bath or shower. When using it in the bath with the nozzle under water you will find the sensations that it delivers are even more powerful. I love using it in the bath for some some extremely pleasurable me time.
It is also the cheapest Satisfyer sex toy which beggars belief, this is a fantastic sex toy and good value for the price.
Operation
To switch it on, simply remove the travel lid and press the + button for about 2 seconds. It springs into life on the lowest power setting, and you can then build up to the stronger pulses when you are ready.
Make sure that your clit sits inside the cavity to get the best stimulation, a good water based lube helps you get a comfortable seal.

The clitoral nozzle is comfortable to use and the controls are easy to find once you are used to them.
I was surprised by the noise it makes when I first turned it on as it doesn't sound like the other Satisfyers that I own but it works well. The noise is much quieter when you place it over your clit. On its lower levels as long as it is placed over your clit it is almost silent.
You get eleven power settings and while they are close together so going up one level almost feels like nothing has changed if you go up two or three levels at a time your toes will curl and you will start grabbing at the bed sheets.
The sensations that this type of sex toy makes is toe-curlingly mind-blowing. I can only describe it as breathtaking, imagine having the best oral sex you have ever had and then multiply the sensation by 100 and you will be close to how this style of toy feels. I never tire of the sensations that they can deliver, and my only complaint is that it can be hard to edge yourself with it as it is just so good.
I am not going to claim that this toy will get you off as some people do dislike this type of intense clitoral stimulation but the vast majority of people I know who have tried air wave suction toys love them. I orgasm very quickly with this type of toy, and it's a firm favourite of mine when I want a quickie.
The Traveler isn't as quiet as the box claims but it isn't too loud either and the noises it makes don't deter from the sparks flying from your clitoris in any way.

The Satisfyer Pro Traveler is a stylish looking discreet vibe that you can charge with its cover fitted
Looking for a sex toy that is both a discreet and effective holiday buddy? Check out the Satisfyer Pro Traveler.
Click to Tweet
Satisfyer Pro Traveler Video Clip
Behold through the wonders of Youtube, here is a video of the Satisfyer Pro Traveler in all of its glory.

Key Features
Key features:
Discreet travel vibrator
Body-safe materials, silicone and ABS
USB rechargeable with its magnetic charging cable
Soft silicone clitoral nozzle
Eleven power levels
Final Thoughts
I have no problem orgasming with the Satisfyer Pro Traveler, and its small form belies a beast in disguise. It performs just as well as the other models and having a magnetically held lid makes it both discreet and travel-friendly.
It surprised me as when I first saw its size I thought that Satisfyer would have had to have made some compromises on performance but they haven't. This is a fantastic addition to their range, and it will be coming with me on holiday later in the year. Oh, bring on the orgasms in the sun with my new best friend, the Satisfyer Pro Traveler.
I was sent the Satisfyer Pro Traveler by the lovely Jessica and I would like to thank her for giving me the opportunity to review it.
Joanne's rating
Where Can I Get One From?
Grab one of these fantastic clitoral air wave sex toys from Bondara for just £44.99 which is pretty damn impressive as that makes it the cheapest sex toy in the satifsyer range - even more reason to grab one.
Check them out and don't forget to tell them that Joanne says "Hi".
Disclaimer - I was sent the Satisfyer Pro Traveler to review free of charge and this has in no way affected the outcome of this review. This post contains affiliate links and if you purchase something when you follow one of these links I may receive a small commission at no cost to you. For more information check out my disclosure page.
---
---