What do you get?
Once again I have to say that I do like the packaging that Satisfyer use for their sex toys. The white, cream and gold look is lavish, and the box carries some useful information on the rear. Again the box has a hygiene seal so that you can rest assured that your clits new pal hasn't been tampered with in any way.

The Satisfyer range come in very attractive cream and gold coloured packaging
I mention this as in the past I have received sex toys (Doc Johnson Dildos to be precise) that carry no hygiene seal at all and these have the dildo just inside an open plastic bag inside the box. You don't have this problem with Satisfyer though as they take things much more seriously which is commendable.
Inside the box, you will find the Satisfyer Pro Plus Vibration Vibrator naturally as well as a USB magnetic charging cable and a set of clear multi-language instructions.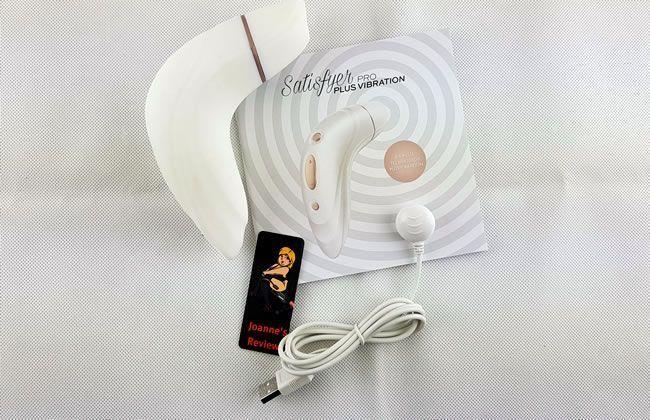 You get the sex toy a set of full instructions and the magnetic charging lead
Before you get down to business
Once you unpack your new toy, the instructions suggest that you give it a full charge and the initial one can take up to eight hours, so it's best done overnight. A normal charge takes two hours and that will give you two hours of play time.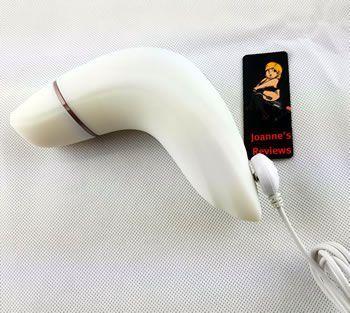 The USB charging cable simply snaps to the studs on the back of the toy and the magnet holds it in place well. A light will flash while it is charging and then stay on steady when fully charged. As with most magnetic charging cables check that itis charging when you place it down. The lithium-ion battery lasts for a long time, I haven't had to charge it often, and I have used mine a lot.
This Satisfyer is shaped like the letter 'L', and that makes it a bit easier to use than the older models. The controls are well laid out and easy to operate in use.
The nozzle is much broader than on other models, and that makes it easier to place around your clitoris especially when you first get going and are not aroused. The nozzle is formed out of soft silicone, and it's removable for cleaning purposes. It is nice to see Satisfyer now selling spare nozzles on their site as by changing the nozzle and cleaning the toy you can share it between partners.
The body of the Saisfyer Pro Plus Clitoral Vibe is made out of ABS, but this time the whole body also has a coated of a very soft silicone giving it a draggy soft feel that is rather nice. Much better than the hard plastic of the Satisfyer Pro.
I recommend using some water-based lube when you apply the nozzle to your clitoris as firstly it aids the seal and secondly as its a draggy silicone it also helps you move it around to find the right spot.

The silicone nozzle that sits around your clitoris is very soft and removable
Feature wise it has eleven pressure wave settings and ten vibration settings giving you lots of choices. Simple spread your labia and place the silicone nozzle over your clitoris. Once positions press the power button for a couple of seconds and the airwave tech kicks in on its lowest setting, and even that feels fantastic.
You can then use the plus and minus button to raise and lower the power. If you press the vibration button, it switches on the vibration feature.
Giving my clit the ride of her life
You can control the vibrations, and clitoral airwave technology separately and so I wanted to experience all of the vibration settings. Placing the nozzle on my clit immediately sent the vibes where I wanted them, and the feeling of the vibes in conjunction with the air pulses was terrific.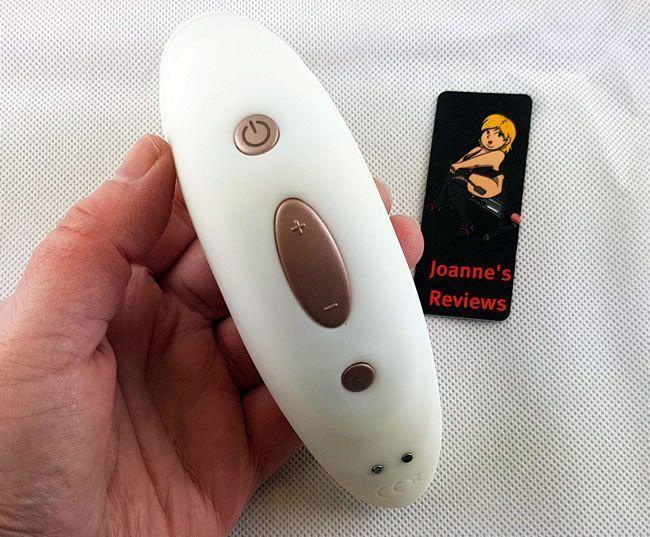 The controls are simple and easy to use
Each time you press the vibration button, it cycles through the ten routines so that you can find the one you like. My favourite was a pulsating setting that almost matched the sucking on my clit. Try them all though as they are pretty damn good.
I usually just like steady constant vibrations, patterns don't do much for me, but with this toy, they complement the suction so well that it's impressive.
The only problem is I just can't easily edge myself with Satisfyer sex toys; they make me come just too quickly. I usually have to remove it to edge before placing it back over my clitoris again. Here I am complaining about being made to come too quickly (first world problems).
Throw in some rope and restraints though, and this toy can be an instrument of torture and pleasure at the same time. It is almost as good as a Sybian for forced orgasm sessions.
I like the quick orgasms that this type of sex toy delivers as they just seem to spring up from nowhere and bash you over the head in a surprise attack. I also find that the orgasms tend to roll on and on even after switching the unit off.
On a quirky note, though the handle end looks like a little sharks head, I now call mine the Great White Clit Nuzzler.

If you look really closely through squinted eyes at this pic you can see the shark resemblance
My clit has met its match with the Satisfyer Pro Plus Vibration Clitoral Vibe (that's a mouthful) from @satisfyerCOM.
Click to Tweet
Key Features
Key features:
Coated in Silicone
Waterproof for shower or bath fun
Magnetic USB charging cable included
Removeable nozzle for cleaning
Vibrations complimenting the air wave technology
Final Thoughts
I rate the Satisfyer Pro Plus Vibration Clitoral Vibe, the combination of the added vibrations and the clitoral suction sensations are amazing. Having the vibrations gives it a whole new feel and one that I think is better than the original Satisfyer Pro or even the version 2.
This one has something for most people but be warned this isn't a toy for long slow, lazy wanks; it will have you biting into the pillow to keep the noise down.
If you like quick and effortless orgasms then definitely consider this sex toy. You just lay back and enjoy the ride, albeit a brief one with me.
I was sent the Satisfyer Pro Plus Vibration Clitoral Vibe by satisfyer.com and I would like to thank them for giving me the opportunity to review it for them.
Joanne's rating
Where Can I Get One From?
Grab a Satisfyer Pro 4 Couples Vibrator from Satisfyer.com for just 59.95€ (£52.82 at todays exchange rate).
Check them out and don't forget to tell them that Joanne says "Hi".
Disclosure
This review does not contain affiliate links, for more information about affiliate links check out my disclosure page.