I do like the clean look of the packaging of the Satisfyer products, and this one lives up to its predecessors in that department. The bright colour scheme looks good. The box carries a hygiene seal and product information on the rear; the front carries a full-length picture of the G-spot Rabbit Vibe.

The Satisfyer Pro G-Spot Rabbit comes in an attractive retail box.
When I opened the box up, and I slid out the plastic carrier, I must admit to being quite taken by its beauty.
However, when I picked it up, I was a little perturbed, to say the least, that the clitoral arm is fixed and rigid. I instantly worried about alignment and whether it would fit my body.
Rabbits can be tricky sex toys due to the fantastic amount of variation between all of our lady bits. There is no set distance between the vaginal opening and clitoris, and so a rabbit might be fantastic for one person but a miss for others. Most rabbits though have flexible clitoral stimulators, and this allows a certain degree of flexibility when it comes to lining things up.
Unfortunately, with this one, it is what it is so it's one of those toys where it will either hit the spot for you or it won't, and I started to have my doubts about it right after lifting it out of the box.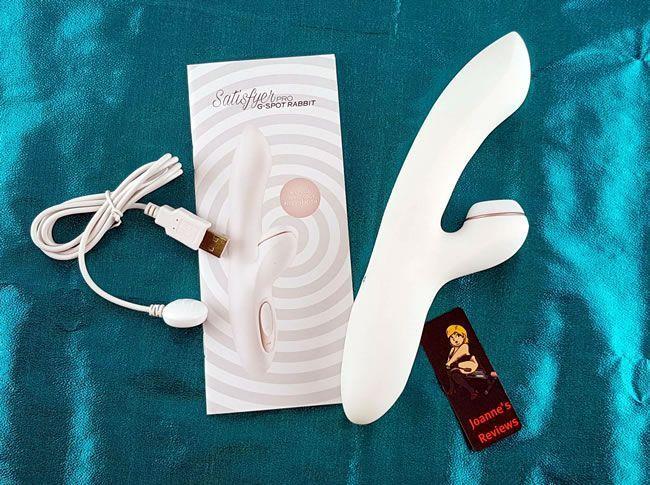 The Satisfyer Pro G-Spot Rabbit comes with instructions and a charging cable.
OK doubts aside it was on with the mechanics of doing a review, the boring stuff and what not like materials, cleaning, charging and controls.
The Facts
The Satisfyer Pro G-Spot Rabbit Vibrator is coated with a super soft blend of white silicone making it very comfortable to hold and use. Silicone is my go to sex toy material as it is body-safe, hypoallergenic, phthalate & latex free super easy to clean.
As it is waterproof, you can rinse and wash it with warm soapy water before using an anti-bacterial sex toy cleaner. While it is waterproof, don't put it in the dishwasher.
The silicone is a bit of a dust magnet, but that is usual on silicone sex toys and a quick rinse before use takes care of that.
It features rose gold highlights around the clitoral stimulator and controls, and these are nice but not garish.
It is 9"/22.8cm long, so it is a good sized toy that is easy to hold and use. You can only insert half of it though, so you get to enjoy about 4.5"/11.4cm internally. The rest of it is taken up by the handle with its controls and the clitoral arm. The clitoral arm is only 2"/5cm long, and it is fixed so there is no adjustment of its angle at all and it houses the clitoral stimulation mechanism that delivers the air pulse suction to your clitoris. The silicone suction cup which is removeable for cleaning is a nice size measuring in at 1.5cm in diameter.
It has an internal rechargeable battery and utilises a magnetic charging system. The underside of the toy has two metal studs, and the charging cable snaps to these. You can then attach the other end of the cable to any USB charging device.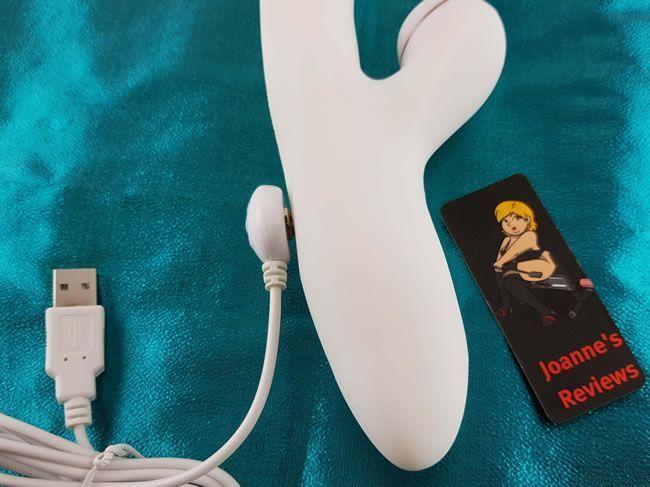 The magnetic charging system is simple and reliable.
The controls are very easy to use, the controls consist of three buttons, two for raising and lowering the power and one for cycling through the patterns.
It comes with eleven different intensity settings, and these are quite nice. You get three steady speeds and seven pulse and wavy patterns.
Press and hold the bottom button (the gold one) to switch on the vibrator for the g-spot element, and the vibrator purrs into life on its lowest setting. Then just press to change settings for this part of the toy. To use the clit stim, you need to press and hold the bottom of the button that lights up as soon as the toy is switched on (the white button). Then press the bottom segment again to increase the power, and the top part to decrease the power.
It is comfortable to hold, and I use my thumb to operate the controls when masturbating with it.

The controls are easy to use.
The patterns give an excellent selection of deep rumbly vibrations through to fast, sharp vibrations and a variety in between.
The motor in the G-spot section is nice and strong delivering crisp sensations focussed on the tip. These vibrations do travel down the toy and up to the clitoral arm through the inner ABS body which feels nice, but you can't control them.
The g-spot vibrator is very quiet in use, and you can hardly hear it at all when it is inside you however the clitoral stimulator is another matter.
When in place it is much quieter than its predecessors but if you don't get a good seal around it, then it is quite noisy and not very efficient. But while it is noisier than the g-spot end if placed correctly it isn't loud enough to make you panic who is in the room next door.
It's nice that you can operate each motor entirely separately or together. If you are a clit stim junkie but need something inside you too then, I really can and do recommend giving this one a go.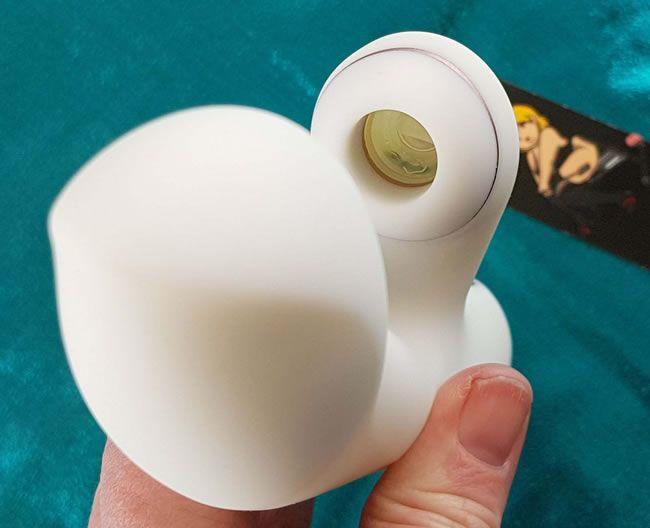 Where the magic happens.
Thoughts About Performance
I was worried the first time I used it as I wasn't too sure if it would 'fit' me down there. It is comfortable to hold, and the insertable section feels very nice. I find it very comfortable to use, and it is easy to change settings while in use.
The G-spot stimulations are very good, and I can quickly feel myself building up to a great orgasm even if I only use this section.
The blend of silicone is quite draggy, and so you get lots of simulation if you thrust with it which feels great against my g-spot with the toys upward curve.
My first attempt at using the clit sucker failed abysmally though; I just couldn't find a good position to feel great g-spot stimulation and have it seal around my clit at all.
I was initially met with the frustration of strong g-spot stimulation or strong clitoral stimulation but never the two together, and that was frustrating.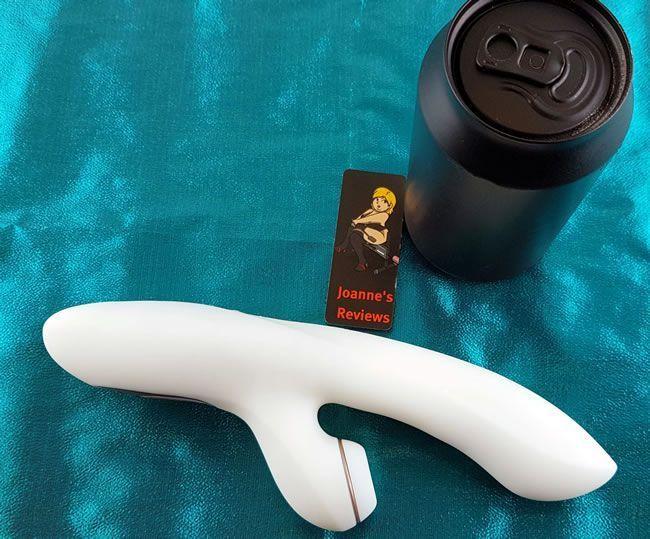 This is an average sized rabbit vibe.
I persevered though, in my quest to find the perfect position and perseverance is everything. I found that by varying the angle of my hips and legs I can indeed get everything lined up, but that meant lots of experimentation.
This may not be a toy that you get the most out of straight out of the box but do stick with it.
It takes a little getting used to, finding the best angle and depth for you can mean some experimentation. But when you do find that sweet spot, OMG this thing is like a rocket-powered g-spot and clit milking machine. It hammers at both and has made me squirt which is a first for me with a rabbit style vibe, and it was something that came as a shock to me.
Now that I have that perfect position logged it is quick and easy to get it just where I like it and to experience some amazing sessions. Try just using the g-spot vibe to work yourself up and then switch on the clitoral sucker to have yourself catapulted into an amazing orgasm. It is a lot of fun.
This toy isn't without its drawbacks, yes it's fiddly to learn just how to use it and yes due to the fixed clitoral stimulator it may not work for some people at all. But for me the thing that I would have liked to change would be the insertable section, it might just not be enough for you if you prefer that fuller feeling.
That said though, the combination of g-spot stimulation coupled with intense air pulses on your clit has to be tried as it's a real winner.
Check out this g-spot rabbit vibe with a clitoral suction twist from @satisfyerCOM.
Click to Tweet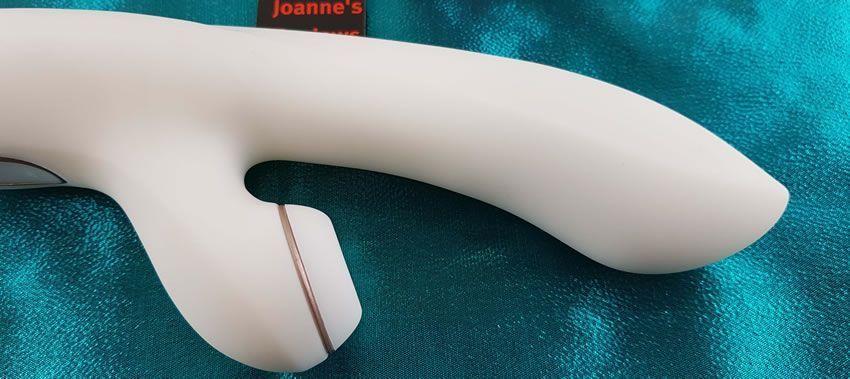 A thoroughly enjoyable rabbit vibe once you get used to it.
Key Features
Key features:
Coated in 100% body-safe silicone over an ABS core
Waterproof
Rechargeable
Eleven power settings
Intense G-spot sensations
Powerful clitoral air pulse stimulation
Easy to hold and control in use
Final Thoughts
This is one of those vibrators that will be a real hit with some and a miss with others unfortunately as having tried over and over again before eventually finding a way to make it work for me all that effort was definitely worth it.
I like the power and settings it has, and the combined sensations of strong g-spot vibrations coupled with intense clitoral sucking feel incredible. If you have never tried an air pulse style clitoral sex toy, then you don't know what you are missing. It is an entirely different sensation to regular vibrators, and for me, it brings on quick and deep orgasms that just roll on.
After my initial trepidations about this toy, it turns out that with a bit of time and patience it does indeed work for me, but the fixed clitoral arm may be a problem for some others.
I was sent the Satisfyer Pro G-spot Rabbit Vibrator by Satisfyer.com and I would like to thank them for giving me the opportunity to review it for them.
Joanne's rating
Where Can I Get One From?
Grab a Satisfyer Pro G-spot Rabbit Vibrator from Satisfyer.com for just 59.95€ (£52.82 at todays exchange rate).
Check them out and don't forget to tell them that Joanne says "Hi".
Disclaimer - I was sent the Satisfyer Pro G-spot Rabbit Vibrator to review free of charge and this has in no way affected the outcome of this review. This post contains affiliate links and if you purchase something when you follow one of these links I may receive a small commission at no cost to you. For more information check out my disclosure page.