The Satisfyer Pro 4 Couples arrives in an attractive white and gold box that carries product information as well as an image of the enclosed sex toy. I like the Satisfyer packaging as I find it enticing and informative. I also love the way that it has a hygienic seal to ensure that nothing has been tampered with.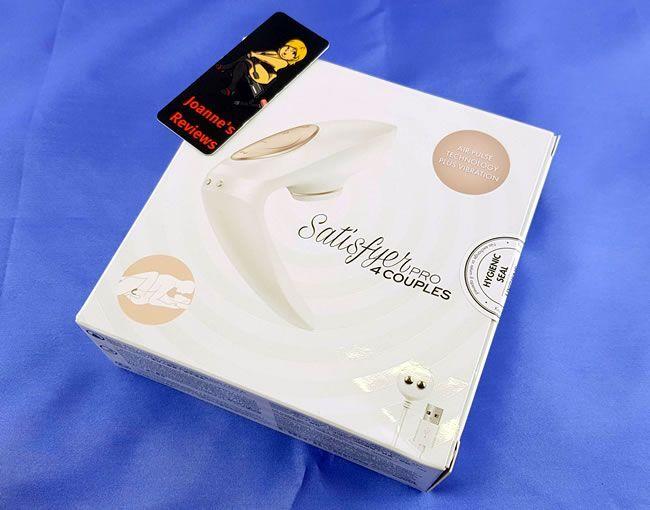 I like the packaging of the Satsfyer range of sex toys
When you open it up and take out the contents, you get to lay your eyes on the toy itself, and I found it intriguing. This is the first insertable couples toy that I have tried and my initial worry about the insertable element being two bulky was unfounded.
It's a pretty strange looking beast though, the main body is bulky and carries the controls and the clitoral stimulator.
The bend in the toy has the two metal studs that are used when you charge it up, and the long thin insertable section makes it look like no other sex toy I have tried.
Curious to get to know it I quickly removed it from the box and started my usual routine of running my hands over it, squeezing it and getting a feel for what I would be getting to know intimately.
First impressions were excellent. It has an ABS inner core that holds the battery, controls and air pulse system and the insertable element is flexible, and it houses a vibrating motor.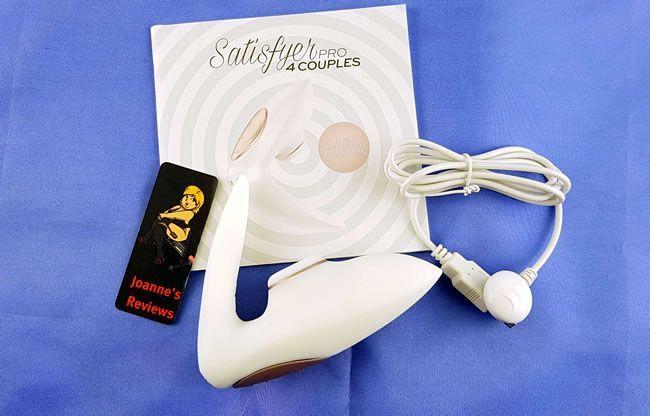 You get a set of easy to follow instruction as well as a charging cable included with the sex toy
The exterior is coated in a white medical grade silicone coating, and this feels very nice, it has a bit of a drag to it when drawn across the skin.
As my regular readers will know, I always rave that Silicone is one of the best materials for sex toys. It's body safe, hypo-allergenic non-porous and both latex and phthalate free.
It has a removable silicone nozzle that is designed to sit over and seal around the clitoris in use. This is removable for cleaning but if you need to use a cotton bud to clean the inside of the toy be very careful about damaging the membrane inside.
The controls are ABS, and their rose gold colour gives the toy an elegant look, this gold is also featured around the removable clitoral nozzle.

The controls are intuitive and easy to use
The Satisfyer Pro 4 Couples Vibrator comes with a USB charging cable, and this is a magnetic one. It just snaps to the two metal studs on the outside of the bend in the toy. Take care when placing the toy down to charge so that the cable doesn't become disconnected when you do so.
The controls are easy to operate when the toy is in use which is handy as you can't actually see them. The controls feature a raised + and - that your fingers can find and identify in use. I would have preferred them to be higher on the main body of the toy but you can get to them in use.
You can control the suction and vibrations separately, but the vibrator is a simple on or off arrangement.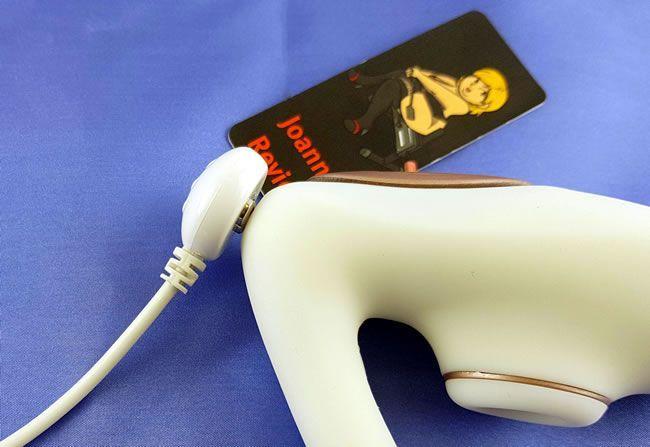 Charging is simple with the included magnetic charging cable
You can, of course, use this toy on your own but to do so, you would need to hold it in place inside you and over your clitoris.
The clitoral stimulations as expected felt incredible. On lower settings, it is like your clitoris is being gently caressed by a gentle breeze while on high settings, it is like a gale blowing across your clit. It is surprisingly quiet on the lower settings but it does get noisier, the higher the power setting you have it on. If the clit nozzle isn't in place, it is also noisier.
Using it on my own was a lot of fun, and it was easy to use the combination of vibrations internally and external clitoral suction to get myself off.
I recommend using a good water-based lube when playing as it will aid insertion and also sealing around your clitoris. The internal element has a very soft tip and body making insertion easy.
It is trickier when enjoying PIV (Penis In Vagina) sex though; I found it easier to put it in place before my partner enters me, as once he is in, it's much trickier due to the proximity of your partner. You may also find that it has a tendency to walk out whilst you are enjoying a good thrusting and I needed to hold it in place.
My Stunt Cock loves the way the vibrations feel on his cock as he thrusts in and out of me and he commented on how much tighter it makes the whole experience, so that is a good thing.
His exact words went something along the line of "Fuck me, that was amazing!" He truly is a man of many words and he can always be relied upon for a choice snippet of a comment.

The clitoral air pulse technology feels incredible
However (there always seems to be a however), if you enjoy rigorous sex especially in the missionary position then this toy can actually become uncomfortable as it is banged into your clit by the weight of your partner. Another downside is that if your partner is not very well endowed it could be a problem as you lose about an inch of penetration when using it.
We found the best way to enjoy this sex toy was while spooning or doggy style. You will need to hold it in place, but that is a good thing as you can keep it aligned with your clitoris and use the controls to dictate the pace of play.
Used this way it feels fantastic and both of us found it very easy to reach an orgasm while using it together.
Yes, it is a bit fiddly, but the benefits of using it outweigh that in my books. I like it and especially enjoy the combination of vibrations and clitoral suction.
I am not sure if it is just in my mind, but I feel that with it inside me the sensations against my g-spot are increased. That may just be the effect the vibrations have on me internally coupled with the 'tightening' effect.
If you are looking for a couples sex toy for some amazing PIV sex theck check out the Satisfyer Pro 4 Couples vibrator from @satisfyerCOM.
Click to Tweet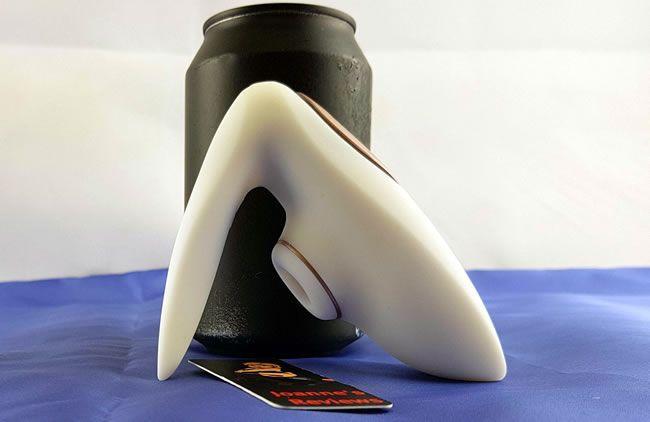 The Satisfyer Pro 4 Couples is a very nice sex toy that feels great
Key Features
Key features:
Couples sex toy for PIV sex
Clitoral suction coupled with vaginal vibrations
Silicone coating over an ABS body
USB rechargeable using a magnetic charging lead
Easy to use and lots of fun
Waterproof
Final Thoughts
After taking some time to get used to the Satisfyer Pro 4 Couples Vibrator, I can honestly say that I like it. Yes, it can be a bit fiddly, and yes it does try to pop out of you in the middle of a good hard fuck. But the sensations that it delivers to both parties is well worth the fun and games of using it. Once you find your best position (mine is doggy style) with it and you hold it over your clitoris, it really makes things rock.
For anyone who hasn't tried out air pulsation sex toys, you don't know what you are missing. The pleasure that they give is intense and unlike any other form of masturbation and to be able to couple that with a good hard rogering is a wonderful thing. Your partner will also enjoy the vibrations on his happy chap and having both him and the toy inside you will tighten things up and make everything more intense anyway. I have no problem in giving this one a very good recommendation for anyone wanting to spice up their bedroom activities.
I was sent the Satisfyer Pro 4 Couples Vibrator by Satisfyer.com and I would like to thank them for giving me the opportunity to review it for them.
Joanne's rating
Where Can I Get One From?
Grab a Satisfyer Pro 4 Couples Vibrator from Honour.co.uk for just £59.99.
Check them out and don't forget to tell them that Joanne says "Hi".
Disclosure
This review does not contain affiliate links, for more information about affiliate links check out my disclosure page.