Disclaimer - I was sent the Satisfyer Pro 2 Generation 2 to review free of charge and this has in no way affected the outcome of this review. This post contains affiliate links and if you purchase something when you follow one of these links I may receive a small commission at no cost to you. For more information check out my disclosure page.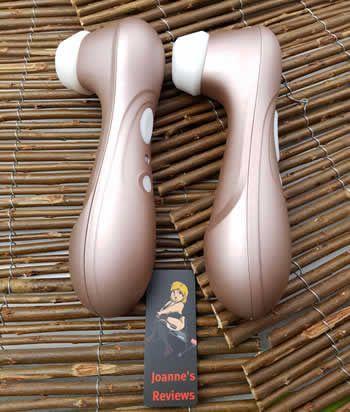 For anyone who is unaware the Saisfyer is a type of suction based clitoral stimulator that you place over your clitoris and it provides a gentle sucking action akin to having a partner place his lips around it and gently sucking. This is a very pleasant sensation indeed and one that gets me off very quickly. The original Satisfyer Pro 2 was pretty damn good (oh so many happy memories) and it could get me off very quickly but I became very frustrated with its controls.
This image shows the new Gen 2 model on the right and the original on the left, size wise they are identical with only the controls and nozzle being different.
You see it had two buttons, one just for turning it on and off again and one for cycling through its programs and this was where the problem arose. When cycling through the settings you could only go forward which meant that you had no way of lowering the power if you wanted to edge yourself or delay an orgasm for whatever reason. The only way to do that was to actually turn it off and on again which was a real mood killer.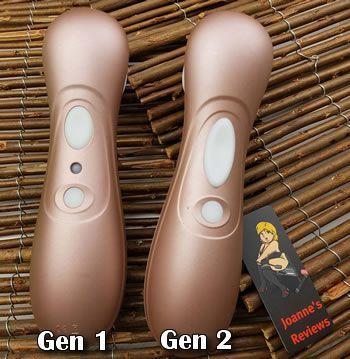 I am delighted to confirm that Satisfyer have listened to complaints about that and finally this model has three buttons (with two of them being a moulded together) allowing you to go forward and also backwards through the settings and this has made all the difference for me. This model is one that can have me curling my toes and enjoying a quick and simple orgasm or I can edge myself with it to draw out the enjoyment before letting myself plunge over the edge of a huge orgasm.
As with the original model the Pro 2 Gen 2 also has 11 settings to choose from and I find that the lower ones do it for me. The top end of the power settings is just to much for me and get a little uncomfortable. I can actually edge myself a bit with the lower levels though and that makes for some amazing orgasms. The controls are pretty intuitive and you don't have to fiddle around with them when using them as you play (a fiddly toy is usually a mood killer for me).
It is waterproof and that makes for some great sessions in the bath or shower, you will actually find it more intense when used underwater and it also makes it a little quieter when doing that. Cleaning after use is very simple, just remove the silicone nozzle and clean that before using a cotton bud to gently clean out the inside of the toy, make sure that you don't press on the membrane inside.
The nozzle is larger than on the original and this for me makes it an even better fit for my bits and it will mean that it's now more suited to a wider audience (no pun intended). The nozzle is made out of silicone and so it is body safe, the body is made out of ABS plastic.
The beauty of this style of toy is that once you have it nestled over your clitoris you just switch it on, you don't need to move at all. The suction action feels fantastic and it also imparts a deep rumble through your nether regions which is really nice and it really is a unique sensation that I cannot recreate with any other style of sex toy. It causes blood to rush into your clitoris making it even more sensitive.
I am honestly amazed at just how quickly this thing can make me orgasm and when you first try one and you do orgasm you sort of lay their in disbelief wondering if it was actually a real orgasm and having done lots of *cough* research I can confirm that it was and they are fast and very enjoyable.
The included USB charging cable simply snaps into place as it is magnetic and you attach it to the small metal contacts at the base of the toy. This arrangement is quite secure but you need to make sure that when you put it down to charge the cable is still attached as you can inadvertantly disturb it. You should give it a full charge when you receive it prior to its first use and this takes about an hour and a half. This gives you around the same time for paying depending on how high you have the power settings. The new model features a less bright LED in the power button and so it doesn't dazzle you in use which is another nice improvement.
Performance wise I was hoping for a little more Umpf than the original and I know I can't directly compare the two as one now resides in the great vibrator graveyard int he sky my impressions of it are that it feels the same as its predecessor. So if it is basically the same as the original with the exception of the controls and wider nozzle why go for this version. Well it is basically no more expensive, you can get it online for the price of the original that's why. So you would be mad not to go for the better controls and wider nozzle, trust me you will thank me later. There is nothing more frustrating that getting to a setting that is too high for you and knowing that you can only select an even higher setting. Being able to lower the power is this versions best feature by far. Why they didn't think about that in the first place is beyond me, especially then the Satisfyer 2 has that feature.
Key Features
Key features:
Suction based clitoral stimulation
Silicone nozzle
USB rechargeable
Waterproof
11 settings
Much better controls
Final Thoughts
All in all this is a good improvement over the original, I was hoping for some more power but hey I suppose by just tweaking things like the nozzle and controls Satisfyer have managed to do a major improvement with only a tiny price increase so hats off to them on that one. If you haven't tried a clitoral suction stimulator before then this is the one to go for due to its features, price and new controls. I can only hope that this model lasts longer than my Gen 1 which alas is with me no more.
Recommendations
I would definitely recommend the Satisfyer Pro 2 Gen 2 to:
Anyone looking to try their first clitoral suction stimulator
Anyone who enjoys sex toys with good controls that are easy to use
Anyone who enjoys having their clitoris sucked
I wouldn't recommend it to anyone who:
Doesn't like direct suction on their clitoris
Joanne's rating
Where Can I Get One From?
Grab one of the improved Satisfyer Pro 2 Gen 2 clitoral stimulators from Honour.co.uk for the surprisingly price of only £64.99.
Check them out and don't forget to tell them that Joanne says "Hi".