Thankfully they aren't.
I have enjoyed everything I have reviewed for Satisfyer, but these two vibrators weren't such a hit with us when we got to know them.
This has nothing to do with their capability or the number of uses. The vibrations produced don't do much for me, but they may be perfect for someone who likes the type of sensations that they generate.
Packaging
As with all Satisfyer products, the packaging is pretty basic, but that is good as it helps to keep the costs down. Usually, I mention the fact that the packaging carries some product information.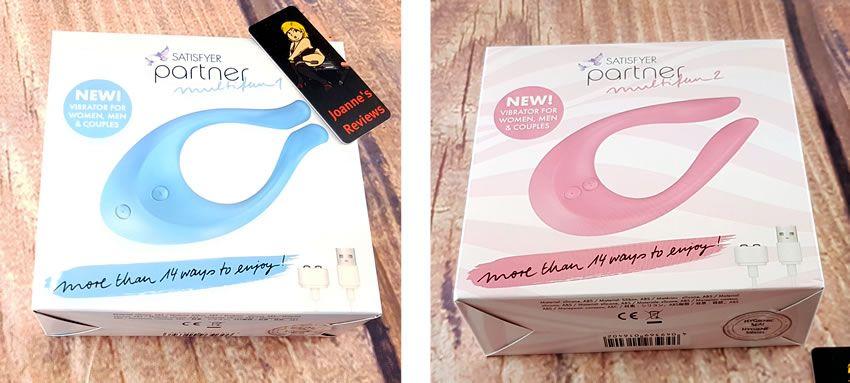 The boxes carry lots of product information
The boxes of these two vibrators though, both carry an excellent guide on the rear that shows lots of ways to enjoy these two products.
Versatility is a strong point of the Multifun 1 and 2. It is incredible how many ways you can use them, with fourteen, yes you read that right, fourteen suggested uses shown on the box.
These are sex toys that you can have a lot of fun with. Being aimed at the partner market they are fun to use with a partner, but using them on their own can also be fun.


The box shows fourteen ways to enjoy these vibes
Common Features
Before I go on to review both of the toys in detail, they both share many common features which I will talk about first.
Both sex toys are charged using a magnetic USB charging cable which is included in the box. This cable snaps on to two magnetic metal studs on the base of the toy.
The magnetic charging system is great but take care that the cable stays attached when you place the toy down to charge.

I love magnetic charging cables, finding them so easy to use
Both versions of the Multifun have two buttons and also three motors — one in the base and one at the end of each leg.
The toys are made out of body-safe silicone which makes them both latex and phthalate free. Silicone is my go to sex toy material as it is non-porous and hypoallergenic. The blend used is matt and has a draggy surface.
As both toys are waterproof to IPX7, you can easily wash them to remove any vagoo or other body fluids before using an anti-bacterial sex toy cleaner.
They carry a pretty impressive 10-year warranty, which is fantastic and when you buy from Satisfyer direct, you get the benefit of free shipping.


Each of the Multifun vibes comes with a magnetic charging cable and instructions
Each toy has ten different patterns of speed and vibration. Each of the control buttons allows you to set the two sets of vibrations (legs and body) independently. This gives you an impressive 100 different combinations of power and patterns.
On the lower power levels the Multifun sex toys are very quiet, but at higher levels, the sound does rise as you would expect it to do. But, you wouldn't hear it through a closed door making them pretty discreet to play with and use.
The legs are solid silicone while still being flexible. This makes them ideal for clamping a clitoris or nipple, and that feels nice with the power of the two leg motors directly applied to these pleasure zones.
This is where I find it sad that I don't get along with these vibrations. The leg motors generate very powerful but buzzy vibrations. I have found over the years that my genitals love deep rumbly vibrations. Buzzier vibes do tend to make me go numb, and that is pretty much the opposite of what I would like.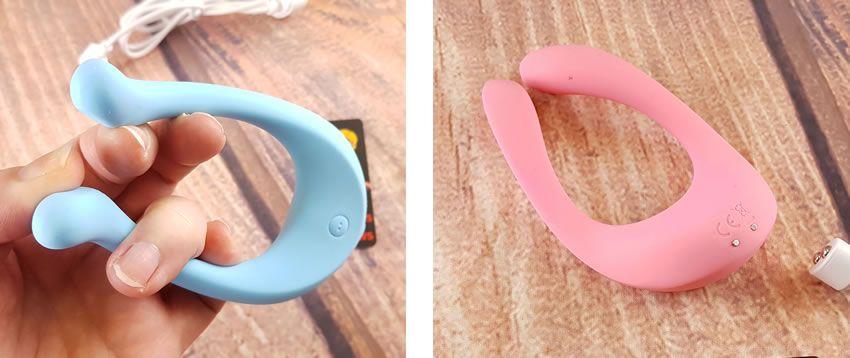 Each of the Multifun vibes legs contains a motor which are quite powerful
That said though, if you like buzzier vibes and hate the sorts of rumbly vibes that wands generate; then you'll love the Multifun vibrators.
I love the feeling of them clamping my clit, but I don't enjoy the vibrations there. But, and there is always a but, as nipple play toys I love them. The sensation of having them clamp my hard nipples and the buzzy vibrations feel incredible on my nips.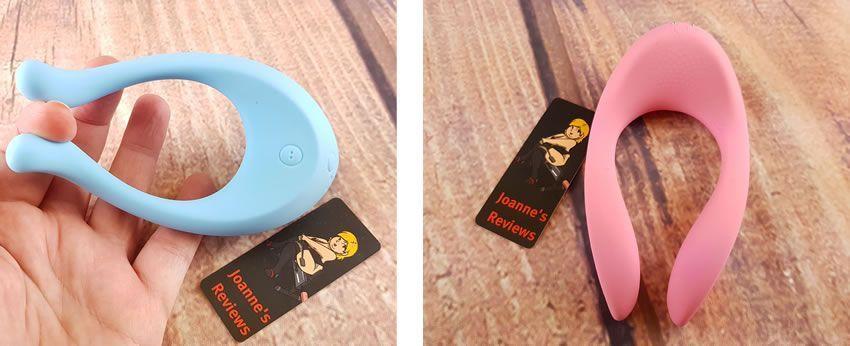 The Multifun 1 and 2 will fit around most penises comfortably
The shape of the Multifun 1 and 2 toys makes them a comfortable fit for most sized penises if using them with a penis owner. Their contour makes them comfortable to wear.
The legs can be opened to clamp areas of the body, and they close again well. You can also squeeze them together for a tighter squeeze. The silicone on the inner faces is soft and comfortable when used as a clamp.
Multifun 1 - Blue
Length: 135 mm
Weight: 125 g
Breadth: 65 mm
Material: Silicone
Color: rosa
Waterproof: Yes
Battery: BatteryThe Satisfyer Multifun 1 features flatter feet at the end of its legs, and these are a lot of fun to use to clamp parts of the body.
The buttons are further apart than on the pink model, and they are easy to use. The Multifun 1 is narrower than the pink version.
When worn around a penis the contoured shape fits well against the body and the vibrations are passed through the silicone well. The thicker middle section of the vibe transfers vibrations well.
The motors in the feet deliver strong buzzy vibrations that for me feel amazing on my nipples but are a bit too buzzy near my clit for my liking. If you enjoy this type of stimulation, then you will not be disappointed.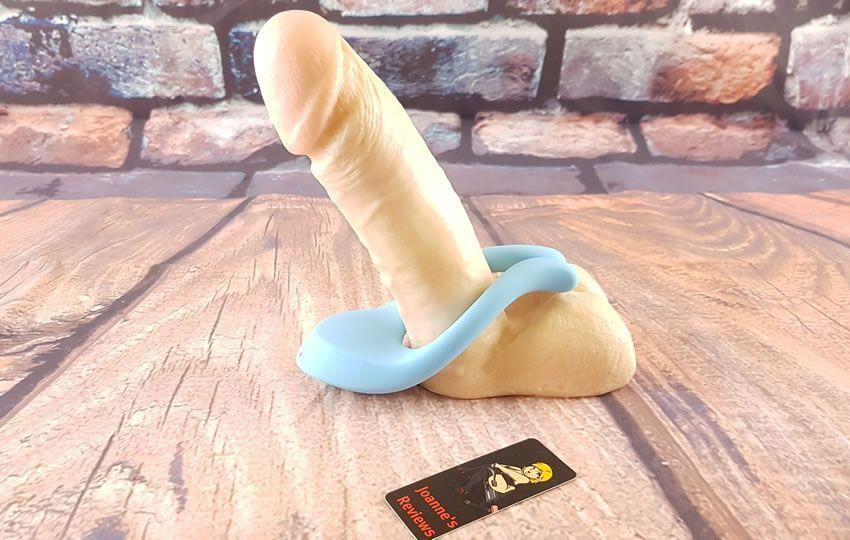 The Multifun 1 can be used in numerous ways and the silicone is really nice
The pastel blue colour looks nice; I would have loved to see other colours used though.
Multifun 2 - Pink
Length: 135 mm
Weight: 132 g
Breadth: 70 mm
Material: Silicone
Color: rosa
Waterproof: Yes
Battery: BatteryThe legs of the Satisfyer Multifun 2 are more curved than those on the Multifun 1. They also don't close up as much as on the blue model.
The controls on the Multifun 2 are also closer together; why they differ between the two models is a mystery to me.
I found this one easier for g-spot stimulation that the blue model but for me, this is not the ideal way of using it as it is fiddly to use this way. As it is wider than the blue version insertion isn't as easy though.
Both models are perfect for solo play or use with a partner. We found wearing it around my partner's penis was the best way to use it. Penis in vagina sex with it was fun, and the stimulation from that helped me get over the buzzy vibrations.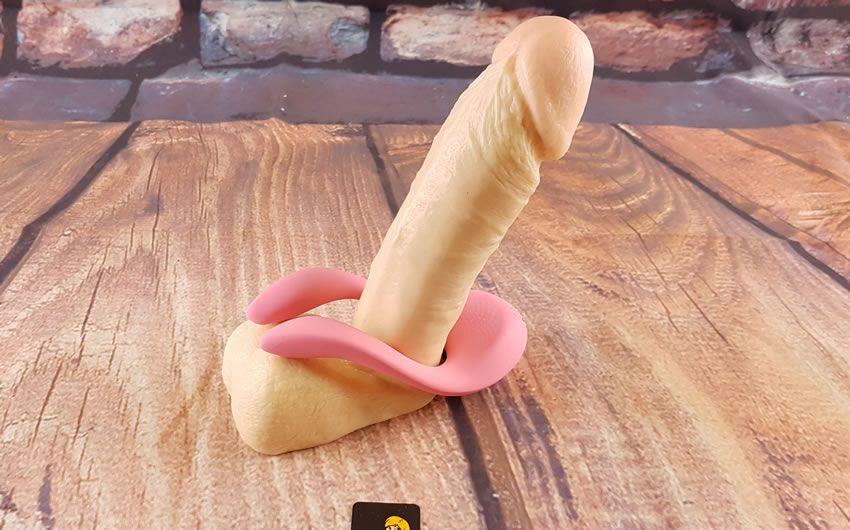 The Multifun 2 can also be used in numerous ways on your own or with a partner
We tended to use the rumblier motor in the main body over the ones in the legs and prefer it worn with the main body uppermost.
When worn in this style you get some very lovely clitoral stimulation on the in stroke that feels very nice.
The Satisfyer Multifun 1 & 2 couples vibrator had mixed reviews from Joanne and her Stunt Cock.
Click to Tweet
Key Features
Key features:
Body-safe silicone
Over 14 ways to use the Multifun vibes
Upto 100 vibration and pattern combinations
Magnetic charging cable
Waterproof
Three vibrating motors
Two designs to choose from
Final Thoughts
Both designs while similar differ in their shape slightly so choose the one that will fit your style of play.
While the motors in the legs are not for me, they are quite powerful and will be ideal for anyone who likes buzzier style stimulations.
They are so much fun to use with a partner which is where they are best suited.
I was sent these two Multifun vibrators by Satisfyer.com and I would like to thank them for giving me the opportunity to review it for them.
Joanne's rating
Where Can I Get One From?
Grab one of these fun couples toys direct from Satisfyer.com for £44.95 including free shipping.
Check them out and don't forget to tell them that Joanne says "Hi".
Disclosure
This review does not contain affiliate links, for more information about affiliate links check out my disclosure page.