Delivery & Packaging
The Satisfyer For Men Vibration arrived in a very plain brown cardboard box with no indication on the outside as to what was inside. In fact, it came unannounced, and as we weren't expecting it upon opening the box up, it was a delightful surprise. I sensed Joanne's shoulders slumping as she realised it wasn't for her.
Well, it's about time I got something to get stuck into (literally). I couldn't wait to get started, but Joanne made me wait until she had done the product pics (she can be such a tease at times).
Just like the Satisfyer For Men that I recently reviewed this masturbator comes in a sleek black box with white lettering. The announcement on the front of the box that stated that it is "Like a blowjob - just better" did make me raise an eyebrow. That is a bold statement as I do love receiving a nice blowjob, so my immediate thought was "I'll be the judge of that".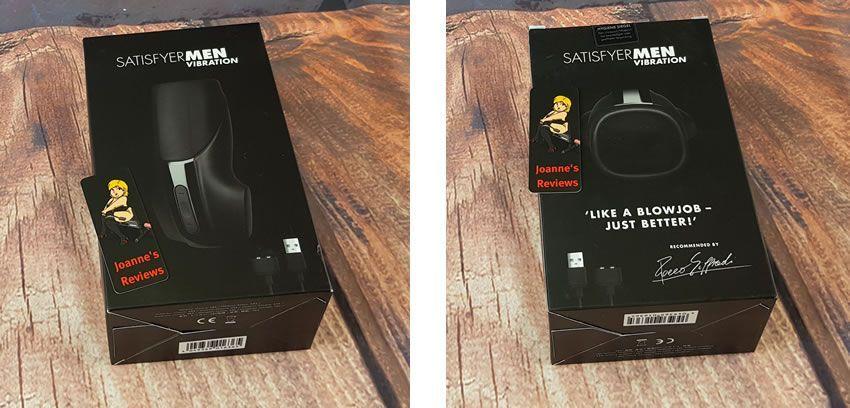 The packaging is dark and sleek, carrying Rocco's signature
The side of the box carries the usual blurb in many languages, and one thing of note is the Rocco Siffredi signature all over the box. He is the front face of the Satisfyer For Men product range. Now one would imagine that the Italian Stallion has a great deal of experience in the blowjob department, and so I had high hopes upon opening the box.
Inside the box which carries a hygiene seal for obvious reasons you will find:
A plastic carrier with the Satisfyer For Men Vibration nestled within.
A magnetic charging cables.
A set of instructions.
A safety guide.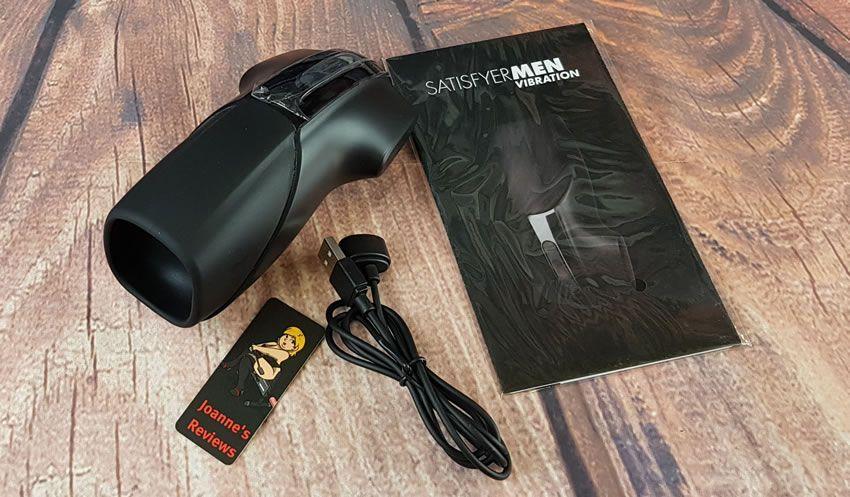 Here are the contents of the packaging, the controls are covered by a protective plastic film
Design
I must admit that I like the overall look of the design of the Satisfyer For Men Vibration. From above it almost looks like the head of a hammerhead shark or the front of an F1 racing car. I suppose this gives it a bold, manly look. I can't for the life of me think why the top would need to be this shape mechanically.
The hard ABS section of the toy contains the battery, controls and vibrating elements while the silicone forms a welcoming cup to insert your happy chap into.
This opening has a ledge inside it or bulge where the vibrating motor sits and that makes the upper section a very tight squeeze. You are going to need to use a good quality water-based lube such as Sliquid H2O or Secret Play Natural to get the most out of it.
The silicone opening does have some stretch though and that makes it nice to slip inside as it presses your frenulum (banjo string) right up against the motor and this gives you maximum stimulation.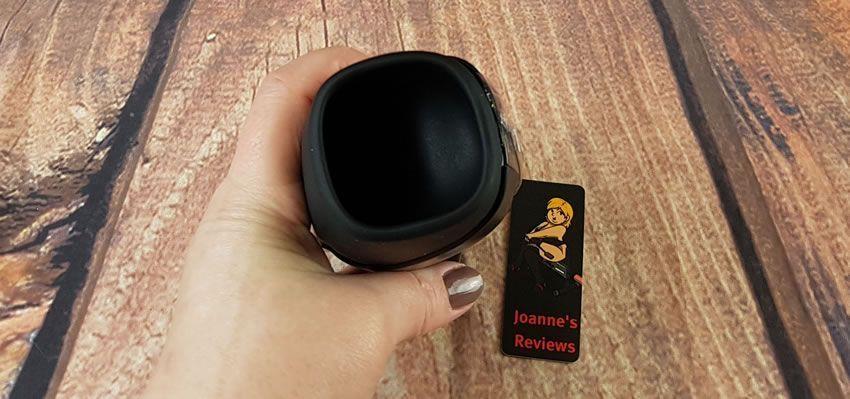 You can see the ledge on the right as it is on its side here
The insertion length of the Satisfyer Men Vibration is 2.8"/7cm and the overall length is 5.9"/15cm.
The controls are easy to use and logically placed allowing for quick adjustments of the vibrations when in use. You simply have a plus and minus sign and their operation is as you would expect. In use your hand cradles the toy and your thumb lines up with the controls well. It doesn't matter if you are left or righthanded it will work for you.
To switch it on just hold the plus button in for two seconds. It starts in its third highest setting and the minus button can lower the intensity. A combination of plus and minus button presses allows you to cycle through the 5 intensities and 9 rhythms. It has fourteen settings which is weird as the box says it only has eleven.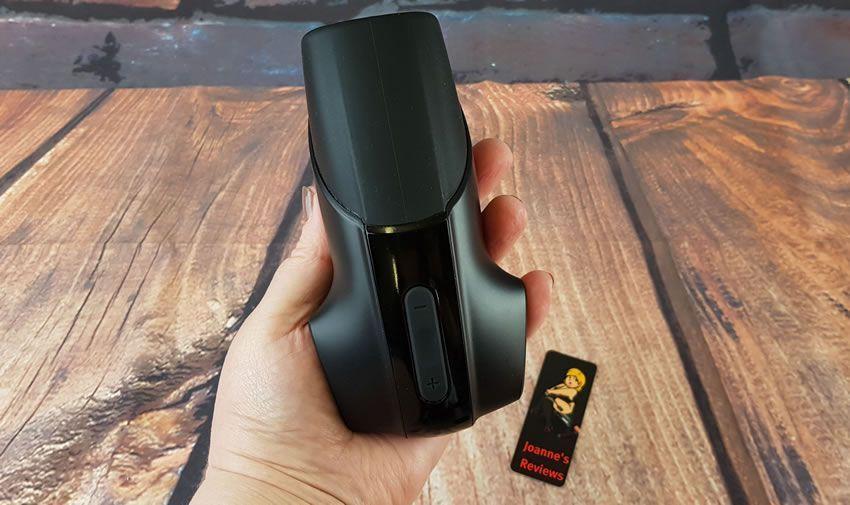 The controls are well placed and easy to use when in operation
The tip of the toy has two metal connectors and it is these that the magnetic charging cable snaps to when you charge it up. Like all rechargeable sex toys give it a full charge before using it for the first time. A light on the control strip flashes as it is charging to let you know the connection is good and that it is charging. The light will turn into steady light to inform you that it is fully charged. A full charge takes around two and a half hours and that will give you an hour of playtime which is a decent amount of time.
Materials
The materials used are black ABS and silicone. Both of these materials are perfect for sex toys as they are non-porous, hypoallergenic and body safe. It is nice to see more companies adopting Silicone over the other dubious material choices.

Charging up the Satisfyer For Men Vibration is a simple operation with the included magnetic charging cable
Care and Cleaning
Depending on how you use it, whether you are upright or laying down it can get a bit messy. On your back you will get lube running out of it and obviously once you have come you will get that running out as well. Upright it isn't too much of a problem though.
As it is waterproof (IPX7) cleaning is simply a case of washing it out with warm soapy water. You can use an anti-bacterial sex toy cleaner if you wish but a good wash out will suffice as silicone is none porous and it can't retain bacteria within its surface.
Make sure that you dry it out thoroughly before storing it away though as you don't want to store any damp sex toys.
Performance
After applying some lube to my happy chap and the inside of the toy I switched it on and inserted myself into it. I found it quite a squeeze to get past the raised (tongue maybe) portion. The silicone has a little stretch, but the ABS is rigid and unforgiving.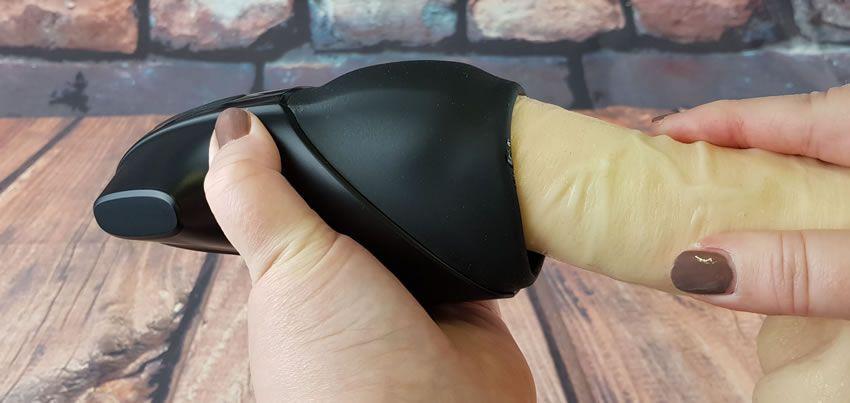 The Satisfyer For Men Vibration is a tight fit so if you are girthy it may not be for you
I tried stroking with it but that felt a bit cumbersome, I found the way that works best for me it just to insert myself into it and to find the sweet spot where the powerful vibrations on my frenulum felt best.
I then just closed my eyes and was soon on the way to a nice orgasm. I found the 3rd, 4th and 5th settings to work best for me and I start slow and build up the pressure until my toes curl and I shoot my load.
Better than a blowjob? I don't think so, but it is a lot of fun to use none the less. I can reliably reach orgasm using it and it is fun to just be able to lay back and find the sweet spot that just sends me over the edge.
Cumming inside it feels nice but I then quickly want to pull out or switch off the vibrations, cleaning is easy.
The Satisfyer For Men Vibration masturbator from @SatisfyerCOM had Stunt Cock smiling and blowing his load in no time at all. Check out the full review.
Click to Tweet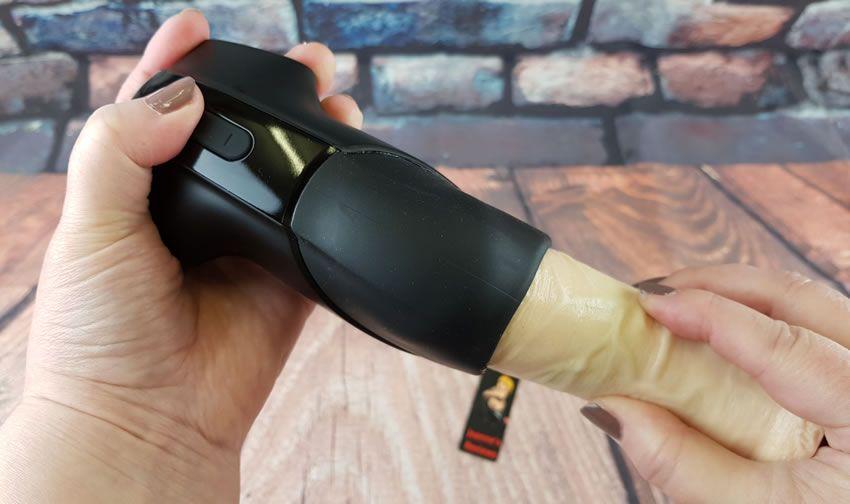 The Satisfyer For Men Vibration is good for stimulating the head of the penis but not really for thrusting
Key Features
Key features:
Body-safe materials - Silicone and ABS
Rechargeable battery using a magnetic charging cable
Waterproof to IPX7
14 power and pattern settings
Easy to clean
I would recommend it to:
Anyone who enjoys vibrations on their frenulum
Anyone looking to try new ways of getting off
Anyone who isn't too girthy as its tight in there
I wouldn't recommend it to:
Anyone with a fat girthy cock
Anyone who doesn't like vibrations
Anyone looking for a stroker for thrusting into
Final Thoughts
Satisfyer have again come up with a masturbator that works and works well. I would have liked to have seen more depth inside it to slide into, but it worked well on me. Like all masturbators it requires a little work after orgasm to clean it out effectively, but it isn't arduous in anyway.
Cleaning is simple, the power is great and if you enjoy strong vibrations against your frenulum then give it a go. I was pleasantly surprised by it. But if I had to choose between it and a nice blowjob from Joanne, I am afraid it would be staying in the bedside drawer.
Obviously, Rocco Siffredi has never experienced one of Joanne's blowjobs.
I was sent the Satisfyer For Men Vibration by Satisfyer.com and I would like to thank them for giving me the opportunity to review it for them.
Where Can I Get One From?
Grab one of these fun vibrating masturbators from Bondara for £44.99.
Check them out and don't forget to tell them that Joanne says "Hi".
Disclosure
Disclaimer - I was sent the Satisfyer For Men Vibration to review free of charge and this has in no way affected the outcome of this review. This post contains affiliate links and if you purchase something when you follow one of these links I may receive a small commission at no cost to you. For more information check out my disclosure page.