For anyone nervous about ordering this type of sex toy online because of privacy concerns you needn't worry. The Satisfyer For Men arrived very plainly packaged with no indication of the dick pleasuring contents within.
The packaging of the Satisfyer For Men is dark and sleek, a theme that is carried through to the sex toy itself with its dark lines and elegant curves.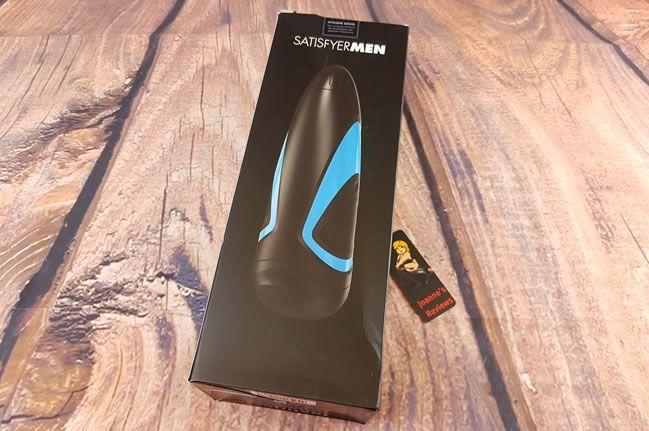 The packaging of the Satisfyer For Men is dark and sleek
The box itself carries sparce product information, but the back of the box bears a full-length picture of Rocco holding the toy with a smug look on his face. To have Rocco on board is a good thing for Satisfyer.
Inside the box you will find the masturbator itself together with instructions sealed in a plastic pouch, you also get some advertising information showing the seven internal texture designs as well as the new Satisfyer lube range.
On the subject of lube, only use a good water-based lube with this sex toy as the liner is made out of TPE (Cyberskin), and that material doesn't get on well with oil-based or silicone lubes.
The liner is incredibly soft, and it feels great, but as it is Cyberskin, it is porous and so will need replacing after some use. Replacement sleeves are available for the very reasonable price of just £12.95, with exciting names such as Chambers Of Pleasure and Lusty Tongues, there are some very nice textures to choose from.

The Satisfyer For Men is a sleek looking masturbator with its dark colours and curves
Before you use it for the first time, you will need to remove the plastic core that is inserted into the toy during transit to you.
If you are not gagging to slip into it straight after removing the plastic core, then I can highly recommend removing the sleeve and leaving it in a bowl of warm water for about five minutes. Then put it back together again for a very realistic and extremely pleasurable sensations as you slip yourself into its warm confines.
You can also take temperature play the other way by chilling the liner in the fridge before use for another unique sensation.
I recommend using lots of lube inside the sleeve and also over your manhood to prevent any areas of friction.
The cap can be opened in two ways, the first is by squeezing over the blue sticker to remove the cap. If you press the lid 90 degrees from the blue sticker, it allows you to pull the liner out of the toy for cleaning and this is a great feature.
Entering the toy feels very nice indeed, and the Cyberskin does feel very good. The internal texture is pleasurable, but it does feel like any other masturbator. Some of the replacement sleeves look very intense, but so far this is just another masturbator.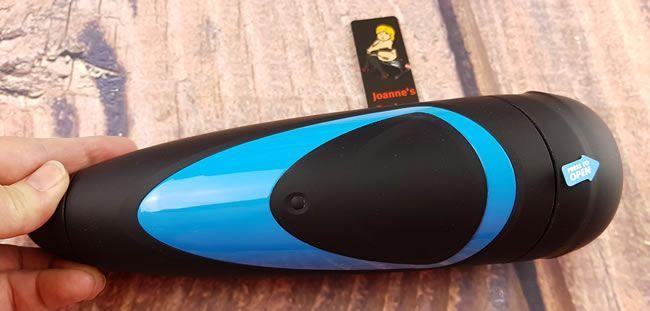 The pump and release button is easy to use and they allow you to tailor your experience
Enjoying The Squeeze
But that changed once I discovered just how easy it is to control the suction and pressure within the Satisfyer For Men.
Just like a Fleshlight, you can slide yourself fully inside and then unscrew the end cap to release air from within the toy. Sealing it again will give you lots of lovely suction as you withdraw again and this provides a feeling, not unlike a wet and sticky blowjob.
On the side of the ABS body, there are two areas of black silicone that act as a pump, and you can use these to inflate four internal bladders to squeeze on the sleeve increasing the sensations that you can enjoy by making the sleeve tighter. Each pump also has an air release button so that you can release the pressure.
With this unique mechanism, you can adjust the masturbator to the perfect combination of pressure and suction to get yourself off easily. In use, this can be a bit fiddly, and so I tend to stick with the settings that I now know really hit the spot for me.

The Cyberskin insert is soft and feels incredible during use
Having the ability to make the masturbator squeeze your manhood during use really feels incredible, and this gives the Satisfyer For Men a considerable boost over other masturbators like the Fleshlight.
It weighs a bit more than a Fleshlight, but I had no problem with its weight in use, it is easy to stroke with it, or you can place it between your mattress and the bed frame to give you the ability to fuck it hands-free.
I did have to re-apply lube during use, but that is common with any water-based lube when used in a masturbator as it merely dries out over time. As it does dry out though the sensations as you stroke do get more pronounced.
Performance
I like to start off slow building up a steady rhythm until I get closer to cumming and then I pump it as hard and as fast as I can before exploding into it. This feels incredible, but probably not better than 5,000 pornstars unless they were not as good as they look on screen.
It is a very nice masturbator, and the Cyberskin feels very realistic, and if warmed up before use it really does make a difference.
I really enjoy having the ability to vary the tightness of this masturbator, and that is a feature that sets it aside from others in the marketplace.
The liner is excellent, much better than the Lynx Onyx Masturbation Sleeve that I recently reviewed and it is comparable in performance to the Fleshlight Turbo which was my all time favourite masturbator until this one came along.
I have no problem at all reaching very satisfying orgasms using the Satisfyer For Men. I started this review hoping that Satisfyer had come up with something as good as a Fleshlight and in many ways, they have actually come up with something better in my opinion.

The Satisfyer For Men is easy to strip down and clean, ensure it is dry before re-assembly
Cleaning
The Satisfyer For Men strips down very quickly, and you just pull out the inner ABS cradle that carries the pump mechanisms. Then just rinse the sleeve through and wash with warm soapy water and an anti-bacterial sex toy cleaner.
Make sure that the sleeve is thoroughly dry, inside and out before you put it back together again. The Cyberskin definitely benefits from a light coating of Corn Starch, and this will extend its life.
Slip yourself into something that will get you off. Stunt Cock loved reviewing the Satisfyer For Men from @satisfyerCOM. Click to Tweet
Key Features
Key features:
Unique pump and pressure regulator
Soft inner sleeve with good texture made of Cyberskin
Sleek and discreet design
Easy to clean
Cheap other sleeves available to customise your Satisfyer For Men
Final Thoughts
Satisfyer has entered the male masturbator marketplace with a cracking take on a classic design. Their improvements regarding pressure and performance really put them at the forefront of the pack.
With a fantastic price (almost half the cost of a Fleshlight) you get a lot of fun for your money. Replacement sleeves are also available for a reasonable price. I think that this design is going to be well received by anyone who tries it.
I have really enjoyed throwing myself balls deep into this review and can give the Satisfyer For Men a huge thumbs up and a strong recommendation.
I was sent the Satisfyer For Men by Satisfyer.com and I would like to thank them for giving me the opportunity to review it for them.
Where Can I Get One From?
Grab a Satisfyer For Men from Honour.co.uk for just £36.99 and give your happy chap a real treat. Check out the full range of sleeves for it there as well.
Check them out and don't forget to tell them that Joanne says "Hi".
Disclosure
Disclaimer - I was sent the Satisfyer For Men to review free of charge and this has in no way affected the outcome of this review. This post does not contain affiliate links but if you purchase something when you follow an affiliate link I may receive a small commission at no cost to you. For more information check out my disclosure page.