Delivery & Packaging
After being told they had been dispatched from the USA, I did not have long to wait for them to arrive. I was actually very pleasantly surprised with just how quickly they got to me here in the UK.
The items arrived in a discreet cardboard box, with nothing to indicate the fun things held within. That is always the first test of a company. Do they ship products discreetly? I a happy to confirm that Betty's Toy Box do take customer privacy and discretion very seriously.
Materials and design
The Collar and Leash set comes in cardboard retail packaging, which clearly shows a couple enjoying the set.
At the base of the box, you will find the Limited Lifetime Warranty information. There is additional information on one side and the back of the box. My favourite bit of that information is the title "INGREDIENTS". I chuckled at the recipe connotations, but to let you know that it's 57% polyurethane, 33% nickel-free metal and 10% polyurethane foam.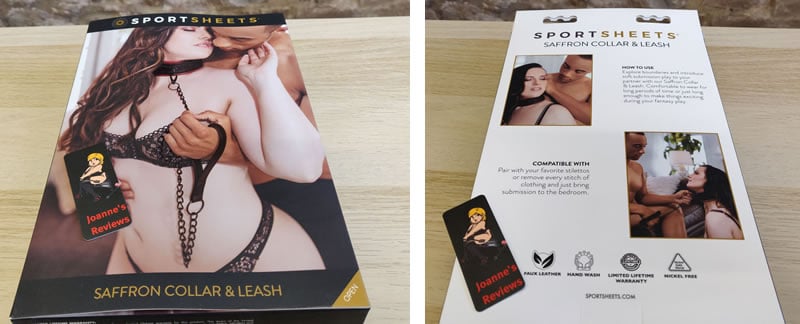 The packaging is clear and very nice indeed, I couldn't wait to open it up.
The collar itself measures 19 inches (48.26cm) long, and the leash and chain are shown as 42 inches (106cm) long. I would have liked to see the collar a bit longer to cater for more neck sizes, but I guess that would push up the retail price a fair bit.
The box is not security sealed, but to be honest, it would be obvious if someone has opened it, so I don't feel that this is any negative fact.
I actually found it easier to open the bottom of the box to remove the contents rather than the top.
Inside the box, I found the items arrived packed inside the travel bag that comes with the kit.

The collar and leash arrive nestled inside this lovely draw string storage bag.
The travel bag is made out of faux velvet and features white printed branding and a logo in white. The white printing stands out brilliantly.
The drawstring closure helps keep the contents secure inside between uses. This bag is functional, plus if anyone sees the outside of the bag, all they see is the word Sportsheets. Until they look inside and realise just how kinky you like to play, that is.
The collar has a lovely padded deep maroon inner, which contrasts with the black frontal section nicely. The collar and its padded liner are securely stitched together. I was very impressed with the stitching as it looks well done, and it is very neat.
I do like the padding used; it gives the collar a snug fit against the neck and emphasises its presence to the wearer.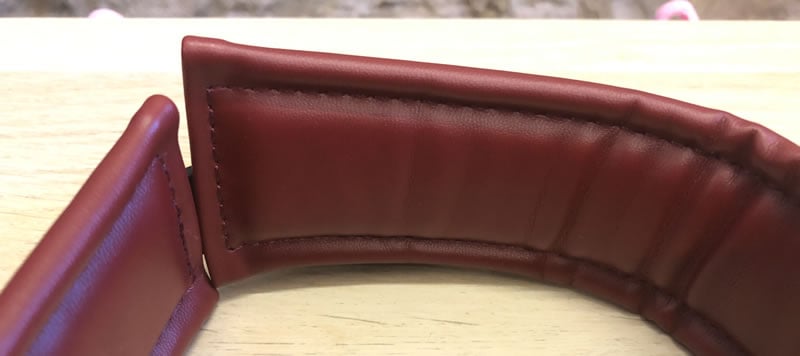 The collar has a soft padded lining which looks and feels great.
The way the buckle has been designed and attached allows you to double over a part of the collar to fit smaller necks. The large metal 'D' ring on the front is held securely and would take a very naughty submissive pulling against it safely, without it breaking. The ring is large enough to easily clip the leash onto it. There would be even room for other clips if you wanted to add anything extra.
New out of the box, the collar is relatively stiff and does not allow for easy down head movement. This gives the collar almost the feel of a small posture collar, and I like that. No doubt that over time it will soften slightly, reducing that effect, though.
The leash has a swivel clip to help ensure it does not tangle or cause issues during movement. The handle is a good size faux leather with a soft feeling underside. I can either comfortably hold it in my hand or place my wrist through it. The chain's length is reasonable, allowing you to lead your submissive around, or you can hang it over any nearby hook.
Performance
A collar means different things to different folk. My submissive, the delightful sub'r' loves wearing a collar as for her, it re-enforces her submissive role. Just wearing it is a constant reminder of her place. Wearing a collar is also a huge turn-on for her, and she does look good in one if I do say so myself.
We have a wide range of collars to choose from depending on my mood and what sort of play session we will be enjoying. Some collars are rough, and wearing them for long periods can be difficult.
This one is the exact opposite, though. It is very comfortable and snug to wear. The padded inner surface makes it comfortable but not too comfortable, if you know what I mean. A collar should be felt around your neck at all times. I prefer collars to be easy to wear, but also ones that you know are constantly there against your skin.
I like how the wide inner padded surface almost acts like a small posture collar, restricting the ability to bend your head down too far.
The buckle is very easy to use. The collar can be very quickly fitted, especially if your submissive is in the Nadu Position at your feet.
The black 'D' Ring on the front of the collar makes it easy to attach the leash or anything else, such as pussy hooks or restraints.
I love the leash, the chain links are wider than other leashes I own, and when they drag over themselves, they make a delightful sound. The chain is also fantastic for dragging slowly over erect nipples (just saying LOL). The black coating fits in nicely with the look of the collar.

The connector at the end of the leash is the only thing I don't like about the collar and leash set.
The connector on the end of the leash could have done with being a bit stronger. Don't get me wrong, it does the job it is designed for but looks a little weak. That is the only negative thing I have to say about the leash.
I love the leather loop, which is easy to slip over your wrist, and the soft inner surface feels good against your skin.
This is a collar and leash that looks fabulous and performs exactly as you would expect it to. I really like the dark colours, especially on the chain and fittings on the collar.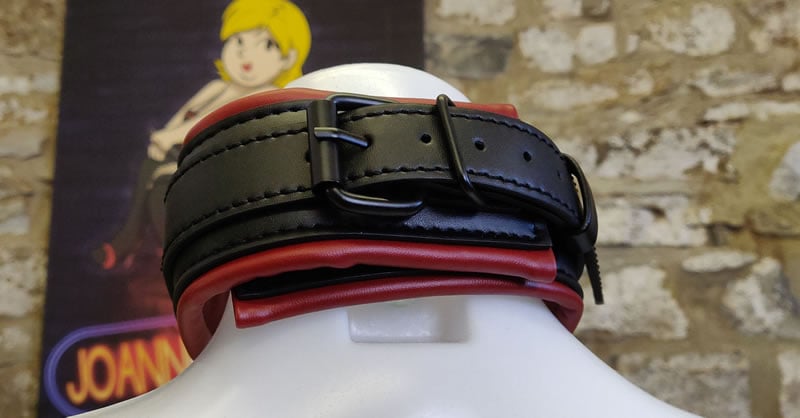 The buckle on the collar is really good quality and looks fabulous.
Sportsheets have done an excellent job designing this collar. The storage bag is a fantastic bonus and one that I wish other manufacturers would consider. Having somewhere secure and discreet to store your collar and leash is definitely a good thing in my books.
I have two other BDSM related products to review for Betty's Toy Box, and we are having a lot of fun getting to know how to get the best out of them, so check back for those reviews soon.
If you are looking for a stylish, dark themed collar and leash set then check out Joanne's review of the Saffron Leash and Collar Set from Sportsheets for @BettysToyBox.
Click to Tweet
Key Features
Key features:
Made from vegan leather.
Adjustable coller with matching leash set.
Front mounted D-Ring on the collar.
Limited Lifetime Manufacturer's Warranty.
Shipped from the USA.
I would recommend it to:
Anyone looking for something to spice up your play sessions.
Anyone into Dom/Sub play sessions.
Anyone who likes darker collars.
Anyone looking for a collar made from Vegan Leather.
I wouldn't recommend it to:
Anyone with a neck circumference over 19.5".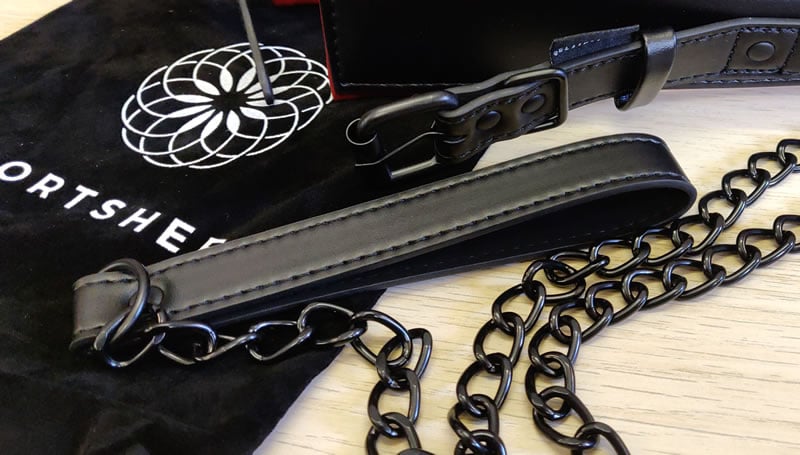 The collar and leash are great, and as a set they are competitively priced and good value for money.
Final Thoughts
I was enamoured with this collar and leash set, and apart from the clip on the leash not being what I would have preferred, it works perfectly well. This is a collar and leash set that not only looks fabulous but has some great features.
The storage bag is a bonus and also excellent quality. It's always nice to have somewhere to put things after a play scene.
I love the hardware on the collar, the black buckle feels excellent, and the contrast in colour between the collar and the padded liner gives it a very classy look.
I can highly recommend it to anyone looking to spice up their playtime with some Dom/play, it is very good value at only $35.99 (USD). This is a collar that will be worn again; it is comfortable and looks great too.
I was sent the Saffron Leash and Collar Set from Sportsheets by Betty's Toy Box and I would like to thank them for giving me the opportunity to review it for them.
Joanne's rating
Where Can I Get One From?

Grab one of these great collar and leash sets from Betty's Toy Box and take advantage of the fact that you are shopping with an ethical online brand. Grab the Saffron Leash and Collar Set by Sportsheets for just $35.99, which is exceptional value for money.
Check them out and don't forget to tell them that Joanne says "Hi".
Disclosure
Disclaimer - I was sent the Saffron Leash and Collar Set by Sportsheets to review free of charge and this has in no way affected the outcome of this review. This post contains affiliate links and if you purchase something when you follow one of these links I may receive a small commission at no cost to you. For more information check out my disclosure page.