S2 Machine Gun Sex Machine
Another machine that proves the adage that you get what you pay for
Having recently reviewed the S1 Cheap Sex Machine Bundle for sexmachines.co.uk I was excited to see another machine arrive in the post.
This time it was one of the Machine Gun style fucking machines, the S2. I have heard lots of things about this type of device, unfortunately, none of it has been good.
"I did think the sticker on the side of the machine was almost as funny as the instructions, apparently, it's a Happiness Browser."

Joanne
I often get e-mails from people who own one asking if they are doing something wrong when setting it up, so it was nice to finally get my hands on one of them to see it for myself.
Unfortunately, this is going to be a review that may sound a little whiney as it was challenging to find any positives about this machine. So with a weary heart, it is on with the review.
I wasn't expecting much to be honest for many reasons, firstly the number of complaints I get about this style of sex machine and secondly its price. This is a machine that retails for £78, and while that is a lot of money, it isn't when you are looking for a reliable fucking machine that performs well.
Having reviewed the S1 Cheap Fucking machine Bundle recently, it re-affirmed my belief that you do indeed get what you pay for when it comes to sex tech. This machine doubles down on that belief, it is even worse than the S1, and I will endeavour to justify that statement with this review.
Sexmachines.co.uk have an incredible selection of fucking sex machines, and it has to be the biggest on the internet. They cater for every price bracket and offer legendary machines like the Sybian and Shockspot together with the cheapest machines available online.
I have to hand it to them through their star rating system on their site is honest, they give this machine a one out of five which is accurate. Having reviewed a few of their machines, I can state that you can trust their star rating system it has been proven to be accurate time and time again.
Delivery & Packaging
Just like everything that has arrived here from sexmachines.co.uk, this machine came quickly and with no fuss. The box is very plain giving no indication whatsoever as to the contents of the package.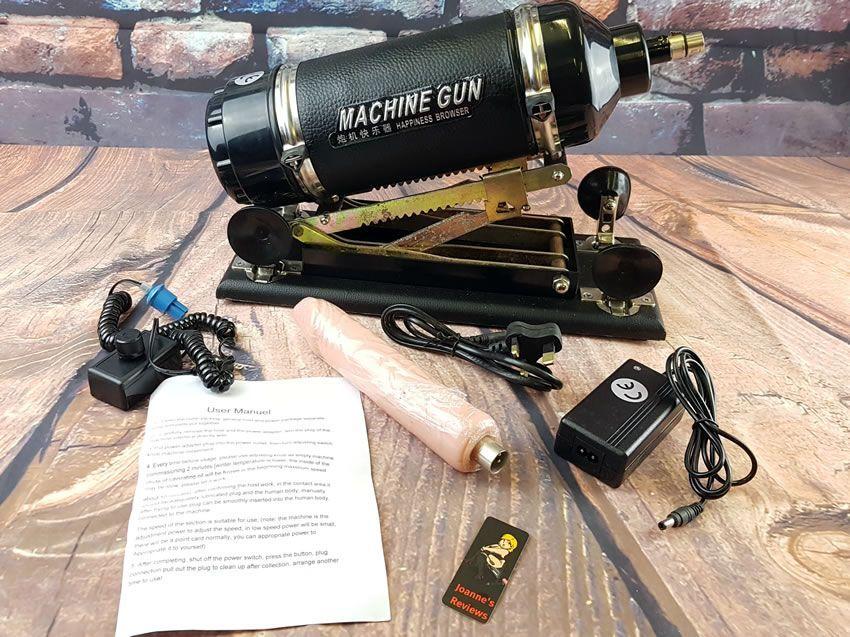 A strange looking machine but one that is quick and easy to set up
They take customer discretion seriously which is only right. I always mention packaging in my reviews as if you live at home with parents or in shared accommodation then discretion is a must.
Upon opening the box, I was greeted with a strong chemical smell just as I did when reviewing the S1 and that meant only one thing - cheap attachments, more on them later.
I also pulled out the instructions and actually burst out laughing at them, something has apparently been lost in translation, and they are hilarious.


The single page of instructions leaves a lot to be desired
Note to sex toy manufacturers if you want accurate English instructions then send me a machine and commision me to write you a set as these are terrible. I'd be delighted to be able write some decent ones out.
Anyway, after composing myself, it was on with the unboxing, and I could finally get my hands on a machine gun style fucking machine.
Design and Specifications
This is a machine that certainly looks interesting, it features a flat base with four suckers attached to cabinet hinges just like with the S1. While at first, this seems a little weird it is actually quite effective at holding a fucking machine steady on a smooth flat surface. However it is totally useless on a bed or carpet though.

The sucker feet are useful on a smooth hard surface but don't work on a bed or carpet
Fixed to the top of the base is a metal frame that is used to adjust the height and angle of thrust of the machine. This one is rusting in patches which isn't good. It is quite easy to lift the front of the machine up but it takes some fiddling to drop it again, I find this mechanism challenging to use and it is just asking for a finger to get trapped.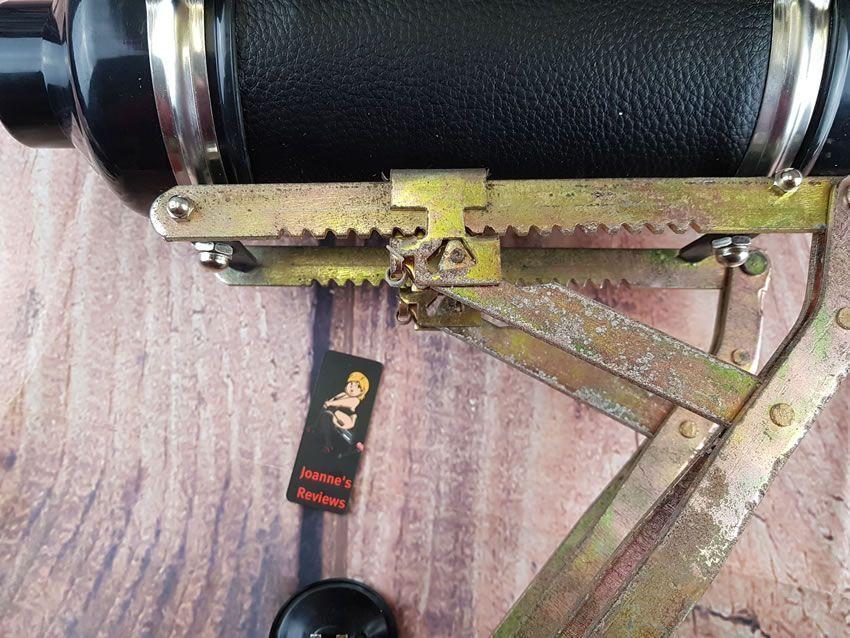 The frame already shows signs of corrosion
Atop this frame is the machine gun style fucking machine, and I have absolutely no idea why this style of fucking machine got that name as it bears no resemblance to any machine gun that I have ever seen.
I did think the sticker on the side of the machine was almost as funny as the instructions, apparently, it's a "Happiness Browser".


The sticker on the side of the machine telling me it's a "Happiness Browser"
The fucking machine itself is a large cylinder with two metal clamps securing it to the base, and these clamps have some heat shrink used to cover the nuts and bolts securing it in place.
This machine is capable of upto 450 thrusts a minute (without any load) but it only has a stroke length of 2"/5cm and that is not adjustable.
The end of the thrust rod has a modified XLR style plug. This is the same attachment systems as with the S1, and it has the same problem. You can only use proprietary dildos with this machine unless you purchase an adaptor for it. Luckily sexmachines.co.uk have a range of adaptors so you can use some of your favourite dildos. While this is a rapid system for changing dildos, I much prefer either the Vac-u-lock Systems or the method used on the Yubo F1 which is a modified airline quick release.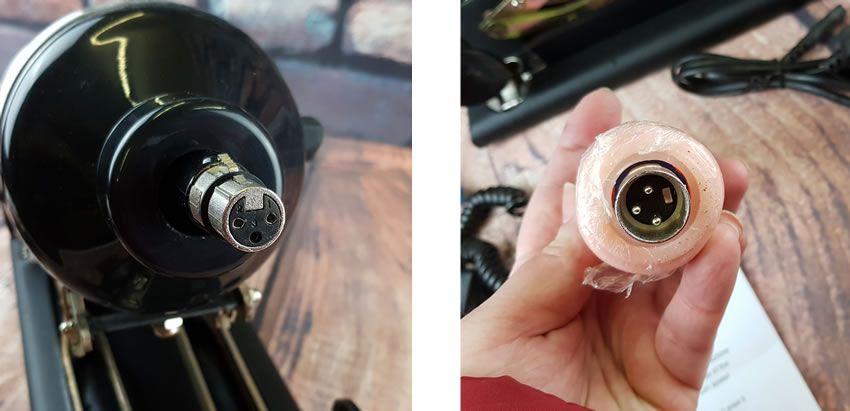 The XLR style attachment mechanism on the machine and the supplied dildo
It comes with a male masturbator and a dildo, both have a female XLR socket on the end of them.
Unfortunately, both are cheap and not body safe. The smell I encountered when opening the box is chemicals (phthalates) leaching out of the dildo. These sex toys are porous, and as such, you cannot clean them properly, and you will get bacteria and mould growing within the material. I urge anyone using them to use a condom with them at the very least after giving them a good scrub to remove any chemical residue on the surface of them.
The male masturbator is sort of like a fleshlight, but the materials are much inferior to this legendary masturbator. The inner material is much harder than the one used by fleshlight. The outer casing is also very narrow which will make the masturbator impossible to use if you have good girth and even with a slim cock the material won't be that comfortable. I may be wrong though as I am lacking the necessary equipment to have first-hand experience of that.


The masturbator is narrow and features a volume style switch that doesn't do anything
Just like the male masturbator included with the S1 this one has a volume type control on the side which I presume is for some kind of vibration function but it doesn't work, and I can find no way of adding or changing any batteries if there are any fitted.
The external power supply plugs into the speed controller and that in turn plugs into the back of the fucking machine. These connections are sturdy, and I think they will be reliable over time.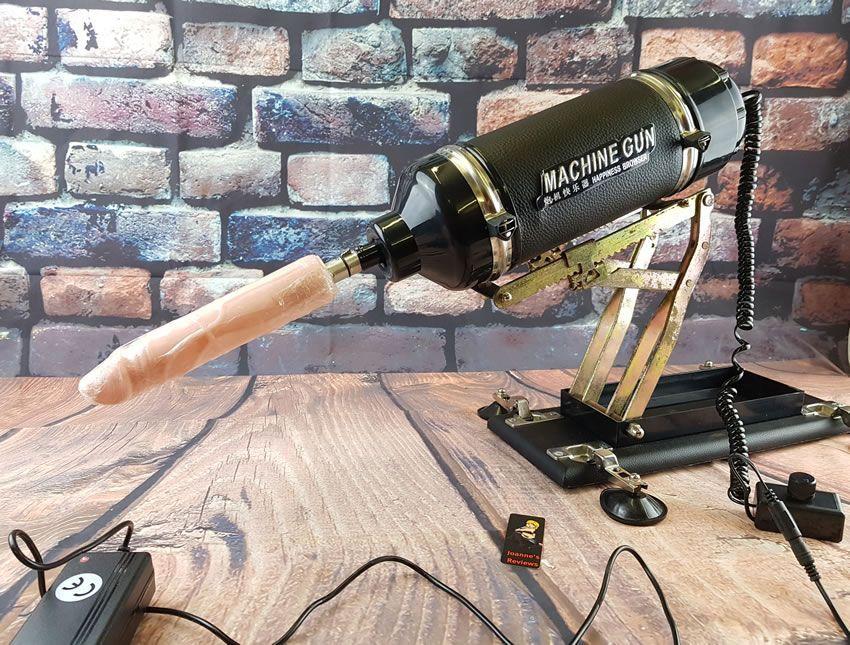 The power supply connects to the speed controler which in turn is connected to the rear of the machine
Performance
This is where I usually extol the virtues of a fucking machine with statements like "good hard rodgering" and "it gave me a fantastic orgasm". But with regards to the S2, it is indeed a sad story.
You see, with fucking machines torque is king or queen. You need a machine with good torque to be able to move a dildo inside a tight orifice. The tighter the orifice or, the wider the dildo, the more torque you will need.
The S2 has comical levels of torque, I can literally place my hand in front of the dildo to stop it without applying any pressure at all. Now due to the internal workings of the toy after a while, it does crawl forward, but that is no good for me. This is without a doubt the leat powerful machine that I have ever reviewed.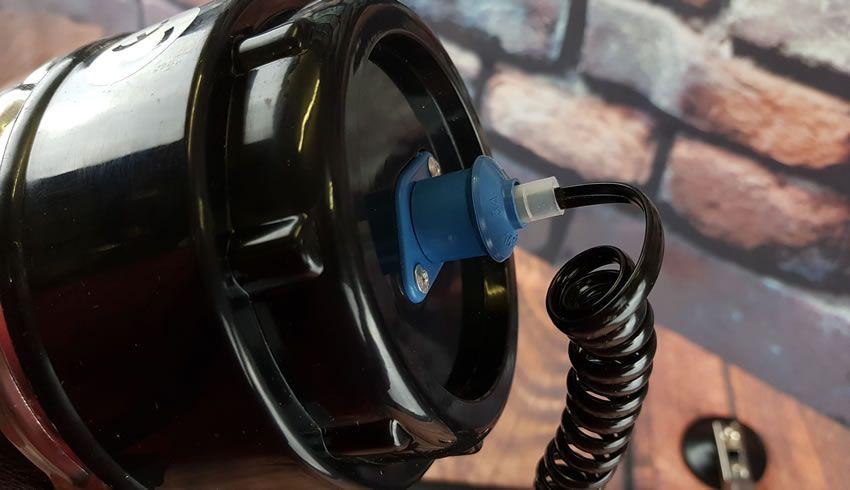 The speed controller cable connects to the back of the machine
When I am using a fucking machine I am like a kinky Jeremy Clarkson, I need more power. I want a dildo to thrust in and out of me in ways that no man can recreate. I want to be utterly fucked and fucked hard.
For me, a sex machine that is incapable of moving a dildo when it is inside me is about as much use as a chocolate fireguard.
To demonstrate this terrible lack of torque I made this video showing the male masturbator and dildo. I used a load of lube inside the masturbator and on the dildo, and you can see how easily I can glide the masturbator over the rubber cock.
Well, the machine is incapable of moving the dildo at all which is a sorry state of affairs and the video highlights exactly why buying this machine would be a waste of money.
---
Without penetrating the top speed of the S2 is comparable with the S1 but it is more unstable at high speeds. This is probably because of its higher centre of gravity compared with the S1, but you needn't worry about that as it won't be going fast when used in a lubed up orifice.
The noise levels are also comparable with the S1.
If the S2 Machine Gun Sex Machine is anything to go by we needn't worry about the rise of the machines.
Click to Tweet
Key Features
Key features:
Very low torque
Height and angle adjustable
Fixed thrust length
Attachments are not body safe
Masturbator and dildo supplied
Final Thoughts
Like its brother the S1 Cheap Fucking Machine, the S2 Machine Gun Sex Machine is, in my opinion, a total waste of money. You are much better off saving your money and buying something like the Yubo F1 Premium Fucking Machine (check out my review of the Yubo F1 here). That one will fuck you senseless and give you hours of pleasure.
I honestly think that the only thing you will get out of the S2 is hours of frustration as it just doesn't do what a good fucking machine does do and that is fuck.
Sexmachines.co.uk is the without a doubt the best place to buy fucking machines from as they carry a vast range of machines for every budget but please understand that in the world of fucking machines you do get what you pay for.
Performance, capability and reliability all come at a price. I can't in good faith give this machine a recommendation but if you want a puzzle to keep your friends occupied you can always get them to work out how to lower the ratchet mechanism.
Get yourself one of the regular fucking machines like the Yubo F1 or the Willie Wanka (read my review of it here) if you are interested in exploring the fantastic world of machine sex.
From my perspective this has been an interesting review as things can only get better with the next machine - I hope.
I was sent the S2 Machine Gun Sex Machine by sexmachines.co.uk and I would like to thank them for giving me the opportunity to review it for them.
Joanne's rating
1.4Overall1Design1Features1Functionality1Ease of use3Price
Where Can I Get One From?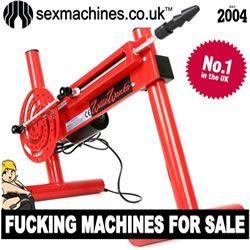 Check out the range of amazing fucking machines over at sexmachines.co.uk.
Sexmachines.co.uk have an amazing selection of fucking and sex machines for sale together with a huge range of attachments, with a fast and discreet service.
If you are curious to try one for yourself then you can grab one of these S2 Machine Gun Sex Machines for £78 from sexmachines.co.uk and it is definitely worth checking out the other machines available as you can save lots of money in their current sale. You can also get a S2 Machine Gun Sex Machine (BUNDLE) which contains more attachments and a thrust rod extender for £96.
Check them out and don't forget to tell them that Joanne says "Hi".
Disclosure
This review does not contain affiliate links, for more information about affiliate links check out my disclosure page.
---
Found Something Useful, Or Do You Just Like What I Do?
---
Additional Info
Overall Rating:

1.4
You May Find These Articles Interesting