Firstly I have to say that as usual, the delivery from sexmachines.co.uk of this machine was smooth and very discreet as all deliveries are from this company.
The S1 arrived in plain packaging, and the postie has no idea that I was receiving a cheap sex machine. Cheap being the operative word here as this particular machine comes in at only £48. Yes, you read that right a fucking machine for just £48.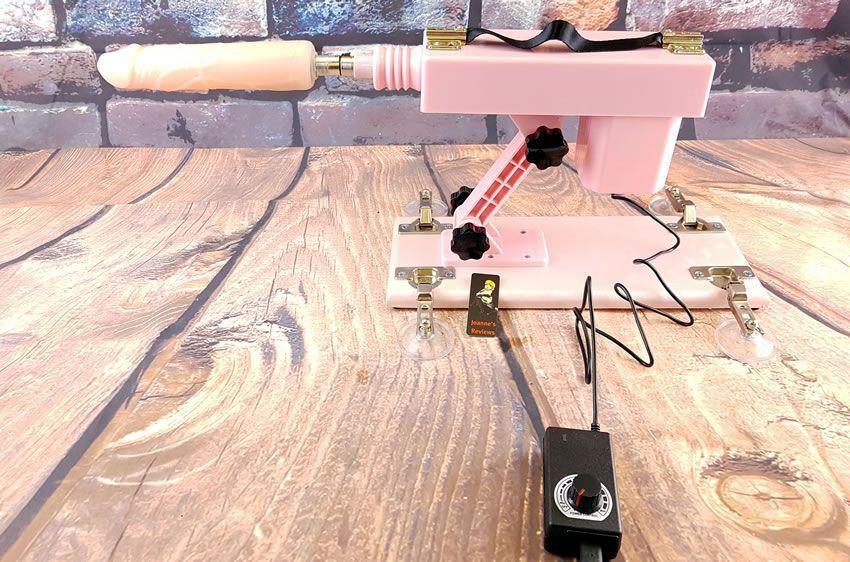 The assembled S1 Cheap Fucking Machine
It sounds too good to be true, and unfortunately, it is. Let me clarify that statement, it is indeed a fucking machine and yes it is only £48 but here is the problem, you just don't get performance for £48. You can get a cracking little fucking machine in the form on the Willy Wanka for just £210 (check out my Willy Wanka review), and that is at the lower end of the price scale of good reliable machines.
So, my expectations weren't that high due to the price tag and the fact that sexmachines.co.uk themselves only give it two stars out of five and I pretty much concur with that rating. Now let me tell you why it gets such a low score.
Specifications
When I unboxed the S1, I was greeted with a horrid chemical smell, more on that in a minute but what surprised me was just how small this machine is. It looks like a tiny sewing machine in bright barbie pink (it is also available in black too). I didn't get a set of instructions but this machine is so simple, it's literally take it out of the box, plug it in and attach a dildo.

The S1 Cheap Fucking Machine is a compact machine
You get a carrying strap on top, and the flat base has four cupboard hinges fitted to it with suction cups on them. This I must admit is genius as often with lighter machines they have a tendency to move back and forwards if trying to drive a big dildo into a tight hole. These suction cups are great for securing the base to flat surfaces, and they fold up when not needed. So that is one good point about the machine. Unfortunately, that good point is a very lonely one.
The adjustment mechanism is easy to adjust and gives you a wide range of angles and heights, it does hold the machine steady, but if you apply any downward force to the dildo, it moves.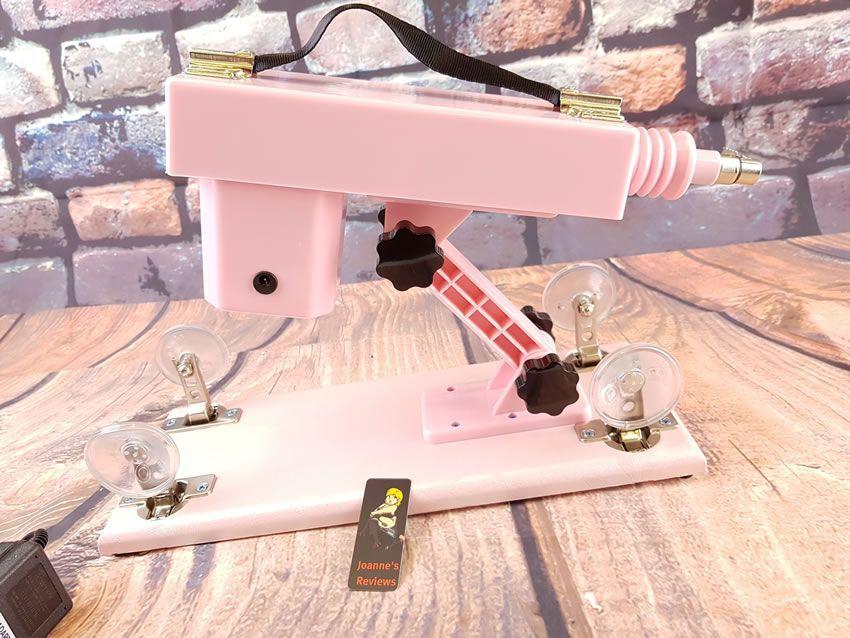 The S1 Cheap Fucking Machine is easy to adjust using two sets of knobs to set a variety of angles
You get a power supply that drops mains voltage to the voltage used in the motor, and this has a speed adjustment control on it. The manufacturer claims upto 450 strokes a minute, and while I cannot verify that, it does shift on its fastest settings. That is due though to the short stroke of this machine, you also have no way of altering the stroke length so what you get is what you are stuck with I'm afraid.
Dildos are attached to the thrust rod using a modified XLR style plug and socket. This system does allow for quick changes, but I prefer either the vac-u-lock system or the one fitted to the Yubo F1 Premium Fucking Machine (check out my Yubo F1 review).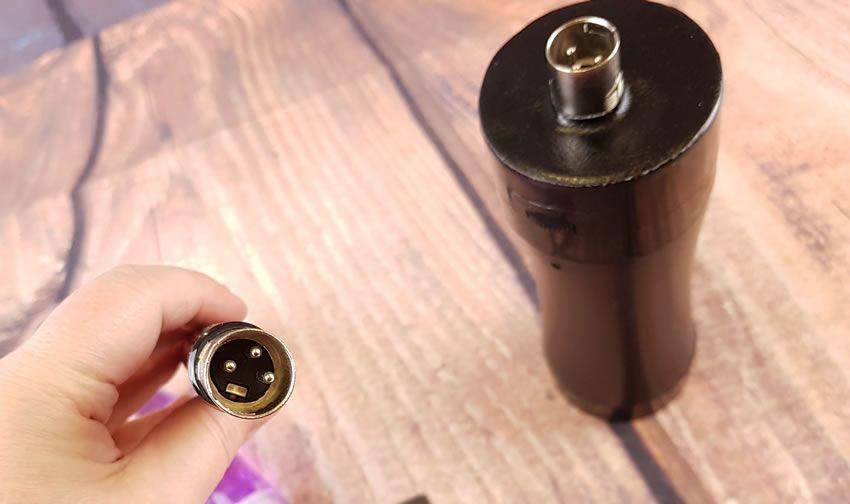 You can quickly swap dildos using the XLR plug and socket system
Attachments
This is where things go really wrong, remember the chemical smell I mentioned earlier? Well, that is phthalates being released from the included jelly dildo. It is an overpowering smell, and it has actually caused the plastic wrapper to melt and stick to the dildo, so I was unable to remove all of it. There was an oily coating on the bits that I could remove though.

You can opt for a bundle of attachments with your S1 machine
Why do manufacturers still produce jelly dildos, phthalates are bad. They are a softener used in PVC products to make them flexible, and squishy. But they are known to cause chemical burns and reactions in some people, with several studies suggesting much worse.
I wouldn't even recommend using a condom over them as condoms are not a gaseous barrier. These dildos are not destined to enter any of my holes, and so this machine was bench tested.
Due to the attachment mechanism being XLR I couldn't even attach any of my own silicone dildos to test it out.
You also get a male masturbator included in with the basic package, this feels cheap and is quite narrow. Anyone with lots of girth may struggle to use it effectively although that said if you can use it then it will be nice and tight inside. The material used is much firmer than you find in other masturbators such as a Fleshlight, so comfort may be an issue.


The male masturbator is rather narrow and if it does vibrate then this one doesn't
Now a confusing thing about the masturbator is that there is a control knob on its base, like a volume control but it does nothing on the one that I have. I can't even find anywhere to insert batteries if it does have a vibration function, very strage indeed.
A Bundle Of Fun
This machine came with the optional bundle pack which takes the price to £66. In the package, you get an anal dildo, a rabbit style dildo and a double penetration dildo. All jelly I'm afraid.
You also get a handy extension rod to extend the reach of the machine. This is good, as without it you need to get yourself close to the machine, and with it, you get more flexibility.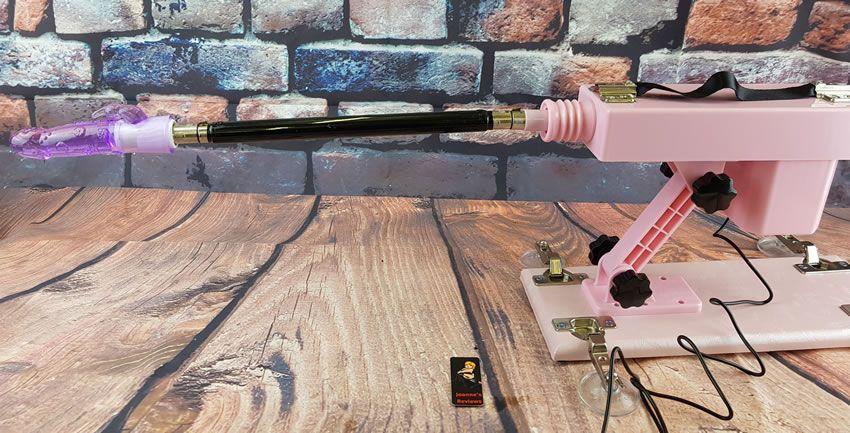 The extension rod is a good piece of equipment
If you don't mind using condoms over jelly sex toys, then the bundle pack adds lots of play options that you otherwise wouldn't have with the basic machine.
The S1 Cheap Fucking Machine In Action
The S1 has a very short stroke and is quite unstable at high speeds.
---
Performance
I was surprised at how noisy this little machine is given its size. It is relatively stable when moving the dildo slowly, but as with all fucking machines, faster speeds do impart quite a wobble.
The short stroke may suit some people, but I prefer having the option of being able to adjust the stroke to go from long smooth strokes to short fast jackhammer like sensations so the lack of adjustment is a problem for me but some may not mind that.
The biggest problem with this machine apart from the attachment materials is its severe lack of power. I can stall the motor by just placing my hand in front of the dildo.
There is no way that this machine is going to perform satisfactorily unless you are very well lubed up and very, very relaxed. As soon as you clench your muscles, it will probably stall. If a machine stalls when you need it to be fucking you the most then what is the point.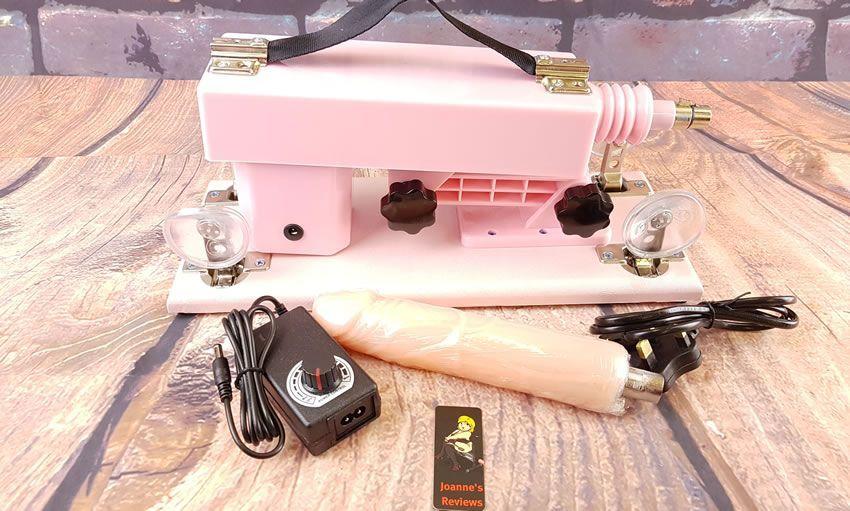 The performance of the S1 is simply lacking in several respects
I have been objective in this review, but there are so many negatives with this machine and so very few positives. You would definitely be much better opting for either the Yubo F1 Premium or the Willy Wanka. While they are both more expensive, but you do get what you pay for. Both of those machines are capable of giving you one hell of a hard rodgering and not leaving you wishing you had saved your money.
The S1 Cheap Sex machine from @buysexmachines definitely lives up to its name and that isn't a compliment.
Click to Tweet
Key Features
Key features:
Certainly cheap
Attachments need a thorough cleaning and a condom used with them
Upto 450 strokes a minute
Very low torque
Small and light
Suction cup legs to hold it on a smooth surface
No vac-u-lock adaptor means that you are stuck with the toys supplied
Final Thoughts
I would recommend saving your money and buying a much more sensible fucking machine if you want something that is easy to use and has good performance.
If you do opt to buy one of these out of curiosity, then please make sure that you clean the attachments thoroughly before every use and use a condom with them.
This is the sort of machine I would imagine fitting in with the stock in a novelty shop on Blackpool Pleasure Beach next to the solid plastic vibrators.
Think of it this way, this is like buying a dolls house in poundstretcher for £10 and then comparing it to a £60 one from Toy'r'us. Yes, they're both dolls houses but which one is going to last longer and give the most enjoyment. You really do get what you pay for when it comes to good fucking machines.
While other fucking machines do look expensive, that is entirely due to their machining, technology and performance. I'm afraid this isn't a machine that I would be happy to recommend, but sexmachines.co.uk have a vast range of machines to choose from and some of them are my all time favourites so shop smart.
I was sent this machine by sexmachines.co.uk I would like to thank them for giving me the opportunity to review it for them as it reaffirms my belief that you get what you pay for.
Joanne's rating
Where Can I Get One From?
Check out the range of amazing fucking machines over at sexmachines.co.uk.
Sexmachines.co.uk have an amazing selection of fucking and sex machines for sale together with a huge range of attachments, with a fast and discreet service.
If you want to buy one of these machines then you can get a S1 Cheap Sex Machine for just £48, or grab the bundle with extra attachments and the extended thrust rod in the S1 Cheap Sex Machine Bundle for just £55.
Check them out and don't forget to tell them that Joanne says "Hi".
Disclosure
This review does not contain affiliate links, for more information about affiliate links check out my disclosure page.