This dildo was sent to me directly from Blush in the USA, but it is obtainable from one of my favourite UK retailers, Latex, Leather & Lace along with a fantastic line up of some of the best Blush toys available.
My love affair with blush started when I was sent the Blush Novelties Real Nude Sumo Violet 9.5 Inch Realistic Silicone Dildo followed by the P5 Butt Plug and then the D3 dildo. I was quite simply "cock struck", these toys were perfect in every way, and I immediately knew that Blush Novelties is a force to be reckoned with. They produce works of art that are so much fun to shove into your waiting orifices.
Product Packaging
First impressions do count, and when you lay eyes upon the packaging of the D-Thang, you know you are in for a treat.
The box is bright and colourful with a plethora of information about the dildo on the reverse.
The front of the box has a transparent window allowing you to be able to see the dildos nestled within. I love this style of packaging as you can see what you are getting proportionally wise.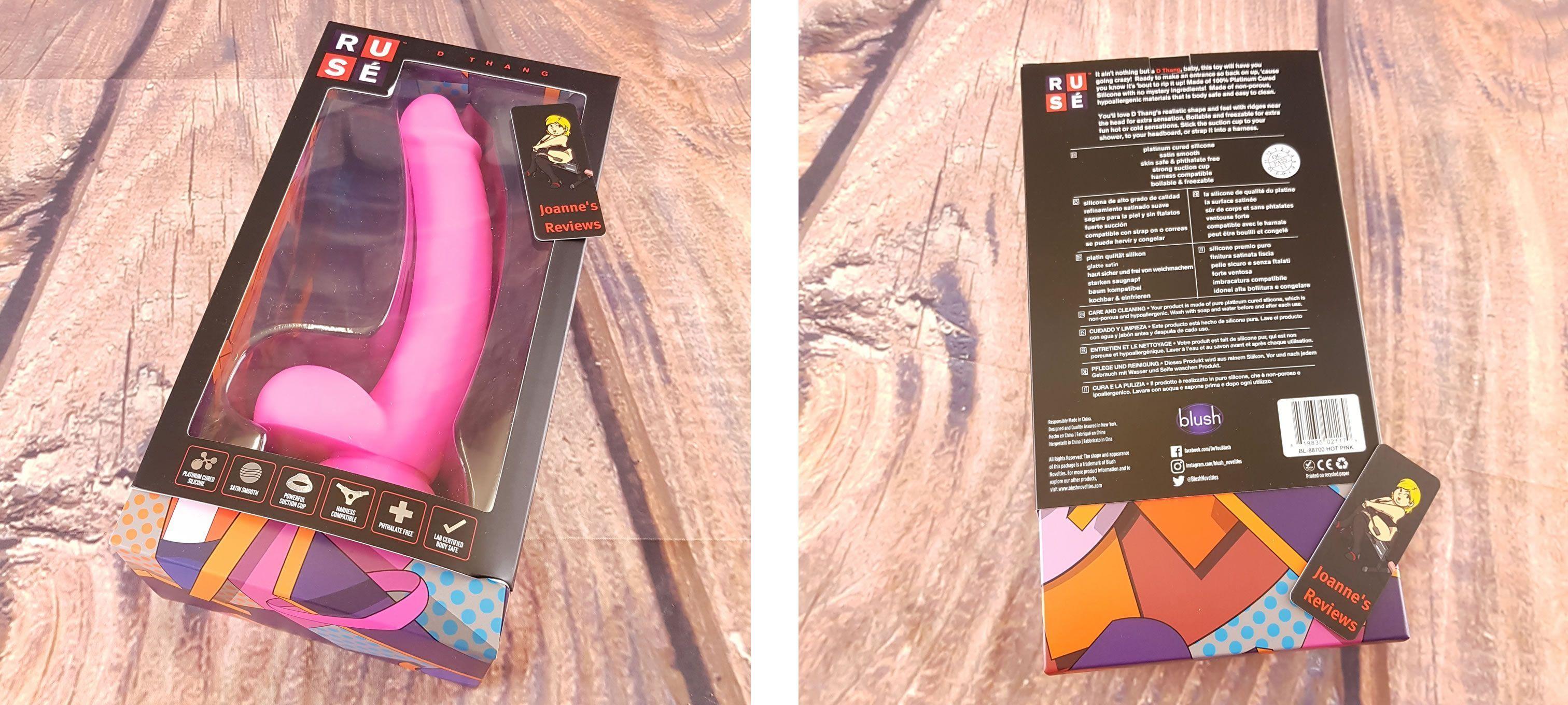 I love the product packaging of the D-Thang, it is great to be able to see the D-Thang inside its packaging
I hate closed boxes with a picture on the front, especially for insertable sex toys. Being able to see a sex toy inside its box allows you to make an educated assessment of its size and girth so you can avoid problems in sizing.
Design & Materials
The D-Thang is made out of my favourite sex toy material, body-safe silicone. Why is that my favourite? Well, it is non-porous which means that harmful bacteria can't live in the material itself. It is also latex and phthalate free, these two chemicals are definitely not good for your vag (or anus for that matter).
It is modest in size and so suitable for anyone not too experienced with dildo fun. It measures in at 7.75"/19.7cm in length (of which 6"/15cm in insertable), and it has a diameter of 1.25"/3.2cm. I have the Hot Pink version of this dildo but it is also available in Purple.

The Ruse D-Thang Dildo looks amazing and the suction cup is very strong
The blend of silicone is lovely, it has a nice amount of squish when you squeeze it while still being rigid enough to hold the dildo at a decent angle when held horizontally by the base.
The D-Thang is very flexible, and this makes it easy to align and hold in use. You can even fold it in half!
Talking of the base, just below the nicely rounded testicles on the D-Thang you will find a very strong suction cup base. This is a cracking suction cup, and on a smooth surface, it holds the dildo in place very strongly allowing you to really go to town and enjoy yourself with it secured this way.
A dildo with a great suction cup means that I can relax and enjoy myself in the shower which is where lots of people enjoy masturbating, especially in busy households.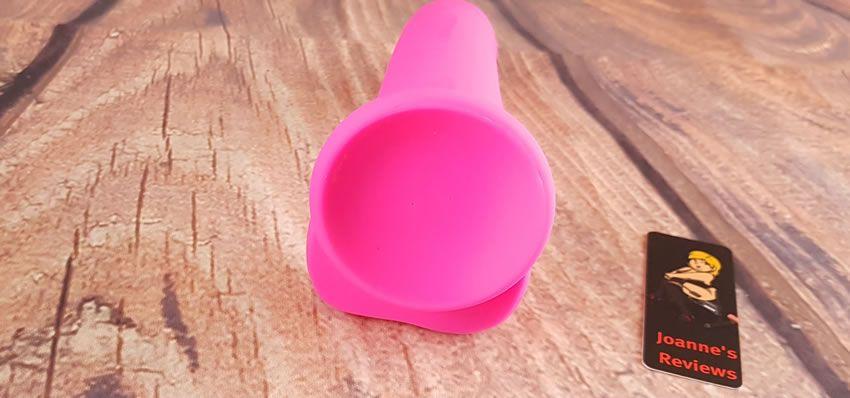 The Ruse D-Thang Dildo has a very strong suction cup which makes shower time so much fun
The design of the D-Thang is really rather lovely, it features a well-defined glans complete with a urethra. The coronal ridge is well defined, and this feels great as you thrust with this dildo. Its dimensions work really well, and the shape of the glans provides lots of stimulation when using the D-Thang.
The gently curved shaft ensures good g-spot pressure and both the top and underside have some delicious smooth ridges that add to the stimulation as it is thrust in and out. These ridges while small work wonders and provide superb stimulus as the dildo moves back and forth.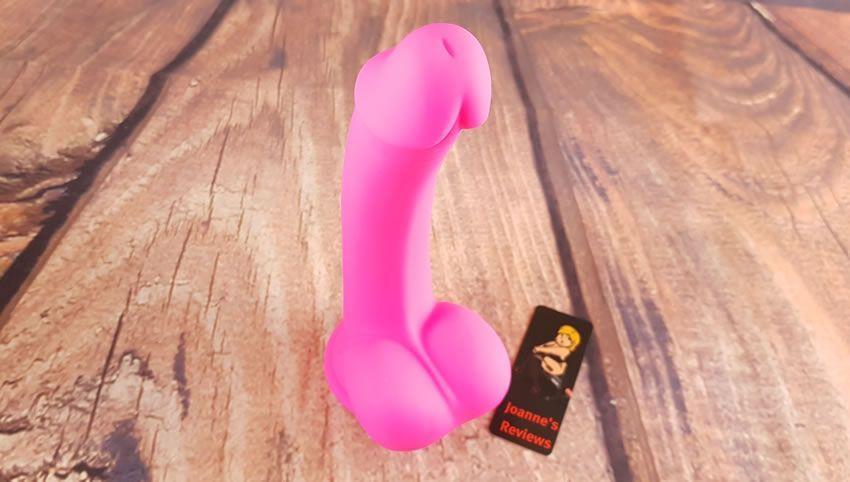 The Ruse D-Thang Dildo has a well defined glans that feels amazing
Performance
Thrusting is what this dildo is all about, and by thrusting, I am not talking a slow leisurely wank. When I use the D-Thang, I can almost hear a Jeremy Clarkson voice inside my head crying out for "more power".
The D-Thang is a dildo that feels better the faster it is thrust, and I love that. This isn't a dildo for long slow, gentle stroking, I like to fuck myself with it as fast as I can, and that feels divine.
The combination of the curved shaft and the ripples on it have me curling my toes, biting my lip and gasping as it causes fantastic orgasms to wash over me.

The gentle ridges on the shaft of the Ruse D-Thang Dildo provide lots of stumulation
With six insertable inches of silicone fun to enjoy you can really feel the balls slapping against you as you thrust and that is a sensation I really enjoy.
The D-Thang is strap-on harness compatible, and so it is excellent for pegging or for use on any orifice really.
It comes into its own when fitted to the thrust rod of a fucking machine though. The combination of high-speed thrusting and the balls slapping against me is something I relish.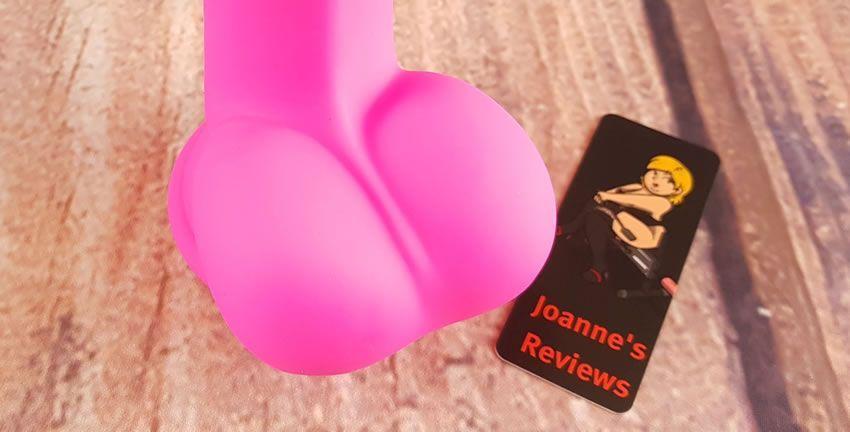 I love the feeling of the balls on the Ruse D-Thang dildo slapping against me as I thrust with it
Use a good quality water based lube such as Sliquid H2O or Secret Play Natural to ensure it glides and slides where it matters.
A good lube is especially important if you are using the D-Thang on a fucking machine for some high-speed fun and games. I absolutely love using it this way.
It was almost designed to be the perfect fucking machine attachment. The combination of the balls, extra ridges and the well-defined glans means you get lots of stimulation as it thrusts in and out of you.
The silicone blend is quite draggy which even with some good lube on it means you get extra stimulation and it feels incredible. Blush, you may have designed the perfect fucking machine attachment with the D-Thang.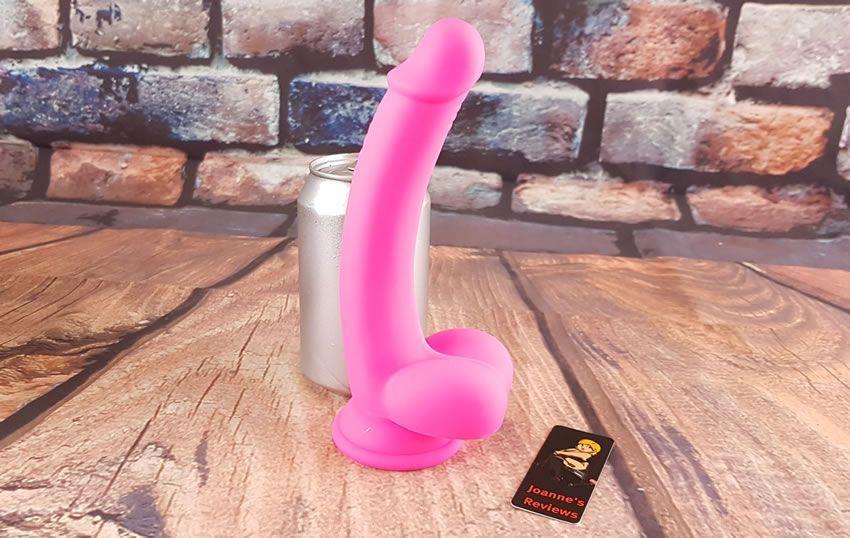 The Ruse D-Thang dildo is a modestly proportioned dildo that is lots of fun to use
While I enjoy fast thrusting with this dildo, it also feels delightful when slowly moved back and forth. The glans and ridges really do give some excellent stimulation as it moves inside you.
The Ruse D-Thang silicone dildo from @BlushNovelties is perfect for slow or fast thrusting and is available from @LatexLeather.
Click to Tweet
Key Features
Key features:
100% body safe silicone
Great for g-spot and prostate play
Strong suction cup base
'O' ring strap-on harness compatible
Final Thoughts
Once again Blush has come up with a cracking dildo that is so much fun to use. Its modest size and textures belie a dildo designed to please, and please it does.
The suction cup is strong and gives you lots of play possibilities, and the blend of silicone used is fantastic, being slightly draggy, and this adds to the sensations that it delivers.
I love using it by hand and thrusting with it very quickly. Put it onto a fucking machine though, and it will blow you away. The feeling of the balls slapping against me feels divine.
If you are looking for a dildo that is comfortable to use while delivering lots of fantastic sensations, then the D-Thang should definitely be on your shopping list.
I was sent the Ruse D-Thang 6 Inch Realistic Silicone Dildo by Blush Novelties and I would like to thank them for giving me the opportunity to review it for them.
Joanne's rating
Where Can I Get One From?
Grab one of these fantastic silicone dildos for the amazingly low prices of only £32.99 from Latex, Leather & Lace. That is a superb price for a dildo of this quality and specifications.
Check them out and don't forget to tell them that Joanne says "Hi".
Disclosure
Disclaimer - I was sent the Ruse D-Thang 6 Inch Realistic Silicone Dildo with Balls to review free of charge and this has in no way affected the outcome of this review. This post contains affiliate links and if you purchase something when you follow one of these links I may receive a small commission at no cost to you. For more information check out my disclosure page.