I love the play on words, most people are aware of the Fifty Shades Of Grey book series by E.L.James, this flogger is part of a range of products inspired by, but hotter than those depicted in the books. This range includes a blindfold, gag, restraints, a crop and paddle as well as floggers.


The Fifty Times Hotter Marble Handle Flogger is a thing of beauty
Before getting into the meat of this review, let me tell you about Rouge Garments.
About Rouge Garments
Rouge Garments are a luxury bondage equipment manufacturer based in Welwyn Garden City in the UK.
They have a range of over 140 product lines, and all are fantastic quality. Made from the most beautiful Leather, Suede, Marble and Faux Leather, their array of floggers is fantastic, as is the rest of their BDSM range.
At ETO I was lucky enough to have been shown around their collection of products, and I was blown away by not only the range of items offered but their quality. It was at ETO that I was introduced to the flogger in this review, the Fifty Times Hotter Marble Handle Flogger.
Recently they have also ventured into the Stainless Steel BDSM product market place with some fantastic new products. I look forward to following them as they grow.
Materials And Construction
As its name suggests, this is a flogger with a marble handle. I love it, the handle is just so smooth and cool to hold, it is really unusual. I have plenty of wood, leather and even a metal handled floggers but to have one made of stone is fantastic.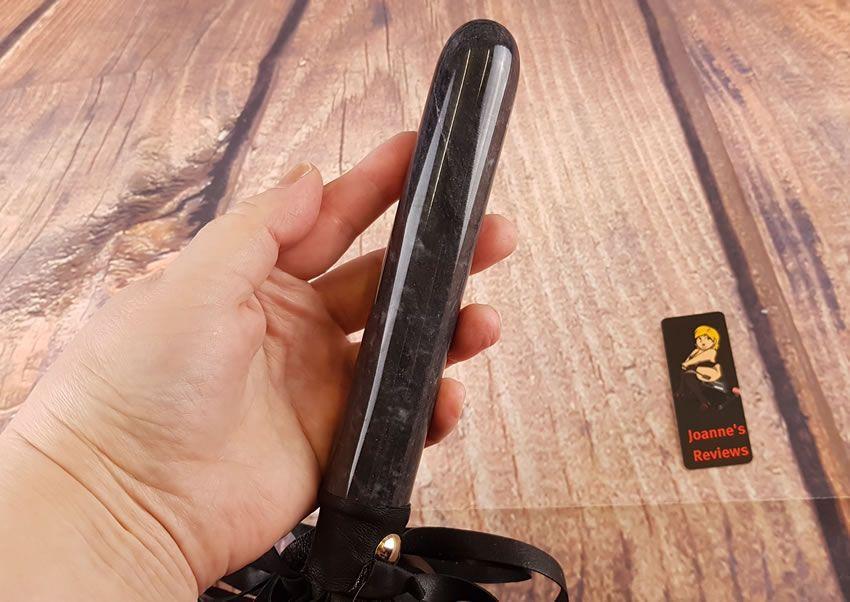 The handle is highly polished marble and it looks amazing
The marble is just so beautiful to behold, and as you rotate it in your hand, the different patterns on it just look amazing. The marble handle is smooth and heavy in the hand, and it has a nicely rounded tip.
This flogger is available in Black, Brown, Purple, Blue and Red, I have the black one, and it looks delicious.
The soft leather fronds are 15"/38cm long, and they are attached to the handle with glue and a rivet. The level of finish is excellent, with a final strip of leather wrapped around where the fronds meet the handle to ensure a tidy finish. The shiny rivet finishes the look off nicely. There is a nice sewn label attached that says "Fifty Time Hotter".


The leather fronds are soft and feel really nice
The marble handle has been turned and polished to a very high shine, and this highlights the grain within the marble. Each flogger will be different because of the use of this natural material, and that is fantastic. Your flogger will be unlike any other, it will be unique.
The leather used on the fronds is soft but with edges that give a nice sting when they land as you swing it. I like to wrap the fronds around the handle to protect it in my play bag as marble is a relatively soft stone and so prone to scratching if it bangs against anything hard.
Performance
The first time this flogger was used was in a club with sub'r' fastened securely to a cross with her bare back and buttocks exposed for a light flogging.
This flogger only weighs 336g, and as such, it is a light flogger, ideal for warming up a submissive before moving on to heavier and harsher floggers or paddles.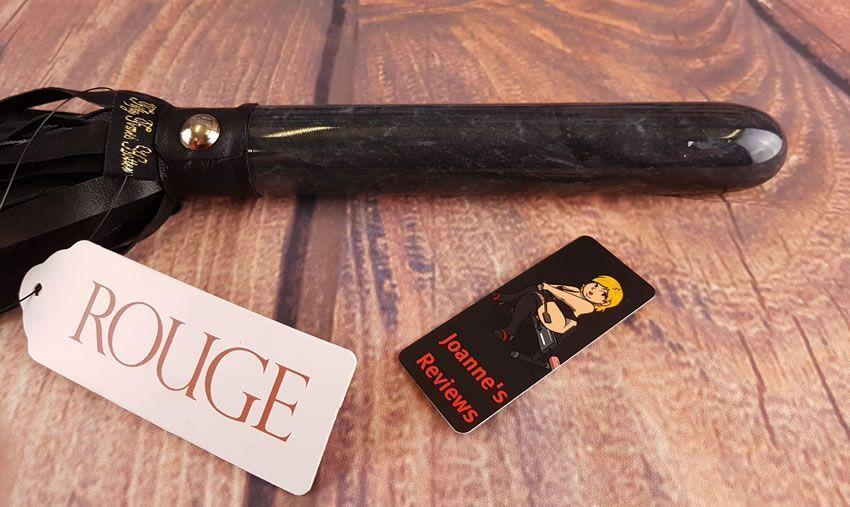 The handle looks amazing and is cool to the touch
Playing with it in my hands and swinging it to get a handle on its balance I was delighted with what I found. It is easy to swing and as the fronds spread out the impact is spread over a wide area cushioning the blow. Even if you swing it really hard, you are not going to damage your sub. On the contrary, you will probably make her go weak at the knees.
This flogger delivers light and highly sensual blows. The soft leather can sting if swung hard, but as these sensations are spread out, they feel really nice.
It didn't take sub'r' to get very aroused. I can always tell when that happens as she actively sticks her bum out almost looking for the flogger and her breathing becomes shallow and rapid.

The handle has a nicely rounded tip for easy insertion
It was when I had her very aroused that I took advantage of another great feature of this flogger, you can use the handle as a dildo. As it is so smooth little or no extra lube is required.
As sub'r' stuck her bum out with her legs wide apart I slid the handle into her in one quick stroke, and her legs almost gave way. She loved the cold feel of the marble inside her sex, and it took only a few thrusts to have an orgasm ripping through her. It was so intense her legs did give way, and I had to support her.
This marble handled flogger does feel fantastic, and it is an ideal warm-up flogger, I have also enjoyed having it used on my breasts/nipples and even on my vulva where the soft fronds felt exquisite.
The only thing you need to watch is that you make sure your hands are dry when swinging it as it has no safety loop and the marble is very slippery if you hold it with lubed up fingers or a sweaty hand.

The handle has a nicely rounded tip for easy insertion
You can roll the handle across bare skin to deliver some delightfully chilly sensations, and if you soak the handle in a bowl of warm water, you can enjoy some temperature play with it.
All in all, this is a fantastic flogger and a good insight into the quality and design of Rouge Garment BDSM equipment. It is nice to see a UK company manufacturing such nice equipment.
The Fifty Times Hotter Marble Handle Flogger from @Rouge2Noir is a thing of beauty, and it has the performance to match its beautiful looks.
Click to Tweet
Key Features
Key features:
Marble handle means ever one will be unique
Soft leather fronds deliver crisp but light sensations
Ideal warm up flogger
Nicely rounded tip on the handle lends itself to insertion play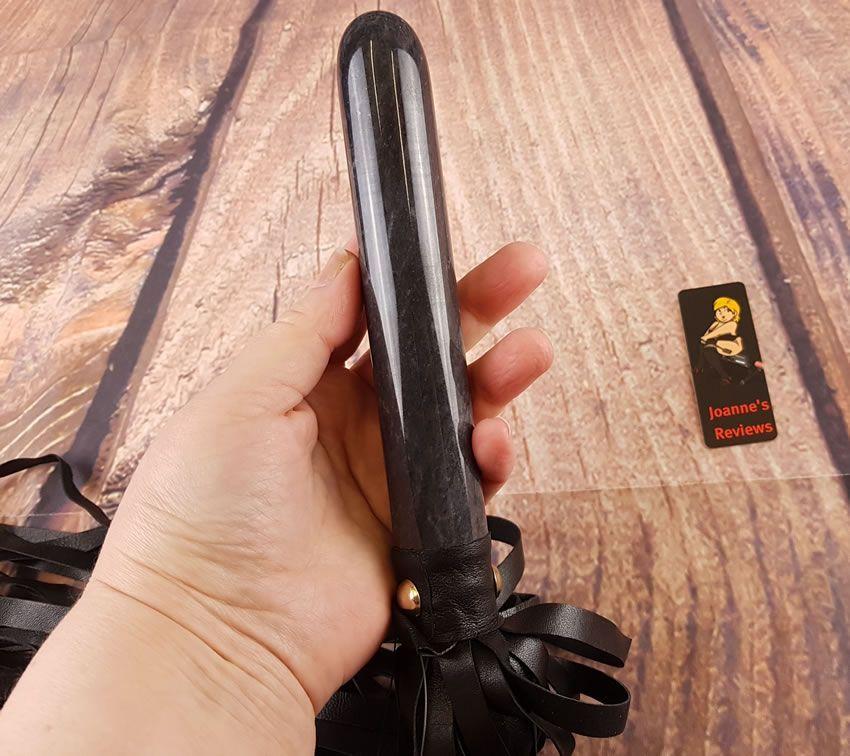 The Marble Handle Flogger from Rouge Garments is as much fun as it looks
Final Thoughts
The Fifty Times Hotter Marble Handle Flogger is a great impact play toy, offering light and gentle sensations that can get quite intense if swung hard.
The stunning handle is the main feature, and it is beautiful. The nicely rounded tip gives you other play options where you can take advantage of this cold hard material. The marble is fantastic, and it is nice to see an unusual flogger like this one.
I would recommend it to beginners or anyone looking for a stunning warm-up flogger that will be admired by anyone laying their eyes upon it.
If you like this then definitely check out the Rouge Garments website to see their other beautiful creations.
I was given this flogger by Rouge Garment and I would like to thank them for giving me the opportunity to review it for them.
Joanne's rating
Where Can I Get One From?
Grab one of these stunning Marble Handle Floggers from Rouge Garments for £65.00, each one is unique and a real conversation starter that is fun to look at but much more fun to use on an upturned buttock or two.
Check them out and don't forget to tell them that Joanne says "Hi".
Disclosure
This review does not contain affiliate links, for more information about affiliate links check out my disclosure page.