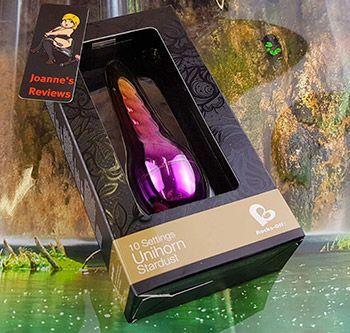 The Unihorn is sold in very attractive packaging. The dark packaging with its beautiful acccents carries clean lines and product information on the rear.
I love the way that all of the Rocks Off packaging has clear plastic front covers so you can actually see the toy inside. I love browsing sex toys in a brick and mortar store, check out Latex Leather & Lace for an amazing one and they actually have this vibe on the shelf.
It's so refreshing to actually be able to see the sex toy within its packaging, so well done Rocks Off for a logical and good looking packaging design.
The Unihorn is a bullet vibe powered by a single AAA 1.5V battery and it's amazing how they can squeeze so much fun out of a single battery. Rocks Off have a lot of experience in single battery vibes and they have honed their products to be market leaders.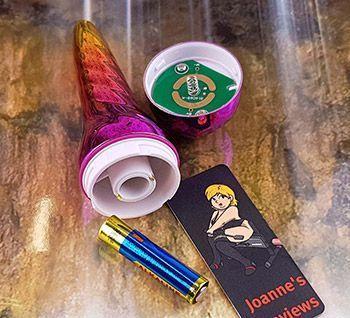 The vibrator features a gently twisted shaft resembling a unicorn's horn. The tip is nicely rounded and the base widens giving you a good handhold whilst using it.
You unscrew the base of the vibe to gain access to the battery compartment. A battery is included and already fitted but you will need to remove the plastic disk from the top of the battery. This disk is used so that the toy can't operate whilst in transit.
The Unihorn is completely waterproof, the body of it has a pink 'o' ring seal that works to prevent water ingress. This means that this is an ideal vibe for some "me time" in the bath or shower and this is a lot of fun.
There is a small button on the base of the vibe that carries the Rocks Off logo and this is used to switch it on and off. It's also used to cycle through the 10 power and pattern settings and doing this is a simple process when using the vibe.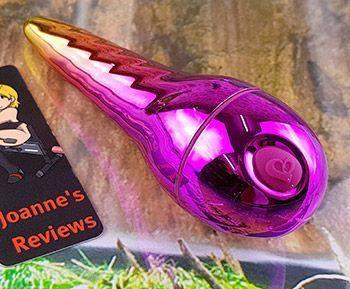 This is a nicely sized vibrator, it's compact and ideal for carriage on holiday or even in your handbag.
It measures in at just 4.5"/11.4cm of which you can insert 3.5"/8.9cm, the base has a circumference of 4.5"/11.4cm and this wide base tapers to its curved tip. It's made out of hard ABS plastic and that is great as it is non-porous and body safe.
The most fetching thing about this vibrator is its amazing metallic colour scheme. The base has a beautiful purple hue to it and this fades through red and orange to a golden colour at its tip.
It really is one of the nicest looking sex toys that I own and it conjures up images of brightly coloured unicorn cavorting through cotton candy fields. It's a must-have for any Unicorn fan out there.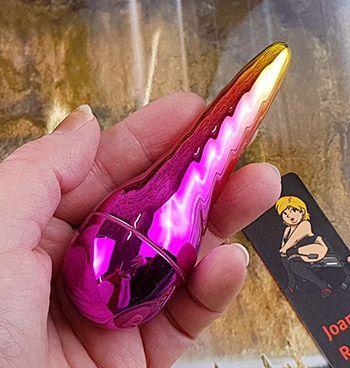 There is something about Unicorns that I really like and so this colourful vibe from Rocks Off really caught my eye. Apparently, a Unicorn will only come to a maiden of a pure heart. So owning a Unihorn vibrator is the closest I will ever get to a Unicorn I guess.
Now enough about how amazing this vibe looks, you are probably more interested in just how it performs so let me tell you why this is a must-have vibe in your sex toy collection.
I don't know how Rocks Off manage to squeeze so much power from a single battery but they have done it yet again. The control allows you to cycle through the ten speeds and the top three are WOW. The shape of the Unihorn allows pinpoint stimulation whilst the wide base makes it easy to hold and use.
The vibrations are very powerful and give good deep sensations in use. I found that direct clitoral stimulation was too much for me in the higher settings and so I prefer to circle my clit with it and that delivers good quick orgasms for me.
As this is an ABS vibrator it's really easy to clean after use. Simply wash in warm sopay water and then clean with an anti-bacterial sex toy cleaner. Pay particular attention to the recessed power button as this area can be a vag-goo and lube magnet when in use.
If you prefer direct clitoral stimulation then you will love this vibe as it is really easy to use just the tip to control exactly where you want the vibrations to go.
I enjoyed the powerful vibrations, now this isn't a Doxy or Hitachi Magic Wand but for a single battery powered vibe its a cracker. I love the way that I can control where the vibrations are delivered and you can even fuck yourself with it too. The vibrations are great and I have no problem reaching some very satisfying orgasms with it.
There is just something so naughty about using a Unicorns horn for a bit of kinky fun though and that adds a fun dimension to playing with it. Rocks Off have come up with a fun concept coupled with a very capable motor to give anyone a fun time. Let your orgasms glide over a rainbow of Unicorn kink.
This vibe not only looks good but it delivers some great playtime adventures. Whilst this is a powerful little bullet vibe it isn't too noisy. On the higher levels, you can't hear it in the next room if you are using it under a duvet. It's small size and light weight makes it a great travelling companion but as it doesn't have a travel lock feature make sure that you remove the battery before departing with it.
Everyone needs a bit of Unicorn love in their life. Check out the Unihorn Stardust vibe from Rocks Off.
Click to Tweet
Key Features
Key features:
10 Speeds
Stunning colour scheme
Single AAA battery - supplied
Waterproof
Final Thoughts
I really like the Unihorn Stardust Vibrator from Rocks Off. Not only does it look amazing it performs just as well. An amazing amount of power is squeezed from a single battery and its design means that you can direct it for pinpoint stimulation. It's size makes it ideal for bathtime fun or for something to pack to take on holiday. I can't find any downsides to it at all. It's a winner in my books and I am happy to recommend it to anyone. It's just so pretty.
I was sent the Unihorn Stardust vibe by Rocks Off and I would like to thank them for giving me the opportunity to review it for them.
Joanne's rating
Where Can I Get One From?
Grab one of these great Unihorn Stardust Vibrators from Bondara, one of my favourite sex toys retailers in the UK. This vibe would make an idela Christmas or kinky Birthday present. Get one for just £16.99 (which is a saving of £3 on the usual price).
Check them out and don't forget to tell them that Joanne says "Hi".
Disclaimer - I was sent the Rocks Off Unihorn Stardust Vibrator to review free of charge and this has in no way affected the outcome of this review. This post contains affiliate links and if you purchase something when you follow one of these links I may receive a small commission at no cost to you. For more information check out my disclosure page.