First though, I want to give you a little background information about the Rocks Off Ruby Glow, it was designed in a collaboration between Rocks Off and the amazing Tabitha Rayne, who wanted to develop something that she could enjoy while writing or reading erotic stories.
The beauty of this designs lays in its non-penetrative design, it isn't just suitable for a writer or anyone wanting to read erotica with their hands-free though. She had created something unique that could provide relief and be of great benefit to people of limited mobility or with disabilities as well as people who just enjoy the non-penetrative fun.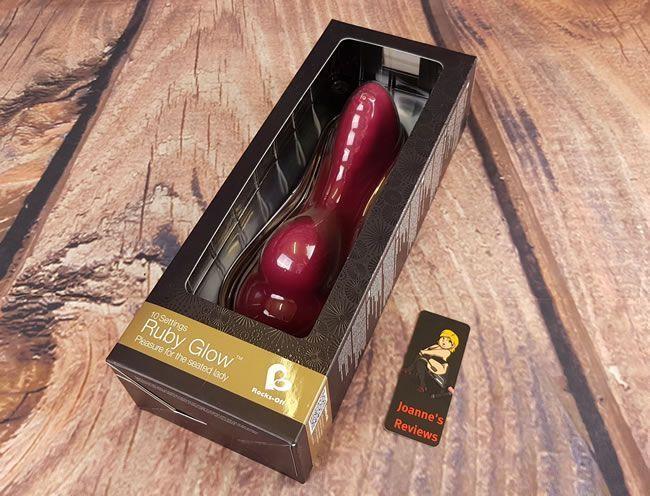 I love the packaging used by Rocks Off, it is nice to see the sex toy inside
Her design has won numerous awards and quite rightly so, it is still one of the few designs of sit on vibrator designed for covert use as well as for overt, in your face, I am sitting on a vibrator "wooohooo" use.
The Ruby Glow is still winning awards two years after its creation and its nomination for Most Innovative Product of 2016 at the ETO show. In a nutshell, it's a sit on saddle vibrator designed for external use, you can even use it through your clothing, and it's like nothing I have ever reviewed before.
I am no stranger to ride on vibrators, but the Sybian and Motorbunny style of Mega Vibrator are neither discreet or easy to move around, and this is where the Ruby Glow excels again. It is indeed very small, light and portable and you don't need to wear ear defenders as you do with the previously mentioned ride on vibes.
Ok, that is the background information out of the way, another good thing about this vibe is that you can sit on it as I am doing right now while sitting at your computer to brighten up your work. I don't need much of an excuse to reach for a vibe, but it is nice to be able to use one and still have both hands free for typing.
10 Levels of vibrating fun
The Ruby Glow comes in very nice retail display packaging with the usual Rocks Off branding, and you get batteries included (2 x AAA) and an instruction manual. It is splash proof but not waterproof so be careful when cleaning it. The side of this box carries a QR code and you can use that you get five free erotic stories to enjoy while riding the Ruby Glow.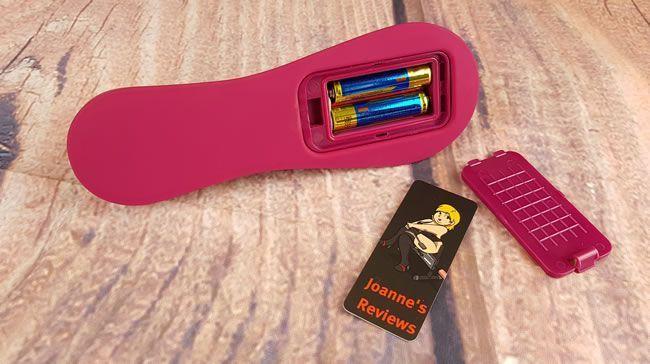 The Rocks Off Ruby Glow arrives with two AAA batteries already fitted
While the Rocks Off Ruby Glow is a pretty unique take on the vibrator, it is one that is thankfully pretty straightforward to describe. It's a silicone coated sex toy, and this makes it body-safe, phthalate and latex free, and it also means that the surface is non-porous which makes it very easy to clean.
It is a solid feeling sex toy, and so I presume the inner workings are ABS plastic with a coating of silicone on the outside and that is fine as ABS is also body-safe.
The blend of silicone is very nice, it has minimal drag which is ideal as you will be grinding yourself against it but it is a bit of a lint and dust magnet but no more than most silicone sex toys. It is the sort of silicone that makes you just want to run your fingers down it enjoying the soft texture and I love the blend used.
It features a wide flat bottom, that you place on a chair, seat, bench or even the floor so that you can sit on it. The upper face features a round domed section and a raised ramp that has several steps that you can grind yourself against.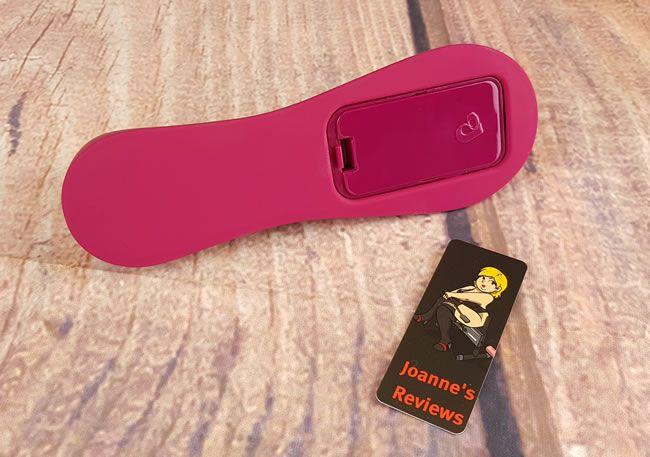 The Rocks Off Ruby Glow has a wide flat base
Tabitha describes it as 'saddle-like', and it is very comfortable to use. It is raised at both ends and dips in the middle like a saddle, making it rest against the vulva in use, with the narrower ridged section nestling between your labia against your clitoris.
This is a sex toy that doesn't penetrate, and as such, you can use it even while fully clothed and its non-penetrative design makes it ideal for anyone who doesn't enjoy penetration or thrusting when they masturbate preferring to grind and directly stimulate the clitoris.
It is designed for general use while clothed but as it is coated in body-safe materials you can, of course, enjoy it in the buff and this is where it is even more fun as with a bit of lube or once your own body fluids take over it is so much fun to slide around and grind on.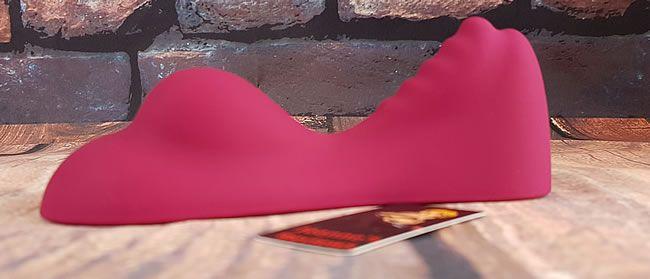 The Rocks Off Ruby Glow is shaped like a saddle with two raised areas for stimulation
I will admit that the first time I used it I found that it took me a while to find the spot that works best for me, but when I did, I very quickly grew to appreciate this novel design and how well it works.
As all bodies are different shapes, its one size fits all may be a problem for some vulva owners, but because you can move around on it, you can have lots of fun experimenting with it in different places. The two vibrating motors are excellent, and in tandem they are amazing.
The controls on the front are pretty easy to use but a little confusing at first, it has two buttons, and each controls one of the vibrators.
I was expecting the upper one to operate the clitoral stimulator as it is closest to it and the bottom one to be used for the vaginal one, but they are the other way round.
You can only cycle through each of the ten vibration settings in sequence which unfortunately means that if you miss the one that you want then you have to go through all the rest to get back to it. I would have preferred an up and down button for each motor, but I guess it is what it is.
The motors are the very mid-strength, slightly buzzy variety, but the way that they can complement each other sending vibrations between the two is fabulous.
The clitoral one is the stronger of the two, and by altering the setting of each, you can create some fantastic combinations that feel great as you grind yourself atop it. As each motor can be operated independently, you can really mix things up a bit.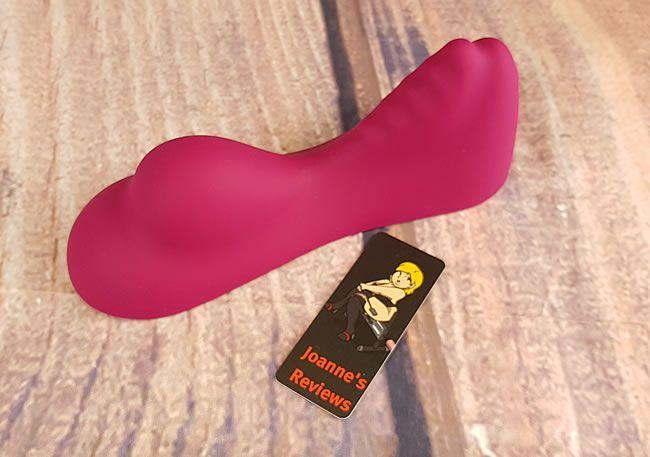 The Rocks Off Ruby Glow has a clitoral ramp that feels great when grinding against it
The motors do create quite a bit of noise though, and this isn't a discreet vibe, on the middle power bands you can hear it through a closed door so it wouldn't suit anyone in a busy household or in a university dorm room.
Performance
I really enjoy using the Ruby Glow, either against my skin or through my clothes. It does fit my anatomy well, but as it measures in at 2.4"/6cm by 6.7"/17cm, it may not suit all body shapes. The beauty of it though is that as it is good to move around on it and grind into it even if it isn't a perfect fit, it will still be enjoyable.
With some lube grinding against it feels amazing and I love the textured ramp against my clitoris especially once I have found my ideal vibration pattern.
I can orgasm using it but prefer to use it to keep me simmering, just under the boiling point before I use my fingers or a strong clitoral vibe to bring myself off when ready. That is just how I prefer to play, and I have used it to completion while getting to know it so it is capable of sending me over the edge.
It makes reading erotica, watching porn or generally working while sat down much more enjoyable (she types while smiling and grinding into her Ruby Glow). I love the way that I can get some lovely stimulation while working with both of my hands-free. I can see me using it a lot while writing reviews as I do like to enjoy myself.
Check out the @Rocksoffltd Ruby Glow designed by @TabithaErotica and available from @Bondara. Joanne loves riding it while writing her reviews.
Click to Tweet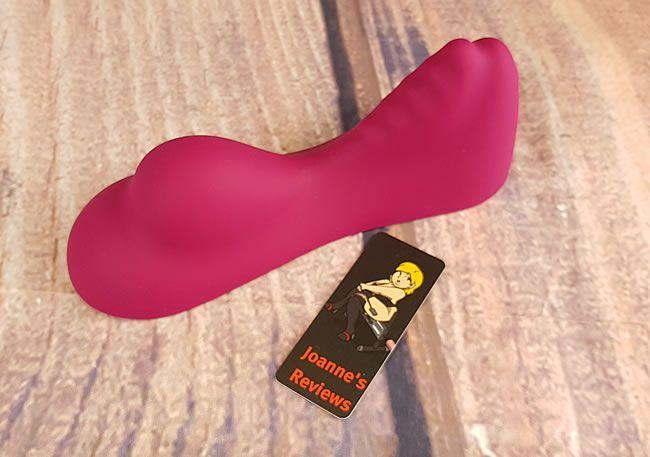 The Rocks Off Ruby Glow has a one size fits all approach which worked for me but may not work for eveyone
Key Features
Key features:
Silicone coated vibrator
Two independant motors
10 Vibration patterns
Splashspoof
Battery powered 2xAAA (supplied)
Final Thoughts
I think that the Ruby Glow is a fantastic vibrator and one, unlike anything I have tried before. I would have prefered to see it fully waterproof and maybe even USB rechargeable, but it is still a little cracker.
I enjoy using it and let's face it that is the key telling point, does it get me off, yes, but I prefer to use it to edge myself (just my preference). I think it is so lovely that a writer in the adult industry has managed to realise her dream of producing a sex toy with the help of Rocks Off so well done to both of them.
I can't sing the praises on Rocks Off enough, their sex toys are fantastic and receiving a new one to review always brings a huge smile to my face as I know that they produce quality sex toys.
I love the fact that you use this while sitting and it a great vibrator for anyone who has mobility issues and that makes it a very special vibrator in my eyes. It's also perfect for anyone who works from home who wants to spice things up a bit.
I am happy to give this unique vibrator a strong recommendation and only wish that I had bought myself one years ago now. Now, if you'll excuse me, I am really going to have to go and finish myself off.
Joanne's rating
Where Can I Get One From?

Grab one of these fantastic ride on vibrators from Bondara for just £37.99 to see why I like it so much. Bondara are an excellent UK based retailer that ships worldwide and products from them always arrive quickly and discreetly too.
Check them out and don't forget to tell them that Joanne says "Hi".
>
Disclaimer - I bought this Rocks Off Ruby Glow to review and this has in no way affected the outcome of this review. This post contains affiliate links and if you purchase something when you follow one of these links I may receive a small commission at no cost to you. For more information check out my disclosure page.