Like everything that I have ever received from Meo.de I was delighted with the packaging regarding discretion and also the speed of delivery. It always amazes me just how quickly that they can get things to me from Germany.
This sex toy arrived well packaged, and I do like the presentation of Rocks Off toys. The dark packaging with the transparent window showing you exactly what is inside is fantastic and must look great on the shelves in a physical sex toy shop.

I love the Rocks Off retail packaging and like that you can actually see the toy inside the box
This vaginal vibe looks stunning, and it does look like a ball and chain, the sort of thing you would see around someone's ankle in a Christmas Carol or a medieval dungeon. This immediately got me wet as I love anything BDSM related. This is a design that I love, and I couldn't wait to get my hands on it. It just looks so kinky, and the fact that you retrieve it with a chain is a nice touch.
Inside the packaging you get the ball and chain together with a remote control unit, a USB charging cable and a set of instructions on the back of the carrier. It is quite easy to miss the instructions if you are not looking for them but they are there.

It's easy to miss the instructions that are on the back of the carrier in the box
The first thing that you should do with this as with any rechargeable sex toy is to give it a full charge. Don't be tempted just to use it when it arrives or as it charges as this can affect the battery performance in the future.
The included USB charging cables plug is inserted into a small hole that is tricky to locate but, it is under the raised lightening logo. Inserting it can be a little tricky as mine didn't perfectly line up with the hole, so I ended up fishing around for it.

I found it tricky to find the hole initially
I didn't have the same problem when charging the remote unit though. Both are rechargeable, and that is great, some remote toys I have used have had the remote battery operated which leaves me thinking why have one rechargeable and not the other.
Once charged it was on with the review. You can tell when it has a full charge as the red light will flash continually. The ball is coated in a lovely soft blend of silicone, and the chain is also made out of silicone which helps to make it comfortable. It does also have ABS components but that material is also free of any nasty chemicals. That means that it is body-safe as well as being phthalate and latex free.


I didn't have a problem finding the socket on the controller
Silicone is my go to sex toy material, its non-porous skin and hydrophobic properties mean that bacteria can't grow and reproduce inside the material unlike with other materials like that used in jelly vibes.
Cleaning is easy just wash any vag-goo off with warm soapy water before using a good anti-bacterial sex toy cleaner. Ensure that it is thoroughly dry before storing away for next time. I suggest keeping the box to store it in as it doesn't come with a bag and it is a real dust and lint magnet.
I haven't kept my box due to space issues, and so I keep mine in a sealing sandwich bag which is perfect for keeping it clean.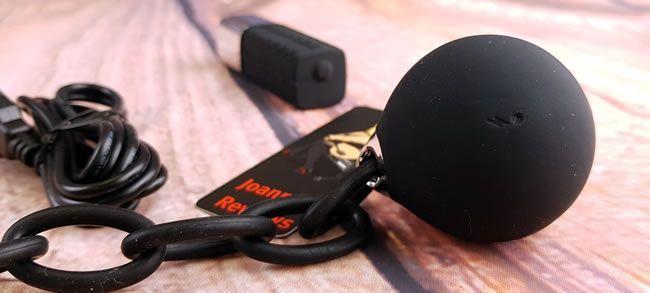 The ball is very smooth and here you can see the charging hole
The vibrating ball is very smooth, and the silicone is a little draggy so you will need some lube to help insert it. There is a small Rocks Off logo, and that is the power button, it can also be used to cycle through the three power and seven vibrating patterns.
Pressing the power button for three seconds switched it on and pressing it again for three seconds switched it off again. When activated you can use the the button on the vibe (impossible when it is inserted though) or the remote to cycle through its settings.
The remote unit looks like a tube of lipstick, and that makes it discreet, the button on the top is easy to use, and in use, I found it had a range of around eight to nine meters. The box states 10 meters, and if used externally that would be the case, but I guess my carbon fibre fanny interferes with the radio reception somewhat. I do like the little chain designs on the remote unit, they are a nice touch and aid grip when holding it.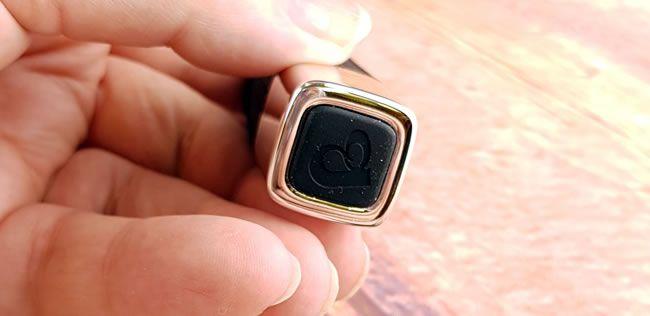 The button on the remote carries the Rocks Off logo and is easy to use
During operation you can press the button on the remote for three seconds to stop the vibration, placing the vibrating ball into a standby mode where it is ready for you to press the button again to continue the fun. This is a very handy feature.
Performance
This is where it gets interesting, but it is also where I come to the conclusion that this isn't a vibe for everyone. You see, inserting it can be quite a challenge due to its girth and also the fact that it's a sphere and therefore not very tapered.
It is one of those toys where you have to keep pushing and building up the pressure before it just sort of pops in, and that was a very pleasing sensation. The ball has a diameter of 1.5"/3.8cm so bear that in mind when you buy one. I like the feel of the chain as it hangs out of me.

This really is a stunning looking vibrator and I love the silicone chain
I was a little disappointed with the vibrations though, they are quite buzzy and tinny. My foof prefers rumbly vibrations, but I didn't let that stop me giving it a thorough review. It's quite quiet on the lower settings, but you can hear it on the higher levels even buried six inches inside my pussy.
I did orgasm using it, but it took longer than with a more powerful vibe. I found that moving it around inside me using my kegel muscles allowed me to get it just where I wanted it. Over my G-spot, the sensations were much stronger and enjoyable.
It is touted as a kegel trainer, and you can use it that way. The robust but comfortable construction allows you to clamp down on it and with some practice, you can move it up and down your vaginal canal with the vibrations providing some pleasant encouragement to your training regime.
This sex toy comes into its own when you hand the controls over to someone else though, and it's when playing with it this way that I got the most pleasure from it. There is something kinky about handing control to someone else and having no control over the sensations or when they are delivered.

The blend of silicone used is a bit of a dust and lint magnet
I do enjoy some clandestine outdoor fun and games, and Stunt Cock took great delight in teasing me rotten while out and about. It makes shopping or a trip to the post office much more fun.
Having someone else controlling the vibe really appeals to my sub-side and being pleasured in this way is one of my favourite types of play session, so naughty, so submissive and so much fun as well. I get a real thrill being pleasured and teased this way outdoors.
I found it enjoyable but it didn't really rock my world. I would have much prefered a stronger rumblier motor. That said though the thing that does make this vibe work is the fact that you can have so much fun out and about discreetly. Especially if you hand over the controls to someone else. It is definitely a fun vibe to add to any BDSM scene where you can control the sensations delivered to a submissive from afar.

The spherical nature of this vibe makes it fun to insert and the chain is used for retrieval
I tried using it on Stunt Cocks bits but the vibrations were too buzzy for him, and the shape of the vibe doesn't make it easy for penis play. So I would recommend it for vaginal play, but you would be better off with one of the fantastic Rocks Off bullet vibes if you fancy teasing a hard cock.
Check out the @Rocksoffltd Ball & Chain Remote Control Vibrator from @MEO_TEAM for some clandestine fun and games.
Click to Tweet
Key Features
Key features:
Body-safe silicone and ABS construction
3 Power levels and seven patterns of vibration
USB Rechargeable
Range of between 8m and 10m
Can be used as a kegel trainer
Silicone chain used for retrieval
Final Thoughts
I really like this Rocks Off Ball & Chain Vibrator, but I believe it could have been better. I would have prefered a more rumbly vibrator, but that is a personal preference if you like buzzy vibes then you will love it.
I really, really like handing the control over to someone else to be teased and pleasured. This sex toy really lends itself to BDSM scenes and is a lot of fun when used out and about.
Being USB rechargeable it means no more buying batteries, but you may have to hunt for the socket when you charge it as mine was slightly out of alignment with the hole in the silicone sleeve.
All in all, this is a capable egg vibrator with a twist, the silicone chain feels great and makes retrieval an easy task. If you are looking for a medium to large vibrating egg with a BDSM look and feel then definitely consider this one. I really enjoyed reviewing it for Meo.de.
I was sent this Lust Linx Ball & Chain Remote Control Vibrator by Meo.de and I would like to thank them for giving me the opportunity to review it for them.
Joanne's rating
Where Can I Get One From?

Grab one of these fun remote control vibrators while they are on sale from Meo.de for just 59,00 € (£52.76 at todays exchange rate). While you're there be sure to check out their other vibrators and dildo as they have a huge colelction that all look amazing.
Check them out and don't forget to tell them that Joanne says "Hi".
---
---
Disclaimer - I was sent the Rocks Off Linx Ball & Chain to review free of charge and this has in no way affected the outcome of this review. This post contains affiliate links and if you purchase something when you follow one of these links I may receive a small commission at no cost to you. For more information check out my disclosure page.