So how do they work? All kegel trainers are inserted into the vagina, and the app-controlled ones give you a work out to do. This type of kegel trainer works in conjunction with your own body and gravity to make you squeeze and exercise these muscles.
The Rocks Off Love In Chains Kegal Balls come in a beautiful retail box with a clear front so that you can see the balls inside. I love packaging like this as it allows you to look at what you are buying if you are in a physical store. The back of the box carries lots of useful product information.
The two balls themselves are made out of gleaming stainless steel that looks amazing, and there is also a stainless steel handle that makes retrieval a straightforward process. All three elements are links by a velvety silicone chain that does make this trainer stand out from the crowd.
Being Silicone and Stainless steel it is body safe, hypo-allergenic and phthalate and latex free all of which is excellent news indeed in a product that you will be sliding into your foof. The chain has quite a bit of flex and stretch to it making it easy to insert and giving it a comfortable feel while doing so. The beads are inserted into the vagina leaving the handle free and exposed. Use some water-based lube to aid the insertion process, and it will make them much more comfortable too.
When using them only you know that they are inside you, no-one else will know you have them in there. Remember to wear panties though if wearing them outside as dropping them inadvertently on the floor in a shopping aisle in ASDA would be embarrassing, to say the least. I was ordered to wear them out whilst doing the weekly shop and having no panties on seriously ramped up the fun. I was really worried about losing them, only to hear the clattering of the metal as it hit the floor. Needless to say I gave my kegel muscles a very good workout that day holding them in and it was a lot of fun.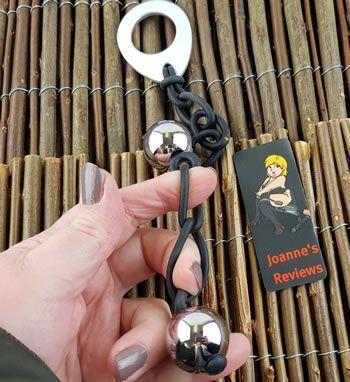 With them deep in your vagina, you will feel them move as you move around and the pressure that they cause is quite arousing. If you feel them slipping down, you can squeeze your muscles to hold them in place, and this is how you can use them to train your kegel muscles. Simplicity is the name of the game with this kegel trainer.
It is a lot of fun to have them inside you and also quite a turn on. I haven't reached orgasm wearing them, and I doubt if anyone would, but they are great for use before sex for some fun as they put you in the mood for a good session of hot sex.
Playing with them with a partner can be a lot of fun as the sight of them inside you and when you slowly pull them out will be enough to get any partner excited and wanting to be the one to put them back in again to repeat the process.
I actually tried leaving them in while having sex, and that felt amazing, the balls gave some added tightness and texture that my stunt cock really enjoyed, and it just felt so naughty and kinky to leave them in there.
Cleaning them after use is a bit tricky as you need to take care to flush the holes in the stainless steel balls through to get rid of any vagoo that has got in there. Wash them with warm and soapy water before using some antibacterial sex toy cleaner on them Make sure that they are completely dry before putting them away ready for next time.
Kegel trainers can make a difference, and through constant regular use you can tone up your pelvic floor muscles, and this will benefit your partner as well as yourself.
This set of balls has an insertable Length of 5.3"/13.5cm and a width of 1.1"/2.7cm making them a lot of fun to use.
Rocks Off make the simple Ball and Chain so much fun with their kinky kegel trainer.
Click to Tweet
Key Features
Key features:
Silicone and stainless steel
Two nicely sized balls for insertion
Body safe and hypoallergenic
Good handle to keep outside the body to aid retrieval
Final Thoughts
This set of kegel training balls are a lot of fun but you will have to use them often to see any real benefits. If you are serious about toning up your kegel muscles then look at an app controlled trainer that will give you a great workout. That said though, these are a lot of fun to use and an ideal toy for some kinky foreplay before the main event. I like them and the body safe materials used are just what I like to promote.
The only downside to them is that cleaning is a little tricky. However if you are looking for a basic set of kegel balls then I can highly recommend these over the boring run of the mill ones. These have a very kinky character and I love them and have had lots of fun with them.
I was sent the Love In Chains Kegal Balls by Rocks Off and I would like to thank them for giving me the opportunity to review it for them.
Joanne's rating
Where Can I Get One From?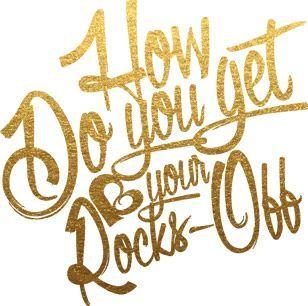 Grab one of these fun sets of kegel trainer balls from Rocks Off.
Check them out and don't forget to tell them that Joanne says "Hi".
Disclosure
This review does not contain affiliate links, for more information about affiliate links check out my disclosure page.