Delivery and packaging
Again this product arrived from Rocks Off in very discreet packaging, this is important as when you order off the internet you need to know that your order will come discreetly. Everything I have ever received from Rocks Off has been well packaged and very discreet.
The product packaging looks fantastic, the design is very nice indeed, and the rear and sides of the box carry a lot of product information.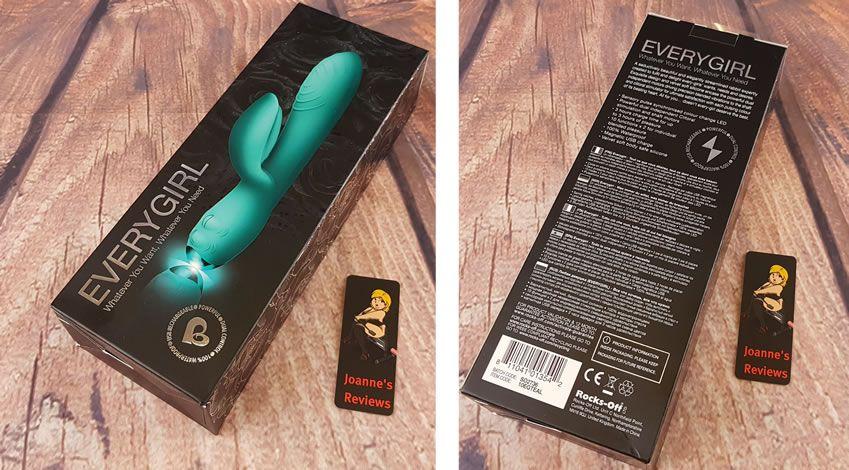 I love the design of the packaging of the EveryGirl vibe, it looks sumptuous and it carries lots of product information
Design and Materials
The EveryGirl Vibe is a classic rabbit style vibrator in form only. It has some fantastic features that I haven't seen on other rabbit vibes.
From the moment you remove it from its packaging together with its magnetic charging cable and instructions you know, it's going to be so much fun.
It is available in three colours, these being Black, Burgundy and Teal. As you can see from the pictures, I got sent the Teal model, and it looks amazing.
The EveryGirl vibe is coated in soft and supple silicone, and it also has ABS on it. Both of these materials are non-porous, hypoallergenic as well as being latex and phthalate free.
The blend of silicone is a little draggy when you pull your finger over the surface of the toy, and that is precisely how I like my silicone sex toys.
Use some good quality water-based lube such as Sliquid H2O or Secret Play Natural to really get the most of the EveryGirl vibrator when thrusting with it.
I love the shape of the head, as the curve of the dildo helps it to hit my g-spot as I use the toy. The textured ridges on it give me lots of extra stimulation if I thrust with it.

I like the ridges on both vibrating faces, they give lots of sensations when thrusting
The motor is powerful enough to walk the toy off the table, so make sure you switch it off before putting it down. The choice of ten vibration patterns does make it an excellent toy to play with.
I also love the shape of the clitoral stimulating arm. The centre section with the raised ridges is excellent for stimulating the whole of your clit while playing, and it is easy to push straight down on it for extra stimulation if required.
With the way the tip of the clitoral stimulating arm is shaped, you can flex it under your clit hood to get a much more direct intense stimulation to the clit if you wish.
The size and flexibility of the clitoral arm means that it should suit most body shapes. That is often a problem with other rabbit vibes as we are all built differently down there.
I can frankly say that this is a beautifully made silicone sex toy.
The whole look of this toy is fantastic, the base of the toy has what looks and feels like a small metal section. However when the toy is charging this lights up in red, giving the end of the toy a nice glow.

The flexible clitoral arm makes positioning it easy no matter you body shape
When just the toy is switched on it flashes red, but as you go through the different settings, each one has its own colour that cycles through between red and the settings specific colour.
I was mesmerised as the lights cycle through the ranges of colours with blue, purple, pink, red, orange and green all adding to this sex toys different approach to patterns.
This is great as it uses colour to help you to recognise your favourite settings without having to count the button presses. It also makes a dark room look at little like you are having a disco.
LOL, don't worry I am only joking. While it does light up it is a very low light, so it doesn't travel far from the toy of itself. Think of it as mood lighting for your vulva.
The EveryGirl vibe is totally waterproof so you can enjoy it in the bath or shower and it feels great in the bath. The combination of the warm water on your skin and the vibrations is intoxicating, and it makes bathtime so much fun.
Charging
The EveryGirl vibe comes with a magnetic USB charging cable, and that makes charging so easy. You get three hours of play from a three-hour charge which is pretty good. That time can shorten if you are using the high power levels though.

The USB magnetic charging cable snaps to two metal studs on the underside of the virbator
Controls
The control buttons are nicely raised to make them very easy to find and enough of a gap to easily find the different buttons. The symbols show which is for the clit stim and which is for the main vibrator, though these symbols are not much use when the toy is in play as you can't see them.
Both the main vibrating motor and the clitoral stimulating motor can be controlled independently. This allows you to blend the vibrations to produce some really arousing settings by just experimenting with the controls. I love a scientific wank, so I enjoy mixing it up a little as I play.

The two control buttons are easy to find and use
Settings
With ten vibration patterns to choose from for each motor, you can quickly mix and match settings to create some incredible sensations.
Settings and colours:- Press either button first so that the end lights up.
Setting 1. The light fades from black to red with a constant low rumble vibration which extends over the entire toy. With pressure against the body, the rumbly vibrations travel deep.
Setting 2. The light fades from black to green. Faster deep rumbly vibrations. A quicker version of above. It also feels great to massage with.
Setting 3. The light fades from black to blue. Faster and stronger deep rumbly type vibrations which are a constant speed, great for those toe-curling moments or for finishing yourself off.
Setting 4. The light fades from light green to black, and the vibrations are intermittent with long bursts of fast vibrations.
Setting 5. The light fades from black to a blue, with intermittent bursts of vibrations, not as powerful as the setting before, with short bursts.
Setting 6. The light fades faster from light blue to red to black. A much faster speed of bursts of vibration, ideal for those who don't want the intensity of the more powerful settings.
Setting 7. The light fades light blue to black. This setting starts as a lighter rumble felt more on the surface than throughout the toy to a much deeper rumble. It is a slow pace of vibration and changes over time.
Setting 8. The light fades from green to orange to red then black. Light rumble at a faster speed, changing to a deeper faster rumble then back again. Quicker than the previous setting in both vibration speed and change over.
Setting 9. The light fades to deep purple, then black. With this one, you get three quick bursts followed by one longer pulse, a much lighter rumble that makes my pussy tingle.
Setting 10. The light fades light blue to dark blue then to black. You get four long pulses of light rumbling vibrations followed by a single very short slightly stronger rumble.
Performance
The clit stim has the same cycle of vibration patterns and speeds as the main toy. I love the way that you can almost tune the EveryGirl vibe into your pussies personal frequency. The blended sensations from both motors feel incredible and experimentation is the key to getting the most out of ther EveryGirl vibe.
I have two favourite setting, I like to start with the lighter but tingling sensation of Setting 9, then I move onto the longer deeper rumbles of Setting 3. The sort of constant deep rumble that makes my toes curl and always ends up sending me over the edge.
The EveryGirl is whisper quiet in use so no-one outside the bedroom door will be able to hear it as you enjoy yourself.
I was surprised at how quiet it is given its fantastic power and rumbly vibes.
The motors are well situated to get the vibrations where you want them the most, and two separate motors is always a preference for me.

The EveryGirl virbator is nicely proportioned and delightful to use
I can enjoy long slow masturbation sessions with the EveryGirl or I can crank it up and give myself a toe-curling quickie, and that makes it a very flexible sex toy.
I love its girth and the silicone as you would expect from Rocks Off is top notch. The ability to blend the vibrations from the two motors gives you endless options, and that makes the EveryGirl so much fun to use. It is almost a different sex toy every time you use it.
The EveryGirl Rabbit vibe from @rocksoffltd with its ten settings is another fantastic addition to their product lines. Come and see why it can be so much fun.
Click to Tweet
Key Features
Key features:
Silicone coated rabbit vibe
2 motors, one in the body and one in the clit stimulator
10 independently controlled settings
Magentic USB charging
Waterproof
Three colours available
I would recommend it to:
Anyone who enjoys multiple vibration sources
Anyone who likes g-spot and clitoral stimulation
Anyone who likes rechargeable vbrators
Anyone looking for a quite rabbit vibe
I wouldn't recommend it to:
Anyone who doesn't enjoy g-spot stimulation
Anyoen who doesn't enjoy clitoral stimulation

The Everygirl vibrator comes with a chanrging cable and a set of easy to follow instructions
Final Thoughts
I love the EveryGirl vibe, it looks fantastic, and I love the ambient lighting you get when playing with it. That is a feature I hope appears in more Rocks Off toys as I love it.
The motors deliver deep rumbly vibrations, and with ten settings to choose from and the ability to set up each individually, it is so much fun.
I have enjoyed many orgasms with the EveryGirl, and it is nice to see Rocks Off hit the nail on the head with this one. It is a fantastic take on the rabbit vibe.
I was sent the EveryGirl Rabbit Vibrator by Rocks Off and I would like to thank them for giving me the opportunity to review it for them.
Joanne's rating
Where Can I Get One From?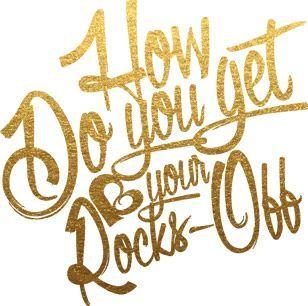 Grab an EveryGirl Rabbit Vibrator from Rocks Off for just £59.99 and take your masturbation sessions to new hights.
Check them out and don't forget to tell them that Joanne says "Hi".
Disclosure
This review does not contain affiliate links, for more information about affiliate links check out my disclosure page.