Rocks Off Bamboo Fire 10 Speed Bullet Vibrator Review
The chisel shaped clitoral pleaser
One of my all-time favourite vibe manufacturers is Rocks Off. They are a UK based manufacturer of very reasonably priced vibrators and sex toys. Don't let the fact that they are cheap put you off though. I have the utmost respect for the genius in their orgasm engineering department. He or she designs first-class vibrators.
I was delighted when they asked if I would review their Bamboo Fire Vibrator for them. This is a design that they have had on the books for a while. I have had my eye on it, and so I jumped at the chance to treat my clit to some Rocks Off loving again.
I like Rock-Off vibes; I find that they work well with my masturbation style. I always have no problems getting off with them. This one didn't disappoint.

Joanne
The Bamboo Fire was sent to me for free in exchange for a fair and honest review. That has not affected the outcome of this review in any way.
I didn't have to wait long for it to arrive and I must say it looks fantastic. I guess that you are more interested in how it performs though and so on with the review.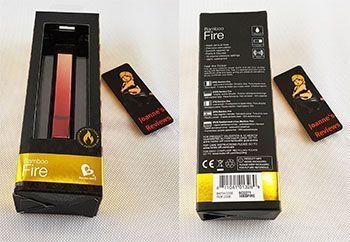 The Bamboo Fire arrived quickly and under plain cover from Rocks Off.
I love their packaging, the retail display boxes that they use allows you to see the sex toy inside. That is important if you are browsing for a new toy in a physical shop as you can see the sex toy inside.
The black patterned box with its gold label looks very classy. The back of the box carries instructions and lots of product information.
The Bamboo Fire looks fantastic, and I love the way that the red and gold colours on it blend from the base to the tip. Unlike other Rocks-Off bullet vibes, this one doesn't have a rounded, tapered tip. Instead, you have a flat tip looking somewhat like a chisel.
This gives it a distinctive look akin to a tube of lipstick. In fact in a side by side comparison, you could be convinced that it was in fact lipstick. This makes the Bamboo Fire an excellent choice for a handbag vibe. For those times when you have to have some fun while out and about.

The gold and red fading colour scheme looks fantastic
This vibe also breaks away from the norm as it has a square cross-section. This coupled with the chisel head makes a nice change from the usual bullet shaped vibes on the market.
As usual with a Rocks-Off toy, the Bamboo Fire comes with a battery (AAA) already fitted. It has a cardboard disk fitted on top of the batteries negative terminal. This means you are ready to play as soon as you remove it from its packaging. No need to remember to buy some batteries with your new vibe.

The Bamboo Fire comes with an AAA battery fitted, just remove the disk and you are ready for some fun
Just unscrew the cap and let the cardboard disk drop out. Then refit the cap making sure that it is correctly fitted. This is important as otherwise, the vibe will no longer be waterproof.
The base of the cap has a square button that carries the Rocks-Off logo. You press this button to switch the vibrator on and holding it in again switches it back off.
One unusual feature of the Bamboo Fire is that when first switched on it starts on the highest setting. You can then lower the power by clicking the button to cycle through the ten settings.
This isn't a real problem, but it does mean it's at its noisiest as soon as you switch it on which isn't very discreet.
Regarding noise though, this vibe is as noisy as the rest of the range, and that is not noisy at all. You can't hear it through a door if you have it under a duvet on the highest setting. This means you can relax and enjoy yourself.
The basics
The Bamboo Fire is a battery powered vibrator made out of ABS plastic. This means that it's body-safe and it contains no nasty chemicals like phthalates. It takes a single AAA battery (supplied) and is waterproof. So you can have bathtime fun and games with it which is something I recommend.
The sealing 'O' ring between the body and cap protrudes a little bit, and that makes the vibrator much more comfortable to hold and control in use.
It measures in at 4"/10cm in length, and it's 0.75"/2cm in diameter. This means it is a convenient size for discreet play.
It has ten settings which are all a lot of fun, these are:
Fast constant – deep rumbly vibrations.
Slower constant.
Slow constant.
Long Bursts of fast than off for 1 sec, then fast again.
Slower vibe but as above.
Fast short quick bursts, with a tiny break before starting again.
Fast rapid bursts, then slightly longer burst before cycling around again.
Fast long start burst, the rapid bursts, then two shorter bursts before repeating.
Fast, quick bursts.
Very fast quick bursts.
The vibrations are felt along the whole sex toy. Its shape means that you can quickly focus these sensations using the tapered tip.

The Rocks Off Bamboo Fire looks great and is a handy size too
Performance
Now I could make some outrageous claims that this vibe is so powerful it put me in hospital but that's not entirely true. It was the last vibe I used before a short staycation in hospital. But, it didn't contribute to my admission I am happy to say.
It did though give me something to write about while bored looking at four walls. I wished I had brought the vibe in with me though, at least I would have been able to continue my *cough* research. But, I digress.
I like Rock-Off vibes; I find that they work well with my masturbation style. I always have no problems getting off with them. This one didn't disappoint. I love the fact that I can place the whole tapered section on my clitoris for some delicious sensations.
You can insert the tip to tease your vagina, but it is too short for much vaginal play. I use it to concentrate on the clitoral action.
I like the crisp vibrations that are produced and focussing them around and then onto my clit gives me the best results. The vibrations travel quite deeply which is very pleasant. This vibe is best described as a clitoral sex toy, that is its comfort zone, and it performs exceptionally well as one.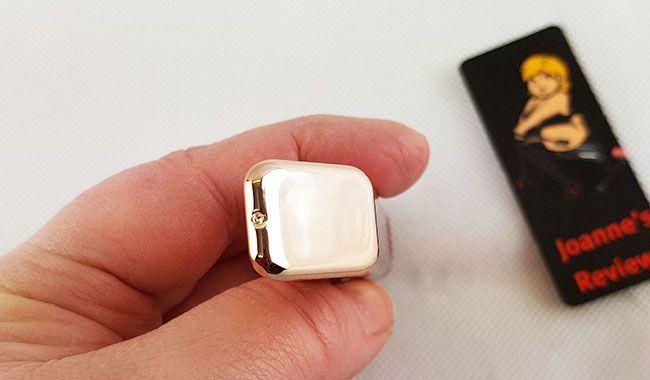 The chisel shaped tip makes for an interesting experience, use the end or the flat face for fun
I usually prefer constant vibrations and move the vibe around my clit to control the build-up to orgasm. But, I found the eighth program setting to be fantastic. The combination of fast and slow bursts hits the big red orgasm button for me.
You know that feeling when something feels so good you just know that a cracking pillow biting orgasm is on the way? Well, that is the feeling I get with that cheeky eighth setting. You will find one that works for you, and if it is that one, then you are in for a real treat.
The Rocks Off Bamboo Fire is a discreet bullet vibe with a form that challenges the norm. See why Joanne recommends it for discreet clitoral fun. Click to Tweet
Key Features
Key features:
Discreet form
ABS body making it body safe
10 Speeds and functions
Waterproof
Battery powered (AAA - supplied)
Final Thoughts
These Rocks-Off vibes are not to be understated, they are cheap but certainly, pack a real punch. I love to use one while using a dildo or during intercourse for some additional stimulation. They are small enough to be easy to use in this way. I highly recommend some clitoral vibe teasing while you are being filled with your preferred phallus, it feels incredible.
You get a fantastic vibe for just £13.99 which is amazing, this is one of the reasons why I regard Rocks Off vibes so highly.
I was sent the Bamboo Fire by Rocks Off and I would like to thank them for giving me the opportunity to review it for them.
Joanne's rating
8.8
9
Design
8
Features
9
Functionality
9
Ease of use
9
Price
Where Can I Get One From?

Grab one of these Rocks Off Bamboo Fire Vibrators for just £13.99 which is expetional value for money.
Check out the full Rocks Off range on their website (they haven't listed the Bamboo Fire there yet though) - www.rocks-off.com
Check them out and don't forget to tell them that Joanne says "Hi".
Disclaimer - I was sent the Rocks Off Bamboo Fire to review free of charge and this has in no way affected the outcome of this review. This post contains affiliate links and if you purchase something when you follow one of these links I may receive a small commission at no cost to you. For more information check out my disclosure page.
---
Found Something Useful, Or Do You Just Like What I Do?
---
Additional Info
Overall Rating:

8.8
You May Find These Articles Interesting