The RO-80mm Bullet Vibe is from of a great range of affordable, reliable and effective bullet vibrators produced by Rocks Off. This is their old model with newer ones featuring seven speed settings whilst this one only has the one.
Don't let that put you off though as Rocks Off use great little motors that really squeeze all of the juice from the LR1 or N sized battery (included which is amazing for a sub £10 sex toy). The battery lasts a surprising length of time and this is a relatively discreet vibrator when in use, it isn't going to rattle the windows and wake the neighbours but it does feel very good, more on that later in the review.
It comes inside a transit plastic tube that doubles as a great little storage unit and it has a label giving basic product information on the side.
All of the RO bullets are made out of ABS plastic which is body safe and non porous making it both body safe and easy to clean, just wash in warm and soapy water before cleaning with an anti-bacterial sex toy cleaner. Ensure it's fully dry before placing it back into its storage tube. It's waterproof and its sizes makes it ideal for some bath-time or shower clitoral fun, make sure that the 'O' ring on the cap is correctly fitted before you use it in water though.
Top Tip: You should remove and clean the 'O' Ring between the cap and body of the vibe when cleaning as it can be a bit of a magnet for vag-goo.
Being ABS plastic you can pretty much use any lube that takes your fancy but I would stick with a body safe and hypoallergenic water based lube. I can highly recommend Sliquid H2O in that regard.
I won't bore you with the sizes of the toy, the clue as to its length is in its name. Im sure that you are really here to find out if it's any good.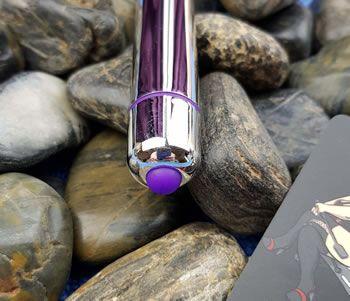 I must admit that I wasn't expecting to be blown away as this is a battery powered vibe with only one small battery. That said though Rocks Off have really done their sums, this is a lovely little bullet vibe and I can understand how they have now sold over 5 million of them. You only get one speed and the button on the base takes care of switching it on and off again, nothing fancy here but on a £7.99 sex toy what are you expecting?
The curved tip gives it a profile similar to a bullet and that is why the catch line for the range is "Ammunition for love" and it's this pointed tip that makes it so much fun. You can really pin point the sensations to drive yourself over the edge. It isn't rumbly at all and I would be tempted to describe the vibrations from it as pretty buzzy but they are just right in my books. This toy can easily be used one handed and the tip makes it so much fun as you focus the vibes.
It isn't really designed for penetration but you can do so albeit not deeply, your vag-goo will make it slippery as hell though. Try teasing your urethra with it for a kinky little treat. This toy was designed for clitoral use and it's in this mode that it works best. It's cheap, cheerful, body safe, damn effective and for only £7.99 it's a real winner. Everyone should have one for those moments when you just need some extra stimulation.
Top Tip: If you are like me and get wetter than Niagara Falls in the wet season you can simply wrap an elastic band round the cap to make it much easier to hold onto with slippery fingers - You're welcome.
Even though it has no travel lock you can easily have it in your handbag or luggage when going on holiday as it's so small. Use a piece of plastic between the battery and the cap to easily prevent any unwanted embarrassing vibrations in your bag.
Key Features
Key features:
One Speed
Waterproof
Battery Included
ABS construction making it body safe
Final Thoughts
It seems like ages ago that Rocks Off unveiled this design and it really has stood the test of time. The number sold are testimony to just how good it is. Its price now is really quite staggering when you think you are getting a bullet vibe from one of the worlds leaders in their design and it even comes with batteries. This is the vibrator that I will recommend for someone who wants an added thrill when having sex or who wants a dependable cheap vibrator that is going to provide lots of fun for a long time to come. If you like this one then check out the rest of the Rocks Off range as they are quite simply second to none.
I would like to thank Cherry Blossom Direct and Susan in particular for giving me this opportunity to review for them.
Joanne's rating
Where Can I Get One From?
You can get anything from the Rocks Off range at Cherry Blosson Direct. The newer bullet vibes feature seven speed settings but these old ones are very reliable and great fun to use on your own or with a partner.
Grab one of the Rocks Off 80mm Bullet Vibrators from cherryblossomdirect.com for only £7.99 and that is simply staggering value for money.
Check them out and don't forget to tell them that Joanne says "Hi".
Disclosure
This review does not contain affiliate links, for more information about affiliate links check out my disclosure page.