The packaging of the Rocks Off Vortex is in line with the rest of the range. I like their boxes and the fact that they carry a clear window so that you can see the sextoy within. The back of the box carries lots of product information including links to the 12-month guarantee activation and care instructions.

I love the Rocks Off packaging with its see through window
Opening the box, you get to touch the soft velvety feel of the silicone of the butt plug.
This sex toy consists of two parts; firstly there is a Rocks-Off signature RO-120mm bullet, and that is snugly held within a black silicone textured sleeve. The bullet vibe is held tightly inside its sleeve, but with a bit of effort you can slide it out.
This gives you two toys in one. The RO-120mm bullet vibe is a fantastic clitoral stimulator that has ten speeds and patterns. It offers excellent pinpoint stimulation, and it is made out of body-safe ABS plastic. This one is a delightful pastel blue colour.
The vibe features one silicone button on the end cap, and this is held in to switch it on and then off again. Momentarily pressing it allows you to cycle through the ten settings quickly.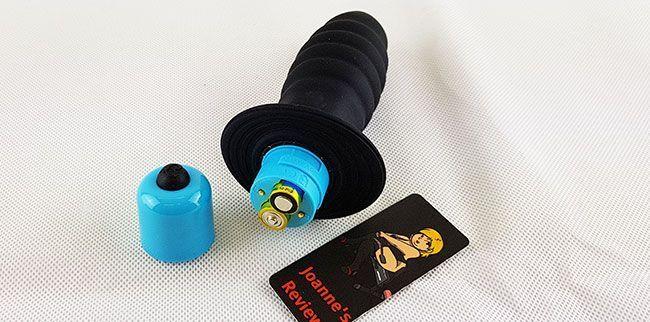 The Vortex is powered by an AAA battery and it comes with one already fitted
The Vortex measures in at 6"/15cm total length of which 4"/10cm is insertable. The Circumference at its widest point is 5"/12.7cm.This vibrator is powered by two AAA batteries and two are included. Before its first use, you need to unscrew the cap and remove the paper disc from the top of one of the batteries. Then screw the cap back on tightly, and you are ready to go.
Make sure that the 'O' ring is fitted correctly when you refit the cap as this seals the vibrator making it 100% waterproof so you can use it in the bath or shower for some extra fun.
The black textured sleeve is also body safe as it's made from Silicone which is by far my favourite sex toy materials as it is hypo-allergenic and free from latex and phthalates. The silicone blend used is soft and draggy, it's also a bit of a dust and lint magnet, but that is easy to sort out with a quick rinse under the tap before use.
The black silicone textured sleeve features some lovely ridges and a flared base making it safe to use anally.
The tip of the sleeve is tapered and also lovely and soft making penetration with it nice and comfortable. Use a good quality water based lube on both yourself and the butt plug before inserting it.

The Vortex has some very nice texture on the silicone sleeve
Performance
I used this on my own the first time I played with it, and I found it easy to insert. Using lots of lube, I found that the tip helped me relax and to dilate to take it anally.
I found the ridges delightful, and these are a great feature. The hardest one to get in is the first though as it is the most pronounced. These ridges feel great as each pops inside you. It felt good too as the last went in and the rest slid home.
I gave a little jump as I switched on the RO-120mm bullet vibe, the vibrations caused an involuntary clenching onto the plug that felt good too. I then settled back enjoying the delightful buzzing deep inside my anus. I experimented with the different vibration settings and found that the pulsating one works best for me.
It wasn't long before I could feel an orgasm building and I slid a finger inside my vagina to feel the plug through my wall, and that sent me over the edge.

The Vortex is a nice sized butt plug that is pretty easy to insert
Letting the vibes carry on I gave myself a couple of extra orgasms complimenting the butt plugs sensations with my fingers.
The second time I used it, I took the vibe out of the sleeve and masturbated with it as I would typically do with a bullet vibe, and I am delighted to say that Rocks Off bullet vibes are still as good as I remember from my last encounter with them.
The vibrations are strong but not rumbly, they don't make me numb though, and I love being able to apply pinpoint precision vibrations on or around my clitoris.
Stunt Cock even got in on the fun too trying it anally. I boiled the sleeve for 10 minutes before letting him try it. That is one of the great features of non-porous silicone sex toys. You can sterilise them between partners so they are toys that you can share. Remember to remove the vibe before boiling the sleeve.
He loved the vibrations and commented on how nice it was compared to just a regular silicone butt plug. As a man of few words that is praise indeed. Both us enjoyed using it, and it is nice to have a vibrating butt plug. If you have only used regular butt plugs, then I can highly recommend using something that vibrates as it makes anal fun a whole new sensation.
This is another lovely addition to the Rocks Off product line, they produce some great vibrators, and in this instance, they have combined this with a very nice silicone sleeve.
Give your butt a real treat with this fantastic 10 speed vibrating butt plug from @rocksoffltd.
Click to Tweet

Give your butt a treat with the Vortex Vibrating Butt Plug
Key Features
Key features:
Silicone sleeve encompassing an ABS vibrator
100% Waterproof
Body-safe materials
10 vibration speeds and patterns
2 x AAA batteries (included)
Removeable sleeve means you can play with the vibe on its own
Final Thoughts
The Vortex Vibrating Butt Plug was a lot of fun to review, it completely changes how a butt plug can feel, and the internal vibrations give play a really kinky edge.
Being able to remove the RO-120mm Vibe for some clitoral play is another fantastic feature of this sex toy. I find Rocks Off bullet vibes to be some of the best on the market, and their use of bodysafe materials is to be commended.
For its price, you get two toys in one, and with its performance, I have no hesitation in giving it a strong recommendation.
I was sent the Vortex Vibrating Butt Plug by Rocks Off and I would like to thank them for giving me the opportunity to review it for them.
Joanne's rating
Where Can I Get One From?
The Vortex Vibrating Butt Plug is not yet shown on the Rocks Off website but you can grab one from Bondara.co.uk
Grab one of these at Bondara for just £23.99
Check them out and don't forget to tell them that Joanne says "Hi".
Disclaimer - I was sent the Vortex Vibrating Butt Plug to review free of charge and this has in no way affected the outcome of this review. This post contains affiliate links and if you purchase something when you follow one of these links I may receive a small commission at no cost to you. For more information check out my disclosure page.