About Ylva & Dite
Ylva & Dite we make erotic toys in the Netherlands. They specialise in designing sex toys for you in beautiful colours.
All of their products are hand poured with great care. For him, for her or for both of you together.
They only use 100% body-safe platinum cure silicone for their toys. Ylva & Dite is so confident of their materials and products that they give you a fantastic 5-year warranty.
They currently have nineteen different styles of dildo on offer on their site. All of them are available in a plethora of stunning colours, so you really do get a lot of options when shopping with them.
Delivery and packaging
This dildo arrived quickly from Holland. But it seems that my local postman decided to play rugby with the box in the sorting office as the box arrived crushed and in a sorry state.
This is not the fault of Ylva & Dite, but as their dildos ship in clear plastic tubes, the one for this dildo was cracked due to the way the package was mishandled in transit to me.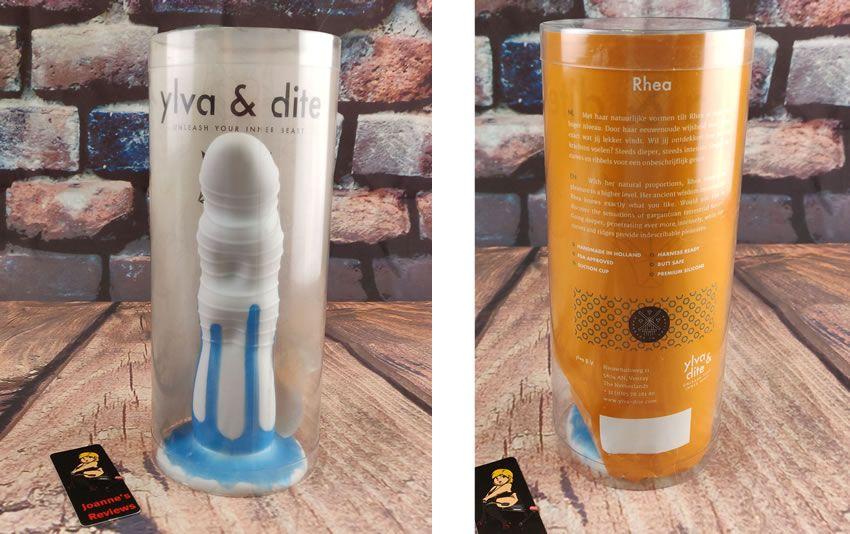 The packaging of the Rhea dildo from Ylva & Dite is very nice
Anyway, each dildo is shipped in a clear tube with instructions inside. This is an excellent way to present the dildos, and you get a good clear view of what lays within the transit tube.
I love the description on the back of the box:
"With its natural forms, Rhea takes you to a higher level. Because of her age-old wisdom, Rhea knows exactly what you like. Do you want to discover how earthly forces feel? Deeper and more intense, the curves and ridges provide an indescribable pleasure."

Ylva & Dite
Design and materials
As already mentioned, all Ylva & Dite dildos are made from 100% platinum cure silicone, and that is fantastic. It means they are both latex and phthalate-free as well as being non-porous.


The Rhea dildo from Ylva & Dite looks amazing with its drop colour scheme
It also means that cleaning after use is easy, just wash with warm soapy water.
Weight: 0.244kg
Height: 6.7"/"17cm
Input depth / length: 7.7"/19.5cm
Min. diameter: 1.1"/"2.9cm
Max. diameter: 1.7"/"4.4cmThe Rhea dildo has very lovely proportions, and it sits atop a powerful suction cup base that gives you lots of play opportunities with it.
This suction cup base also makes the Rhea strap-on harness compatible as the suction cup allows ring-type harnesses to grip this dildo. It also makes this dildo anal safe as the broad base will prevent any accidental ingress of the whole dildo resulting in an embarrassing trip to A&E.
The Rhea dildo features a non-phallic design that sees the shaft gently changing its circumference, resulting in three bulbs along the length of the shaft.
The blend of silicone is very nice with a nice ampount of squish and you can almost fold it in half. This flexibility makes thrusting with it comfortable and easy.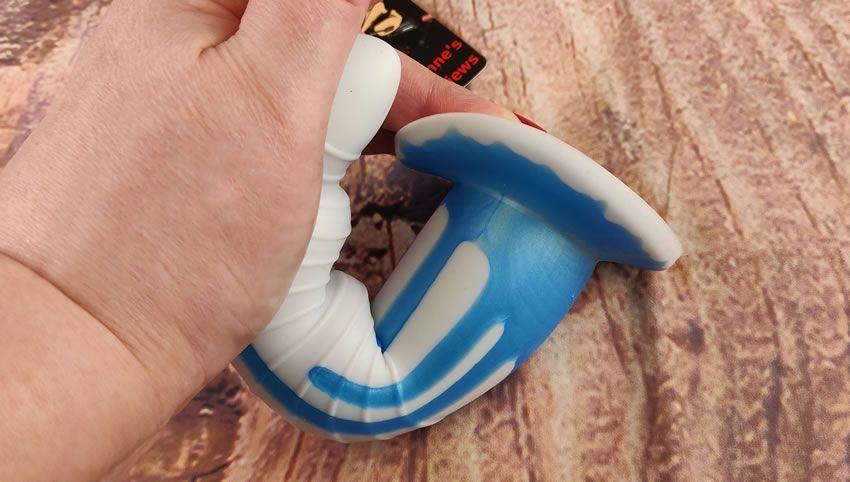 The Rhea dildo is very flexible
These changes in dimensions make it a lot of fun to thrust with.
Along the shaft there are also ridges and while these are not pronounced they deliver some delightful sensations that really compliments the changes in girth very well.
This Rhea dildo is metallic luster blue and smoke in colour, and it is a superb example of one of the colour options offered by Ylva & Dite. This one is called "Drop", and it sees one of the colours dripping down the side of the dildo resulting in a unique and bespoke dildo.
Each and every dildo will be different as each is hand-poured, this means that no two dildos will ever look alike. I like that as it means that this one and every other one is unique.


The Rhea dildo has lots of ridges that feel incredible
Performance
I have had so much fun with this dildo.
It's a dark horse, at first glance, it looks pretty bland in terms of its textures, but as you use it, you quickly understand what a great design it is.
The gently rounded tip makes insertion easy, and it is as the first two ridges pass the entrance to your vagina or anus that things start to heat up.
You then get the first change in circumference, and it feels great as pressure builds up until you dilate to accept it. The next wave of ridges then tease and delight as you continue inserting the Rhea up until the following change in girth where the fun starts again.

The Rhea dildo is very well proportioned
Slowly thrusting with the Rhea feels divine, but it is when you really give yourself a hard pounding that you really enjoy the combination of girth changes and texture.
The Rhea had me so wet as I was using it, with the textures teasing my vaginal walls. The curved tip rubbing against my g-spot delivers even more delicious sensations.
I had no problem reaching some delicious orgasms when thrusting with the Rhea, savouring the textures.
I enjoyed using the suction cup base to secure it to a mirror where I could push back against it as the suction cup held it securely in place.
I have even used it anally as the textures intrigued me, and it felt amazing. These small ridges really do tease and please your anus as you thrust it in and out.
Make sure that you use a good quality water-based lube with the Rhea. I can recommend Sliquid H2O, and Secret Play Natural as both are excellent long-lasting lubes.

The suction cup base holds the Rhea dildo securely to any smooth surface
The next time I get together with my submissive, the lovely sub'r' I will have to fit the Rhea to my strap-on harness to give her the benefit of those textures too.
I love the Rhea because of its texture, the changes in circumference and of course its performance. It really is a surprisingly good dildo. I usually prefer lots of pronounced texture as my vagina loves a challenge, but my vag loves the Rhea.
The Rhea Silicone Dildo from Ylva & Dite in Holland is a dark horse. It looks fantastic, and the textures tease and please in equal proportions.
Click to Tweet
Key Features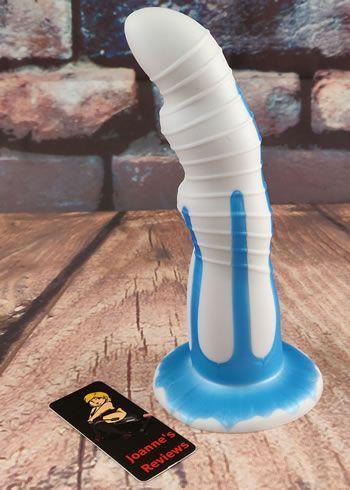 Key features:
100% body-safe silicone
Strong suction cup base
Delicious textures
Changes in girth make it fun to thrust
Strap on harness ready
I would recommend it to:
Anyone who is looking for a 100% silicone body-safe dildo
Anyone who enjoys textures on their dildos
Anyone who enjoys changes in girth on their dildos
Anyone looking for a starp-on harness compatible dildo
Anyone looking a suction cup dildo
I wouldn't recommend it to:
Anyone who dislikes textures on their dildo
Anyone who dislikes changes in girth on their dildos
Final Thoughts
The Rhea has been my first insight into the delightful range of dildos from Ylva & Dite, and I am impressed.
It's pretty much faultless, and the design really works very well with my anatomy. I love thrusting with it and have enjoyed it both vaginally and anally too. It feels fantastic in either orifice.
I love the massive range of colours available. If you like dildos that tease your holes while providing lots of sublime stimulation, then the Rhea is for you.
The silicone blend is charming, and the drop colour option looks fantastic. I have absolutely no qualms about giving the Rhea a strong recommendation.
Ylva & Dite are showing off their wares at the Erofame adult industry trade show, and I am going to make sure that my Stunt Cock and sub'r' drop by their stand to see the other dildos they make.
I was sent the fantastic Rhea Dildo by Ylva & Dite and I would like to thank them for giving me the opportunity to review it for them.
Joanne's rating
Where Can I Get One From?
Grab one of these fantastic Rhea Silicone Dildos from Yvla & Dite for just € 39.95 (approx. £35.50) and enjoy some of those lovely textures and changes in circumference yourself.
Check them out and don't forget to tell them that Joanne says "Hi".
Disclosure
This review does not contain affiliate links, for more information about affiliate links check out my disclosure page.