Delivery
This is the first sex toy that I have received from Sexcite who were set up in 2004. I am happy to report that the Dive arrived quickly and discreetly in a very plain cardboard box that had no indication on it as to just how kinky its contents were.
Upon opening the box I found the Dive to be packaged well and it had survived its trip to me without so much as a scratch.
Features
The Dive arrives in a white cardboard display box with nice styling, it rests inside a clear plastic tube which is re-usable as a storage case for the toy. Keep hold of it as most silicone toys can be fluff and dust magnets so you can store your Dive in it to keep it ready for immediate use.
The vibrator itself is made from pink silicone and has a naturally undulating shape to its shaft. A silver plastic ring separates the silicone of the body from the base and battery cover. The battery cover features a nice indented portion that makes the vibrator easy to hold on to when in use. The tip of the base has the illuminated on/off switch which is also used to cycle through the different vibrating functions. Just press the button to start the vibrator up and each subsequent press changes the mode of operation, to switch it off just hold the button in until it switches off. Controlling it really is as simple as that. It comes with an illustrated set of instructions which are printed in several different languages.
To insert the two AAA batteries that are required simply unscrew the cap and remove it. Then slide the batteries in with the positive ends going in first before screwing the cap back on. Make sure that it's securely fitted as the Dive is a waterproof vibrator and it needs a good seal here to stop water entering the vibe and spoiling your bath-time or shower fun.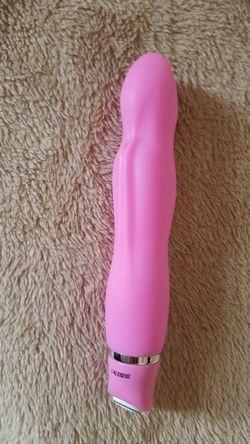 The Dive is 15cm (6") long of which 12.7cm (5") is insertable taking into account your hand hold on the toy. It's only 2.5cm (1") in diameter and it's therefore an ideal starter vibe or for someone who prefers slim sex toys.
The shaft of the vibe is gently undulating and the tip is slightly tapered and this is more flexible than the rest of the shaft. It has two raised ridges running along its length and these can be pinched together and are for clitoral stimulation in use.
The silicone has a very good finish, there are no visible mould lines at all and the silicone is reasonably smooth, when drawn across your skin there isn't a lot of friction but I would recommend using lube with this toy unless you produce copious amounts of your own.
The Dive features seven vibrating functions and these are one escalating mode, three pulsation modes and three different vibration intensities. The motors used on the Dive are very quiet and reasonably strong. You can tell as soon as you switch the Dive on that quality motors have been used and this is why you get the great vibrations coupled with low noise emissions.
I would say that it is no louder than an electric toothbrush. You could even get away with using it in a bathroom in a crowded house as long as you use one of the steady modes and not the escalating ones.
The vibrations are pretty much focussed in the tip but they can still be felt along the shaft but at a lower intensity.
Use By Hand
I got myself ready with some water based lube (never use a Silicone based lube with a Silicone sex toy) and switched the Dive on feeling it spring to life in my hands.
The first vibrations that you get when you turn it on are mild and steady and it felt great just running the tip of it around and over my clitoris. I enjoyed the feeling of arousal spreading through my body and pressed the power button again so I could enjoy the stronger vibrations and I continued teasing my clit this way for a while. I moved the vibrator up to my nipples and teased each in turn causing them to stiffen.
I then switched to the third mode which delivers really strong vibrations and I moved the vibrator down my body allowing the tip to tease my skin as I did so all the way down to my clitoris again. I couldn't stand direct stimulation of my clit on this setting so I continued the vibrators journey ever lower until its tip rested between my inner pussy lips. I slowly pushed it into my by now very wet pussy enjoying the feeling of each ripple on its shaft opening me up and then allowing my pussy to relax again and it didn't take long for me to have it fully inside me. I was really enjoying the vibrations and decided to check out the next mode so I clicked the button again.
The fourth mode saw the vibrator powering up from medium to strong vibrations over and over again, this felt really nice but as this vibe is pretty straight it wasn't really doing much for my G-spot so I slid it out and teased my clit with it again. Most of the vibrations are felt through its tip but I also enjoyed rubbing the two ridges on the toy side to side over my clit on this setting.
Mode five saw me enjoying moderate vibrations with short pauses and the sixth is pretty much the same but with a faster change frequency.
The last one is what really sent me over the edge and I ended up fucking myself with the Dive hard and fast occasionally slipping it out to tease my clit before plunging it back into my pussy until I came really hard. This mode gives two bursts on medium power followed by a long one on full power and it feels amazing.
I did have to top up the lube as this silicone can be a bit grabby if you dry out at all but that didn't spoil the fun for me. I have used it eight times now since first trying it out and feel qualified to review it.
Fucking Machine Friendliness
This vibe is a little on the short side for mounting on a Fucking Machine like my F-Machine Pro. So its hands only fun with this one but that's not a drawback as this little toy is small enough to take anywhere and is quiet yet powerful.
Performance
Overall it is a great little vibrator especially for its price, I usually prefer toys with more girth but the Dive satisfied me numerous times and I will use it again - and that is the mark of a good sex toy.
You can use all of the different modes to easily get yourself off quickly or to prolong the enjoyment by allowing you to edge yourself. Try it in the bath - it's a lot of fun.
Key Features
Key features:
100% body safe silicone
7 different modes of operation
Easy controls
Quiet yet powerful motors
Final Thoughts
This is a nice body safe silicone dildo for anyone wanting a slim vibrator with some texture and several operating modes. It's very well made, quiet and so is very discreet yet its powerful motors hits the spot, whilst not good for G-spot play it more than makes up for that with clitoral stimulation if used directly on or close to it. It's ideal for someone looking for their first vibrator. I like it and will hopefully try more of the products from the Vibe Therapy line soon.
Where Can I Get One From?

The Vibe Therapy Dive Slimline Pink is available from Sexcite for just £23.99
Founded in 2014, Sexcite is the next big thing in the adult and sex toy industry. As one of the fastest growing online sex toy retailers, they are continually expanding our product ranges ensuring that they bring our customers the very best and latest sex toys, lingerie and adult games on the market. Delivering pleasure (in more ways than one) to their customers is our primary goal. From their product range to their website and their delivery options to their customer service, their aim is to ensure your buying (and using) experience is as pleasurable as possible.
If you are looking to buy sex toys online check them out and don't forget to tell them that Joanne says "Hi".